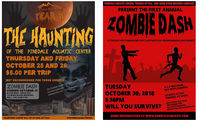 Halloween fun at the PAC

Halloween events at the PAC (posted 10/18/18)
The Pinedale Aquatic Center is hosting two fun events for Halloween at the PAC.

The Haunting in Pinedale Oct. 25 & 26:
Get ready for some scary fun! The Pinedale Aquatic Center is hosting their 11th annual Halloween event, The Haunting, on Thursday, October 25 and Friday October 26 from 7:00 to 9:00PM at the PAC. This haunted house event is not recommended for those under 8. Please check out our annual Spook Alley event for your kids of that age!

The Zombie Dash Fun Run Tuesday, October 30:
PAC, in partnership with Wind River Brewing Company & Friends of PAC, is excited to host the first Zombie Dash Fun Run! Pick up a registration form at PAC or register onsite (@ 5pm) before the race. Your $10.00 registration goes to the Friends of PAC nonprofit, which supports PAC programming and helps us sustain operations! The 2.3 mile run (but with Zombies) starts at PAC and ends at WRBC where we'll present prizes for "survivors" and there will be dinner and drink specials for all participants and volunteers. Costumes are encouraged but not required.

Volunteers Needed! PAC is seeking volunteers "scare-ers" for The Haunting and volunteer "zombies" for the Zombie Dash Fun Run. Ne experience needed! Contact Deanna Fildey at 307-367-2832 ext. 6244 with questions or to volunteer for one or both events! www.pinedaleaquatic.com

---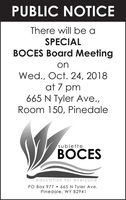 Special Meeting Oct. 24

Sublette BOCES Board Special Meeting in Pinedale Oct. 24 (posted 10/18/18)
PUBLIC NOTICE: There will be a Special Sublette BOCES Board Meeting on Wednesday, October 24, 2018 at 7 pm at Sublette BOCES, 665 N Tyler Ave., Room 150, Pinedale. The purpose is to discuss an upcoming legislative matter.

---
More Than Surviving Workshop Oct. 25 (posted 10/17/18)
Matthew Daniels is offering an Identity Workshop at the Sublette County Library in Pinedale on Thursday, October 24th. The workshop, "More Than Surviving" will begin at 6:30PM. Understand yourself and others, rediscover lost strength, restore forgotten dreams, make life make sense. Food will be provided. Sponsored by Satisfied Soul & Pinedale Computer. For more info call 307-360-3777, matthew@mysatisfiedsoul.com.

---
Turkey Bingo Nov. 3 (posted 10/17/18)
VFW Auxiliary Post 4801 in Pinedale will host Turkey Bingo on Saturday, November 3rd. Doors open at noon. Free-will donation lunch. Games begin at 12:30PM. All proceeds go to benefit the scholarship fund. The first five games will be for kids only. There will be ten regular games (all play). Cost is $.50 cents a card. $1.00 for three cards. Donations appreciated.

---
Meet & Greets for Sublette County Rural Health Care District candidates (posted 10/16/18)
The new candidates for the Sublette County Rural Healthcare District will be hosting two Meet and Greets before the upcoming election. The first will be on Wednesday, October 24th from 6:30 to 8:00PM in the Lovatt Room at the Pinedale Library. The second will be on Thursday, November 1st from 6:30 to 8:00PM at the Southwest Pioneers Senior Center in Marbleton. The public is encouraged to come and ask questions of the candidates. Light refreshments will be provided.

---
'Hate Has No Home Here' campaign (posted 10/16/18)
Women's Advocacy Group
Two events were planned for the month of October by the Women's Advocacy Group (WAG) of Sublette County.

The first is a month long project called "Hate Has No Home Here." Anyone interested in displaying a yard sign with this phrase on it can get one for free or for a donation which will be used exclusively to pay for the signs. This project has nationwide coverage and a web site explaining the project in detail. "This sign is a public declaration that hate speech and hateful actions against others will not be tolerated by the person or organization displaying the sign. In that, it is non-partisan. This sign is a statement that, while it is okay to disagree with others civilly regarding issues, it is not okay to intimidate or attack a person or group—verbally or physically—based on attributes such as gender, ethnic origin, religion, race, disability, or sexual orientation. The colors of the sign—red, white, and blue—are the colors of the American flag, not any political party."

Signs can be obtained by contacting Jana Weber at 307-367-3630 or Robena Downie at robenaatyahoo.com.

The second event took place at the Lovatt Room on October 9. At 7:00 p.m. a screening of a film called "Laramie Inside Out" by Bev Seckinger was shown. The topic included Wyoming's most infamous hate crime, the murder of Matthew Shepard. "The film interweaves several stories: Shepard's, that of his friends and members of Wyoming's small but vibrant LBGTQ community at the time. Threaded throughout is Seckinger's own story of growing up closeted in Laramie, graduation from UW and her decision to return in 1999."

The Women's Advocacy Group is a group in its second year formed by people, men and women, whose goal is to create awareness of some of the national events that are influencing people's attitudes and opinions. Some of the group's projects include two women's marches, a science march, two LGBTQ (lesbian, gay, bisexual, transsexual, queer) picnics, a peace and equality march after Charlottesville, a Puerto Rico karaoke fundraiser, a candlelight vigil for Florida shooting victims, phone banking for education funding, legislative bill tracking, Ms magazine subscriptions for legislators, collection of feminine hygiene products for free distribution at the Food Basket, and movies at the library.

For more information contact Jana Weber, webjaja33@gmail.com.

---
Free Grant Writing Workshop Oct. 24 (posted 10/12/10)
There will be a free Grant Writing Workshop on Wednesday, October 24th. The workshop is hosted by the Wyoming Community Foundation. The workshop will be at Sublette BOCES in Pinedale, 665 N Tyler Avenue from 6-7:30PM. Learn tips & tricks for writing Wyoming Community Foundation grant applications and for using the new online system. Please RSVP to Jerrica Becken, WYCF's Associate Director of Philanthropy,
Meet & Greet for Marti Halverson Oct. 25 (posted 10/12/18)
Everyone is invited to a Meet & Greet for Marti Halverson, Republican candidate for House District 22, on Thursday, October 25th at The Daniel Junction, from 5-7 pm. Finger food and refreshments available. Sponsored by the Sublette County Republican Party.

---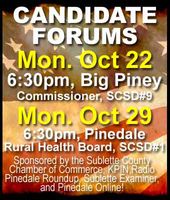 Candidate Forums October 22 & 29

Candidate Forums Oct 22 & 29 (posted 10/8/18)
Voters will have two opportunities to attend candidate forums for the upcoming general election in Sublette County.

The first forum will be on Monday, October 22nd at 6:30PM in the Fine Arts Building in Big Piney. That forum will be for Sublette County Commissioner and Sublette County School District #9 candidates. There will be a Meet & Greet for candidates in the lobby starting at 6:00PM.

The second forum will be the next week on Monday, October 29th at 6:30PM in Sheppard Auditorium in Pinedale. That forum will be for candidates for the Sublette County Rural Health Care District Board and Sublette County School District #1.

The forums are being sponsored by the Sublette County Chamber of Commerce, KPIN 101.1 FM Radio, the Pinedale Roundup, Sublette Examiner, and Pinedale Online, Jonah Energy LLC, and Pinedale Energy Partners Operating LLC. The forums will be broadcast live on KPIN 101.1 FM Radio and also live streamed online on the Sublette Chamber and KPIN Facebook pages (the live steam link shows up when the event starts.) Recordings will be available on those pages after the event is done for viewing afterwards.


---
Two Veteran Flu Clinics scheduled in Pinedale - Oct 25 & 26 (posted 10/5/18)
PINEDALE, WYOMING—The Sheridan VA Health Care System, Casper Mobile Vet Center and Sublette County Veteran Services Office are partnering to provide a two-day opportunity for Veterans to receive their annual flu shots Oct. 25, from 2-7 p.m., and Oct. 26, from 7-10 a.m.

This event will take place in the parking lot of the Sublette County Veteran Services Office at 619 E. Hennick, next to the Pinedale Medical Clinic and Sublette County Public Health in Pinedale. The Mobile Vet Center will be in the parking lot for the event.

Veterans who are enrolled with the Sheridan VA Health Care System should bring their Veterans Health Identification Cards. Not enrolled? Enrollment specialists will be at the event to check eligibility, so Veterans who are interested in enrolling are invited to bring a photo ID and their DD-214.

Key facts about the flu vaccine, from the Centers for Disease Control and Prevention

Why should people get vaccinated against the flu?
Influenza is a potentially serious disease that can lead to hospitalization and sometimes even death. Every flu season is different, and influenza infection can affect people differently, but millions of people get the flu every year, hundreds of thousands of people are hospitalized and thousands or tens of thousands of people die from flu-related causes every year. An annual seasonal flu vaccine is the best way to help protect against flu. Vaccination has been shown to have many benefits including reducing the risk of flu illnesses, hospitalizations and even the risk of flu-related death in children.

Why do I need a flu vaccine every year?
A flu vaccine is needed every season for two reasons. First, the body's immune response from vaccination declines over time, so an annual vaccine is needed for optimal protection. Second, because flu viruses are constantly changing, the formulation of the flu vaccine is reviewed each year and updated as needed to keep up with changing flu viruses.

Does flu vaccine work right away?
No. It takes about two weeks after vaccination for antibodies to develop in the body and provide protection against influenza virus infection. That's why it's better to get vaccinated by the end of October, before the flu season really gets under way.

---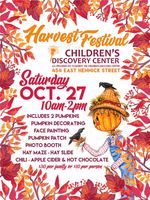 Harvest Festival October 27

Children's Discovery Center Harvest Festival Oct 27 (posted 10/5/18)
The Children's Discovery Center will host a Harvest Festival on Saturday, October 27th at 454 E Hennick Street in Pinedale from 10AM to 2PM. Cost is $10/person or $30/family which includes 2 pumpkins, pumpkin decorating, face painting, pumpkin patch, photo booth, hay maze, and a hay slide. There will be chili, apple cider and hot chocolate available. All proceeds go to benefit the Children's Discovery Center.

Related Links:
https://www.pinedalediscoverycenter.org/ Pinedale, Wyoming

---
Local Services:
Abortion Alternatives
Accounting & CPA
Apartments/Townhomes
Arts & Entertainment
Attorneys & Legal
Auction Services
Automotive
Aviation Services
Banks & Financial
Bars
Beauty Salons
Bed & Breakfasts
Boating
Bookkeeping
Builders & Contractors
Building Material
Business Services
Cabins
Cellular
Child Care
Churches
Cleaning Services
Clothing
Commercial Art
Computer Supplies
Condos
Consultants
Convenience Stores/Fuel
Convention/Meeting
Dentists
Dining
Dry Cleaning
Events
Fabric & Crafts
Fencing
Fishing
Flooring
Food & Drink
Funeral Homes
Furniture
Gifts/Western
Government
Graphic Design
Grocery & Market
Guest Ranches & Lodges
Handyman Services
Hardware & Feed
Heating
Health Care & Medical
Horseback Adventures
Insurance
Interior Design
Internet/Web/Advertising
Landscaping
Laundry
Liquor Stores
Lodging
Log Homes
Marketing
Massage Therapy
Modular Homes
Motels
Mountain Biking
Movie Theaters
Museums
Nails
Newspapers
Office Supplies
Oil Field Services
Optometrists
Organizations
Outdoor Equipment
Outfitters & Guides
Packaging & Shipping
Painters
Pet Stores
Pharmacies
Photography
Plumbing
Professional Services
Radio
Real Estate Agencies
Real Estate-FSBO
Remodeling
Retirement
Retreats
RV Camping
Schools
Scrapbooking
Septic Services
Skiing
Snowmobiling
Snow Plowing
Storage and Storage Units
Tanning
Tattoos & Body Art
Tax Preparation Services
Taxidermy
Transportation/Shuttle
Trash Services
Trucking
Veterinarians
Visitor Services