Deadline to submit Wyoming Community Foundation grant applications June 15th (posted 5/29/17)
Nonprofit organizations that would like to submit for a grant from the Wyoming Community Foundation are reminded that the application deadline is Thursday, June 15th. Typical grants are from $500 to $5000. More info at: http://wycf.org/know-before-applying/, Wyoming Community Foundation, 307-721-8300, email: wcf@wycf.org, website: www.wycf.org

---
Town of Pinedale update – New Ordinances (posted 5/29/17)
Town of Pinedale
The Town Council of Pinedale recently passed several ordinances that were intended to bring the Town Codes up-to-date and more reasonable for everyday application.

In February of this year, ordinance number 597 amending Chapter 440-Vehicles and Traffic, Article V: Stopping, Standing and Parking was approved and adopted. As the title of the chapter may allude, this ordinance made changes to parking in town. The changes made in this chapter have been in effect since March 10, 2017.
In addition, ordinances passed amending both Chapter 460-Water and Sewer, Articles I, II, and III, Chapter 122-Animals, in its entirety, and creation of a new Chapter 160-Applications and Permit. These ordinances were approved and adopted on May 22, 2017 and will be in effect beginning June 2, 2017.

In addition, a resolution was adopted on the 22nd of May settings rates and fees for various permits, licenses, and water sewer rates for the Town of Pinedale. The fees and rates will become effective June 15, 2017. The water and sewer rate fee portion of the resolution may be found on www.townofpinedale.us.

Copies of any of the ordinances or resolutions can be requested from Town Hall or may be viewed online once they are codified. Please see the link to the Town Code on www.townofpinedale.us.

---
Sublette County Rural Health Care District Board Special Meeting May 30 (posted 5/29/17)
Public Notice: There will be a Special Meeting of the Sublette County Rural Health Care District Board of Trustees on Tuesday, May 30, at 6:00 pm. Venue to be determined. Agenda: Executive Session for the purpose of: Legal

---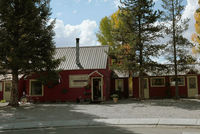 Rivera Lodge, 442 Marilyn Street in Pinedale

Rivera Lodge Open House June 1 (posted 5/29/17)
The Rivera Lodge in Pinedale is hosting an open house and coffee and dessert sale on Thursday, June 1 from 2-7PM. There will be live music by Jason Tyler Burton from 6-7PM. Come help us kick off our 65th year! 442 Marilyn Street in Pinedale. More info: 307-367-2424, www.riveralodge.com

---
Sublette County Memorial Day programs – Monday, May 29 (posted 5/29/17)
Memorial Day is a Federal holiday in the United States to remember and to honor all of those who have died while in service of the military. It is always celebrated on the last Monday in May.

Pinedale program: 11:00AM at the Pinedale Cemetery. Pinedale VFW Post 4801 will hold a ceremony that will last approximately one hour. The VFW Auxiliary will present an award to Pinedale High School senior Aisha Auroudou for winning the local Patriotic Art Contest. An invitation has been extended for the local Girls State representatives to attend. Lunch will follow at the Pinedale VFW Post 4801.

Big Piney/Marbleton program: 11:00AM at Plainview Cemetery. Ceremony by the American Legion will include a 21-gun salute, a presentation by the local Boy Scout Troop, and a speech by Sublette County Commissioner Mack Rawhouser. Free community BBQ to follow at the cemetery.

---
Pride Not Prejudice in Pinedale event June 3 (posted 7/25/17)
Women's Advocacy Group is sponsoring a picnic and potluck on Saturday, June 3rd at the American Legion Park in Pinedale from 11am-2pm. This is a celebration in support of LGBT (lesbian, gay, bisexual, and transgender).month of June and to support the LGBT community in Sublette County. Members of Congress and local politicians are invited and encouraged to attend. There will be speakers, crafts, games, music, and information from Wyoming Equality. Food will be provided. Participants encouraged to bring a potluck dish to share.

---
BTNF plans spring prescribed burns near Pinedale (posted 5/21/17)
Near Sylvan Bay Summer Home area
Bridger-Teton National Forest
The Bridger-Teton National Forest is planning to conduct a prescribed burn near the Sylvan Bay Summer Home Area on the Pinedale Ranger District at the end of May or beginning of June.

The Sylvan Bay Road prescribed burn is a 126-acre unit consisting of light slash, which is branches and tree limbs, and ground fuels, which is low lying shrubs and vegetation, in a Douglas fir stand. The area is located just east of the Fremont Lake Campground and south of Sylvan Bay Summer Homes.

Fuels will be hand ignited using drip torches with crews working along the road and engines will be shuttling water from the boat launch area to water tanks at the burn site. There will be no closures but traffic along the Sylvan Bay road may have wait times to provide for firefighter safety. Fire Managers expect to have most of the ignition operations completed in one or two days.

The Sylvan Bay Road prescribed burn, part of the Skyline Wildland Urban Interface Fuels Reduction Project, is a combination of hand thinning treatments and broadcast burning. The unit was hand thinned by a timber sale harvest several years ago to remove Douglas fir bark beetle infested trees. Thinning has improved the Douglas fir stand health and reduced the threat of torching and crown fire. Torching is when a tree completely ignites, flaming like a matchstick. Crown fires are when the fire gets up into the tree-tops and quickly spreads from tree to tree. The slash that was created from the timber sale is the targeted fuel for this burn. A low intensity fire will reduce ground fuel loading while limiting mortality to over-story trees and thus create a resilient landscape and help protect the surrounding communities.

The project was designed to provide greater defensible space and lower the risk from wildfire to homes and private property by removing hazardous fuel loads in the Sylvan Bay Wildland Urban Interface (WUI). This effort will help moderate fire behavior during a wildfire and increase firefighter and public safety.

Actual ignitions for the prescribed burn will depend on meeting strict parameters for weather, fuel moisture, and fire behavior conditions. Smoke will be visible from Pinedale and surrounding area during ignition operations and for a short time after lighting has been completed.

For more information on prescribed fire, fuels reduction projects, and defensible space, visit www.tetonfires.com or call the Pinedale Ranger District at 307-367-4326.

---
Pinedale Anticline Project Office proposes upgrading snow removal equipment to reduce ozone emissions (posted 5/21/17)
Public comment accepted until June 1
Bureau of Land Management
The Pinedale Anticline Project Office (PAPO) proposes to upgrade snow removal equipment in Sublette County to meet higher emission standards and is seeking public comment regarding this proposal.

The proposal would upgrade one 2001 diesel vehicle to a newer model that will reduce ozone emissions as well as other pollutants. The cost of the new equipment is estimated to be $180,000. Funding from the PAPO Mitigation Fund will represent up to $135,000 (75%) of the total project cost with Diesel Emissions Reduction Act funds providing at least $45,000 (25%).

Comments on this proposal will be accepted until June 1, 2017. Please submit comments to the PAPO team at kroadife@blm.gov or P.O. Box 768, Pinedale WY 82941. Please note PAPO Ozone Reduction Proposal in the subject line of emails.

The PAPO board consists of senior managers from the Wyoming Department of Environmental Quality Air Quality Division, the Wyoming Game and Fish Department, the Wyoming Department of Agriculture and the BLM. The PAPO team is comprised of an interdisciplinary interagency group of specialists that work for those agencies.

For more information, please contact Kellie Roadifer at 307-367-5309 or kroadife@blm.gov.

Additional information on the PAPO is available at www.wy.blm.gov/jio-papo/.
---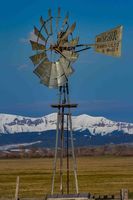 Dempster. Photo by Dave Bell.

Early Spring in the Upper Green (posted 5/17/17)
Local photographer Dave Bell has posted more photos from his early spring outings. Click on this link to see his Mother's Day weekend pictures.

---
Natural Resources Conservation Service Sublette Work Group meeting June 6 (posted 5/10/17)
In Afton, Wyoming
PUBLIC MEETING NOTICE: The USDA-Natural Resources Conservation Service Sublette County Local Work Group will meet June 6, 2017 at 1:00 pm at the Afton USDA Center 625 Washington Street Afton, Wyoming. The main purpose of the meeting is to determine local work group priorities for the 2018 funding year. The public is welcome or can call in. Contact Jennifer Hayward at 307-367-2257 ext. 110 for more information.

---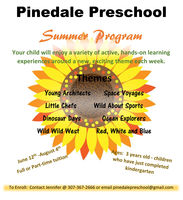 Pinedale Preschool summer program runs from June 12-August 4, 2017

Pinedale Preschool summer program offered (posted 5/11/17)
Runs June 12-August 4
Pinedale Preschool is offering a summer program for children aged three through those who have just completed kindergarten. The program has a variety of active, hands-on learning experiences around an exciting theme each week. The program will run June 12-August 4th. Flexible scheduling is available. Enrollment ends May 19th. For more information contact Jennifer at pinedalepreschool@gmail.com or call 307-367-2666.
---
Town of Pinedale Trash Services Request for Bids (posted 5/9/17)
Town of Pinedale
The Town of Pinedale, Sublette County, Wyoming is seeking bids for annual trash services for Town trash receptacles. The Trash Services Request for Bid package may be obtained at the Town Hall or by email. For questions call 307-367-4136 or email patschwab@townofpinedale.us. Sealed bids shall be received by the Town of Pinedale at 69 Pinedale South Road (23-123), Pinedale, Wyoming, 82941, no later than Thursday, May 18th, 2017, at noon (12PM). All bidders are required to have proof of liability and workman's compensation insurance with their bid. The right is reserved by the Town of Pinedale to reject any and all bids.

Related Links:
www.townofpinedale.us Town of Pinedale

---
Farewell Reception for Nancy McDaniel May 31 (posted 5/8/17)
Pinedale's long-time Children's Librarian is retiring
The Sublette County Library invites everyone to come to the Pinedale Library on Wednesday, May 31st for a Farewell Reception for Children's Librarian, Nancy McDaniel. Nancy is retiring after 27 years at the Library. Everyone is invited to come wish her well at a Farewell Reception on Wednesday, May 31st from 5 — 6:30 pm in the Lovatt Room of the Pinedale Library. The Library is also collecting memories to be included in a special book for Miss Nancy. On your next visit to the library, share a favorite memory, craft project, event or book that Miss Nancy introduced you to. Complete and return it by the day of the party.

---
Local Services:
Abortion Alternatives
Accounting & CPA
Apartments/Townhomes
Arts & Entertainment
Attorneys & Legal
Automotive
Banks & Financial
Bars
Beauty Salons
Bed & Breakfasts
Boating
Bookkeeping
Builders & Contractors
Building Material
Business Services
Cabins
Cellular
Child Care
Churches
Cleaning Services
Clothing
Commercial Art
Computer Supplies
Condos
Consultants
Convenience Stores/Fuel
Convention/Meeting
Dentists
Dining
Dry Cleaning
Events
Fabric & Crafts
Fencing
Fishing
Flooring
Food & Drink
Funeral Homes
Furniture
Gifts/Western
Government
Graphic Design
Grocery & Market
Guest Ranches & Lodges
Handyman Services
Hardware & Feed
Heating
Health Care & Medical
Horseback Adventures
Insurance
Interior Design
Internet/Web/Advertising
Landscaping
Laundry
Liquor Stores
Lodging
Log Homes
Marketing
Massage Therapy
Modular Homes
Motels
Mountain Biking
Movie Theaters
Museums
Nails
Newspapers
Office Supplies
Oil Field Services
Optometrists
Organizations
Outdoor Equipment
Outfitters & Guides
Packaging & Shipping
Painters
Pet Stores
Pharmacies
Photography
Plumbing
Professional Services
Radio
Real Estate Agencies
Real Estate-FSBO
Remodeling
Retirement
Retreats
RV Camping
Schools
Scrapbooking
Septic Services
Skiing
Snowmobiling
Snow Plowing
Storage and Storage Units
Tanning
Tattoos & Body Art
Tax Preparation Services
Taxidermy
Transportation/Shuttle
Trash Services
Trucking
Veterinarians
Visitor Services