New shuttle bus to White Pine Ski Area (posted 12/9/18)
The non-profit organization, The White Pine Foundation, has received a generous donation in the form of a shuttle bus from Echo Transportation in Big Piney. A shuttle to the ski area is now being offered for youth 18 and under. It is a small shuttle, so reservations are required. The shuttle is free to any youth who is a White Pine Junior Snowsports Club member. To all others, the shuttle is a $2 round-trip fee.

Click on this link for the schedule: White Pine Shuttle Schedule

Related Links:
www.whitepineski.com White Pine Ski Area

---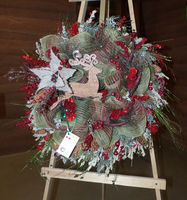 25th Annual Museum of the Mountain Man Holiday Wreath & Chocolate Auction. This wreath was made by Julie Early.

25th Annual Wreath & Chocolate Auction (posted 12/9/18)
Fundraiser for the Museum of the Mountain Man
Dawn Ballou, Pinedale Online!
The Museum of the Mountain Man held their annual Wreath & Chocolate Auction on Friday, December 7th in the Lovatt Room of the Pinedale Library. This year was the 25th anniversary of the event, which is a fundraiser for the Museum. Money raised goes towards next year's programs and exhibits. The Museum is run by the Sublette County Historical Society.

Executive Director Clint Gilchrist said there were 34 hand-made wreaths that had been donated for this year's live auction and 32 chocolate treats in the silent auction. He said over the 25 years there have been over 250 wreath donors helping the Museum. Memory books were placed on each table with newspaper articles and the advertisements through all the years of the wreath auction.

Several people were recognized for their contributions to the Wreath Auction over the years. Julie Early originally came up with the idea to do the wreath auction and has contributed a wreath every year. Auctioneer Jay Fear has been auctioneer for 18 straight years and has also donated a wreath each of those years. First Bank has sponsored the food for the Wreath Auction for the past 17 years. Prior to having their sponsorship, the Museum had charged an entry fee of $3 to $5 for admission to the event. Mark and Cheryl Eatinger of Rio Verde Engineering was recognized for being at the very first Wreath Auction and donating a wreath nearly every year since. Annette Pape has brought her delicious hand-made chocolates for close to twenty years. Sage and Snow Garden Club has donated a wreath for the past 15 years and many times has been picked as the "People's Choice" fan favorite.

Food and punch was generously sponsored by First Bank. Moose Creek Catering provided the food.

Gilchrist said, "After 25 years, it is amazing the community support we still get. Great turn out, a lot of fun, and raised a lot of money for the Museum."

Click on this link to see photos of all the beautiful wreaths: 25th Annual Wreath & Chocolate Auction

Related Links:
www.mmmuseum.com Museum of the Mountain Man

---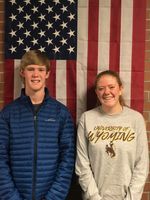 Trevor D. Moritch and Katelyn Hayward are the 1st and 2nd Place Winners in the Voice of Democracy Audio Essay Competition. Photo courtesy Rose Robertson.

Voice of Democracy Audio Essay Competition winners announced (posted 12/9/18)
Trevor D. Moritch and Katelyn Hayward
Windy Noble
Fremont Peak VFW Post 4801 has selected this year's winners of the Voice of Democracy Audio Essay Competition. The competition is open to all 9-12 grade students. The 2019 theme is: "Why My Vote Matters."

Sublette County results:
1st place award: Trevor D. Moritch, $250 - Pinedale High School
2nd place award: Katelyn C. Hayward $100 - Pinedale High School

Trevor Moritch advanced to the district competition representing Post 4801 in Sublette County.

The local chapter is still waiting to see if Trevor will go on to State after the district judging is completed. This is a 3 to 5 minute audio essay about the said topic. If he advances at the district level and is named 1st place winner in the State of Wyoming he will then move on to National Competition, which is March 2nd-6th in Washington DC, an all-expenses paid trip. He could compete for the top scholarship of 30,000. Fremont Peak VFW Post 4801 extends their congratulations to Trevor and Katelyn for their participation.

Fremont Peak VFW Post 4801 would like to thank Pinedale High School's Rose Robertson for her continued dedication and support for this program. Along with the four judges, thanks is also extended the volunteers for their time to help make the selection.

Kris Searles
Kendall Brunette
Marti Siepp
Carley Anerson

More information about the Voice of Democracy program can be found at www.wfw.org.

---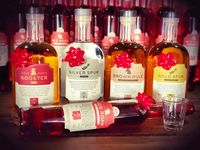 Holiday tasting at Ridley's Outfitter Liquor store in Pinedale, on Friday, December 14, 2018.

Holiday Tasting Dec. 14 (posted 12/9/18)
Cowboy Country Distilling, Pinedale's local distillery, invites the community, ages 21 and up, to a free Holiday Tasting event at Ridley's Outfitter Liquor store in Pinedale on Friday, December 14, from 5-7 pm. Stop by for free samples of all CCD products and warm up with Cowboy Country Distilling's signature Hot Buttered Rum, and "Big Bull" cocktail made with CCD's Rooster Rum and Gold Spur Whiskey.

Related Links:
www.cowboycountrydistilling.com Cowboy Country Distilling, Pinedale, Wyoming

---
Request For Proposal - Grant Writing (posted 12/9/18)
Sublette County
Sublette County, Wyoming is requesting proposals for grant writing services for the submission of a HMPG grant application in cooperation with the Sublette County Commission and Hoback Ranches Service and Improvement District. The HMPG grant has a value of $425,000, and is due on April 1, 2019.

Proposals for this service will be evaluated on:
* Resume of the person/firm providing the requested services.
* List of previously produced successful applications with amounts funded.
* References.
* Fees for services.

Deadline for submission of completed proposals is 5 p.m. on December 31, 2018 to the Sublette County Clerk, P.O. Box 250, 21 South Tyler, Pinedale, WY 82941 or mary.lankford@sublettewyo.com. Sublette County is an Equal Opportunity Employer.

---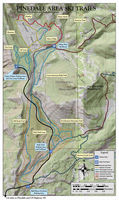 Nordic Ski Trail Map courtesy Sublette County Recreation Board

Nordic ski trail grooming report – Dec. 7, 2018 (posted 12/7/18)
Mike Looney, Groomer, Sublette County Recreation Board
Friday, December 7, 9:00AM report:
Half Moon Tie-In, Kelly Park, Kelly Tie-In, Lower & Upper Surveyor, Moose Ridge, Flatline, Tree Loop and Old Road Trail all groomed this morning. Chilly, 0F degrees at the Nordic Equipment Building, warming up. There are two pair of cow & calf moose in Lower Surveyor Park this morning.

This Nordic Ski Trail grooming report is courtesy of the Sublette County Recreation Board.

Related Links:
X-C Ski Trail Map - (356K PDF)
Road and Weather links
www.visitpinedale.org Pinedale tourism website (links to lodging, dining, area information)
www.whitepineski.com White Pine Resort, 307-367-6606, (Nearby alpine skiing, food services, restroom)
www.greatoutdoorshop.com The Great Outdoor Shop, 307-367-2440
www.sublettechamber.com Local businesses & services, 307-367-2242
www.golfpinedale.com Rendezvous Meadows Golf Course (Additional Nordic ski trails, food services, restroom)

---
No Immunization Clinic on Dec. 13 (posted 12/7/18)
Public Notice: Public Health will not be having an immunization clinic on Thursday, December 13, 2018. Please call Public Health to come at a different time, 307-367-2157.

---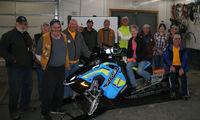 Cindy Mitchell was the winner of the 2018 Pinedale Lions Club Snowmobile Raffle. Photo courtesy Pinedale Lions Club.

And The Winner Is… (posted 12/4/18)
Cindy Mitchell wins 29th Annual Snowmobile Raffle
Pinedale Lions Club
The Pinedale Lions Club held its 29th Annual Snowmobile Raffle Drawing on Saturday, December 1 at Bucky's Outdoors. All 500 tickets were sold and the lucky winner of the 2019 Polaris 800 Pro RMK 155" with the new 850 engine was Cindy Mitchell. Approximately 70 other prizes were awarded during the reverse drawing, featuring items donated by many generous Sublette County businesses. Winners are being called and a list is available and prizes can be picked up at ReBel Auto Parts in Pinedale.

The Pinedale Lions Club supports many local projects including the Easter Egg Hunt, high school scholarships, grants to early childhood education centers, vision care assistance, free diabetes testing via the Public Health Nurse, and the Leo Club for youth ages 12-18. They also help fund the Allen H. Stewart School for the Visually Impaired in Casper, the Rocky Mountain Lions Eye Bank and contribute to Lions Clubs International's disaster relief efforts. This year, the club has taken an active role in administration of the Roosevelt Fire Disaster Recovery Fund and rebuilding efforts.

According to President Jon Gibson, "the Pinedale Lions Club's mission is to empower volunteers to serve our communities, meet humanitarian needs, encourage peace and promote international understanding. We greatly appreciate the incredible support of our local businesses, friends and neighbors who help us not only with the snowmobile raffle but throughout the year."

---
Medical Clinics will be closed Dec. 24 & 25 (posted 11/26/18)
Sublette County Rural Health Care District
PUBLIC NOTICE: Both the Pinedale and Marbleton Medical Clinics will be closed on Monday and Tuesday, December 24 and 25 for Christmas holiday.

---
Local Services:
Abortion Alternatives
Accounting & CPA
Apartments/Townhomes
Arts & Entertainment
Attorneys & Legal
Auction Services
Automotive
Aviation Services
Banks & Financial
Bars
Beauty Salons
Bed & Breakfasts
Boating
Bookkeeping
Builders & Contractors
Building Material
Business Services
Cabins
Cellular
Child Care
Churches
Cleaning Services
Clothing
Commercial Art
Computer Supplies
Condos
Consultants
Convenience Stores/Fuel
Convention/Meeting
Dentists
Dining
Dry Cleaning
Events
Fabric & Crafts
Fencing
Fishing
Flooring
Food & Drink
Funeral Homes
Furniture
Gifts/Western
Government
Graphic Design
Grocery & Market
Guest Ranches & Lodges
Handyman Services
Hardware & Feed
Heating
Health Care & Medical
Horseback Adventures
Insurance
Interior Design
Internet/Web/Advertising
Landscaping
Laundry
Liquor Stores
Lodging
Log Homes
Marketing
Massage Therapy
Modular Homes
Motels
Mountain Biking
Movie Theaters
Museums
Nails
Newspapers
Office Supplies
Oil Field Services
Optometrists
Organizations
Outdoor Equipment
Outfitters & Guides
Packaging & Shipping
Painters
Pet Stores
Pharmacies
Photography
Plumbing
Professional Services
Radio
Real Estate Agencies
Real Estate-FSBO
Remodeling
Retirement
Retreats
RV Camping
Schools
Scrapbooking
Septic Services
Skiing
Snowmobiling
Snow Plowing
Storage and Storage Units
Tanning
Tattoos & Body Art
Tax Preparation Services
Taxidermy
Transportation/Shuttle
Trash Services
Trucking
Veterinarians
Visitor Services