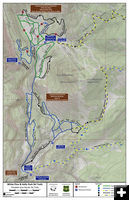 Map courtesy Sublette County Recreation Board

Nordic ski trail grooming report – January 23, 2020 (posted 1/23/2020)
Mike Looney, Groomer, Sublette County Recreation Board
Thursday, January 23, 2020, 12:30PM report:
Half Moon Tie-In, Kelly Park, Kelly Tie-In, Upper and Lower Surveyors, Moose Ridge, Tree Loop, Powerline, Old Road Trail, Aspen, and Looney Lane all freshly groomed this morning. Also did the CCC trails and Golf Course. Lots of good skiing today and sun shining right now.
This Nordic Ski Trail grooming report is courtesy of the Sublette County Recreation Board.

Related Links:
White Pine-Kelly Park Ski Trail Map - (10.3MB PDF)
CCC Ponds Ski Trail Map - (1.84MB PDF)
Road and Weather links
www.visitpinedale.org Pinedale tourism website (links to lodging, dining, area information)
www.whitepineski.com White Pine Resort, 307-367-6606, (Nearby alpine skiing, food services, restroom)
www.greatoutdoorshop.com The Great Outdoor Shop, 307-367-2440
www.sublettechamber.com Local businesses & services, 307-367-2242
www.golfpinedale.com Rendezvous Meadows Golf Course (Additional Nordic ski trails, food services, restroom)

---
Vision Boards Workshop Feb. 12 in Pinedale (posted 1/20/2020)
Visualize your goals in a fun and artistic way
SAFV Task Force and Pinedale Arts & Craft are offering a fun-filled night of creativity! There will be a Vision Boards workshop on Wednesday, February 12th (rescheduled from January 29th) at Pinedale Arts & Crafts, 20 W Pine Street from 5:30 to 7:30PM. Pinedale Arts & Crafts' staff will lead participants on the mindful journey of identifying and visualizing the goals you've set for yourself in an artistic and fun way. Vision Boards are visual representations of the things you want to have in your life. By focusing your mind on these things, you can see new ways to achieve these goals. All supplies are provided. Space is limited, so please RSVP if you would like to attend by calling SAFV at 307-367-6305.

---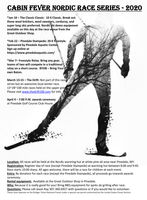 Cabin Fever Nordic Ski Races

Cabin Fever Nordic Race Series - 2020 (posted 1/20/2020)
Cabin Fever Nordic Race Series - 2020

*Jan 18 - The Classic Classic: 10 K Classic. Break out those wool knickers, wool sweaters, corduroy, and super long skis preferred. Nordic ski demo equipment available on this day at the race venue from the Great Outdoor Shop.

*Feb 22 - Pinedale Stampede: 20 K freestyle.
Sponsored by Pinedale Aquatic Center.
Sign up online at https://www.pinedaleaquatic.com/

*Mar 7- Freestyle Relay:
Bring any gear, teams of two will compete in a traditional relay on a short course. BYOB - Bring Your Own Baton.

March 13-15 - The Drift:
Not part of this race series but an awesome local winter race. 13~28~100 mile races held on the Upper Green. Please visit www.thedrift100.com for info.

April 4 - 7:00 P.M. Awards Ceremony:
At Pinedale Golf Course Club House

Location: All races will be held at the Nordic warming hut at White Pine ski area near Pinedale, Wyoming.

Registration: Register day of race (except the Pinedale Stampede) at warming hut between 8:00 and 9:45. Race starts 10:00 sharp. All ages welcome, there will be a race for children at each event.

Entry: By donation for each race (except the Pinedale Stampede), all proceeds go towards awards ceremony.

Rental equipment: Available at the Great Outdoor Shop in Pinedale.

Why: Because it is really good for you! Bring BBQ equipment for après ski grilling after race.

Questions: Please call Jason Ray 307-360-6927 with questions or if you would like to volunteer.

These races operate on the Bridger-Teton National Forest under a special use permit authorized by the United States Forest Service.

---
Mental Wellness Support Group meeting in Pinedale Jan. 28 (posted 1/19/2020)
Sublette County Cares, a local non-profit service group, is starting a mental wellness support group for the community. Anyone that would like to attend is welcome. There will be open forum discussions where attendees can share ideas and experiences on improving mental wellness as well as help to identify resources for those struggling with mental health. The meeting will be in the board room of the Sublette County Library in Pinedale on Tuesday January 28th from 7:00-8:30 PM. For more information, call 307-360-7926, or email sublettecountycares@gmail.com.

---
Art & Poetry Show in Pinedale March 2 (posted 1/17/2020)
Submissions sought, deadline Feb 17
There will be an Art & Poetry Show in the Lovatt Room of the Pinedale Library on Monday, March 2, 2020. The theme of the show is "A Vision of Wyoming – the Equality State." There will be paintings, photography, essays, poetry, quilts, music and more. Artisans are invited to submit entries into the show – entry is free. Entries are due by Monday, February 17th. The art will be on display in the Library all through the month of March.

The event is being put on by the Women's Advocacy Group and the Sublette County Library. For more information and entry details, contact Joni Mack, 307-690-0669, joni@ravenscrowne.com, or Karla Bird, 307-413-4619, frankorKarlabird@hotmail.com.

---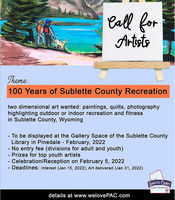 Call for artists

PFAC seeks artist submissions for power box in American Legion Park (posted 1/17/2020)
The Pinedale Fine Arts Council (PFACZ) and the Public Art Committee are looking for artists to submit ideas for the new power box in the American Legion Park in Pinedale. The winning artist will be awarded $500. Submissions are due by Friday, Feb 28th. This project is sponsored in part by the Wyoming Business Council and the Wyoming Cultural Trust Fund, a program of the Department of State Parks and Cultural Resources.
---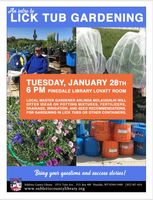 Lick Tub Gardening workshop Jan. 28 in Pinedale

Introduction to Lick Tub Gardening Workshop Jan. 28 (posted 1/16/2020)
Presentation by Arlinda McLaughlin
Local Master Gardener Arlinda McLaughlin will give a workshop on Lick Tub Gardening on Tuesday, January 28 at 6:00PM in the Lovatt Room of the Pinedale Library. She will offer tips on potting mixtures, fertilizer, drainage, irrigation, and seed mixture recommendations for gardening in lick tubs and other containers. This event is co-sponsored by the Sage & Snow Garden Club and Sublette County Library in Pinedale. The workshop is open to the public and free of charge.

---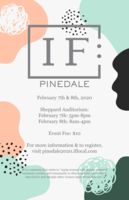 IF:Pinedale Feb 7 & 8

IF:Pinedale 2020 Feb. 7 & 8 (posted 1/16/2020)
Bible study gathering for women
IF:Pinedale 2020 is a two-day event where women from Pinedale and nearby towns will come together and watch IF:Gathering 2020 LIVE! This year, the theme for IF:Gathering 2020 is "Jesus." Supplies will be provided. Bring your Bible and your favorite journal.

IF is a ministry that exists "to equip women with gospel-centered resources, events, and community so they may learn more about who God is and disciple other women right where they are." Across the earth, across every different country and nation, let's come together for two days and ignore our feeds and ignore all the noise and ignore the chaos inside of us and listen to the word of God taught.

Dates and times:
Friday, February 7, 2020 from 5:00pm - 8:00pm
Saturday, February 8, 2020 from 8:00am - 4:00pm

The gathering will take place in the Sheppard Auditorium, 101 Hennick Street in Pinedale, Wyoming.

Registration fee is $10.

Some meal will be provided. On Friday, February 7th, there will be snacks and drinks. Please note that dinner will not be served. Saturday, February 8th there will be snacks, drinks, and a sack lunch.

For more information and to register visit www.pinedale2020.iflocal.com

---
Muley Fanatic Foundation fundraiser Feb. 29 (posted 1/16/2020)
The Muley Fanatic Foundation will hold their annual fundraiser on Saturday, Feb. 29 at the Sublette County Fairgrounds in Big Piney. The event is sponsored by the Upper Green Wyoming Chapter of MFF. There will be a banquet, Casino Night, 2020 Commission licenses in the live auction, free Veteran's giveaway, and more.

There are limited tickets available. Individual tickets are $65 each, which includes meal, MFF membership, and $20 in playing chips. Corporate tables are available for $1000, which includes reserved seating, 8 meals, 8 MFF memberships, $160 in playing chips, and gift. Kids 11 and under are free. Doors open at 3:00PM.

Everyone that purchase's individual tickets or corporate tables before February 1st will be entered into a raffle for a chance to win $500.00 of poker chips to start out their night with a head-start. Get tickets online at:
https://uppergreenmff.givesmart.com or text uppergreenmff to 76278.

For more information call Ray 307-203-7250, or Mitch 307-389-0649.

Related Links:
www.muleyfanatic.org

---
SaturdayU to focus on future of Wyoming Fossil Fuels (posted 1/15/2020)
Presentation in Pinedale on Jan. 23
Sublette BOCES
Sublette BOCES along with the Sublette County Library are pleased to present SaturdayU, a offering from the University of Wyoming, the event will be held Thursday, Jan. 23, 2020. The theme of this program is "A Low-Carbon Future for Wyoming Fossil Fuels?"

Wyoming exports the bulk of its abundant energy resources and thus is subject to market and policy developments beyond its borders. An increasing number of states are adopting polices that mandate the utilization of renewable and clean energy resources. The federal government continues to regulate greenhouse gas emissions from industrial facilities, including coal-fired power plants and natural gas separation plants. This Saturday University program will explore the global, national and local decisions that affect our communities. Experts from the School of Energy Resources will explain current UW projects in western Wyoming as well as provide an important overview that will shape a community discussion about what the coming energy transition means for Wyoming.

Three professors from the University of Wyoming School of Energy Resources will be presenting, with Dr. Jean Garrison, UW Director of the Office of Engagement and Outreach moderating. The evening begins at 5:30 pm at the Sublette County Library Lovatt Room, Pinedale with complimentary hors d'oeuvres and beverages.

At 6 pm, Mark Northam, Ph.D, Executive Director, UW School of Energy Resources (UW-SER) will present his talk, "The Coming Energy Transition: Implications for Wyoming and the Globe." This presentation will frame the discussion regarding the energy transition that is underway as it highlights the implications these changes have for our communities and state.

At 6:50 pm, Scott Quillinan's, Geologist and Director of Research, UW-SER, presentation is titled "Techological Challenges and Opportunities for Wyoming: Ongoing Projects Advanced by the University of Wyoming School of Energy Resources." This talk will introduce several initiatives advanced by SER that seek to develop new technologies and new markets for Wyoming resources: Wyoming CarbonSAFE, approaches to net-zero and carbon negative coal combustion technologies, novel non-thermal uses for Wyoming coal and the ongoing critical mineral exploration to support the quickly growing demand for electric vehicle batteries.

At 7:40 pm, Kipp Coddington, director of Energy Policy and Economics, UW-SER will give the final presentation of the evening, "What SER's New Policy Center is Doing to Help the State of Wyoming." In this presentation Coddington will describe how The Center for Energy Regulation and Policy supports policies decision-makers and scientists by creating a conduit for research to provide interdisciplinary information and knowledge to contribute more directly to Wyoming's citizenry and economy; by providing effective policy development and assessment, and by facilitating partnerships with public, private and non-governmental entities.

For more information, please visit www.uwyo.edu/saturday.

---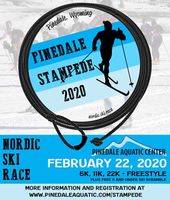 Pinedale Stampede Nordic Ski Race Feb. 22

Pinedale Stampede Nordic Ski Race Feb. 22 (posted 1/15/2020)
The Pinedale Aquatic Center is proud to present the first-ever Pinedale Stampede Nordic Ski Race, which will be held at the White Pine Nordic Ski area adjacent to White Pine Ski Resort in Pinedale, Wyoming on Saturday, February 22, 2020 at the White Pine Nordic Trail system. Space is limited; participants are encouraged to register as soon as possible.

Races:
6k freestyle (rec race)
11k freestyle
22k freestyle
1k youth (11 and under) stampede

General Information: Registration includes the event, swag, giveaways, and prizes for top competitors in both Skate and Classic divisions. Races will all be mass start, freestyle races. Grooming is provided by the Sublette County Recreation Board.

Location: The Pinedale Stampede will be held at the Nordic ski area adjacent to White Pine Ski Area. White Pine will be open for alpine skiing and tubing. White Pine lost its lodge to a fire in the summer of 2019, but has reopened with some dining and drink options. Nearby you will also find dog and family-friendly Nordic skiing, groomed fat bike trails, and snowshoeing opportunities.

Registration: Registration is now open online at https://events.com/r/en_US/registration/pinedale-stampede-pinedale-february-776096. Registration will close on Thursday, February 20th. There will be no onsite registration. Registration is required for all races except the 1K Youth Stampede for those 11 and under.

Race Check-In and Bib Pick-up: Racers are encouraged to check-in at the Pinedale Aquatic Center (located at 535 North Tyler Avenue in Pinedale) from 5pm - 7pm on Friday, February 21. Paid race registration includes free admission to the Pinedale Aquatic Center on Friday the 21st and Saturday the 22nd (after the race, of course). The Pinedale Aquatic Center has two pools, a hot tub, water slide, climbing wall, and fitness/gymnasium areas.
Same day check-in will be at the Nordic warming hut at White Pine Ski Area from 8am to 8:45am only.

Where to stay: The town of Pinedale is just a 20-minute drive away, with many dining and lodging options.

Race Timeline:
Friday, February 21:
Come play and check in at the Pinedale Aquatic Center. Check-in from 5pm to 7pm. PAC is open until 8pm.
Course will be set by 2pm for pre-skiing.

Saturday, February 22:
8am - 8:45am: Onsite check-in (no onsite registration)
9am - all racers must be off the course
9am - 6k freestyle race mass start (all racers must finish by 10am)
10:30am: 22k freestyle race mass start
10:30am: 11k freestyle race mass start
1pm (or when 22k race concludes) - Youth Stampede 1k race
1:30pm: Award ceremony
(all times are tentative)

More info and thanks to our sponsors:
https://www.pinedaleaquatic.com/stampede

This recreation event is authorized under a Special Use Permit with the Bridger-Teton National Forest, Pinedale Ranger District.

---
Jewelry & Chocolate reception for artist Joni Mack Feb. 6 (posted 1/10/2020)
Everyone is invited to a 'Jewelry & Chocolate' reception for artist Joni Mack at Art of the Winds Gallery in Pinedale. Come welcome new artist Joni Mack to the Gallery. Melita Snow will have her famous truffles for sale. There will be music by Talli Manning. From 4-6PM. Just in time for Valentine's Day!

---




2020 All School Reunion over Rendevous Day in July

Pinedale All-School Class Reunion July 9-12, 2020 (posted 1/8/2020)
Alumni please sign up soon
Bill Johnson
Notice to all Pinedale graduates and near graduates. We will be hosting an All School Reunion on Rendezvous weekend at the old home 20!! We expect all of you to head back to this same ole' Sublette County dirt that once again will recharge your soul! As soon as you enter The Green River Valley and see the beauty of those mountains again you will say, "Damn it's good to be home!"

The Rendezvous Pageant is the 2nd Sunday in July. The days leading up to the pageant are busy too. The Mountain Man Museum puts on talks that tell of the Indian way of survival and the same for the mountain man. There is the annual Community Church pancake breakfast. The Rendezvous Parade is held on Saturday and is always a big event. We intend to line up all our Veterans and honor them in this parade. If you can walk down Main Street and endure all the noise and applause, that will be big! If you can't walk that far we will push you in a wheel chair or haul you in a side by side ATV. You will all be honored! Bring your military cap.

There will be Indian dancing and singing in the park and dozens of booths selling their wares. If that is not enough there are nightly rodeos for entertainment. That lists the rendezvous side of things. What about reunion events? We will sign you in Wednesday afternoon and Thursday morning. If you prepay $100 for a couple and $50 for a single you will not have to stand in the slow line but can grab your packet and proceed. We would like you to prepay as soon as possible for the following reason. We can't properly plan without knowing about how many will attend. This is especially critical for the food and the entertainment. For instance, we sure don't want you to go hungry! Also, we might try to hire some professional musicians for a big event if we have enough people and the money! New music for the newer grads! Older music for the older grads!

One evening we might plan a story telling event at the school auditorium. Many untruths will be told I'm sure! Possibly we could schedule a golf tournament and a horse shoe tournament. Maybe others would like to play Pinochle or Bridge. We are presently open to new ideas so let us know if you have one. Special committees of "go getters" will make most of the final decisions.

We will try to line up a big barbecue or smaller ones if that makes the most sense. There will be Pinedale graduate musicians that will get together and perform. Karaoke would be cool! Maybe we can line up boats to give rides to the head of the lake. Driving up Skyline Drive to Elkhart Park never gets tiresome and most of the road is freshly repaved and widened. Forget Green River Lake. That wash board road will ruin your car! It's maintained by the Forest Service!

We presently have $4,100 in our all school reunion account which is money left over from the last all school reunion. Make out your checks to 2020 All School Reunion and then write in the year you graduated or would have graduated. That will help us keep track. If the money is a problem, send less. We want all of you to be here! Mail to P O Box 2354, Pinedale WY 82941
These are tenuous times. For everyone's good we need to reconnect and spread the Love. It may be our last chance to do so! Bill Johnson

We still have their addresses from last time but many are not current addresses. It is a big job to find everyone by mail. This time we are doing it mostly on Facebook. Whether you have a computer or not it will be YOUR job to look up the "Pinedale All School Class Reunion" Facebook page to get updates. The reunion is scheduled for the 9th, 10th, and 11th, of July. The Sunday pageant is on the 12th.

There is no formal offer, but if Big Piney- Marbleton graduates want to join us for the barbecue, music, and other events then we encourage it. We need to build a better bridge with our Sublette County friends. This could be a great start! We all like to visit don't we? You just have to let us know and pay your fair share.

Finding a room on Rendezvous week-end could be a big problem for the Tourists! You have the advantage of knowing way ahead of time that you need to reserve a room. Do it! Many of you can stay with friends. As a last resort bring your air mattress, sleeping bag, and a small tent. We can help find you places to camp. Ya' all come back here, ya' hear! No excuses just like in school!

Our reunion organization works like this. We are trying to find class leaders for every class that will attempt to get in touch with their classmates by computer or by mail or both. All of you know where someone lives that we don't. Help us by contacting them. Otherwise a lot of people are going to be left out! Find out who your class leaders are and work with them. Later on a list of all the class leaders will be posted on the reunion page. We will have special committees that put together the events. So far we have very little representation past 1989. That needs to change!

Click on this link for a printable version of this 2020 Pinedale All School Class Reunion Notice

Related Links:
Pinedale All School Class Reunions Facebook
www.visitpinedale.org Lodging and area information


---
Pinedale Community Blood Drive Jan. 27 (posted 1/6/2020)
There will be a Community Blood Drive in Pinedale on Monday, January 27th from 1-6pm in the EMS Ambulance Barn. To make an appointment, call Bill Kluck, 307-231-2071 or register online at www.bloodhero.com and use sponsor code pinedale.

---
Public asked to take survey about Sublette County community needs and services (posted 1/6/2020)
Sublette County Rural Health Care District
High Country Behavioral Health is conducting a survey to ask about community needs and services in Sublette County. High Country Behavioral Health is responsible for overseeing Community Services Block Grant (CSBG) funds that assist in reducing poverty, improving living conditions, and increasing economic self-sufficiency in Sublette County. The purpose of this survey is to provide input to High Country Behavioral Health in determining the best use of these funds. Sheela Schermetzler of Green River is assisting High Country Behavioral Health with this effort.

The public is asked to take the short survey by Thursday, January 30, 2020. This response is very important to the High Country Behavioral Health toward meeting the needs of the low income in Sublette County.

Follow this link to complete the survey https://www.surveymonkey.com/r/2020SubletteCntyClient

Surveys can also be picked up at High Country Behavioral Health, Public Health, both clinics and several other locations in Pinedale. For more information about this survey please contact Delphine Knowlton, High Country Behavioral Health Grant Coordinator (307) 885-9883, ext. 114 or e-mail delphinek@hcbh.org.

There will be a community meeting to discuss the needs of the low income in the community. On the following dates:
Thursday, January 23, 2020 Sublette BOCES Meeting Room, 855 North Tyler, Pinedale, Wyoming 12:00PM
Thursday, January 23, 2020 Big Piney Branch Library, 106 S. Fish St., Big Piney, Wyoming, 3:00PM

The final results of the needs assessment will be discussed at a Dialogue on Poverty on Monday, February 24, 2020 at the Sublette County Public Library, 155 S. Tyler Avenue Pinedale, Wyoming, 1:00PM. Public comments are most welcome.

---
Local Services:
Abortion Alternatives
Accounting & CPA
Apartments/Townhomes
Arts & Entertainment
Attorneys & Legal
Auction Services
Automotive
Aviation Services
Banks & Financial
Bars
Beauty Salons
Bed & Breakfasts
Boating
Bookkeeping
Builders & Contractors
Building Material
Business Services
Cabins
Cellular
Child Care
Churches
Cleaning Services
Clothing
Commercial Art
Computer Supplies
Condos
Consultants
Convenience Stores/Fuel
Convention/Meeting
Dentists
Dining
Dry Cleaning
Events
Fabric & Crafts
Fencing
Fishing
Flooring
Food & Drink
Funeral Homes
Furniture
Gifts/Western
Government
Graphic Design
Grocery & Market
Guest Ranches & Lodges
Handyman Services
Hardware & Feed
Heating
Health Care & Medical
Horseback Adventures
Insurance
Interior Design
Internet/Web/Advertising
Landscaping
Laundry
Liquor Stores
Lodging
Log Homes
Marketing
Massage Therapy
Modular Homes
Motels
Mountain Biking
Movie Theaters
Museums
Nails
Newspapers
Office Supplies
Oil Field Services
Optometrists
Organizations
Outdoor Equipment
Outfitters & Guides
Packaging & Shipping
Painters
Pet Stores
Pharmacies
Photography
Plumbing
Professional Services
Radio
Real Estate Agencies
Real Estate-FSBO
Remodeling
Retirement
Retreats
RV Camping
Schools
Scrapbooking
Septic Services
Skiing
Snowmobiling
Snow Plowing
Storage and Storage Units
Tanning
Tattoos & Body Art
Tax Preparation Services
Taxidermy
Transportation/Shuttle
Trash Services
Trucking
Veterinarians
Visitor Services