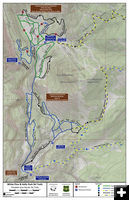 Nordic Ski Trail map

Nordic Ski Trail Grooming Report – Jan. 24, 2021 (posted 1/24/2021)
Mike Looney, Groomer
Sunday, 9:45AM: All trails above groomed this morning except for Aspen and Looney Lane. A little bit more snow from last night, lightly snowing now. A little chilly, 12F degrees. Road plowed, kind of snow-packed.

This Nordic Ski Trail grooming report is courtesy of the Sublette County Recreation Board.

Related Links:
White Pine-Kelly Park Ski Trail Map - (10.3MB PDF)
CCC Ponds Ski Trail Map - (1.84MB PDF)
Road and Weather links
www.visitpinedale.org Pinedale tourism website (links to lodging, dining, area information)
www.whitepineski.com White Pine Resort, 307-367-6606, (Nearby alpine skiing, food services, restroom)
www.greatoutdoorshop.com The Great Outdoor Shop, 307-367-2440
www.sublettechamber.com Local businesses & services, 307-367-2242
www.golfpinedale.com Rendezvous Meadows Golf Course (Additional Nordic ski trails, food services, restroom)

---
TOP Planning & Zoning Commission Public Hearing Feb. 1 (posted 1/23/2021)
Will discuss short-term rentals in town of Pinedale
Town of Pinedale
The Town of Pinedale Planning and Zoning Commission will hold a public hearing on Monday, February 1, 2021 at 12 p.m. in the Lovatt Room of the Sublette County Library, 155 S. Tyler, in Pinedale.

The purpose of the public hearing is to discuss an ordinance amending Section 475-23 to provide that members of the Planning and Zoning Commission must be residents of the Town, and an ordinance creating Article XLI of Chapter 475 concerning requirements for the Short-Term Rental (STR) properties. More info

---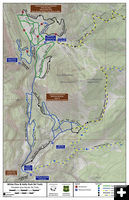 Nordic Ski Trail map

Nordic Ski Trail Grooming Report – Jan. 23, 2021 (posted 1/23/2021)
Mike Looney, Groomer
Saturday, 9:30AM: All trails above groomed this morning except for Aspen. Couple of inches of fresh snow and snowing. Lots of wildlife around so control your dog and please pick up after them. Pitch the poo.

This Nordic Ski Trail grooming report is courtesy of the Sublette County Recreation Board.

Related Links:
White Pine-Kelly Park Ski Trail Map - (10.3MB PDF)
CCC Ponds Ski Trail Map - (1.84MB PDF)
Road and Weather links
www.visitpinedale.org Pinedale tourism website (links to lodging, dining, area information)
www.whitepineski.com White Pine Resort, 307-367-6606, (Nearby alpine skiing, food services, restroom)
www.greatoutdoorshop.com The Great Outdoor Shop, 307-367-2440
www.sublettechamber.com Local businesses & services, 307-367-2242
www.golfpinedale.com Rendezvous Meadows Golf Course (Additional Nordic ski trails, food services, restroom)

---
Pinedale Stampede Nordic Ski Race Feb. 27 (posted 1/22/2021)
Registration open until Feb. 25th
The Pinedale Aquatic Center is hosting the 2nd annual Pinedale Stampede Nordic Ski Race on Saturday, February 27, 2021. It will be held at the White Pine Nordic Ski area adjacent to White Pine Ski Resort in Pinedale, Wyoming. Races will all be mass start, freestyle races.

Races:
6k freestyle (rec race)
10k freestyle
20k freestyle
1k youth (11 and under) stampede

Location: The Pinedale Stampede will be held at the Nordic ski area adjacent to White Pine Ski Area. White Pine will be open for alpine skiing and tubing. White Pine lost its lodge in the summer of 2019, but is open with some dining and drink options. Nearby you will also find dog and family-friendly Nordic skiing, groomed fat bike trails, and snowshoeing opportunities.

Registration:
For more information and registration: http://www.pinedaleaquatic.com/stampede.
Register at: https://events.com/r/en_US/registration/pinedale-stampede-2021-pinedale-february-799142
Registration will close on Thursday, February 25. There will be no onsite registration. Registration is required for all races except the 1k Youth Stampede for those 11 and under. Registration includes the event, swag, giveaways, and prizes for top competitors in both Skate and Classic divisions.

Race Check-In and Bib Pick-up: Racers are encouraged to check-in at the Pinedale Aquatic Center (located at 535 North Tyler Avenue in Pinedale) from 5pm - 8pm on Friday, February 26. Paid race registration includes free admission to the Pinedale Aquatic Center on Friday the 26th and Saturday the 27nd (after the race). The Pinedale Aquatic Center features two pools, a hot tub, water slide, climbing wall, and fitness/gymnasium areas. Same day check-in will be at the Nordic warming hut at White Pine Ski Area from 8am to 9am only.

Where to stay: The town of Pinedale is just a 20-minute drive away from White Pine. It has dining and lodging options. For more information, visit www.visitpinedale.org
.

Race Timeline:
FRIDAY, FEBRUARY 26:
Come play and check in at the Pinedale Aquatic Center. Check-in from 5pm to 8pm. PAC is open until 8pm. Course will be set by 2pm for pre-skiing.

SATURDAY, FEBRUARY 27:
8am - 8:45am: Onsite check-in (no onsite registration)
9am - all racers must be off the course
9am - 6k freestyle race mass start (all racers must finish by 10:15am)
10:30am: 20k freestyle race mass start
10:30am: 10k freestyle race mass start
1pm (or when 20k race concludes) - Youth Stampede 1k race
1:30pm: Award ceremony
(all times are tentative)

Grooming is provided by the Sublette County Rec Board.

---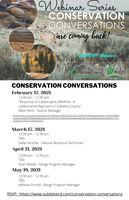 Conservation Conversations return (posted 1/21/2021)
Sublette County BOCES is offering Conservation Conversations webinar series over the next several months. Please RSVP at the following site: https://www.sublettecd.com/conservation-conversations

February 17, 2021 - "Response to Catastrophic Wildfires: A collaborative Approach in Sublette County"
Mike Henn - District Manager
12:00 pm - 12:30 pm
RSVP: https://www.sublettecd.com/conservation-conversations

March 17, 2021
12:00 pm - 12:30 pm
TBD Gabe Fancher - Natural Resource Technician

April 21, 2021
12:00 pm - 12:30 pm
TBD Shari Meeks - Range Program Manager

May 19, 2021
12:00 pm - 12:30 pm
TBD
Melanie Purcell - Range Program Manager

---
Pinedale Middle School 2020-2021 Science Fair results (posted 1/19/2021)
Best in Fair Project - Oh Deer! - Reece Woolwine & Fisher Mills

People's Choice Award - Dat's Hot! - Trace Fildey & Grant Carter

Best Visual Display - Just Compost It! - Amelia Gaffney & Sarah Helm
HM-Rescue in Seconds - Delaney Day
Wash, Wash, Wash Your Bowl - Aarika Smith & Savannah Johnson
The Caffeine Machine - Brooklyn Masters & Isabelle Rigo.
Need a Break Again? Elyn Bowers

Principal's Award - Bag of Tricks - Madi Hawke & Matazi Landers

Category Awards:
Engineering and Physical Science
1st- Need A Brake Again? - Elyn Bowers

2nd- Rescue in Seconds - Delaney Day

3rd- Bag of Tricks - Matazi Landers & Madi Hawke

Biomedical & Health
1st- Why So Negative? - Gabby Rogers

2nd- TIE: I'd Dye For White Teeth - Hadlee Francis
Face It - Candice Goodrich & Isabella Vitanza

3rd- TIE: Feel It - PJ Kemp
Dat's Hot - Trace Fildey & Grant Carter

Behavioral Science
1st- Eye Spy - Maggie Walker & Mya Swain

2nd- Attention Ladies & Gents - Kim Wight & Harlee Roberts

3rd- The Giant Game of Telephone - Charlotte Hawke & Megan Boulter

Animal Science
1st- Oh Deer! - Reece Woolwine and Fisher Mills

2nd- Bacteria Buddies - Karsyn Henn Karlee Nelson

3rd- Deci-Chicken - Libby Olson

Earth & Environmental Science
1st- React to Red Residue - KaLee Bohnet

2nd- Just Compost It'll Be Okay - Amelia Gaffney & Sarah Helm

3rd- TIE: Ocean Acidification Situation - Zac Later
The Water's pHine - Bryne Arne

Microbiology
1st- Not So Pawsome Bacteria - Mia Lehr & Ally Marks

2nd- Wash, Wash, Wash Your Bowl - Aarika Smith & Savannah Johnson

3rd- TIE: Does The Cough Block the Cough? - Erin Murphy and Erica Wilson
Race to the End - Jaden White & Nicolas Sletten

---
Wyoming Legislature update – January 13, 2021 (posted 1/16/2021)
Albert Sommers, House District #20 Representative
1/13/2021
Hello Sublette County, this is Albert Sommers reporting from Cheyenne on January 13, 2021. On Friday January 8, I was sworn into office for my fifth term in the Wyoming House of Representatives. The pandemic this past year has created enormous challenges for workers, families, businesses, and government at all levels. We worked on some of these challenges in a Special Session in May 2020, giving the executive branch of government authority to create programs and expend federal relief dollars to help mitigate the impacts created by COVID-19.

The Legislature convened virtually on Tuesday, January 12 to elect officers, pass temporary rules, and introduce bills. Eric Barlow, a rancher/veterinarian from the Gillette area, was elected Speaker, and Mike Greear, a manager of a sugar company from Worland, was elected Speaker Pro Tempore. These offices are constitutional offices and are voted on by the entire House of Representatives. In November, I was elected by the Republican Majority Caucus as the 66th Legislature's House Majority Floor Leader, which by rank is the number two position in the House. Jared Olsen, an attorney from Cheyenne, was elected by the Republican Majority Caucus as House Majority Whip.

After a couple of weeks of discussion, the presiding officers, in consultation with the rest of the Majority Leadership, determined the schedule for the 2021 General Session. The schedule consists of the January 12 opening day, followed by an eight-day virtual segment starting on January 27 and ending on February 5. The session will continue on March 1 and end by April 2, and it is leadership's hope that this will be an in-person session. Some legislators and members of the public wanted the Legislature to meet in-person starting January 12, but that option was not feasible. During sessions, we hire session staff, and these staff members are older retired individuals who work for the Legislature because they enjoy the process. We cannot subject our staff, both session staff and permanent staff, to this higher risk of infection. We have been told that few session staff would return for an in-person session. In the end, leadership created a schedule that gets the Legislature working quickly, and the session will finish up only a few weeks later than normal. We will get our work done, while doing our best to protect our staff, the public, and legislators.

The bills introduced by the presiding officers on January 12 will be worked in standing committees during the week of January 18. Committees will report these bills out to the House and the Senate, and when we reconvene January 27, we will consider the easiest of them. These committee bills have been vetted by joint committees during the interim, and have already had substantial public input. This eight-day session will have a crossover day, where bills will swap between the House and the Senate. The likely result of this eight-day virtual session is bills getting sent for the Governor's signature by early February.

During the week of February 22, standing committees will meet and debate more bills, and the budget bill will be available to the public and legislators for review no later than February 22. The budget bill and many other important bills will be debated during the March segment of the 2021 Regular Session. I am working on a handful of personal bills, including HB39. House Bill 39 amends the practice act for optometrists, and would give optometrists more tools in their tool box to treat patients.

I can be reached at albert@albertsommers.com with questions or comments.

---
Local Services:
Abortion Alternatives
Accounting & CPA
Apartments/Townhomes
Arts & Entertainment
Attorneys & Legal
Auction Services
Automotive
Aviation Services
Banks & Financial
Bars
Beauty Salons
Bed & Breakfasts
Boating
Bookkeeping
Builders & Contractors
Building Material
Business Services
Cabins
Cellular
Child Care
Churches
Cleaning Services
Clothing
Commercial Art
Computer Supplies
Condos
Consultants
Convenience Stores/Fuel
Convention/Meeting
Dentists
Dining
Dry Cleaning
Events
Fabric & Crafts
Fencing
Fishing
Flooring
Food & Drink
Funeral Homes
Furniture
Gifts/Western
Government
Graphic Design
Grocery & Market
Guest Ranches & Lodges
Handyman Services
Hardware & Feed
Heating
Health Care & Medical
Horseback Adventures
Insurance
Interior Design
Internet/Web/Advertising
Landscaping
Laundry
Liquor Stores
Lodging
Log Homes
Marketing
Massage Therapy
Modular Homes
Motels
Mountain Biking
Movie Theaters
Museums
Nails
Newspapers
Office Supplies
Oil Field Services
Optometrists
Organizations
Outdoor Equipment
Outfitters & Guides
Packaging & Shipping
Painters
Pet Stores
Pharmacies
Photography
Plumbing
Professional Services
Radio
Real Estate Agencies
Real Estate-FSBO
Remodeling
Retirement
Retreats
RV Camping
Schools
Scrapbooking
Septic Services
Skiing
Snowmobiling
Snow Plowing
Storage and Storage Units
Tanning
Tattoos & Body Art
Tax Preparation Services
Taxidermy
Transportation/Shuttle
Trash Services
Trucking
Veterinarians
Visitor Services