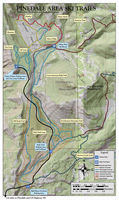 Nordic Ski Trail map courtesy Sublette County Recreation Board.

Nordic ski trail grooming report – November 21, 2017 (posted 11/21/17)
Nordic ski trail grooming report – November 21, 2017
Tuesday, November 21, 11:45AM report Surveyor Park, Moose Ridge groomed for both classic and skating. Old Road Trail and Lower Surveyor flat groomed. Use extreme caution on Lower Surveyor – areas of very thin coverage. May encounter some overflow – try to avoid, will make your skis ice up. There are moose in the area. There is about 14" of snow in Surveyor Park. Coverage diminishes quickly as come off the hill. There is a restroom at the Nordic warming hut at White Pine that is open to the public. White Pine Ski Area will open on Friday, November 24th for their 2017/2018 winter sports season.

This Nordic Ski Trail grooming report is courtesy of the Sublette County Recreation Board.

Related Links:
X-C Ski Trail Map - (356K PDF)
Road and Weather links
www.visitpinedale.org Pinedale tourism website (lodging, dining, area information)
---
White Pine Ski Area pre-season closure to uphill travel (posted 11/16/17)
Bridger-Teton National Forest
PINEDALE, WYOMING - In advance of the 2017-2018 ski season, White Pine Ski Area, located on the Bridger-Teton National Forest near Pinedale, Wyoming will be closed to public access as they begin grooming and pre-season activities. The temporary preseason closure is customary as the resort begins grooming and readying the ski area for opening day on November 24, 2017. The grooming activities will begin November 17, 2017 and are expected to be completed by November 24. Groomers and other equipment will be operating during, morning, daylight and evening hours. "When people are skinning up in the dark with headlamps, or with dogs, they may not realize that those morning and evening hours are also when there's mountain-ops activity — whether it's snow-farming, snow machining to service signs and equipment, and certainly grooming activity," said Pinedale District Ranger Rob Hoelscher.

Additionally this year, uphill or backcountry users will be allows to access uphill facilities as per White Pine direction throughout the 2017-2018 winter season. The Wind River Return Trail located on the west side of the ski area will remain open during grooming activities. Visitors will be able to utilize this trail to reach the Surveyor Trail. There will also be signed uphill access on the west side of Wind River Trail up to the saddle and over to the Kelly Park area.

White Pine ski area is one of three ski areas located on the Bridger-Teton National Forest. Of the 473 downhill ski areas in the U.S., 122 operate under special use permit on National Forest System (NFS) lands. Ski areas are permitted on 58 National Forests; in seven Forest Service Regions; and in 12 States. Ski areas under permit occupy 182,095 acres – about .09% of the 193 million acres of NFS land.

For additional information on Nordic skiing opportunities in the Pinedale area, call 307-367-4326 or visit the Forest webpage at https://www.fs.usda.gov/btnf/

Related Links:
www.whitepineski.com White Pine Resort
www.visitpinedale.org Visit Pinedale visitor information website

---
Mountain Man Christmas in Pinedale Dec. 9 (posted 11/16/17)
The Sublette County Chamber of Commerce will host its annual Mountain Man Christmas from 4 to 8PM on Saturday, December 9th. This year's event will include the parade, tree lighting, and Shop and Stroll.

Businesses that are interested in offering specials for the holiday shopping event can find a special form to fill out here so the Chamber can help promote your special: Shop & Stroll (PDF) Businesses have a choice to offer a one-night promotion or a weekly promotion (Dec. 9 – 16, 2017). Forms are also available at the Chamber. Deadline to get your application into the Chamber to appear on their advertising is Friday, December 1st. There is no charge to Chamber members to have their promotion listed on the rack card. Non-members $25 to be included in the Chamber's print advertising.

The Mountain Man Christmas Parade of Lights will be a night-time parade giving the opportunity to have festive lighting for you holiday float. Applications to have floats in the parade must be turned into the Chamber by Friday, December 8th at noon. The parade will be at 6:00PM going down Pine Street in downtown Pinedale from Lincoln Avenue to Bridger, then turn north past the Sublette Center to Hennick Street, then travel to Franklin Avenue, and return to Pine Street. Line up will take place on South Lincoln Avenue at 5:45PM. Persons or groups on the float must remain on the float during the parade. Candy and promotional items must be handed out only by people walking near your float. Promotional material must be business related and appropriate for children. Float sign up deadline is Friday, December 8th at noon. Click on this link for theparade application form (PDF) and get from the Chamber. Fax filled in form to the Chamber at 307-367-2248, drop by the Chamber, or email to membership@sublettechamber.com. For more information call 307-367-2242.

---
FREE Pinedale Community Thanksgiving dinner Nov. 23 (posted 11/14/17)
The Pinedale Community Thanksgiving dinner will be on Thursday, Nov. 23, Thanksgiving Day at Our Lady of Peace Catholic Church. There will be an interdenominational service at 11:00AM, dinner 11:45AM-2:00PM.

---
Structure fire reported in Pinedale (posted 11/13/17)
Sublette County Unified Fire
In the early morning hours of November 09, 2017 Sublette County Unified Fire was dispatched to a multiple use building for a reported structure fire on Cole Avenue. Sublette County Unified Fire Battalion 1 (Pinedale), Battalion 4 (Boulder) and Battalion 5 (Daniel) responded to the fire. Upon arrival the fire department discovered the commercial building and adjacent rental units were filled with smoke from a storage bin full of clothing that was burning. The fire department worked with the property owner to remove the burning material and ventilate the smoke from the building. The fire department temporarily evacuated the tenants from the building until the smoke was cleared. There were no injuries reported as a result from the fire. Combustible materials stored too close to the fireplace was listed as the cause of the fire.

Sublette County Unified Fire would like to remind residents that fires caused from heating equipment is a leading cause of home fire deaths in the U.S. Half of home heating equipment fires are reported during the months of December, January, and February. Here are some simple steps that can help prevent most heating-related fires from happening.
• Keep anything that can burn at least three feet away from heating equipment, like the furnace, fireplace, wood stove, or portable space heater.
• Have a three-foot "kid-free zone" around open fires and space heaters.
• Never use your oven to heat your home.
• Have a qualified professional install stationary space heating equipment, water heaters or central heating equipment according to the local codes and manufacturer's instructions.
• Have heating equipment and chimneys cleaned and inspected every year by a qualified professional.
• Remember to turn portable heaters off when leaving the room or going to bed.
• Always use the right kind of fuel, specified by the manufacturer, for fuel burning space heaters.
• Make sure the fireplace has a sturdy screen to stop sparks from flying into the room. Ashes should be cool before putting them in a metal container. Keep the container a safe distance away from your home.
• Test smoke alarms at least once a month.

Authority
Shad Cooper
Sublette County Unified Fire Chief

---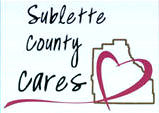 Sublette County Cares

Sublette County Cares (posted 11/10/17)
Volunteer Community Service organization helps those in need
Pinedale Online!
'Sublette County Cares' is a local volunteer, charitable organization that provides manpower for service projects for people in need in Sublette County, Wyoming. They are a 501(c)(3) charitable organization and operate with a volunteer board. Contributions are tax deductible.

Sublette County Cares past projects include:
- Painting a house. The owner provided the paint and fed their crew.
- Built a handicap ramp and finished a patio. The owners fed them in trade.
- Rebuilt a patio. Placed owner-provided pavers and sand.
- Maintained a yard for an elderly shut-in until she moved to the Sublette Center.
- Helped a family move from their previous home to a new address after the owner suffered a back injury. The family fed the volunteers.


Sublette County Cares has several new projects lined up:
Getting firewood: They want to get about 10 cords. They need one cord to help a person that recently had back surgery. They will stockpile the extra for those "dead of winter crises" to help anyone in need over the winter.

Home repair work: Helping a homeowner in Big Piney who got swindled on a home repair job. She paid money but the crew didn't do the work. Total repairs needed are about $15,000. They have helpers to do work and can get discounted materials once funds are collected. This is a large project. They could use financial donations and volunteers to help also welcome.

Building a handicap access ramp in Pinedale The owner has raised the funds. They will provide the manpower with some assistance from the high school shop class.

The group always welcomes more people to be involved and financial contributions are always helpful and greatly appreciated. For more information email sublettecountycares@gmail.com or find them on Facebook at https://www.facebook.com/sublettecountycares/

---
Pinedale Turkey Trot 5000 Nov. 23 (posted 11/9/17)
Don't miss the 27th running of the Pinedale Turkey Trot 5000 to be held Thanksgiving morning starting at the Sheppard's house (22 Sportsmans Loop). This is a 3 mile fun run, walk or trot and it starts at 9 AM. All levels of fitness are welcomed. Everyone needs to register however there is no charge to enter. Registration starts at 8:30 AM. We have had over 200 participants in the past so hope to add to the growing field again this year. Any questions call 307-367-4654 or email craig.sheppard@hotmail.com for more details. This is a good way to burn some calories before you eat all the turkey, dressing and pie that day!

---
Local Services:
Abortion Alternatives
Accounting & CPA
Apartments/Townhomes
Arts & Entertainment
Attorneys & Legal
Automotive
Aviation Services
Banks & Financial
Bars
Beauty Salons
Bed & Breakfasts
Boating
Bookkeeping
Builders & Contractors
Building Material
Business Services
Cabins
Cellular
Child Care
Churches
Cleaning Services
Clothing
Commercial Art
Computer Supplies
Condos
Consultants
Convenience Stores/Fuel
Convention/Meeting
Dentists
Dining
Dry Cleaning
Events
Fabric & Crafts
Fencing
Fishing
Flooring
Food & Drink
Funeral Homes
Furniture
Gifts/Western
Government
Graphic Design
Grocery & Market
Guest Ranches & Lodges
Handyman Services
Hardware & Feed
Heating
Health Care & Medical
Horseback Adventures
Insurance
Interior Design
Internet/Web/Advertising
Landscaping
Laundry
Liquor Stores
Lodging
Log Homes
Marketing
Massage Therapy
Modular Homes
Motels
Mountain Biking
Movie Theaters
Museums
Nails
Newspapers
Office Supplies
Oil Field Services
Optometrists
Organizations
Outdoor Equipment
Outfitters & Guides
Packaging & Shipping
Painters
Pet Stores
Pharmacies
Photography
Plumbing
Professional Services
Radio
Real Estate Agencies
Real Estate-FSBO
Remodeling
Retirement
Retreats
RV Camping
Schools
Scrapbooking
Septic Services
Skiing
Snowmobiling
Snow Plowing
Storage and Storage Units
Tanning
Tattoos & Body Art
Tax Preparation Services
Taxidermy
Transportation/Shuttle
Trash Services
Trucking
Veterinarians
Visitor Services