Skyline Theatre meeting June 17 (posted 6/16/19)
There will be a meeting regarding the Skyline Theatre at 5:00PM on Monday, June 17th at the Museum of the Mountain Man in Pinedale. Anyone interested welcome to attend.

---
Graveside Service for Bonnie Fay Bingham June 19, 2019 (posted 6/1619)
Covill Funeral Home
Bonnie Fay Bingham, 82, of Pinedale, Wyoming passed away at the Sublette Center June 14, 2019. A graveside service will be held Wednesday, June 19th at 1:30PM at the Pinedale Cemetery.

---
Memorial Service for Niobe 'Goosey' Zarlingo June 21, 2019 (posted 6/16/19)
Covill Funeral Home
Niobe "Goosey" Zarlingo, 91, of Boulder, WY passed away June 12, 2019. A memorial service will be held Friday, June 21st at 11:00 AM at the Wilderness Church in Pinedale. Inurnment will follow the service in the Pinedale Cemetery.

---
Rendezvous Pancake Breakfast July 13 (posted 6/16/19)
Everyone is invited to the Rendezvous Pancake Breakfast on Saturday, July 13th. It will be at the Pinedale Community Church, 113 S Maybell Avenue from 7:00-10:00AM. It will be by free-will donation.

---
Grass Drags July 27 (posted 6/14/19)
Snow Explorers/Altitude Off-Road Inc. will be holding a Grass Drags event in Boulder, Wyoming on Saturday, July 27th. Entries are open to all years of snowmobiles, and side by sides. Grass drags will be in the field across from the Boulder Bar. Start time is 10AM. Food and drink concessions provided. Dry camping available. Call Patrick 307-231-6161 or visit www.pinedalesnowexplorers.com for more information.

---
Sublette County Democratic Party strategy meeting June 21 (posted 6/14/19)
The Sublette County Democratic Party will hold their Second Quarter meeting at 6 pm, Friday, June 21, in the Lovatt Room of the Sublette County Library in Pinedale.

Agenda items include confirming precinct chairs, strategizing fundraising, and discussing the 2020 election cycle.

Any registered Democrat in Sublette County is eligible to become a Precinct Chair. Precinct chairs are currently ballot elected positions that are responsible for being the person on the street that knows how to get people out to vote and canvass for party principles.

For more information contact Tessa Miller, (406) 690-5870, sublette.wyodems@gmail.com.

---
Sublette Commissioners meeting June 18 (posted 6/14/19)
Carrie Long, Sublette County Clerk
BOARD OF COUNTY COMMISSIONERS
SUBLETTE COUNTY, WYOMING
AGENDA
COMMISSION CHAMBERS, SUBLETTE COUNTY COURTHOUSE
PINEDALE, WYOMING
TUESDAY, JUNE 18, 2019

9:00 A.M. Call to Order
Pledge of Allegiance – Chairman David Burnett will call the meeting to order, and lead the Pledge of Allegiance.
Request approval of the prior meeting minutes.
Request approval of the agenda.

9:05 A.M. Billy Pape, Road & Bridge / Waste Management – Monthly Report
Eric Sacket, Rio Verde Engineering – Proposal results Boulder South Road Project, Bar Cross Altercation Plat and Resolution, Project updates

9:45 A.M. Abram Pearce, Project Engineer, Jorgensen Associates – Jack Creek RD (23-108)

10:00 A.M. Steven Harrison, 4H Educator; University of Wyoming Extension – Introduce 4-H Educator / Update

10:15 A.M. Tracey Hoover, Deputy Clerk, and Matt Gaffney, Deputy County Attorney – County Board of Equalization Procedures
-Catering & Beer Permits
Malt Beverage – Pinedale Lions Club (Rendezvous Pageant)
Catering – Boulder Bar (Todd Stevie Horse Sale)
Catering (3) – Boulder Bar (Weddings)

10:30 A.M. Stephanie Lund, Nurse Manager, Public Health – Public Health Nursing Contract Amendments

10:45 A.M Executive Session: W.S. 16-4-405(a)(x), Wages

11:00 A.M. Monthly Reports
Accounts Payable audited with motion to approve for payment.
Bonds – Approve and sign Surety Bonds: Clayton Olson, SCSD #1 - Treasurer
Vern McAdams, SCSD #1 – Business Manager
Assessor – Jeness Saxton (State Assessed Notice of Valuation Changes)

11:15 A.M. Public Comments

12:00 P.M. Lunch at Brew Pub

1:00 P.M. Jim Robinson, Mayor, Town of Marbleton, and Tyler Maxfield, Mayor, Town of Big Piney – Big Piney- Marbleton Airport – Stewardship

Click on this link for a printable version of this agenda.

Related Links:
www.sublettewyo.com Sublette County website

---
Memorial for Paul Crittenden June 22 (posted 6/13/19)
A Memorial for Paul Crittenden will be held on Saturday, June 22, starting at noon at Sleeping Indian Outfitters, 14496 US Highway 191 in Bondurant, Wyoming.

Come celebrate the life of Paul Crittenden. There will be food, drinks, and opportunities to share stories. If anyone has photos, please bring them with a note on the back about when and where the photo was taken. Please bring copies and not the original picture. For those who wish to bring a dish to share, please bring a dessert or a salad (potato salad, pasta salad, etc). They will have beans, Dutch oven potatoes, and will be smoking a hog. BYOB. A late lunch is planned for around 2-3PM.

---
Death Notice: Danner Boone (posted 6/12/19)
Long-time Pinedale resident Danner Boone passed away on Tuesday, June 11, 2019. A Memorial Service will be held at Our Lady of Peace Catholic Church in Pinedale at 10:00AM on Saturday, July 27, 2019.
---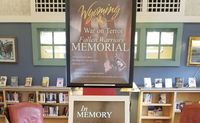 The kiosk contains photographs, biographies, and stories about these fallen heroes and will be on display at the Pinedale Library until the end of June.

Fallen Warrior Memorial Kiosk on display through end of June (posted 5/27/19)
At the Pinedale Library
The Sublette County Libraries, in cooperation with the Wyoming Veterans Commission and Wyoming Military Department, is proud to host a Fallen Warrior Memorial Kiosk. The kiosk honors the men and women of Wyoming who gave their lives during the Global War on Terror. The kiosk contains photographs, biographies, and stories about these fallen heroes and will be on display at the Pinedale Library until the end of June.

Related Links:
www.sublettecountylibrary.org Sublette County Libraries

---
CDTC Trail Maintenance Training June 15 (posted 5/25/19)
Friends of the Bridger-Teton
The Continental Divide Trail Coalition is hosting a free CDT trail maintenance training for interested trail stewards. There will be a training session in Pinedale on Saturday, June 15th at the Pinedale Ranger District office.

These national pros are traveling all the way to Pinedale to offer their expertise to the CDT Gateway Community. This training will be valuable to individuals interested in future trail stewardship projects or organizations interested in adopting their own section of the CDTC.

The indoor session will be from 8-12 at the Pinedale Ranger District Office and the Pole Ck trail demo will be from 1-4PM. Join Friends of the BT the next day to put your new skills to use on our adopted section from Green River Lakes Trailhead.

Please RSVP to sarah@btfriends.org or https://www.continentaldividetrail.org/trail-adopters/

---
2019 Big Piney Class Reunion July 27th (posted 5/23/19)
There will be a reunion for Big Piney classes 1966 through 1972 on Saturday, July 27th from 3:00PM to 11:00PM at the Southwest Sublette Count Pioneers Senior Center in Marbleton. Cost will be $25.50 for a chicken dinner or $31.50 for prime rib dinner, which includes one trip to a buffet and a beverage. If interested in attending, contact Pam Bowman Norris at pamn528@hotmail.com by July 1st.

---