Sublette County Commissioners Executive Session Sept. 21 (posted 9/20/17)
Mary Lankford, Sublette County Clerk
RE: Special Meeting, Executive Session, by Conference Call,
Thursday, September 21, 2017, 5:30 p.m., Sublette County Clerk's Office,
Sublette County Courthouse, Pinedale, Wyoming.

Public Notice: Chairman Andy Nelson has called a Special Meeting, for an Executive Session, to discuss a personnel matter, in accordance with W.S. 16-4-405(a)(ii). This will be conducted by conference call, originating in the Sublette County Clerk's Office. This will be the only matter discussed, no other business will be conducted.

---
Book signing by DeeAnn Price Sept. 21 (posted 9/19/17)
'I Call Myself A Calf Whisperer'
Everyone is invited to the Sublette County Library Lovatt Room at 7:00PM on Thursday, Sept. 21st for a book signing by DeeAnn Price and her new book "I Call Myself A Calf Whisperer."

---
Wyoming Legislature report – Sept. 18, 2017 (posted 9/19/17)
Budget shortfall, K12 school funding
Albert Sommers, House District #20 Representative
9-18-2017
Hello Sublette County, this is Albert Sommers reporting to you during the 2017 legislative interim. On September 8, I received a memorandum from the Legislature's Budget and Fiscal Administrator regarding the magnitude of the estimated 2019-20 biennial budget shortfall for the State of Wyoming.

The budget shortfall for K12 operations, based upon the current funding formula, is estimated to be $530 million for the 2019/20 biennium. On the capital construction side of K12 expenditures, the shortfall under current law for major maintenance is estimated to be $143.5 million for the 2019/20 biennium. If we spend a modest $80 million for new K12 capital construction, then the total estimated shortfall for K12 education funding for the biennium could be $753.5 million.

According to our budget analyst, "With respect to the anticipated budget request levels for general state government, the actions taken by the Governor and Legislature in the 2016 and 2017 legislative sessions have put the standard budget and the January 2017 CREG revenue forecast toward parity." General state government is the General Fund side of the State budget equation, and does not include K12 education funding. However, if we continue to supplement local government at current levels, then we will add $105 million more to our deficits. Wyoming has many state owned buildings, other than schools, and the projected expenditures for major maintenance on these facilities would result in the need for an additional $141 million for the 2019/20 biennium. If Wyoming builds any new facilities, then they will also add to an ever growing deficit.

In fact, without any additional new state facility construction the estimated 2019/20 budget shortfall could be about $1 billion for K12 and general government expenditures combined. To give you a sense of the scale of that deficit, our Legislative Stabilization Reserve Account ("Rainy Day Fund") contains only $1.48 billion. We can survive this next biennium, but we must act to solve the impending fiscal crisis. The Select Committee on School Finance, which I help chair, is examining the K12 education funding model this interim. The Select Committee on School Facilities is looking for solutions to K12 Cap Con, and the Joint Revenue Committee is examining taxation options. The question remains, does Wyoming have the political will to resolve this budget shortfall before we drive off the cliff? I still believe that a combination of cuts, revenue diversions, spending of savings, and modest tax increases can soften the cliff effect, and give the Wyoming economy more time to rebound.

The Select Committee on School finance will be meeting in Casper on October 12 and 13. The Select Committee will dedicate time for public comment on the educational program and the funding model. The Select Committee will discuss possible changes to the State's educational program, which is the "basket of goods" the state provides K12 students.

I can be reached at albert@albertsommers.com or my cell number is 307-360-7060.

---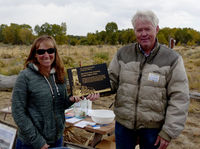 Jeness Saxton accepts the National Register plaque for the listing of the New Fork Crossing on behalf of the Sublette County Historical Society from Clint Gilchrist, President of the Sublette County Historic Preservation Board. Photo by Joy Ufford

New Fork Crossing listed on National Register of Historic Places (posted 9/18/17)
The Sublette County Historical Society held an Open House at the Lander Trail-New Fork River Crossing historical park on Saturday, Sept. 16th to celebrate the recent listing of the New Fork Crossing on the National Register of Historic Places. Sublette County Hisotrical Society Executive Director Clint Gilchirst gave a talk about "It Happened Here" with diary accounts of emigrants on the Lander Trail. The historical society raffled off three framed prints of emeigrant wagons by William Henry Jackson.

The New Fork Crossing is on the Lander Trail, part of the Oregon-California emigrant trail system. The 100-acre historical park is located about 1 mile north of Hwy 351 on Paradise Road on the west side of the New Fork River. The park is owned and managed by the Sublette County Historical Society which also operates the Museum of the Mountain Man in Pinedale. Click on this link for more information.
---
Rural Health Care Board agenda for Sept. 20 (posted 9/18/17)
Sublette County Rural Health Care District
Sublette County Rural Health Care District Board Meeting Agenda
September 20th, 2017 – 6:00pm
Board of County Commissioner's Room, Pinedale, Wyoming

Call to Order/Set Agenda
Procedure, Review purpose of meeting, ground rules and anticipated outcomes. Set agenda.

A. Finance (Gatzke)
Information, Review current operating statements & balance

B. Operations (Key)
Information, Review of Clinic Operations

C. EMS (Kluck)
Information, Review EMS Operations

D. RHF (Jeanne Brown)
Information, Review of RHF activities

E. Committee(s)
Information, Update from Committee Chair(s)

Collaboration (Clark/Scherbel)

Planning Session- Sept 7th- 9th
Information

New Business
Kathy's resignation (Anderson)
Decision, Accept resignation
(Chair to review process of appointment)
Discussion and Decision

Engagement letters to be approved from BKD, Dougherty (Clark)
Assign a committee

Functional Plan for hospital (Scherbel)
Discussion

Board Nepotism Policy review (Bacheller)
Discussion

Public Comments

Old Business
Bylaws Amendment (Clark)
Discussion and Decision
Considerations:
-Amendment proposal regarding voucher signatures
-Job descriptions/bylaws need to reflect in the Organizational Chart
-Revision to President's responsibilities

Organizational Chart (Scherbel)
Discussion on changes

EMS solutions (Kluck & Boman)
Information, Results from meeting with Boman, Kluck, Gatzke, Fitzsimmons, and Albritton

Medical scribe feasibility (Gatzke/Key)
Information, Discussion on a permanent medical scribe position

Minutes August 16, 2017
Decision, Approve

Routine Business
A. Payroll/Bills
Decision, Approve

Executive Session
A. Legal
WY Statute 16-4-405(a)(ii) & (vii)

Related Links:
www.sublettehealthcare.com Sublette County Rural Health Care District

---
Memorial Funeral Service for Pat Coleman Sept. 23 (posted 9/15/17)
Covill Funeral Home
Patricia J. "Pat" Coleman, 77, of Pinedale, passed away Tuesday morning September 12th at the Sublette Center. A memorial funeral service will be held Saturday, September 23rd at 11:00 AM at St. Andrew's in the Pines Episcopal Church in Pinedale. Graveside services will follow in the Pinedale Cemetery and family and friends will gather back at the church for a reception following the services.

---
Arrests made for Marijuana growing operation at Wyomatoes (posted 9/13/17)
Sublette County Sheriff's Office
On August 25th, 2017, the Sublette County Sheriff's Office, along with the Division of Criminal Investigations (DCI), conducted a search warrant at 1298 Middle Piney Road in Big Piney, also known to be the location of the business, "Wyomatoes". The investigation surrounded information received about a possible Marijuana grow operation at that location.

Upon execution of the search warrant, law enforcement located approximately fifty (50) pounds of processed Marijuana, approximately three hundred (300) processed Marijuana plants, and sixty three thousand one hundred and seventeen dollars ($63,117) in US Currency.

Three individuals have been arrested on felony drug charges as of September 12th, 2017 to include Cristian Omar Mendez-Garcia, Sergio Eleazar Huerta-Garcia and Stewart M. Doty, all residents of Big Piney.

---
Benefit Dinner and Auction in LaBarge Oct. 6 (posted 9/11/17)
To benefit cancer patient Betty Moceika
There will be a Benefit Dinner and Auction in LaBarge on Friday, October 6th for Betty Moceika who is battling Lymphoma Cancer. It will be at 6 p.m. at LaBarge Elementary School. Please come for catfish, fries, and hushpuppies. If you have anything to donate for the auction, please call Trish Studt at 307-386-2478.

---
WANTED: Your opinion (posted 9/11/17)
Sublette BOCES
Sublette BOCES director, John Anderson, and his staff want to know what the community thinks about their course offerings. In August and September, BOCES mailed out questionnaires to a sample of residents asking them what they thought and so far a small portion have responded.

Responses received so far have offered interesting and unique ideas for BOCES. For instance, some have suggested BOCES do more to enrich citizenship education. A rather large number have also suggested providing more industrial arts classes (such as welding, woodworking and more).

Most of the people who responded to the questionnaire were long-time residents of the community and seemed to know a lot about the work BOCES does. The information they shared will be very valuable to planning for the next five years of work, and it is greatly appreciated.

The problem for Anderson is that BOCES hasn't heard from very many people who were new to the community, or didn't know much about their work. "The fact is that responding when you don't know much about our services is just as important as responding when you do know," Anderson said. "We need and value responses from the full spectrum of people we polled. Our goal is to provide more classes to a greater variety of people in the community."

If you have a questionnaire on your table, it isn't too late to return it because BOCES will accept them at any time.

---
LaBarge Big Buck/Big Bull Contest (posted 9/6/17)
The LaBarge Activities's Committee is hosting a Big Buck / Big Bull Contest. The deadline to enter is September 14, 2017. The Contest is open to adults and youths. Three species – mule deer, elk, and antelope. For more information contact Lucas at 307-723-0073 or find them on Facebook at LaBarge Big Buck Big Bull Contest.

---
LOBA Memorial Fundraiser Sept. 30 (posted 9/6/17)
Benefit for local spay and neuter programs
The LOBA Memorial Fundraiser will be held on Saturday, September 30 starting at 6:00PM in the Lovatt Room of the Pinedale Library. Call or email to reserve a ticket, LOBAMemorial@gmail.com, 307-439-5622 or mail LOBA, P.O. Box 1574, Pinedale, WY 82941. Tickets are $100. All proceeds benefit the LOBA spay & neuter program. LOBA Memorial is a 501c3 non-profit organization serving animals in the local community.

---
Local Services:
Abortion Alternatives
Accounting & CPA
Apartments/Townhomes
Arts & Entertainment
Attorneys & Legal
Automotive
Aviation Services
Banks & Financial
Bars
Beauty Salons
Bed & Breakfasts
Boating
Bookkeeping
Builders & Contractors
Building Material
Business Services
Cabins
Cellular
Child Care
Churches
Cleaning Services
Clothing
Commercial Art
Computer Supplies
Condos
Consultants
Convenience Stores/Fuel
Convention/Meeting
Dentists
Dining
Dry Cleaning
Events
Fabric & Crafts
Fencing
Fishing
Flooring
Food & Drink
Funeral Homes
Furniture
Gifts/Western
Government
Graphic Design
Grocery & Market
Guest Ranches & Lodges
Handyman Services
Hardware & Feed
Heating
Health Care & Medical
Horseback Adventures
Insurance
Interior Design
Internet/Web/Advertising
Landscaping
Laundry
Liquor Stores
Lodging
Log Homes
Marketing
Massage Therapy
Modular Homes
Motels
Mountain Biking
Movie Theaters
Museums
Nails
Newspapers
Office Supplies
Oil Field Services
Optometrists
Organizations
Outdoor Equipment
Outfitters & Guides
Packaging & Shipping
Painters
Pet Stores
Pharmacies
Photography
Plumbing
Professional Services
Radio
Real Estate Agencies
Real Estate-FSBO
Remodeling
Retirement
Retreats
RV Camping
Schools
Scrapbooking
Septic Services
Skiing
Snowmobiling
Snow Plowing
Storage and Storage Units
Tanning
Tattoos & Body Art
Tax Preparation Services
Taxidermy
Transportation/Shuttle
Trash Services
Trucking
Veterinarians
Visitor Services