New fat bike single track grooming program begins (posted 12/10/19)
Grooming report for Tuesday, Dec. 10th
Andrew Zook, GEARED UP
After 10 months of planning and cooperation between the Pinedale Cycle and Trail Club, the US Forest Service, and Sublette County, a new fat bike single track grooming program has begun on the Bridger-Teton National Forest.

As of today (Tuesday, December 10th) the single track trails were groomed the morning of December 9th. Trail conditions are medium soft with expected improved surface December 11th. Currently there is 3.5 miles of groomed single track in the Kelly Park multi-use area with sections added weekly. Single track is multi-use which means all users are welcome to enjoy the new trail system.

The Club hopes to have a new map showing the trail system soon. For more information on the single track grooming call Geared Up in Pinedale at 307-399-5539.

This fat tire grooming report is courtesy:
Andrew Zook
GEARED UP
307-399-5539 c. 307-760-1912
432 W Pine
Pinedale Wyoming 82941
www.gearedupbikes.com


---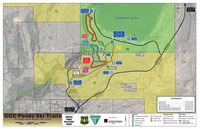 Nordic Ski Trail Map for CCC Pond area.

Nordic ski trail grooming report – December 10, 2019 (posted 12/10/19)
Mike Looney, Groomer, Sublette County Recreation Board
Tuesday, December 10, 8:30AM report:
There is a fresh groomed trail at the Golf Course for both Classic and Skating. The Bike Path at the CCC Ponds is groomed for both Classic and Skating.
This Nordic Ski Trail grooming report is courtesy of the Sublette County Recreation Board.

Related Links:
White Pine-Kelly Park Ski Trail Map - (10.3MB PDF)
CCC Ponds Ski Trail Map - (1.84MB PDF)
Road and Weather links
www.visitpinedale.org Pinedale tourism website (links to lodging, dining, area information)
www.whitepineski.com White Pine Resort, 307-367-6606, (Nearby alpine skiing, food services, restroom)
www.greatoutdoorshop.com The Great Outdoor Shop, 307-367-2440
www.sublettechamber.com Local businesses & services, 307-367-2242
www.golfpinedale.com Rendezvous Meadows Golf Course (Additional Nordic ski trails, food services, restroom)

---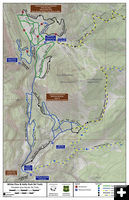 Nordic Ski Trail Map courtesy Sublette County Recreation Board.

Nordic ski trail grooming report – December 9, 2019 (posted 12/9/19)
Mike Looney, Groomer, Sublette County Recreation Board
Monday, December 9, 8:00AM report:
Kelly Park, Upper & Lower Surveyor, Moose Ridge, and Old Road Trail all fresh groomed this morning for both classic and skating. Kelly Tie-in, Half Moon Tie-in and Tree Loop are just flat groomed. Be extremely cautious on Half Moon Tie-in and Kelly Tie-in trails – there are still lots of rocks just under the snow and even some exposed rocks. There is 2" of new snow at the Nordic Equipment Building, 4" new snow at White Pine yesterday. There is a skiff of new snow on the road, which is not plowed yet. The Nordic parking is plowed. There are still lots of wildlife around – please control your dogs. Please pitch the dog poo off the trail. 6F degrees at the Nordic Equipment Building at the time of this report. A little chilly, but not too bad. Looks like the sun is going to shine.

This Nordic Ski Trail grooming report is courtesy of the Sublette County Recreation Board.

Related Links:
White Pine-Kelly Park Ski Trail Map - (10.3MB PDF)
CCC Ponds Ski Trail Map - (1.84MB PDF)
Road and Weather links
www.visitpinedale.org Pinedale tourism website (links to lodging, dining, area information)
www.whitepineski.com White Pine Resort, 307-367-6606, (Nearby alpine skiing, food services, restroom)
www.greatoutdoorshop.com The Great Outdoor Shop, 307-367-2440
www.sublettechamber.com Local businesses & services, 307-367-2242
www.golfpinedale.com Rendezvous Meadows Golf Course (Additional Nordic ski trails, food services, restroom)

---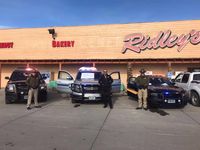 Photo courtesy Wyoming Highway Patrol

2019 'Cram the Cruiser' food drive a success (posted 12/2/19)
Food drive for the Pinedale Food Basket
Wyoming Highway Patrol
On November 24, 2019, Pinedale Wyoming Highway Patrol Troopers teamed up with the Sublette County Sheriff's Office and Ridley's Market in Pinedale to do the second annual "Cram The Cruiser" food drive. Despite the freezing temperatures, the community really stepped up, filling all three patrol vehicles to the top. An addition to the food donations, hundreds of dollars were donated to support the cause. Ridley's also got into the giving spirit and donated two shopping carts of food. All donations were taken to the Food Basket in Pinedale to be distributed to local families in need. Wyoming Highway Patrol thanks Ridley's and the Pinedale community for supporting the second annual "Cram The Cruiser" event.

---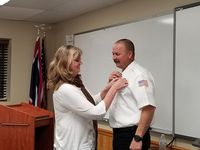 Wil Gay (R) has his new badge pinned by his wife Heidi Gay (L). Photo courtesy Sublette County Unified Fire.

Wil Gay appointed new Deputy Chief for SCUF (posted 12/2/19)
Sublette County Unified Fire
On November 14, 2019, Sublette County Unified Fire (SCUF) formally appointed Wil Gay as the new full-time Deputy Chief of the organization. The Deputy Fire Chief is the second in command of the fire department. The job comes with significant responsibility, including leading the organization in the absence of the Fire Chief. The position supervises and coordinates the activities of all six of the Fire Battalions, ensures proper training, manages firefighters, and provides consistency in the department policies and procedures.

Fire Chief Shad Cooper explained, "Wil has worked in the fire service for over 30 years. The last 23 years he has been a volunteer in Sublette County. Wil has been the county-wide training officer for the last five years and has also served as a Battalion Chief." Cooper further explained, "Deputy Chief Gay has already displayed exceptional leadership as a Battalion Chief and Training Officer for many years.

Wil explained he has always wanted to be involved in the fire service since an early age. He started his fire service career as a Fire Explorer, which is a program of the Boy Scouts of America. The Fire Explorer program allows high school students to become volunteer firefighters and learn vocational education skills. After he completed the Fire Explorer program, Deputy Chief Gay was hooked on providing public service and he spent the rest of his life helping others in Fire and EMS.
---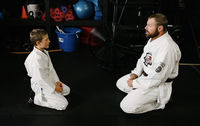 Kenpo Karate classes offered in 2020 at The Garage Gym in Pinedale.

Kenpo Karate offered at The Garage Gym in Pinedale (posted 12/2/19)
Informational meeting on Dec. 13th
The Garage Gym in Pinedale is offering Kenpo Karate classes in 2020. There will be an informational meeting for parents and adults on Friday, December 13th at 5:30 pm. The class is for ages 5 and up. They hope to also offer adult karate classes pending interest. The Garage Gym is located at 230 S. Cole Avenue in Pinedale.

This training course will be held on Fridays starting January 10th 4:00-5:00 pm. Those interested should attend the December 13th informational meeting to order and find out about cost of course, mandatory gear including the Gi, belt and protective equipment (i.e. cups). Class size is limited. The Instructor is Shawn Streeter.

For more information contact The Garage Gym: 307-360-6382

---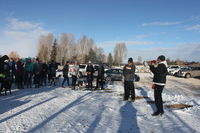 2019 Pinedale Turkey Trot. Photo by Ellen Sheppard.

2019 Pinedale Turkey Trot News (posted 12/2/19)
R. Craig Sheppard
170 registered turkey trotters toed the line for the 29th annual Pinedale Turkey Trot.

The temperature was 26 degrees at the start of the race with a strong wind coming out of the southeast to make the morning seem colder. We lucked out with the weather, being we had a storm the day before and then a bigger storm the day after the race. The warming fires were a big hit this year. Still the beautiful 3-mile adventure on the "over the river and through the woods" course was thrilling.

Ellen Sheppard was in charge of the hospitality garage and she had plenty of warm coffee and cold water ready for the early birds. She also manned the finish line, took pictures and directed runners and walkers where to put in their finish times. This event would not be possible without her. This year the Pinedale High School ski team had a fundraiser table with hot chocolate and baked goods. A big thank you goes out to Kirk Thomas of Salt Lake City, who provided the special coffee again this year.

As usual there were all types of exercisers participating. We had participants from 6-month Nell Fairbanks to 5 trotters in their 70's. We had walkers, runners, run/walkers, trotters, and baby strollers. A family trio of Jennifer, Clara and Jeremy Kunzman came in in an overall 9th place while pushing a stroller. Aaron Stewart once again rode his unicycle around the course in a remarkable time of 27:25. Despite the road conditions, across the region, there were still people from 4 different states and 6 towns or cities in Wyoming. There were also plenty of dogs around to help pull their owners through the course. If we added the canines to our list of participants we would have been close to 200 involved.

Even though this is a fun run/walk we would like to recognize a few individuals. Mike Lutz of Pinedale came in first with a time of 19:54 followed by Kris Holmes in 20:49 and Pinedale high schooler Kaleb Bigelow (22:55).

Jennifer Kunzman won the women's division with a time of 24:39, followed by Jamie Lunberg (26:13) and Summer Lunberg (26:14). All of our hardy participants are winners for getting out and getting some exercise on such a perfect Pinedale morning.

The walking division is the hardest one to judge on whether they walked the entire course or ran and walked it and it is definitely the largest division. Again this year the first true walker was Karen Stewart in 39:44.

This year there was a lot of school age participants. It is so good to see so many out doing physical activity. Many were in strollers when they first participated in this trot. Maybe someday they will be named as the winner of the Pinedale Turkey Trot. If not just being out and pushing their limits on a beautiful Pinedale morning will be a great Thanksgiving memory.

I know there are many names not mentioned in this article, but it is fun to see so many friends, families, school alumni, former band students and visitors gathering to take in the beautiful scenery and fresh air of Pinedale. Thanks go out to the Pinedale schools for use of their tables, bull horn and cones, Pinedale Half Marathon for use of their timer and also to the Pinedale newspapers, banks and Pinedale Online for advertising. I especially need to thank my wife Ellen for putting up with my many passions of which one is running the Pinedale Turkey Trot.

This was the 29th running of the Pinedale Turkey Trot and with all the favorable comments it seems to have developed into a great annual tradition for the Pinedale community and their Thanksgiving guests. Don't forget it is never too late to get in shape for the 30th annual Pinedale Turkey Trot which will be held Thanksgiving morning 2020 at the Sheppard's house at 9AM. See you then!

Click on this link for more pictures: 2019 Pinedale Turkey Trot

---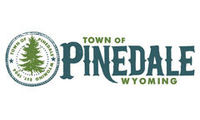 Town of Pinedale

Time change for TOP meeting Dec. 9 (posted 12/1/19)
Town of Pinedale
Public Notice: The Town of Pinedale December 9, 2019 regular town council meeting has an updated start time. The workshop will begin at 4 PM and the regular business session will begin at 5 PM.

---
2019 Holiday Happenings with the Museum of the Mountain Man (posted 11/20/19)
The Museum of the Mountain Man in Pinedale will be offering special hours during the holidays. Even though they have closed for their regular season, they will be offering special hours for holiday shopping. The Museum's gift shop is filled with gifts for all ages and interests. They've got fur trade and other western history books, maps, cookbooks, jewelry and more for the adults on your list, and stuffed animals, sturdy wooden toys and children's books for the kids.

The Museum galleries will be open for touring during these special holiday hours. Visitations can also be scheduled by appointment during the winter season. Sublette County Historical Society members get in for free. Memberships make great gift ideas too.

2019 Holiday Schedule:

• Friday, November 29: Black Friday at the Museum – open 9am – 5pm
• Saturday, November 30: Small Business Saturday – open 9am-5pm
• Friday, December 6: 26th Annual Wreath & Chocolate Auction – Library – 6-9pm
• Tuesday, December 10: Museum open 9am – 1pm
• Thursday, December 12: Museum open 9am – 1pm
• Tuesday, December 17: Museum open 9am – 1pm
• Thursday, December 19: Museum open 9am – 1pm
• Online shopping is always available at www.museumofthemountainman.com
• Christmas Break & Holiday Season – Have family and friends visiting during the holidays? Call the Museum at 307-367-4101 or email info@mmmuseum.com to arrange a time to tour the Museum and gift shop.

26th Annual Wreath & Chocolate Auction: Each year individuals, organizations and businesses create unique wreaths, swags and chocolate delights and donate them to the Museum for the Wreath & Chocolate Auction. This holiday event, held annually on the first Friday evening of December, is the main fundraiser for the Sublette County Historical Society and the Museum of the Mountain Man. Monies raised help support programs and projects for the following year. The event includes a live auction for wreaths and a silent auction featuring chocolate and gift baskets. Jay Fear, prior SCHS Board President, serves as the auctioneer. The food is generously sponsored by First Bank. Started in 1993, this annual event has become a highlight of the holiday season in Sublette County.

Related Links:
www.mmmuseum.com Museum of the Mountain Man

---
Local Services:
Abortion Alternatives
Accounting & CPA
Apartments/Townhomes
Arts & Entertainment
Attorneys & Legal
Auction Services
Automotive
Aviation Services
Banks & Financial
Bars
Beauty Salons
Bed & Breakfasts
Boating
Bookkeeping
Builders & Contractors
Building Material
Business Services
Cabins
Cellular
Child Care
Churches
Cleaning Services
Clothing
Commercial Art
Computer Supplies
Condos
Consultants
Convenience Stores/Fuel
Convention/Meeting
Dentists
Dining
Dry Cleaning
Events
Fabric & Crafts
Fencing
Fishing
Flooring
Food & Drink
Funeral Homes
Furniture
Gifts/Western
Government
Graphic Design
Grocery & Market
Guest Ranches & Lodges
Handyman Services
Hardware & Feed
Heating
Health Care & Medical
Horseback Adventures
Insurance
Interior Design
Internet/Web/Advertising
Landscaping
Laundry
Liquor Stores
Lodging
Log Homes
Marketing
Massage Therapy
Modular Homes
Motels
Mountain Biking
Movie Theaters
Museums
Nails
Newspapers
Office Supplies
Oil Field Services
Optometrists
Organizations
Outdoor Equipment
Outfitters & Guides
Packaging & Shipping
Painters
Pet Stores
Pharmacies
Photography
Plumbing
Professional Services
Radio
Real Estate Agencies
Real Estate-FSBO
Remodeling
Retirement
Retreats
RV Camping
Schools
Scrapbooking
Septic Services
Skiing
Snowmobiling
Snow Plowing
Storage and Storage Units
Tanning
Tattoos & Body Art
Tax Preparation Services
Taxidermy
Transportation/Shuttle
Trash Services
Trucking
Veterinarians
Visitor Services