Graveside Funeral Service for Michael Bollinger Oct. 22 (posted 10/18/2021)
Covill Funeral Home
Michael Bollinger, 20, of Pinedale, Wyoming passed away Oct. 13, 2021. A graveside funeral service will be held Friday, Oct. 22nd at 11:00 a.m. at the Pinedale Cemetery.

---
Sublette County Hospital District Board Meeting Oct. 20 (posted 10/18/2021)
October 20th – 5:30 pm
Marbleton Town Hall
Marbleton, Wyoming

Agenda

5:30 Board Education: Strategic Planning and
Initiatives Processes, Board Committees Follow Up

Meeting Call to Order 6:00 p.m.
Pledge of Allegiance
Set Agenda
Department Reports:
Administrative and Finance: Dave Doorn/Mike Hunsaker
EMS: Bill Kluck
Clinical: Sharon Rutsch/Vicky Marshall
Public Relations: Kari DeWitt

Committee Reports:
Finance Committee
Building Committee
Merger Committee-Merger Status Update
Quality Committee

New Business
Update County Commissioner Meeting October 19th/ Delegation
Agreement Approval
Employee Retention Bonuses proposal/Dave Doorn
Addendum to SVH Management Agreement
Approval of AIA with Layton Construction
Transfer of funds from reserves

Old Business
• USDA Application Updates-Dave Doorn
• Employee Health Insurance update
• Approval of meeting minutes September 15th, 2021
• Approval of Minutes from Special Board Meetings:
1/27, 3/29, 4/7
• Approval of Minutes from Executive Sessions: 1/21, 2/2, 3/10, 5/18, 6/2
• Approval of Payroll and Bills

Public Comment
Executive Session: Personnel and Legal
Adjournment

Zoom Information
Topic: Special Hospital District Board Meeting
Time: Oct 20, 2021 05:30 PM Mountain Time (US and Canada)
Every month on the Third Wed, until Feb 16, 2022, 5
occurrence(s)
Oct 20, 2021 05:30 PM
Nov 17, 2021 05:30 PM
Dec 15, 2021 05:30 PM
Jan 19, 2022 05:30 PM
Feb 16, 2022 05:30 PM

Join Zoom Meeting
https://sublettehealthcare.zoom.us/j/85975591427

Meeting ID: 859 7559 1427
One tap mobile
+13462487799,,85975591427# US (Houston)
+17207072699,,85975591427# US (Denver)

Dial by your location
+1 346 248 7799 US (Houston)
+1 720 707 2699 US (Denver)
+1 253 215 8782 US (Tacoma)
+1 312 626 6799 US (Chicago)
+1 646 558 8656 US (New York)
+1 301 715 8592 US (Washington DC)
Meeting ID: 859 7559 1427
Find your local number:
https://sublettehealthcare.zoom.us/u/kd7cOtYeUn

---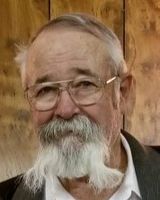 Graveside Funeral Service for Gordon 'Doc' Mickelson II Oct 23 (posted 10/18/2021)
Gordon "Doc" Mickelson II, 73, of Big Piney passed away on Sunday, October 10, 2021. A graveside funeral service will be held at 10:30AM on Saturday, October 31st at Plainview Cemetery in Big Piney.

Related Links;
Obituary: Gordon Mickelson II Obituary: Gordon Mickelson II, 6/1/48 - 10/10/21

---
Sublette Co Commissioners meeting Oct. 19 (posted 10/18/2021)
Carrie Long, Sublette County Clerk
BOARD OF COUNTY COMMISSIONERS
SUBLETTE COUNTY, WYOMING
MARBLETON TOWN HALL, MARBLETON, WYOMING
TUESDAY, OCTOBER 19, 2021

AGENDA

9:00 a.m. Call to Order
Pledge of Allegiance – Chairman Bousman will call the meeting to order, and lead the Pledge of Allegiance.
Request approval of the agenda
Request approval of the prior meeting minutes

9:05 a.m. Billy Pape, Road & Bridge – Update on Activities
Rio Verde Engineering – Update on projects
BLM / Forest Service – Standing Agenda Item

9:30 a.m. Matt Gaffney, County Administrator
Union Telephone – Broadband Update
Discussion with Wazitech on internet/phone services

10:00 a.m. Todd Hurd – Update on Projects

10:30 a.m. Clayton Melinkovich – Hospital District Discussion
Monthly Reports
Accounts Payable
Assessor
Scholarship Discussion
Catering Permit
Treasurer – Bond Approval / Financial Statements

11:15 a.m. Old Business

Click on this link for a printable version of this agenda.

Related Links:
www.sublettewyo.com

---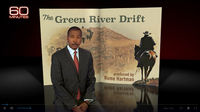 Green River Drift on 60 Minutes Oct. 17 (posted 10/15/2021)
The CBS 60 Minutes story on the Green River Drift will air on Sunday, October 17th. Film crews were in the Upper Green River Valley filming and doing interviews during the summer.

The Green River Drift is a 58-mile long cattle trail that has been continuously used since the 1890s by the Green River Valley Cattle Association by ranchers to get cattle from spring pasture in the desert to summer pasture in the forest. The Green River Drift Cattle Trail predates the area federal government management agencies. It crosses private land, Bureau of Land Management Land, U.S. Forest Service, and State of Wyoming lands. The Drift was listed on the National Register in 2013. Because it is still being used today much as it has been for more than 100 years, it was listed as a Traditional Cultural Property (TCP), the first ranching-related TCP in the nation.

Update: Click on this link to view the episode, which aired Sunday, October 17, 2021 on CBS: The Green River Drift Bill Whitaker saddles up for one of the last enduring symbols of the Old West, a Wyoming cattle drive that travels the same route pioneered 125 years ago. Riding along on the Green River Drift, the longest-running cattle drive left in America. Produced by Rome Hartman.

Related Links
www.greenriverdrift.org Historical information
60 Minutes - Green River Drift Episode - CBS - Aired Sunday, October 17, 2021
Homesteading and Ranching in the Upper Green River Valley - New book by Ann Chambers Noble and Jonita Sommers, $55.00. Order from the Museum of the Mountain Man/Sublette County Historical Society


---
Emergency Rental Program help in Sublette County (posted 10/14/2021)
Wyoming Department of Family Services
CHEYENNE, WYOMING - Are you struggling to pay your rent or utilities? You are not alone, and it is not your fault. Because of the COVID-19 pandemic, many Wyoming renters need a little extra help right now. SAFV Task Force is ready to help eligible households get the assistance they deserve through the Emergency Rental Assistance Program (ERAP).

The federally funded program officially launched on April 29 in Wyoming with $180 million available to eligible renters struggling to make rent, internet, and utility payments, as well as housing stability services. The Wyoming Department of Family Services (DFS), with assistance from the Department of Workforce Services (DWS), is administering ERAP and has dedicated $1M of the federal funds to contract with community based organizations to provide local in-person application assistance.

Learn more and apply at dfs.wyo.gov/erap.

For local in-person assistance, please go to SAFV Task Force, located at 253 N Sublette in Pinedale. Walk in from 5 - 6 p.m Monday and Wednesday. Or call 307-367-6305 for an appointment.

Getting eligible Wyoming residents rental assistance is very important. According to the U.S. Department of Housing and Urban Development, an estimated 23,515 Wyoming renters may be eligible for this financial assistance, spending more than 30% of their income on rent.

As of Oct 7, ERAP has approved a total of 2,101 applications, or 54% of submitted applications, paying a total of $7.3M in assistance. Of the rental payments, $5.7M went to landlords, $1.1M to renters and $495K to utilities. To see county specific information, click here to see the map.

Another 3,887 renter applications have been submitted and are under review. Once submitted, applications go through the eligibility and benefit determination process, which can take up to 30 days.

ERAP eligibility requirements include:
Being a renter in Wyoming or having unpaid rent on a previous Wyoming residence
Having a household income of less than 80% of the area's median income. Sublette County renters meet the income eligibility requirement if they have an annual income of $52,300 for a one-person household, $59,750 for a two-person household, $67,200 for a three-person household and $74,650 for four-person household.
Qualifying for unemployment benefits or being able to show direct or indirect financial loss because of COVID-19 or being able to show that financial loss occurred during the COVID pandemic
Being at risk of losing housing

Eligible households can obtain assistance for unpaid past due rent and utility services incurred after March 13, 2020 - even at a previous residence. Eligible expenses also include unpaid current and future rent (up to three months at a time) for up to 18 months total of rent and/or utilities. Eligible utility costs include: electricity; energy costs (fuel, oil, propane); water and sewer; and internet service (up to $50 per month). Other eligible expenses, done on a case by case basis, may include reasonable relocation expenses, security deposits, and reasonable late fees.

Additionally, ERAP has provided $1M to Equal Justice Wyoming for legal services to eligible households facing eviction and/or other housing instability. If facing eviction, please contact Legal Aid of Wyoming, which is a sub-recipient of Equal Justice Wyoming. They may be able to provide other legal assistance to eligible ERAP renters living in Wyoming. Visit www.lawyoming.org or call 1-877-432-9955 for Legal Aid.

---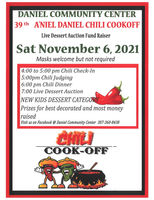 39th A'niel Daniel Chili Cookoff Nov. 6 (posted 10/13/2021)
The A'niel Daniel Chili Cookoff will be held on Saturday, November 6th at the Historic Daniel Schoolhouse in Daniel. The event is a live dessert auction fundraiser.

Schedule:
4:00-5:00PM: Chili check-in
5:00PM: Chili judging
6:00PM: Chili dinner
7:00PM: Live dessert auction

There will be a new Kids Dessert Category.
There will be prizes for best decorated and most money raised.

Visit the Daniel Community Center on Facebook. Call 307-360-8438.

---
BTNF seeks public comment on Dell Creek feedground authorization (posted 10/13/2021)
Comments accepted until October 24, 2021
Bridger-Teton National Forest
BIG PINEY, WYOMING — The Bridger-Teton National Forest is seeking comments on a proposal from the Wyoming Game and Fish Commission (WGFC) to allow the use of the facilities at Dell Creek feedground on the Big Piney Ranger District to conduct their winter elk management activities. The Forest is accepting comments until October 24, 2021 on the proposal for a one-year special use authorization for WGFC to operate and manage the Dell Creek feedground.

The one-year special use authorization allows for the continued management of the elk feedground on a temporary basis while the Forest Service conducts an environmental analysis for longer term use. The Forest Service intends to prepare an environmental impact statement for Dell Creek and Forest Park feedground special use authorizations to analyze the environmental effects of long-term use pursuant to the National Environmental Policy Act beginning in the fall of 2021.

This comment period provides those interested in, or affected by this project, an opportunity to make their recommendations and concerns known. The proposed action and other information are available on the project webpage at https://www.fs.usda.gov/project/?project=60948. Written, facsimile, oral, and electronic comments are most helpful if submitted by October 24, 2021. Electronic comments should be submitted online on the Bridger-Teton National Forest project webpage above. Click on the "Comment/Object on Project" link located in the right column. Written comments may also be submitted by US mail to Gregory Brooks, Acting District Ranger; Big Piney Ranger District, Bridger-Teton National Forest; P.O. Box 218, Big Piney, WY 83113. The Bridger-Teton NF is not accepting hand-delivered comments currently due to limited office functions as part of precautions in response to the coronavirus. Those who respond to this request for comments will remain on the mailing list for this planning effort. Comments received in response to this solicitation, including names of those who comment, will be part of the public record and available for public inspection.

Additional information on the Dell Creek Feedground: 2021-2022 Special Use Permit project is also available on the webpage at https://www.fs.usda.gov/project/?project=60948

For more information or to be added to the mailing list for this project, please contact Rusty Kaiser, East Zone Wildlife Biologist, at rusty.kaiser@usda.gov or 307-276-3375.

---



Friends brought the sheep wagon undercarriage over to the Sublette Center in early October so Monte could see the latest progress. Behind Monte is his wife Donna. Gary Stephenson stands to the right.

Monte's Sheep Wagon (posted 10/11/2021)
Clint Gilchrist and Dawn Ballou
In 2015, an old Mrak family sheep wagon was donated to the Sublette County Historical Society by the Dewitt Morris and Vern Mrak families. Monte Skinner took on the challenge of restoring the well-weathered wagon, completely rebuilding from the ground up salvaging as many of the old parts as possible.

In the last few years, Gary Stephenson has brought a whole lot of talent, energy and specialized tools to the project leading the effort to complete the project. Many other volunteers have helped along the way including Ole Skinner, Rex Poulson, Sam Drucker, Bob Harrower, Jay Fear, Clint Gilchrist, Dave Racich, Marilyn Stephenson, Jeff Goltz, and Jack Doyle.

What started as project to make a usable wagon for parades and demonstrations at the Museum of the Mountain Man has taken on a life of its own. With attention to detail and historical accuracy at every step, the wagon has become a work of art and skill not originally anticipated. The craftsmanship and design of the original builders over 100 years ago is amazing. Nothing was causally slapped together. Just like a truck today, wagons of the time were built to last and every piece of metal and wood was designed with a specific purpose. This restoration has honored that original design.

It has taken hundreds, if not thousands of hours, all inspired by Monte's vision. The running gear restoration, including building the wheels from scratch, was completed this summer. The box was completed last year.

In early October, the helpers and supporters of the sheep wagon rebuild project took the restored running gear over to the Sublette Center in Pinedale so Monte could see the latest project. Monte is in the Sublette Center due to a broken hip, and restrictions due to COVID-19 have meant he hasn't been able to get out to see any of the recent progress on the sheep wagon. Gary Stephenson, who has taken on the bulk of the recent restoration, wanted Monte to see the painting of the undercarriage before he has to return to his home in New York for the winter. He will work on parts over the winter and return next summer to do more work on the sheep wagon.

It will take one more summer to finish some details on both the running gear and the box, and bring them together for an eye-catching local wagon that has not been seen in decades, but will be a lasting legacy at the Museum to the original sheep herders and our own legend, Monte Skinner.

Click on this link for more photos: Monte's Sheep Wagon

---
October is Domestic Violence and Breast Cancer Awareness Month (posted 10/6/2021)
The Sublette County Sexual Assault/Sexual Violence Task Force (SAFV) encourages everyone to recognize October as Domestic Violence and Breast Cancer Awareness Month. SAFV offers a 24-Hour Helpline, 1-888-301-4435. Their services are free and confidential. Look for the pink and purple ribbons around town in support of those who are affected by these life-changing events.

Related Links:
www.sublettesafv.org/ SAFV

---
Halloween Stroll in Pinedale Oct. 30 (posted 10/11/2021)
The Sublette County Chamber of Commerce is sponsoring a Halloween Stroll in Pinedale on Saturday, October 30th from 3-5PM. The stroll begins on the north end of town and will proceed down main street. There will be crossing assistance at three different cross walks on Pine Street. The stroll ends at the south end of town with a Trunk or Treat for all businesses not located on Pine Street, in the Rendezvous Pointe parking lot. Following all the Trick or Treating, children are encouraged to stroll through the Sublette Center from 5:30PM-6:30PM. (The Sublette Center welcomes and is greatly appreciative of candy donations for this event.). The Museum of the Mountain Man will also be open all day with their Halloween Scavenger Hunt, 9AM-5PM.
---
Big Piney Christmas Bazaar Nov. 20th (posted 10/6/2021)
Sign up by Nov. 12th
Big Piney Recreation will host their Big Piney Christmas Bazaar on Saturday, November 20th from 10am to 3pm at the Big Piney Rec Center. Vendors are asked to sign up no later than 6PM on Friday, November 12th. Cost is $20 per spot with a table (they have limited tables). $10 for a spot without a table. Call 307-276-4071 to sign up and for more information.
---
TOP seeks public's input on parks (posted 10/5/2021)
Town of Pinedale
The Town of Pinedale is seeking input on our Pinedale parks by completing a Park's Survey. Your feedback will help shape the Pinedale Park and Tree Master Plan. The survey will help us with addressing gaps in our parks system and guide future park development. The final plan document will guide the Town of Pinedale's focus, direction, and spending over the next five to ten years. Please visit the following link to complete the survey (https://www.surveymonkey.com/r/9G3CBT5). Please join us at our future Park and Tree Meetings to discuss the Master Plan.
---
Town of Marbleton Jack O' Lantern Jamboree Oct. 29th (posted 10/4/2021)
The Town of Marbleton will host a Jack O' Lantern Jamboree on Friday, October 29th from 6-8PM at the Marbleton Town Hall, 10700 US 189. Bring your carved Jack O' Lantern for the pumpkin walk. Sign up for the chili or pie cook-off. Free hot chocolate and apple cider. Activities for kids. For more information, call 307-276-3815.
---
Local Services:
Abortion Alternatives
Accounting & CPA
Apartments/Townhomes
Arts & Entertainment
Attorneys & Legal
Auction Services
Automotive
Aviation Services
Banks & Financial
Bars
Beauty Salons
Bed & Breakfasts
Boating
Bookkeeping
Builders & Contractors
Building Material
Business Services
Cabins
Cellular
Child Care
Churches
Cleaning Services
Clothing
Commercial Art
Computer Supplies
Condos
Consultants
Convenience Stores/Fuel
Convention/Meeting
Dentists
Dining
Dry Cleaning
Events
Fabric & Crafts
Fencing
Fishing
Flooring
Food & Drink
Funeral Homes
Furniture
Gifts/Western
Government
Graphic Design
Grocery & Market
Guest Ranches & Lodges
Handyman Services
Hardware & Feed
Heating
Health Care & Medical
Horseback Adventures
Insurance
Interior Design
Internet/Web/Advertising
Landscaping
Laundry
Liquor Stores
Lodging
Log Homes
Marketing
Massage Therapy
Modular Homes
Motels
Mountain Biking
Movie Theaters
Museums
Nails
Newspapers
Office Supplies
Oil Field Services
Optometrists
Organizations
Outdoor Equipment
Outfitters & Guides
Packaging & Shipping
Painters
Pet Stores
Pharmacies
Photography
Plumbing
Professional Services
Radio
Real Estate Agencies
Real Estate-FSBO
Remodeling
Retirement
Retreats
RV Camping
Schools
Scrapbooking
Septic Services
Skiing
Snowmobiling
Snow Plowing
Storage and Storage Units
Tanning
Tattoos & Body Art
Tax Preparation Services
Taxidermy
Transportation/Shuttle
Trash Services
Trucking
Veterinarians
Visitor Services
Wagon Rides
Well Drilling