'It's Boot Check Time' February 15th (posted 1/25/2023)
Sublette BOCES in Pinedale is presenting a program, "It's Boot Check Time With Jason Vickrey" on Wednesday, February 15th. This is a free inspirational presentation on how the community can become a positive change in mental health awareness and suicide prevention through the work of the Jae Foundation. It will be at 6:30PM in the Sublette BOCES large meeting room in Pinedale. Free food and refreshments.

---
OES Valentine Bingo Fundraiser Feb. 12 (posted 1/25/2023)
The Order of Eastern Star will be sponsoring a Valentine Bingo Fundraiser on Sunday, February 12th at noon at the Pinedale VFW. Cost is $20 for 17 games - first 5 games are for kids only. A chili lunch will be served and prizes awarded. Everyone is invited!
---
Wyoming Legislature update – January 23, 2023 (posted 1/25/2023)
Albert Sommers, House District #20 Representative
Hello Sublette County and LaBarge, this is Albert Sommers
reporting to you on Monday, January 23, a day the
Legislature is in recess.

Friday, January 20, was the ninth day of the 2023 General
Session of the 67th Legislature. As we wrapped up the second
week of the Session, the House continued to hear and vote on
bills in the Committee of the Whole, 2nd Reading, and on 3rd
reading.

href="https://www.wyoleg.gov/Legislation/2023/HB0026">HB0026
- School facilities-appropriations passed the House
on Friday on 3rd reading. This bill clarifies the
Legislature's ability to appropriate a single sum of money
for the design and construction phase of a school facility
project. We heard testimony that making this clarification
would allow for efficiency for school-facility construction
projects to continue to move forward versus getting stalled
with multiple approval processes. Moving construction
forward in a timely manner is especially crucial in times of
inflation. I support this bill.

href="https://www.wyoleg.gov/Legislation/2023/HB0093">HB0093
- Omnibus water bill-construction is a yearly bill
of water projects funded by severance tax dollars. The bill
amended existing project timelines and appropriated
additional funds where needed to cover the costs of ongoing
water projects. Projects range from cloud seeding to
encouraging snowfall in the Wind River and Sierra Madre
Mountain Ranges to funding municipal water supply projects
and water infrastructure rehabilitation needs. Water is a
critical issue for Wyoming. We must continue to fund these
important water projects, like the New Fork Lake dam, which
is why I supported putting money into the account that funds
building dams. I supported this bill.

I came home on Saturday, January 21, to attend the
appreciation dinner for former county commissioner Joel
Bousman. Joel has spent a lifetime in service to Sublette
County and Wyoming. I have always appreciated his thoughtful
intelligent approach to issues, even when I didn't agree
with him. Joel was always considered the Nation's County
Commissioner, as he fought for local government input into
complex national policy. He has fought to preserve the
custom and culture of Sublette County for a long time. Joel,
my hat is off to you.

I can be reached at href="mailto:albert@albertsommers.com">albert@albertsommers.
com with questions or comments. Thank you.

---
Sublette County Hospital District Board Meeting Jan. 25 (posted 1/25/2023)
Agenda
Sublette County Hospital District
Wednesday, January 25th at 5:30pm
Sublette Commissioners meeting room
Sublette County Courthouse
Pinedale, Wyoming

5:30pm: Board Responsibilities: Abbi Forwood & Lena Moeller
Meeting Call to Order 6:00 p.m.
Pledge of Allegiance
Set Agenda
Annual Audit – Leo Riley
Department Reports: Administrator's Report: Dave Doorn/Mike Hunsaker
(Nursing, Lab, Radiology, EMS, Business office, PR, Grants and Medical Directors' reports)
Committee Reports:
Finance Committee-Kenda Tanner/Dave Bell
Building Committee- Jamison Ziegler/Tonia Hoffman
Owner's Rep Update - Karl Lueschow (Owner's Rep) & Jeremy Hobbs (Layton Construction)
Merger Committee -Tonia Hoffman/Kenda Tanner –
Compensation Committee -Tonia Hoffman/Kenda Tanner –
Quality Committee – Ashli Tatro
Sublette County Health Foundation
New Business
Policies – Chartis – Appoint Infection Control Person
Old Business
• Marbleton Services
• Approval of meeting minutes Dec 21, 2022 and Jan 4, 2023
• Approval of Payroll and Bills
Public Comment
Executive Session: Personnel and Legal
Adjournment

The agenda and zoom link are on our website, www.sublettehospitaldistrict.org

---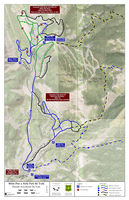 See links for higher resolution versions of ski trail maps

Nordic Ski Trail Grooming Report – 1/23/2023 (posted 1/23/2023)
Mike Looney, Groomer
Monday, January 23, 2023, 9:30AM: Half Moon Tie-In, Kelly Park, Kelly Tie-In, Old Road Trail, Upper and Lower Surveyor Parks, and Powerline all groomed this morning. Rest of trails should be in pretty good condition. Chilly, -17F in Surveyor Park this morning, but sun is out and it is warming up. Thank you to folks for taking care of the poo, the trails were pretty clean this morning.
This Nordic ski trail grooming report is courtesy of the Sublette County Recreation Board.

Related Links:
www.sublettetrails.org Additional information on winter and summer trail recreation in Sublette County, including maps and requested trail etiquette
White Pine-Kelly Park Ski Trail Map - (10.3MB PDF)
CCC Ponds Ski Trail Map - (1.84MB PDF)
Road and Weather links
www.visitpinedale.org Pinedale tourism website (links to lodging, dining, area information)
www.whitepinewyoming.com White Pine Resort, 307-367-6606, (Nearby alpine skiing, food services, restroom)
www.greatoutdoorshop.com The Great Outdoor Shop, 307-367-2440
www.sublettechamber.com Local businesses & services, 307-367-2242
www.golfpinedale.com Rendezvous Meadows Golf Course (Additional Nordic ski trails, food services, restroom)

---
Sublette BOCES Community Grant applications available (posted 1/14/2023)
Sublette BOCES
2023-24 Sublette BOCES Community Grants Applications are now available. Application forms can be found on the BOCES website at: https://subletteboces.com/forms

The primary purpose of the Sublette BOCES community grant program is to open avenues for reaching the three goals of Sublette BOCES through the efforts of other community organizations.

The goals are:
• Impact education through enrichment activities for children and adults.
• Make Pinedale a leader in early childhood education.
• Provide adult education opportunities for a wide range of residents.

For questions regarding Community grants through Sublette BOCES please call 307-367-6873 or email sboces@sub1.org.


---
Pinedale Stampede January 28, 2023 (posted 1/6/2023)
Nordic Ski Races
This year's Pinedale Stampede Nordic Ski Race will be held on Saturday, January 28 at the White Pine Nordic ski trails. This year will have a new Juniors division and there will be event prizes given. The event is now part of the Wydaho Nordic Series and is sponsored by the Pinedale Aquatic Center, Sublette Trails Association and Friends of PAC.

Race options include Classic & Freestyle 5K, 11K & 22K and 2.5K & 5K Jr Divisions.
Registration for the 2K is for participants 18 and younger ONLY.

The 5K is open to all age groups.
Registration for the 5K and Junior Divisions is $25. Entry fee includes race bib and awards social.

Registration for the 11K and 22K Freestyle and Classic Race is available to all participant age groups. Registration is $55 for Early Registration (through January 26) and $70 for late registration (January 27 & 28). Entry fee includes race bib, awards social and a swag bag.
$10 of the registration fee will go to support the Sublette Trails Association.

Schedule of Events:
Friday, January 27
Course Preview
5pm - 8pm: Check in and play at PAC
Saturday, January 28
8am - 8:45am Check in at race HQ
9:00am - Race Start
2:00pm - Awards & Social (location TBA)

Note: all race distances are tentative and will be finalized before the event and a map posted on the Pinedale Aquatic Center website, www.pinedaleaquatic.com/stampede. Note: "Heart Attack" will be back in this year's course.

Click on this link to register: https://my.raceresult.com/225835/registration.

This recreation event is authorized under a Special Use Permit with the Bridger-Teton National Forest, Pinedale Ranger District.

For questions and more information, contact Deanna Fildey,
dfildey@pinedaleaquatic.com or go to the PAC website.

---
Local Services:
Abortion Alternatives
Accounting & CPA
Apartments/Townhomes
Arts & Entertainment
Attorneys & Legal
Auction Services
Automotive
Aviation Services
Banks & Financial
Bars
Beauty Salons
Bed & Breakfasts
Boating
Bookkeeping
Builders & Contractors
Building Material
Business Services
Cabins
Cellular
Child Care
Churches
Cleaning Services
Clothing
Commercial Art
Computer Supplies
Condos
Consultants
Convenience Stores/Fuel
Convention/Meeting
Dentists
Dining
Dry Cleaning
Events
Fabric & Crafts
Fencing
Fishing
Flooring
Food & Drink
Funeral Homes
Furniture
Gifts/Western
Government
Graphic Design
Grocery & Market
Guest Ranches & Lodges
Handyman Services
Hardware & Feed
Heating
Health Care & Medical
Horseback Adventures
Insurance
Interior Design
Internet/Web/Advertising
Landscaping
Laundry
Liquor Stores
Lodging
Log Homes
Marketing
Massage Therapy
Modular Homes
Motels
Mountain Biking
Movie Theaters
Museums
Nails
Newspapers
Office Supplies
Oil Field Services
Optometrists
Organizations
Outdoor Equipment
Outfitters & Guides
Packaging & Shipping
Painters
Pet Stores
Pharmacies
Photography
Plumbing
Professional Services
Radio
Real Estate Agencies
Real Estate-FSBO
Remodeling
Retirement
Retreats
RV Camping
Schools
Scrapbooking
Septic Services
Skiing
Snowmobiling
Snow Plowing
Storage and Storage Units
Tanning
Tattoos & Body Art
Tax Preparation Services
Taxidermy
Transportation/Shuttle
Trash Services
Trucking
Veterinarians
Visitor Services
Wagon Rides
Well Drilling