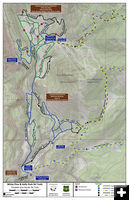 See the links for a high resolution version of this map

Nordic Ski Trail Grooming Report – January 15, 2022 (posted 1/15/2022)
Mike Looney, Groomer
Saturday, Jan. 15, 2022, 9:30AM: Half Moon Tie-in, Kelly Park, Kelly Tie-In, Lower Surveyor, and Powerline all groomed this morning. We're getting down to bare bones for snow, starting to hit some rocks. Do your Snow Dance, we need it.
This report courtesy the Sublette County Recreation Board.

See the links below for high resolution versions of the ski trail maps.

Related Links:
White Pine-Kelly Park Ski Trail Map - (10.3MB PDF)
CCC Ponds Ski Trail Map - (1.84MB PDF)

---
Sublette Commissioners meeting Jan. 18 (posted 1/14/2022)
Carrie Long, Sublette County Clerk
BOARD OF COUNTY COMMISSIONERS
SUBLETTE COUNTY, WYOMING
COMMISSION CHAMBERS
SUBLETTE COUNTY COURTHOUSE
PINEDALE, WYOMING
TUESDAY, JANUARY 18, 2022
AGENDA

9:00 a.m. Call to Order
Pledge of Allegiance
Request approval of the agenda

Request approval of prior meeting minutes (1/04/22)

9:15 a.m. Billy Pape, Road & Bridge, Update on Activities
Forest Service – BLM Updates (Standing Agenda Item)

9:30 a.m. Matt Gaffney, County Administrator – Executive Session: W.S. 16-4-405 (a)(ii) - discussion about personnel

10:15 a.m. Cemetery Districts / Weed & Pest
Insurance Discussion
Land Discussion

10:45 a.m. Emily Paravicini – Executive Session: W.S. 16-4-405 (a)(ix) - discussion about potential litigation

11:15 a.m. Clayton Melinkovich, Deputy County Attorney
Hospital Update
Contracts / Leases

11:30 a.m. KC Lehr, Sheriff – 911 Surcharge Discussion

12:00 p.m. Janna Lee, Public Health – County Contract for Review/Approval

12:15 p.m. Monthly Reports
Board Appointments: 1 – 3-year term, Ag Center Board (Pam Chrisman)
Accounts Payable
Treasurer – Bonds: Sandra Wright (Treasurer/ Redstone Upper Green River Improvement District), Holly Thayne
(Secretary/Treasurer – Upper Green River Cemetery District)
Laila Illoway, Assessor
Redistricting Update

Old Business & Public Comment
Zoom: Meeting ID: 891 3589 2014 / Passcode: 096299

Click on this link for a printable version of this agenda.

---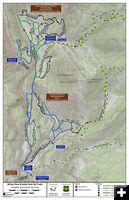 See links for a high resolution version of this map

Nordic Ski Trail Grooming Report – January 14, 2022 (posted 1/14/2022)
Mike Looney, Groomer
Friday, Jan. 14, 2022, 9:15AM: Old Road Trail, Upper Surveyor, Moose Ridge, Flatline, Tree Loop, and Elkhart Park Road all groomed this morning. 23F degrees. Sun is out – looks to be a glorious day. Due to the long, dry spell in the forecast, would be very helpful if everyone would pitch the dog poo off the trails. Reminder to fat bikers to ride on the opposite side of the trail from the classic track.
This report courtesy the Sublette County Recreation Board.

See the links below for high resolution versions of the ski trail maps.

Related Links:
White Pine-Kelly Park Ski Trail Map - (10.3MB PDF)
CCC Ponds Ski Trail Map - (1.8MB PDF)

---
Nordic Ski Trail Grooming Report – January 12, 2022 (posted 1/12/2022)
Mike Looney, Groomer
Wednesday, Jan. 12, 2022, 9:30AM: CCC Pond trails groomed nicely this morning Flat groomed trail at the new ball fields. About 14" or so of snow at these locations. Light snow, packs down, should both be firm and should be nice skiing. Several fat tire bikes were ridden on Kelly Park and Tie In, Old Road Trail and new trail causing significant damage to middle of the trail. To all fat bike riders, please don't ride down the middle of the trail. Please stay 2-4 feet off the edge of the trail on the opposite side from the classic trail. That will likely be the firmest part of the trail and you will have a more pleasant ride and cause the least amount of damage. If trail snow conditions are soft, please don't go on the groomed ski trails. You have tires, please ride on the road. Thank you for your cooperation. This report courtesy the Sublette County Recreation Board.

See the links below for high resolution versions of the ski trail maps.

Related Links:
White Pine-Kelly Park Ski Trail Map - (10.3MB PDF)
CCC Ponds Ski Trail Map - (1.8MB PDF)

---
Memorial Service for Richard Brewer Jan. 29 in Pinedale (posted 1/11/2022)
Richard V. Brewer, 81, of Pinedale, Wyoming passed away January 6, 2022 in Salt Lake City, Utah. A memorial service will be held Saturday, January 29th at 11:00 a.m. at Covill Funeral Home in Pinedale.

Obituary: Richard Vance Brewer
April 13, 1940 - January 6, 2022
Richard Vance Brewer, 81, of Pinedale, Wyoming passed away January 6, 2022 in Salt Lake City, Utah. Richard was born April 13, 1940 in Spearfish, South Dakota to Kyle E. and Naomi (Crippen) Brewer. His family moved from Lander, Wyoming to Pinedale when Richard was 12 years old and he went on to graduate from Pinedale High School in 1960; he joined the U.S. Army in 1961 and served overseas in Germany. He married his sweetheart Rosemarie Priester on June 12, 1964 in West Berlin, Germany and was honorably discharged from the service that same year. He and Rosemarie moved back to Pinedale and settled down and raised their three children Tracy, Keith and Kimberly. Richard worked on the Pape Ranch for 39 years and also in the oil and gas field retiring in 2015. He was an outdoorsman who enjoyed horsemanship, boating, camping and hunting and was a member of the Pinedale V.F.W. Post #4801, Masonic Lodge #47 AF&AM and the Eastern Star. Richard is survived by his wife Rosemarie Brewer; children Tracy Brewer, Keith (Dana) Brewer and Kimberly Kellum; brother Edward Brewer; sister Charlotte Faler and grandchildren Chelsee (Mike) Ferris, Cassidy, Joshua and Trinity Kellum and Matazie and Kyle Brewer. He is preceded in death by his parents Kyle and Naomi Brewer and son-in-law Gabe Kellum.

Related Links:
Obituary – Richard Brewer Covill Funeral Home, Pinedale, Wyoming

---
Sublette County Patrol Sergeant Jack Killey retires (posted 1/10/2022)
20 years of serving Wyoming
Sublette County Sheriff's Office
Sergeant Jack Killey began his career in public service in 1979 where he was a paramedic in Denver. He later moved to the Casper area and was a life flight medic until 2001. From 1985 to 1990 he was a public safety officer, fire fighter, and EMT in the Casper area. In 2001, Jack began working for Casper Police Department and left there in 2007 to work with the Wyoming Division of Criminal Investigation where he was later stationed in Pinedale. He then worked with the drug task force and DCI field office in Pinedale until 2016. Jack has served with our office since that time, promoting to shift Sergeant in 2018. During his tenure in Sublette County, Sergeant Killey was a well-respected and knowledgeable member of our team. He was dubbed by the Sheriff as "The most interesting man in the world" - for good reason. Jack brought years of expertise in public service, medical knowledge, and law enforcement discipline to our office and everyone who had the chance to work with Jack, benefited from his experience, guidance, and leadership.

We would like to share with our community in congratulating and celebrating Jack on his retirement as his daughter had the privilege of calling him off duty on his final shift, New Year's Eve. We want to express our deepest gratitude to Jack for his commitment to this office and the sacrifice he has made to our Country, the State of Wyoming, and to the citizens of Sublette County. We wish Jack all the best and a very relaxing and well-deserved retirement! Thank you! Sergeant Jack Killey.

---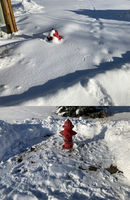 Two fire hydrants observed around Pinedale after heavy snow in early January 2022.

Adopt a Plug (posted 1/8/2022)
Pinedale Online!
If you have the energy and some extra time, consider helping local firefighters before an emergency by making sure the fire hydrants near your home are cleared of deep snow.
---
Wyoming Legislature update – January 10, 2022 (posted 1/10/2022)
Albert Sommers, House District #22 Representative
1/10/22
Hello Sublette County, this is Albert Sommers reporting to you from interim work of the 66th Legislature. The Joint Corporations Committee met on December 28 in Cheyenne. I do not serve on this committee, but I attended the meeting to protect Sublette County's interests in redistricting. On January 6, I attended the Management Council meeting in Cheyenne.

Every 10 years, each state uses the federal census to apportion members of its state legislature. Changes to apportionment after a census is called redistricting, and the Wyoming Legislature is in the process of realigning legislative districts based upon population changes in the 2020 census. Redistricting is entirely a political process that is complicated and confusing. It is a push-pull process that pits one region of the state against another. Redistricting takes time to find the compromises between regions that will meet the Legislature's constitutional requirements while preserving communities of interest.

On December 28, the Joint Corporations Committee met in Cheyenne to continue to debate a statewide redistricting plan. I do not believe there is enough Senate support to pass the committee's current draft plan. It removes a house seat from Carbon County and adds it to the Cheyenne area, causing significant disruption in current House and Senate seats. At this meeting, I presented another plan, which was designed to preserve the status quo to the extent possible and create the least disruption. My plan can be viewed here:
https://www.google.com/maps/d/viewer?mid=1aGE_Dff462lQhspg0W6S9DXeMlqsHcSZ&ll=42.47330059879308%2C-107.19981551468214&z=7This plan died in committee on a 6-8 vote.

The Corporations Committee ended the day with the following plan: https://www.google.com/maps/d/viewer?mid=1QItJIfqmNtSUHinmUYDH4_AKo53wgT6Q&ll=42.62922775502006%2C-107.29830122096192&z=7
This plan is good for Sublette County, but does not have enough Senate support in the committee to pass.

The Committee will meet again in Casper on January 12 to debate amendments to its draft plan. I have created another option that proposes 61 House districts, instead of the usual 60. This plan would give Laramie County the 11 House seats it desires, and would give our western Regions 9 and 10 the 14 House seats they prefer. The plan also makes the Bighorn Basin region more constitutional, as its current plan is somewhat short in population based upon prior Supreme Court rulings. This 61-House-District plan would require a "non-nested" Senate plan. Wyoming has typically placed two House Districts within a single Senate District, and this is called nesting. The 61-House-District plan can be viewed here: https://www.google.com/maps/d/u/0/viewer?mid=1hWvbFcLF0E6yb4HJXfwpz7-I2VB7Z6DJ&ll=43.22334863669065%2C-108.16949470868694&z=8

Another plan currently being considered is the I-80 Compromise. It includes 60 House Districts, and moves one District boundary westward to capture more of Laramie County's population. This would help alleviate the loss of population along the I-80 corridor in south-central Wyoming. I like this plan, because it tries to balance the population declines in Carbon, Sweetwater, Uinta, and Sublette counties by utilizing the growth not only in Lincoln and Teton counties, but also in Laramie County. The challenge with this plan is that Albany County is stuck in the middle. The plan is good for Sublette County, because Sublette would remain whole and my House District 20 would incorporate La Barge. La Barge resides in the Sublette #9 school district, so it would be a natural addition. The plan creates more disruption for other House members than I would like to see, but it is a good compromise with some Senate support. The I-80 Compromise plan is not final, but can viewed here:
https://www.google.com/maps/d/viewer?mid=1foawIuxsGwgPhgPp6I3NagRtMyg-OHxS&ll=43.535312547419416%2C-108.70322549285812&z=7.

Management Council met in Cheyenne on January 6. Management Council comprises the majority and minority leadership of the Wyoming Legislature. I am a member of Management Council, because I am the Majority Floor Leader of the Wyoming House. Management Council serves as the administrative arm of the legislative branch of state government and is its policymaking body when the Legislature is not in session. Management Council appoints the director of the Legislative Service Office and approves staff hired by the director. Management Council also establishes the calendar for the legislative session, within parameters in the Wyoming Constitution.

Management Council adopted the calendar for a 20-day 2022 Budget Session, which will commence on February 14. This calendar lists the various deadlines for bills in order to maintain a 20-day session, while also providing time to override any Governor vetoes of the budget bill. The session schedule can be viewed at https://wyoleg.gov/2022/Schedule.pdf.

Management Council approved a budget for the operations of the Legislature, which will be presented to the full Legislature in February. This budget will appropriate additional dollars for the Legislative Service Office (LSO), which is our legislative staff. The Council heard a report on recruitment and retention of staff. The Legislature lost staff last year at nearly twice the normal rate. The total legislative budget will grow by $169,000 compared to the 2020 budget.

Management Council also heard a report from LSO on an effort to create a better document management system, one that is more user friendly. As older staff retires or quits and we lose institutional knowledge. We need a system that can search for documents efficiently and accurately. Management Council will also begin to review and update several handbooks and manuals that the Legislature uses.

I can be reached at albert@albertsommers.com with questions or comments.

---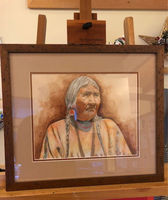 Rendezvous Pointe offers Indian print raffle (posted 1/6/2022)
Rendezvous Pointe is holding a raffle of an Indian print as a fundraiser. Tickets are $2.00 each or three for $5.00. Tickets can be purchased at Rendezvous Pointe in Pinedale until noon on Tuesday, February 8, 2022. Drawing will be held on February 8th at the Birthday Lunch.
---
Sublette Hospital District seeks bids for remodeling new Public Health office (posted 1/5/2022)
Sublette County Hospital District
RFP for remodel project on 26 S. Tyler
Sublette County Hospital District

The Sublette County Hospital District is looking for a contractor to do some remodeling at 26 South Tyler, Pinedale WY for a new office for Public Health.

Bids are due Friday, Jan 21st by 5pm and should be emailed to Kari DeWitt at kdewitt@sublettehealthcare.com

The bid should include the following:
Building an ADA compliant ramp and door at the Northeast entrance with hand railing and a 30" door.

Building an ADA compliant restroom, including framing and finishing the room, extending the existing plumbing, installing a toilet, sink, mirror, handrails and vinyl flooring and a 30" hollow core interior door.

Removing wall and counter cabinets from 6 rooms in current Public Health building, and installing a few of them at 26 South Tyler. The rest of the cabinets will go to storage.Installing outlets for 3 freezers.

Remove and dispose of existing 2400 sq feet of carpet. Work with installer to schedule installation of new carpet throughout the building. Hospital District will purchase the new carpet.

Hospital District will purchase a new 200kw Generator. Contractor will install the new generator at 26 South Tyler.

The Hospital District would like the work to commence as soon as possible. Please include your name, contact information and proposed timeline in your bid. Thank you. If you have any questions or would like to tour the space, please call Kari DeWitt at 307-231-3210.

Please provide three (3) references of prior services and/or business relationships related to work to be completed.

Selection Criteria
The final selection with be made by the Sublette County Hospital District. Selection criteria will include, but not be limited to, quality of the response, cost and other factors (i.e. references, etc.). The Sublette County Hospital District withholds the right to alter the criteria as it sees fit.

Award
The Sublette County Hospital District withholds the right to negotiate and clarify questions with the vendors submitting responses to this request for proposal.

---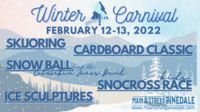 2022 Winter Carnival Feb. 12-13 (posted 1/3/2022)
Main Street Pinedale presents the 2022 Winter Carnival on Saturday and Sunday, February 12-13. Events include skijoring, the Cardboard Classic sled race, kids snowcross race, the Snow Ball, and ice sculptures. For more information visit www.mainstreetpinedale.com.
---
Avalanche beacon training park open (posted 12/29/2021)
Tip Top Search & Rescue
Need to practice your avalanche beacon search and probing skills before you go play in the backcountry? Tip Top Search and Rescue has set up a training park at the Horse Creek parking lot to sharpen your skills. Free and open to the public. Bring your friends, bring your family, bring your safety gear and have a great afternoon of fun. Call Tip Top Search and Rescue with any questions at 307-367-2849.

Related Links:
www.tiptopsar.com Tip Top Search & Rescue

---
Local Services:
Abortion Alternatives
Accounting & CPA
Apartments/Townhomes
Arts & Entertainment
Attorneys & Legal
Auction Services
Automotive
Aviation Services
Banks & Financial
Bars
Beauty Salons
Bed & Breakfasts
Boating
Bookkeeping
Builders & Contractors
Building Material
Business Services
Cabins
Cellular
Child Care
Churches
Cleaning Services
Clothing
Commercial Art
Computer Supplies
Condos
Consultants
Convenience Stores/Fuel
Convention/Meeting
Dentists
Dining
Dry Cleaning
Events
Fabric & Crafts
Fencing
Fishing
Flooring
Food & Drink
Funeral Homes
Furniture
Gifts/Western
Government
Graphic Design
Grocery & Market
Guest Ranches & Lodges
Handyman Services
Hardware & Feed
Heating
Health Care & Medical
Horseback Adventures
Insurance
Interior Design
Internet/Web/Advertising
Landscaping
Laundry
Liquor Stores
Lodging
Log Homes
Marketing
Massage Therapy
Modular Homes
Motels
Mountain Biking
Movie Theaters
Museums
Nails
Newspapers
Office Supplies
Oil Field Services
Optometrists
Organizations
Outdoor Equipment
Outfitters & Guides
Packaging & Shipping
Painters
Pet Stores
Pharmacies
Photography
Plumbing
Professional Services
Radio
Real Estate Agencies
Real Estate-FSBO
Remodeling
Retirement
Retreats
RV Camping
Schools
Scrapbooking
Septic Services
Skiing
Snowmobiling
Snow Plowing
Storage and Storage Units
Tanning
Tattoos & Body Art
Tax Preparation Services
Taxidermy
Transportation/Shuttle
Trash Services
Trucking
Veterinarians
Visitor Services
Wagon Rides
Well Drilling