Celebration of Life for George Ditton July 31 (posted 7/30/2021)
(Editors note - This service is Saturday, JULY 31st instead
of August 31st as indicated on the notice on the Post
Office door.)

A Celebration of Life will be held for George Ditton on
Saturday, July 31st from 3-5PM at the American Legion Park
in Pinedale. Pie will be served in George's memory.
---
DoggieFest 2021 July 31 in Pinedale (posted 7/30/2021)
Everyone is invited to bring their dog for a day of friendly competition and fun from 10AM to Noon at the American Legion Park in Pinedale. Registration is at 9:45AM. The event is a fundraiser for Bridges Out of Poverty of Sublette County. Please make sure your dog is friendly and up-to-date on their shots.

Competition Classes are:
Best Costume
Best Trick
Wiggliest
Mr.Ms Congeniality
Scruffiest
Ugliest
Mr/Ms Manners
Curliest Tail
Best Kisser
Looks Most like Owner

Registration costs for each dog and handler:
$7.00 for initial registration and first class
$5.00 for each additional class
$45.00 to enter all 10 classes

Other fun activities include carnival games, vendor booths, raffles sponsored by local businesses, and Sparky the Fire Dog.

Dog Carnival Games:
Ball Pit: Dogs dig around balls in a kiddie pool to find a special treat.
Bobbing for Tennis Balls: Dogs try to grab a tennis ball floating in a kiddie pool.
Selfie Booth: Selfie props will be at a booth for owners to use to take pictures of dogs and/or themselves with their phones.
Dog Treat Catch: Dogs will try to catch as many treats in a row as they can.
Temptation Tower: The owner has one minute to build a tower of tasty treats while the dog watches.

More information at Bridges Out of Poverty Facebook page:
https://www.facebook.com/groups/454465695267914/
---
Free Movie at the Green River Valley Museum August 4 (posted 7/30/2021)
The Green River Valley Museum in Big Piney is holding a movie night on Wednesday, August 4th. The movie will be "Three Amigos" starting at 4:00PM in the back building. Snacks will be provided. Bring a friend!
---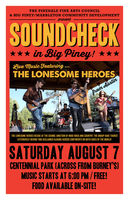 Soundcheck concert in Big Piney August 7

The Lonesome Heroes live music in Big Piney August 7 (posted 7/28/2021)
PFAC Summer Soundcheck concert
Pinedale Fine Arts Council and the Big Piney/Marbleton Community Development present Soundcheck in Big Piney on Saturday, August 7th with live music featuring The Lonesome Heroes. The free concert will be in the Centennial Park across from Burney's store. Music starts at 6:00PM. Food will be available onsite. For more information see www.pinedalefinearts.com.
---
Improvements planned in August for Green River Public Access Area near Daniel (posted 7/27/2021)
Wyoming Game & Fish
PINEDALE, WYOMING – Green River anglers in the Pinedale area can expect improved river access and fishing this fall. The Wyoming Game and Fish Department will be improving boat access at the Department's Daniel Public Access Area along the Green River some 12 miles west of Pinedale. The project will also enhance fish habitat on approximately 1,800 feet of river in this area.

The two-week project is set to begin Monday, August 9, 2021. No public access closures are anticipated, but anglers and river users are advised that construction will be occurring on weekdays and that minor delays may occur due to in-stream work. There also may be slightly elevated sediment in the river downstream of the project with heavy equipment working in the river or along the banks.

While the river access will not be closed, river users will be asked to park on along the road (Pape Road) on August 9, 10, and 11 to accommodate crews working on the parking area at the Public Access Area.

In addition to the improved boat ramp, a variety of stream structures will be constructed using wood and rock. These structures will reduce bank erosion and provide hiding cover for fish.

These habitat enhancements are designed to hold more fish in the reach, improving the fishing for both boat and bank anglers.

For more information about the project, please contact Wyoming Game and Fish Pinedale Habitat Biologist Luke Schultz at 307-367-4353.

---
Pinedale anglers encouraged to adjust fishing practices in high heat, drought (posted 7/27/2021)
Sara Dirienzo, Public Information Officer, Wyoming Game & Fish
PINEDALE, WYOMING - As Wyoming faces with another year of drought, trout are grappling with reduced food and oxygen, and in many instances, their very survival. The conditions have fish managers with the Wyoming Game and Fish Department concerned about the impacts on fish in many of the local rivers and lakes. As the water levels drop, the temperature rises. Warm water is a threat to trout and other cold water species.

Pinedale Fisheries Supervisor, Hilda Sexauer, says trout experience significant mortality at prolonged exposure to water temperatures greater than 75 degrees Fahrenheit, and brief exposure to temperatures over 80 degrees are lethal.

"Unfortunately, we anticipate there will be fish kills this summer due to high water temperatures and low oxygen," Sexauer said.

Fish stress quicker in warmer water because the water holds less oxygen, which greatly hampers a fish's ability to recover from the rigors of being caught. As water temperature approaches 70 degrees the chance for any fish species to survive being caught and released is greatly reduced.

Water temperature is particularly important for anglers practicing catch and release or where our regulations require fish to be released. The department asks all anglers practicing catch and release to consider the following during the dog days of summer:
• Fish early in the morning while water temperature is cooler.
• Carry a pocket thermometer and monitor the water temperature.
• If the water temperature is at or above 70 degrees, consider keeping what you catch within the regulations.
• As water temperature increases, using the proper techniques to catch and release a fish become increasingly more important to help ensure the fish has a chance to survive:
o Play and land fish as rapidly as possible to reduce exhaustion stress.
o Keep the fish in the water as much as possible.
o Do not squeeze the fish or place fingers in the gills.
o Remove the hook gently. If hooked deeply, cut the leader.
o Flies and lures are recommended whenever many fish are being caught and released.
o Barbless hooks allow easier hook removal.
o If a fish is exhausted and cannot hold itself
upright, and if regulations allow, consider having it for supper because the fish has a poor chance of surviving.

These are not new regulations, just recommendations to assist with the conservation of the fishery resource. If water temperatures are high, perhaps fish only during the very early morning or take a trip to the high country.

Anglers who need more information can contact Hilda Sexauer, Pete Cavalli or Darren Rhea at the Wyoming Game and Fish Department Pinedale Regional office, 307-367-4352.

---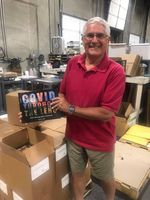 The new book has arrived

COVID Through the Lens – 2020 Photography Yearbook (posted 7/24/2021)
New book by photographer Dave Bell just released
Local photographer Dave Bell is excited to have his new book in hand, 'COVID Through the Lens - 2020 Photography Yearbook.'

"This book is a photographic journal of my wanderings during the year 2020. Even though most of the United States has been locked down, we have enjoyed exploring remote areas. I photographed throughout the year and produced nearly 100,000 images from this year of exploring. This book contains about 200 of those images including wildlife, the four seasons, spectacular sunrises and sunsets and astrophotography."

About the Author
Dave Bell is an avid hiker, mountaineer and explorer who can be found most anytime on the hiking trails of western Wyoming. He has spent his lifetime exploring the scenery and mountains of the western United States and Canada. He is a renowned landscape and wildlife photographer. He resides with his wife Peggy in Pinedale, Wyoming and uses his Area 51 as his base of operations. Many of Dave's photos from his outings over the years can be found on his photo gallery on Pinedale Online.

• This is a hard-back book with 222 pages.
• Cost is $75.00
• ISBN-10: ý 1662910304
• ISBN-13: ý 978-1662910302
• Item Weight: ý 2.21 pounds
• Dimensions: ý 11 x 0.69 x 8.5 inches

'COVID Through The Lens – 2020 Photography Yearbook' can be found locally in Pinedale at Office Outlet, the Cowboy Shop and 307 Mercantile. It is also available for order on Amazon, or by contacting Dave through his Facebook page.
---
Message from Pinedale Mayor Matt Murdock (posted 7/23/2021)
Matt Murdock, Mayor, Town of Pinedale
To the Town of Pinedale,
In the course of governing the Town, we will inevitably address controversial topics making decisions that upset someone. Seldom do we ever make everyone happy. We work to make the process as transparent and public as possible, publishing announcements and agendas in local media, and we make multiple opportunities for residents to speak to us or throughout our public meetings. No matter what you may think, we the electeds and the staff sincerely work to make the best laws for the good of the town.

However, many times information gets misunderstood or twisted and then passed on, especially in our fast-paced world of social media. What particularly saddens me is when criticism becomes attack and attack becomes personal – especially when that criticism attacks our hard-working staff who've been tasked by me and the Council. The five of us elected Council members signed up for the scrutiny and the criticism, (we sometimes ask ourselves why) and I can attest after 8 years of being on Council that we all genuinely want to do well by Pinedale. Town staff on the other hand is employed to carry out our decisions and policies, advising us when and where they can, and as Mayor I am very proud of our staff – they have been a major blessing to all of us and continue to make the Town a better place. But personal attacks on them for doing their job is malicious, unjust and unacceptable, undermining their effectiveness and willingness to serve.

Which is why it distresses me that social media and "keyboard warriors" have been so brutal and false in their attacks on our Planning & Zoning Administrator – Ronnie Tambourine – over the discussion of food trucks. Ronnie was the best and most qualified applicant for that post, and I was pleased to offer him the job in February 2021. His qualifications, character, interests and background made him a great pick for a community facing increasing growing pains. There are many challenges coming to our community that we as a Council are working to mitigate and guide for the growth of Pinedale while protecting what makes Pinedale so special. He and the rest of staff work to provide advice and help on issues we – your elected officials – task them with. To carry a disagreement over policy into personal, visceral attacks on a man and his family is wrong and is the worst aberrant from what makes Pinedale so wonderful.

The latest controversial topic, food vendors, has been on our list of topics to treat for over a year, since the 2020 Rendevous when major gaps in our code become apparent. The work we're now doing to amend that code is a result of watching how the 2017 code has played out. Someone may disagree with how the new code is being drafted but to personally attack Ronnie, who joined the Town after we began working on this topic, is not only mean, but also wrong. Ronnie has worked hard to get us the best information possible so that we may make the most informed decisions. Which is why I'm writing to say -

Thank you, Ronnie, for your hard work and your commitment to a better Pinedale. (and thank you, Maureen, Abram, Amy, Kevin, Spencer, Emily, Anna, Olivia, Ron, Lance, Justin, Michelle, Mary, Josh, Randy, Grover and Ken.)

Sincerely,
Matt W. Murdock, Mayor
Matt Murdock
Mayor, Town of Pinedale
(307) 749-0615

---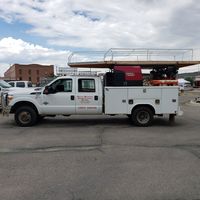 Survey truck

Emergency services conduct radio coverage testing through the county (posted 7/23/2021)
Sublette County Sheriff's Office
Rocky Mountain Communications Systems (RMCS) out of Casper, WY, along with Sublette County emergency services employees (Fire, Law and EMS) will be conducting coverage testing beginning Monday, July 26th, extending over the next week-and-a-half in to August. There will be two RMCS service trucks, and one red Ford F250 (see attached photos) that will be covering approximately 6,000 established zones or sectors within Sublette County. Our goal is to use as many public roadways as practical to complete this testing. If we should have to travel on to a private road, a call from the Sublette County Sheriff's Office to the land owner will be made to ask for permission.

The coverage testing is to ensure there aren't any "dead spots" in critical radio communication between Sublette County dispatch and first responders on our Sublette County Interoperable Radio System (SIRS).

KC Lehr, Sublette County Sheriff

---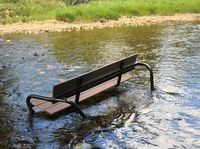 Bench found in the creek

$1,000 Reward offered regarding bench vandalism (posted 7/22/2021)
Sublette County Recreation Board
Update: *Due to the generosity of Doug and Lynda Vickrey, the reward is now $1000. Original post: The Sublette County Recreation Board is offering a *$500 reward for information leading to the arrest and conviction of those individuals responsible for vandalizing the pathway bench along Pine Creek at Tranquility Crossing. The bench was one of six recently installed as a donation from the late Don Tegeler in appreciation of our community pathways. Contact Sublette County Sheriff's Office at 307-367-4378 with any information.
---
Bondurant Heritage Sale August 14 (posted 7/22/2021)
The Bondurant Heritage Sale will be Saturday, August 14th from 9AM to 2PM at the church. There will be furniture, household items, clothing, working power tools, camping gear, and more. There will also be a bake sale. Donations accepted and appreciated (please no electronics, large exercise equipment or appliances). Drop off at the church Wednesday-Friday before the sale. Contact Carol Gabbard 859-200-3080 or Alice Jacobson for more information, 619-723-6769, alice.m.jacobson@gmail.com.
---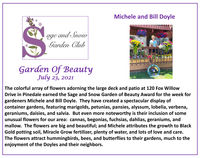 July 2021 Gardens of Beauty

Sage & Snow Garden Club Gardens of Beauty – July 2021 (posted 7/21/2021)
Sage & Snow Garden Club
July 9, 2021 - Julie Early and Barney Snyder, 40 Hay Meadow Drive, near Pinedale, are the Sage and Snow Garden Club's second Garden of Beauty Award for 2021. Julie grew up on the Swain Ranch on the Green River. Most of her beautiful flowers, shrubs, and trees were transplanted from her childhood home and her mother, Edna Swain's flower gardens. Scattered about her large landscaped yard are oriental poppies, lupine, lilies, delphiniums, cattails, tansy, Wood's rose, flax, iris (including a beautiful white variety), Maltese cross, dames' rocket, and Billy Wood's flowers (named by Billy Wood who homesteaded the ranch). Julie and Barney transplanted gooseberries, honeysuckles, and chokecherries from the home place. Most of the trees came from the ranch as well: poplars, lodgepole pines, spruce, aspen, cottonwoods, and willows. The ranch washtub is full of violas and marigolds. Water troughs are filled with radishes, carrots, lettuce, strawberries, onions, zucchini, beets, and garlic. Julie's greenhouse is full of mineral lick tubs and other containers growing tomatoes, sweet and hot peppers, cucumbers, peas, climbing beans, roses, and her mother's geraniums. The greenhouse is surrounded by pots of flowers, as well as a sunflower patch planted by her granddaughter, Daisy Early. Over the years, Julie and Barney have transformed a barren hay meadow into a beautiful botanical paradise.

July 16, 2021 - Dorothy and Wayne Fornstrom The Sage and Snow Garden Club has selected Dorothy and Wayne Fornstrom's beautiful gardens at 39 Granite Lane as this week's Garden of Beauty. Their grandsons, Danner and Dayson, enjoy playing in their beautiful and spacious backyard. Dorothy is a "little bit of everything" gardener. She has an herb garden in a wheelbarrow, lick tubs of cucumbers and potatoes, stock tanks with flowers and shrubs, and islands of trees. A border of sagebrush and potentillas, sprinkled with poppies, rhubarb, columbine, delphiniums, daisies, salvia, and iris surround the yard. Pots of colorful petunias, verbena, and geraniums adorn the shaded seating areas. Dorothy has an outdoor propagation station where she grows many native plants from seed to add to her gardens. However, many of the trees, shrubs, and flowers are seeded by the birds that visit her feeders and nest in the trees. The Garden Club has selected Dorothy and Wayne's beautiful yard for the final stop on their Annual Garden Tour and Dinner, planned for Saturday, August 14.

July 23, 2021 - Michele and Bill Doyle The colorful array of flowers adorning the large deck and patio at 120 Fox Willow Drive in Pinedale earned the Sage and Snow Garden of Beauty Award for the week for gardeners Michele and Bill Doyle. They have created a spectacular display of container gardens, featuring marigolds, petunias, pansies, alyssum, lobelia, verbena, geraniums, daisies, and salvia. But even more noteworthy is their inclusion of some unusual flowers for our area: cannas, begonias, fuchsias, dahlias, geraniums, and mallow. The flowers are big and beautiful; and Michele attributes the growth to Black Gold potting soil, Miracle Grow fertilizer, plenty of water, and lots of love and care. The flowers attract hummingbirds, bees, and butterflies to their gardens, much to the enjoyment of the Doyles and their neighbors.

Click on this link for more pictures
---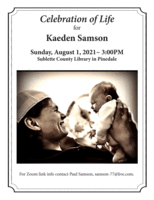 Celebration of Life for Kaeden Samson

Celebration of Life for Kaeden Samson August 1 in Pinedale (posted 7/21/2021)
A Celebration of Life for Kaeden Samson will be held at 3:00PM on Sunday, August 1st, 2021 in the Lovatt Room of the Sublette County Library in Pinedale. For Zoom link info contact Paul Samson, samson-77@live.com.
---
Book signings for Homestead & Ranching book (posted 7/19/2021)
Local historians Ann Chambers Noble and Jonita Sommers will have several book signings for their new book, "Homesteading and Ranching in the Upper Green River Valley. " Copies of the book will be available to autograph. The book was done as a fundraiser for the Green River Valley Program of the Jackson Hole Land Trust.

The book is an extensive history of homesteads and ranches on the many drainages near the headwaters of the Green River in western Wyoming. Accompanying the lengthy history are hundreds of historic photos, many published for the first time. Interspersed throughout the book is beautiful photography of the Upper Green River Valley mostly from local photographers, including David Rule, Mark Gocke, Ronald H. Chilcote, Elizabeth Boehm, Rita Donham, Isaac Spotts, Arnie Brokling, and Curtis S. Anderson. The book was published by Laguna Wilderness Press. Each book signing will include a brief program by Ann Chambers Noble. Cost of the book is $55.00 (+tax).

Book signings:
Tuesday, July 20: Pinedale Library, 6:30PM
Wednesday, July 21: Marbleton Senior Center, 6:00PM (sponsored by the Big Piney Library)
Tuesday, August 3: LaBarge Library, 6:00PM
There will be another book signing on Saturday, August 7 from 1-3PM at the Sommers Homestead Living History Museum. This book signing will include two additional authors: Scott Werbelow and his new book, "Son of a Poacher," and Bill Betenson, and his new book, "Butch Cassidy – The Wyoming Years." Ann will give a short presentation at 2:00PM. Refreshments will be served.

The book is also available for purchase at the Cowboy Shop and Office Outlet in Pinedale, and online at the Museum of the Mountain Man.

---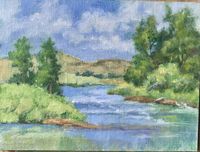 Pictured is "New Fork River Morning," 6x8 inch, oil painting by Charmian McLellan.

Lynn Thomas Memorial Art Show at the Sublette County Fair July 28-31 (posted 7/15/2021)
Exhibit of new work by 22 local artists
Big Piney artist and art show director Sharon Schell is pleased to announce the return of the Sublette County Fair Lynn Thomas Memorial Art Show. Because of continued Covid concerns, there will be no reception, Quick Draw, or auction this year. However, fair goers can anticipate and enjoy a vibrant exhibit of new work by 22 local artists.

There will be a special section in the show where artists will have the opportunity to display work pertinent to Sublette County's 100th anniversary celebration.

The show will begin on July 28, 2021, at the Sublette County Fairgrounds Community Hall. The Hall will be open from 10:00 AM to 6:00 PM on July 28, 29, and 30. It will be open on July 31 from 10:00 AM to 5:00 PM at which time artists may pick up their work.

The art show is dedicated to the memory of well-known local artist Lynn Thomas who was a long-standing member of Women Artists of the West; a stalwart supporter of 4-H; a signature member of Mixed Media artists; member of the Sublette County Artists' Guild; and member, president, and Grand Wyoming Artist of the Wyoming Artists' Ass'n. She and her husband Joe owned and operated Big Sandy Lodge for 20 years. She passed away from cancer in 2009.

Also memorialized this year is Susan Rose of Victor, Idaho, and Michigan, who lost her battle with cancer earlier this year. Susan was very supportive of the Lynn Thomas show in past years, as well as a distinguished award-winning artist, teacher, and revered mentor.

For more information, please contact Sharon Schell at 307-749-7661.

---
TOP P&Z Public Hearing August 2 (posted 7/14/2021)
Notice is hereby given that the Town of Pinedale Planning and Zoning Commission will hold a public hearing on Monday, August 2, 2021, at 12:00pm in the Lovatt Room of the Sublette County Library, 155 S. Tyler Ave., Pinedale, WY 82941. The purpose of the public hearing is to discuss the following:

1. A petition by Chauncey Goodrich for a Language Amendment to §475 Zoning for the inclusion of a Recreational Resort Development District.

Please go to www.townofpinedale.us or contact Ronnie Tambourine, ronnietambourine@townofpinedale.us for more information.

---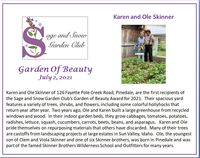 Garden of Beauty

Garden of Beauty – Karen & Ole Skinner (posted 7/5/2021)
Sage and Snow Garden Club
July 2, 2021 – Karen and Ole Skinner of 126 Fayette Pole Creek Road, Pinedale, are the first recipients of the Sage and Snow Garden Club's Garden of Beauty Award for 2021. Their spacious yard features a variety of trees, shrubs, and flowers, including some colorful hollyhocks that return year after year. Two years ago, Ole and Karen built a large greenhouse from recycled windows and wood. In their indoor garden beds, they grow cabbages, tomatoes, potatoes, radishes, lettuce, squash, cucumbers, carrots, beets, beans, and asparagus. Karen and Ole pride themselves on repurposing materials that others have discarded. Many of their trees are castoffs from landscaping projects at large estates in Sun Valley, Idaho. Ole, the youngest son of Clem and Viola Skinner and one of six Skinner brothers, was born in Pinedale and was part of the famed Skinner Brothers Wilderness School and Outfitters for many years.
---
Slowing Rangeland Erosion Workshops in August (posted 6/30/2021)
The Sublette County Conservation District is offering a series of workshops in August related to rangeland erosion. The objective of the workshops is to economically restore wet meadow habitats in sagebrush rangelands to benefit wildlife and livestock on working lands.

PROGRAM SCHEDULE
AUGUST 4th, 2021: Introduction to Low-Tech Wet Meadow Restoration
Webinar for Land Managers & Partners
Hosted by: NRCS, Intermountain West Joint Venture This is a virtual opportunity that will provide theory and basic instruction to lay a good foundation for the work on the ground the following week. Learn to recognize opportunities for low-tech "Zeedyk" structures (e.g., One Rock Dams, Zuni Bowls), and get introduced to beaver mimicry using Beaver Dam Analogs (BDA's).
Virtual registration link: https://www.partnersinthesage.com/2021-zeedyk-wyoming-workshop
* Will be recorded for later viewing

AUGUST 11th & 12th, 2021: Zeedyk Structure Building Workshop in the Field
Hosted by: SCCD, NRCS, WGFD
Get on the ground to read a real landscape and learn the techniques and skills to build low-cost, low-tech stream restoration "Zeedyk" structures that will help curb erosion and stream degradation by catching sediment, raising the water table, and increasing vegetation productivity.

AUGUST 13th, 2021: Beaver Dam Analog Structure Building Workshop in the Field
Hosted by: Wyoming TNC Get on the ground in this final workshop session to learn how to use "beaver mimicry" techniques and build in-stream structures that use the engineering benefits of beavers to help restore riparian health and functioning streams.

This project is made possible with funding support from the National Fish and Wildlife Foundation. Persons with disabilities who require alternative means of communication for program information (e.g., Braille, large print, audiotape, American Sign Language, etc.) should contact the responsible Agency or USDA's Target Center at (202) 720-2600 (voice and TTY) or contact USDA through the Federal Relay Service at (800) 877-8339. The USDA is an Equal Opportunity Provider, Employer and Lender.

REGISTRATION INFORMATIONM For more information or to reserve a spot contact: Melanie Purcell, Wildlife & Habitat Program Manager Sublette County Conservation District Phone #: 307-367-2364 Email: mpurcell@sublettecd.com or Kerry Gold, Habitat Mitigation Biologist Wyoming Game & Fish Department Phone #: 307-367-4352 Email: kerry.gold@wyo.gov

---
Local Services:
Abortion Alternatives
Accounting & CPA
Apartments/Townhomes
Arts & Entertainment
Attorneys & Legal
Auction Services
Automotive
Aviation Services
Banks & Financial
Bars
Beauty Salons
Bed & Breakfasts
Boating
Bookkeeping
Builders & Contractors
Building Material
Business Services
Cabins
Cellular
Child Care
Churches
Cleaning Services
Clothing
Commercial Art
Computer Supplies
Condos
Consultants
Convenience Stores/Fuel
Convention/Meeting
Dentists
Dining
Dry Cleaning
Events
Fabric & Crafts
Fencing
Fishing
Flooring
Food & Drink
Funeral Homes
Furniture
Gifts/Western
Government
Graphic Design
Grocery & Market
Guest Ranches & Lodges
Handyman Services
Hardware & Feed
Heating
Health Care & Medical
Horseback Adventures
Insurance
Interior Design
Internet/Web/Advertising
Landscaping
Laundry
Liquor Stores
Lodging
Log Homes
Marketing
Massage Therapy
Modular Homes
Motels
Mountain Biking
Movie Theaters
Museums
Nails
Newspapers
Office Supplies
Oil Field Services
Optometrists
Organizations
Outdoor Equipment
Outfitters & Guides
Packaging & Shipping
Painters
Pet Stores
Pharmacies
Photography
Plumbing
Professional Services
Radio
Real Estate Agencies
Real Estate-FSBO
Remodeling
Retirement
Retreats
RV Camping
Schools
Scrapbooking
Septic Services
Skiing
Snowmobiling
Snow Plowing
Storage and Storage Units
Tanning
Tattoos & Body Art
Tax Preparation Services
Taxidermy
Transportation/Shuttle
Trash Services
Trucking
Veterinarians
Visitor Services
Wagon Rides
Well Drilling