Fundraiser Lasagna Dinner Oct. 4 in Pinedale (posted 10/4/2022)
Rendezvous Pointe is hosting a fundraising lasagna dinner for Jodi Wilson on Tuesday, October 4th from 5:00PM to 7:30PM. Lasagna cooked by Sue Eversull. The fundraiser is to help Jodi with expenses related to the recent death of her husband. Suggested donation for the dinner is $8.00, all donations greatly appreciated. Eat in or take out offered.
---
Bucky's Fall Open House Oct. 8 (posted 10/4/2022)
Bucky's Outdoors in Pinedale will host their annual Fall Open House on Saturday, October 8th from 9AM to 2PM. They are located at 146 S Lincoln Avenue. All kinds of specials offered.
---
Power In Pink 4th Annual 5K Fun Run/Walk Oct. 8 (posted 10/4/2022)
The Power In Pink 4th Annual 5K Fun Run/Walk will take place Saturday, October 8th at the Sublette County Fairgrounds. Registration is at 8:00AM. The race starts at 9:00AM. Cost is $25/individual, $100 for a team of 4 or more. All proceeds go to Kickin' Cancer in Sublette County.

There will be prizes for 1st, 2nd and 3rd place, and for the Best Dressed.

Come early and get some pink swag, shop for some merchandise, and take pictures at the photo booth. Refreshments will be provided.


---
Pinedale Fire Station Open House Oct. 8 (posted 10/4/2022)
Sublette County Unified Fire will be hosting an Open House for National Fire Prevention Week at the Pinedale Fire Station in Pinedale on Saturday, October 8th from 11AM to 1:00PM. The event will start with an open house BBQ with free hamburgers and hot dogs. There will be fire engine rides for kids. There will be a live side by side fire demonstration at 1:00PM showing the benefits of sprinkler systems in your home.
---
Hoback River Watershed Study results presentation Oct. 11 (posted 10/4/2022)
The Sublette County Conservation District (SCCD), Teton County Conservation District (TCCD), Star Valley Conservation District (SVCD), and Wyoming Water Development Office (WWDO) are holding a public informational meeting for the Hoback River Watershed Level I Study at 6:00 p.m. on Tuesday, October 11, 2022. The meeting will be held at the Fire Department in Bondurant, WY located at mile marker 142.7 on U.S. Highway 189/191.

The Level I Study has been ongoing since May of 2021 and this meeting is being held to present the findings of said study. General topics covered will include water rights, water quality, rehabilitation project inventory, surface water hydrography/hydrology, biology, GIS database, and other pertinent information related to the function of the watershed.

As part of this project, a portion of the compiled water rights database was also included in the Sublette County GIS Mapserver. A demonstration involving these Mapserver based water rights will also be conducted for interested users. Following a presentation outlining the results of this study, we will be available to discuss funding resources, the Small Water Project Program application process, and any other specific questions you may have regarding the watershed study findings.

For questions or more information, please contact:
Mike Jackson, Rio Verde Engineering: (307) 367-2826
Mabel Jones, Wyoming Water Development Office: (307) 777-7626

Find more information on Facebook at http://www.facebook.com/SubletteCD/

---
Pinedale Half Marathon thanks the community (posted 10/4/2022)
Pinedale Half Marathon
A HUGE THANK YOU TO THE ENTIRE COMMUNITY FOR MAKING OUR 18TH PINEDALE HALF MARATHON VERY SPECIAL!!

We truly appreciate all of you who helped, volunteered, donated and participated in our community fitness day and first big fundraiser for Non-Profits in our county.

MAJOR SPONSORS:
Tegeler Insurance of Wyoming
Wyoming Community Foundation
Purewest

Other Sponsors:
Sublette County Rec Board, Pinedale Lions Club, SCSD #1, PFAC, Town of Pinedale – Travel & Tourism, US Forest Service, Sublette County Maintenance Dept., Rendezvous Pointe, Sue Eversull and her crew, Wind River Brewing Company, First Bank of Wyoming, Blushing Crow Studio, Four Pines Physical Therapy, M & M Transfer, Proactive Rehab & Fitness, Pinedale Self Storage

A HUGE THANK YOU to Sue Eversull and her crew and The Lion's Club for the WONDERFUL barbecue lunch following the race.

THANK YOU to Mindi Crabb for announcing – "Voice of the Pinedale Half Marathon"

THANK YOU to Tim Ruland and PFAC for the Sound System

Volunteers:
Julie Konicek, Mindi Crabb, Tim Ruland, Laurel Barrett, Marc Faber, Les Burroughs, Candy Herda-Scott, Karen Moulton, Kelly Tegeler, Kelly Winters, Eric Shultz, Scott Smith, Kris Holmes, Sarah Murdock Bridges, Clint Gilcrest, Kim Halford, Max Lundberg, Sue Unruh, Kyle Sullivan and Ridge Larson

THANK YOU to Jennie Frankus for singing the National Anthem.

This year The Pinedale Half Marathon became a fundraiser for the entire countys' Non-Profits. Participating groups were encouraged to fundraise through the Half Marathon and compete for $25,000 of matching funds for their own groups up to $2500.00. A total of $25,676.00 was raised with the majority of that being matched. Checks will be awarded to each of these amazing groups at Cally's Helping Hands November 15, 2022 in the Lovatt Room of The Pinedale Library.

THANK YOU TO ALL OF THE NON-PROFITS AND THEIR VOLUNTEERS WHO PARTICIPATED THIS YEAR!!!
SAFV Task Force, LOBA Memorial, MESA Therapeutic Horsemanship, Pinedale Preschool, Happy Endings Animal Rescue, Camp Grow, Children's Discovery Center, Winter Range Foundation, Sublette County Library Foundation, Sublette Country Trails Assoc, Wind River Skate Club, Pinedale Theatre Company, Pinedale Fine Arts Council, Friends of the PAC, Tip Top Search and Rescue, Green River Valley Museum, Pinedale Food Basket, Museum of the Mountain Man, Bridges of Sublette County, McKenzie Meningitis Foundation, and the Green River Valley Program of the Jackson Hole Land Trust.

And all others we hope we have not forgotten -----
Thank you sincerely –
Half Marathon Committee:
Ken Konicek, Amber Anderson, Tim Zebulske, Denise Tegeler, Morgan Faber, Tara Bolgiano, Sue Wilson, Jennie Frankus and Sue Holz

---
Wyoming Legislature update – Sept. 29, 2022 (posted 9/30/2022)
Albert Sommers, House District #20 Representative
Hello Sublette County and LaBarge, this is Albert Sommers reporting to you from the interim of the 66th Legislature. On September 16, I participated in the Wyoming Wildlife Taskforce meeting in Casper. The purpose of the Wyoming Wildlife Taskforce is to study top-priority wildlife policy issues facing the state related to the allocation of hunting opportunity, sportsperson access, and other issues.

The Wildlife Taskforce continued to examine the issue of fair chase and new technologies. The current statutory authority for the Wyoming Game and Fish Commission to regulate new technologies is very limited. The Taskforce is going out for public comment with a recommendation to the Wyoming Legislature that a bill be passed providing additional statutory authority to the Wyoming Game and Fish Commission to regulate the use of new technology for hunting, as those technology evolves. Trail cameras would be included in that authority. The Taskforce will vote on that concept in November or December, so please let me know what you think by November?

The Taskforce also examined the special draw statutes for non-resident deer, elk and antelope. The Taskforce voted on and approved a recommendation to the Wyoming Legislature to increase the nonresident special license fee to $1950 for elk and $1200 for deer and antelope. Currently, the special draw non-resident license fees are $1268-Elk, $662-Deer, and $614-Antelope. The money from this increase in license fee would help support a variety of wildlife and hunter access programs. The increase will also help the outfitting industry, as non-resident special license holders often utilize outfitters. The Taskforce is also examining moving the split on the special draw from 40% to 50% of non-resident special draw licenses. The Taskforce is sending that concept out for public comment as well.

The Taskforce passed a recommendation to the Wyoming Game and Fish Commission to modify regulations regarding the issuance of landowner licenses in the following ways:
• More detailed definition of "subdivide for the purpose of obtaining landowner licenses"
• Requirement that a landowner applicant must have a significant interest in the property in order to qualify. The Task Force recommends the Commission define "significant interest" as a specific value between 10 and 25%
• New language to require landowners to provide specific data to establish their qualification for animal use days
• Require the Department to verify animal use days and qualification at least every 5 years
• No more than 20% of available tags can be issued as landowner tags. If landowner tags exceed 20% of available tags, then a landowner tag draw will be established in that area.

I can be reached at albert@albertsommers.com with questions or comments.

---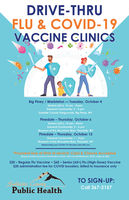 Drive-Thru Flu Shot Clinics offered in October (posted 9/20/2022)
Sublette County Public Health
The 2022 flu season is right around the corner and the Wyoming Department of Health is urging residents to get their flu shots. It is nearly impossible to predict the severity of the flu season ahead of time, but we can always predict that it is coming.

Flu is a contagious respiratory illness caused by influenza viruses that infect the nose, throat, and sometimes the lungs. It can cause mild to severe illness, and at times can lead to death. Flu symptoms can be very similar to COVID-19 symptoms. Symptoms include fever, cough, sore throat, runny or stuffy nose, muscle or body aches, headaches, and fatigue.

The best way to prevent flu is by getting a flu vaccine each year. Flu vaccinations are recommended for most individuals over 6 months of age. Flu vaccines cause antibodies to develop in the body about two weeks after vaccination. These antibodies provide protection against infection with the viruses that are used to make the vaccine.

Sublette County Public Health is Offering Two Types of Influenza Vaccine This Year:
• Fluzone High-Dose Quadrivalent Vaccine—this vaccine has been approved for individuals 65+ years only. This vaccine contains four times as much antigen as standard dose flu vaccines. The higher dose of antigen in the vaccine is intended to give people 65 years and older a better immune response to vaccination, and therefore, better protection against flu. Cost $60/dose—Medicare Part B will pay for this vaccine.
• Fluzone Quadrivalent Vaccine—this vaccine is approved for individuals 6 months and older. A quadrivalent influenza (flu) vaccine is designed to protect against four different flu viruses, including two influenza A viruses and two influenza B viruses. Cost $20/dose—will bill to insurance, cash, or check accepted.
• Public Health can bill Medicare, BCBS, Cigna, & UMR Insurance. Please fill out insurance information on your consent form.
• Sublette County is going to offer Drive-Thru Flu Vaccine Clinics again this year. We will have reduced appointment availability after these clinics due to our planned move in mid-October. Call Public Health at 307-367-2157 to schedule your appointment.

*Watch our latest video update about flu clinics, bivalent boosters, & our upcoming move at https://www.sublettewycovid.com/post/sublette-county-public-health-update-sept-12-2022

Sublette County Public Health is offering Drive-Thru Flu Shot Clinics!
Big Piney/Marbleton:
• Tuesday, October 4th, 2022 10AM—12PM High-Dose Flu (65+ Years Only)
Sublette County Fair Grounds, Marbleton

• Tuesday, October 4th, 2022 2PM—5PM Community Clinic (All Ages)
Sublette County Fair Grounds, Marbleton

Pinedale:
• Thursday, October 6th, 2022 10AM--12PM High-Dose Flu(65+ Years Only)
Museum of the Mountain Man, Pinedale

• Thursday, October 6th, 2022 2PM—6PM Community Clinic (All Ages)
Museum of the Mountain Man, Pinedale

• Thursday, October 13th, 2022 1PM—4PM Community Clinic (All Ages)
Museum of the Mountain Man, Pinedale

*Moderna & Pfizer Bivalent COVID Booster Vaccinations will be available at these clinics (while supplies last).

Important Requirements:
PATIENT SAFETY: Please stay in your vehicle. Watch for signs—there will be traffic attendants directing flow of traffic into the event.
SEATING: The patients receiving the vaccine must be seated next to an accessible door. Please wear a short sleeve shirt. STAY HOME IF SICK: If you have symptoms like fever, cough, congestion—please do not come to this clinic! PAPERWORK: Please complete your consent form before you arrive for your Flu or COVID Booster shot appointment—find copies available at your local Senior Center, Public Health Office or go to https://www.sublettewycovid.com/vaccines to print off a copy to bring with you.

---
Sublette County 4-H Open Houses in October (posted 9/20/2022)
Learn more about 4-H
Sublette County 4-H will host two open houses in October. Come learn about what 4-H has to offer or enroll for the new 4-H year.

Tuesday, October 4, 2022: Sublette County Extension Office, 9660 US Hwy 191 south of Pinedale. 5:30 – 7:30PM.

Wednesday, October 5, 2022: Marbleton Town Hall, 15 First North Rd, Marbleton, Wyoming, 5:30 – 7:30PM.

For more information, please call 307-367-4380.

---
Dear Sirs film screening Oct. 6 (posted 9/19/2022)
In Dear Sirs, A Personal Journey through World War II 75 Years Later, documentary filmmaker Mark Pedri bikes through France and Germany in attempts to discover the experience of his grandpa, a trona miner from Rock Springs drafted into WWII and captured as a Prisoner of War. The film will be shown in the Lovatt Room of the Pinedale Library on Monday, October 6th at 6:30 pm. A moderated Q&A session will follow. The filmmakers, Director Mark Pedri and Producer Carrie McCarthy have had a summer filled with a local WY screening tour connecting with veterans, military families, and more across the state. This event is free and open to the public and in partnership with WY PBS, Wyoming Humanities, and Sublette County Libraries. www.dearsirsfilm.com
---
Local Services:
Abortion Alternatives
Accounting & CPA
Apartments/Townhomes
Arts & Entertainment
Attorneys & Legal
Auction Services
Automotive
Aviation Services
Banks & Financial
Bars
Beauty Salons
Bed & Breakfasts
Boating
Bookkeeping
Builders & Contractors
Building Material
Business Services
Cabins
Cellular
Child Care
Churches
Cleaning Services
Clothing
Commercial Art
Computer Supplies
Condos
Consultants
Convenience Stores/Fuel
Convention/Meeting
Dentists
Dining
Dry Cleaning
Events
Fabric & Crafts
Fencing
Fishing
Flooring
Food & Drink
Funeral Homes
Furniture
Gifts/Western
Government
Graphic Design
Grocery & Market
Guest Ranches & Lodges
Handyman Services
Hardware & Feed
Heating
Health Care & Medical
Horseback Adventures
Insurance
Interior Design
Internet/Web/Advertising
Landscaping
Laundry
Liquor Stores
Lodging
Log Homes
Marketing
Massage Therapy
Modular Homes
Motels
Mountain Biking
Movie Theaters
Museums
Nails
Newspapers
Office Supplies
Oil Field Services
Optometrists
Organizations
Outdoor Equipment
Outfitters & Guides
Packaging & Shipping
Painters
Pet Stores
Pharmacies
Photography
Plumbing
Professional Services
Radio
Real Estate Agencies
Real Estate-FSBO
Remodeling
Retirement
Retreats
RV Camping
Schools
Scrapbooking
Septic Services
Skiing
Snowmobiling
Snow Plowing
Storage and Storage Units
Tanning
Tattoos & Body Art
Tax Preparation Services
Taxidermy
Transportation/Shuttle
Trash Services
Trucking
Veterinarians
Visitor Services
Wagon Rides
Well Drilling