Limited COVID-19 Booster Shots recommended and available in Wyoming (posted 9/24/2021)
Recommendation applies to those who previously received Pfizer doses
Wyoming Department of Health
Booster doses of the Pfizer COVID-19 vaccine are now recommended and available for older residents and other adults at high risk of severe disease or exposure to the virus, according to the Wyoming Department of Health (WDH).

Dr. Alexia Harrist, state health officer and state epidemiologist with WDH, said the Centers for Disease Control and Prevention (CDC) recommends booster doses of the COVID-19 vaccine manufactured by Pfizer for certain groups of people.

Those who should get booster doses include:
- People aged 65 and older
- Long-term care facility residents
- Adults aged 50-64 with certain medical conditions that make severe disease more likely

Those who may consider booster doses depending on
their personal risk and situation include:
- Adults aged 18-49 with certain medical conditions that make severe disease more likely-
- Adults aged 18-64 at increased risk of COVID-19 exposure and transmission due to jobs such as healthcare workers or because they live or work in settings such as correctional facilities

"While we continue to emphasize the importance of COVID-19 vaccines for those people who are not yet vaccinated, these booster doses are intended to help provide continued strong protection for those who are most likely to experience severe illness or exposure to the virus," Harrist said.

The Pfizer booster doses are to be given at least six months after someone received their second shot of the Pfizer vaccine. Booster doses have not been authorized or recommended for people who received the Moderna or Johnson and Johnson COVID-19 vaccines.

"COVID-19 vaccines continue to be safe and effective against COVID-19, including the variants, and are especially good at protecting against severe illness," Harrist said. "This Pfizer booster recommendation for more vulnerable people was not unexpected and it will not be surprising to see similar future recommendations for the vaccines produced by other companies."

"With the arrival of fall, many people may be ready to receive their seasonal flu shots, which we strongly encourage. It is considered safe to get a flu shot and a COVID-19 vaccine dose at the same time," Harrist said.

Harrist noted all COVID-19 vaccine doses continue to be offered at no cost to those who receive them.

Convenient ways to find where to get COVID-19 vaccines, including the newly recommended booster doses, include:
Visit Vaccines.gov or vacunas.gov online to search and find vaccine sites.
Text your ZIP code to 438829 (GETVAX) or 822862 (VACUNA) to find up to three nearby locations that have vaccines available. Call the National COVID-19 Vaccination Assistance Hotline at 1-800-232-0233 for phone-based help.

In August, the CDC recommended an additional dose of Pfizer or Moderna COVID-19 vaccines for people with moderately to severely compromised immune systems. More important details about the additional-dose recommendation for these specific individuals can be found at here.

A person is considered fully vaccinated two weeks after two doses of either the Pfizer or Moderna vaccine or two weeks after one dose of the Johnson and Johnson (Janssen) vaccine.

More details about the new CDC recommendations can be found online here.

More information from WDH about vaccination in Wyoming can be found here.

---
Wyoming Community Foundation grants made in September (posted 9/24/2021)
WYCF distributes $728,579.85 across the state. Local Nonprofits receive $16,500 in grant funding.
Wyoming Community Foundation
In its most recent round of grantmaking, the Wyoming Community Foundation (WYCF) awarded over $728,000 to nonprofit organizations across the state. WYCF is dedicated to building a better Wyoming in good times and bad. Much of this funding will support services that Wyoming residents and communities depend on.

WYCF made nearly 100 awards to Wyoming nonprofit organizations. These organizations address a wide range of issues, including food scarcity, elder care, youth opportunities, and the arts. Grant-supported projects range from the Edible Prairie Project, which provides locally grown produce to low-income people in Campbell County, to the Wyoming Breast Cancer Initiative's work to increase cancer awareness, early detection, and quality of life across the state.

The Sublette Local Board awarded $16,500 to causes that serve the community. Grantees include the Pinedale Fine Arts Council's program of performances, school residencies, Dementia Care Art programs and summer events. A WYCF grant will also support public and educational events surrounding the Pedigree Stage Stop Dog Sled Race, giving locals the chance to meet mushers and dogs. The Sublette Local Board awarded five grants in total.

"These programs are essential to building stronger communities and a better state. We are pleased to be able to support our community of nonprofits and incredibly grateful for their work," says Micah Richardson, WYCF Director of Programs.

For over 30 years, WYCF has granted over $100 million to charitable causes around the state. These grants rely on support from donors from across the state. Funds are held by WYCF and invested, ensuring ongoing returns to support charitable causes in the long term.

To donate or set up a fund, or to learn more about the Wyoming Community Foundation and the organizations it supports, visit www.wycf.org.

The Wyoming Community Foundation's next grant application deadline is December 15th, 2021. Nonprofits making a difference in their communities are encouraged to apply.

---
Western's Board of Trustees vote to extend face covering mandate (posted 9/22/2021)
Western Wyoming Community College
ROCK SPRINGS, WYOMING – Western Wyoming Community College's (Western) Board of Trustees met for a special meeting on Tuesday, September 21 and voted to extend the face covering mandate for an additional month, to be reviewed at the next board meeting on October 19.

The mandate applies to all those on Western's campus including students, employees and the public.

The Board of Trustees considered a number of factors when deciding to extend the mandate. Their goal is to keep the campus community safe and open for in-person instruction, keep athletes competing, and to support in alleviating the strain on local health departments. Although Western's campus cases remain low, Sweetwater County's cases have increased significantly.

Sweetwater County has moved to the highest level, "dark red", according to the Wyoming Department of Health's color-coded transmission indicators, a significant increase since the Board of Trustees' last meeting when the face covering mandate was implemented. There are 1,301 cases per 100,000 residents with a 15.6% positivity rate. The county currently has 276 active COVID-19 cases.

"Extending the face covering mandate is a preemptive solution in response to the recent surge in COVID-19 cases in our communities. We hope to see these numbers decline in the coming weeks," stated Dr. Kim Dale, President of Western.

The College continues to hold vaccination clinics on campus for students and employees. The clinics have allowed 33 people to get vaccinated so far.

Face coverings are required in all areas where social distancing cannot occur, including indoor classrooms, lab and clinical spaces, events and within College vehicles.

Students seeking exemptions from class due to COVID-19 can contact Wellbeing and Accessibility at (307) 382-1645 to arrange accommodations, and employees can contact Human Resources at hr@westernwyoming.edu. Western continues to encourage those who feel unwell to stay home if they are sick.

---
Fatality, active search and rescue at Shoshone Lake in Yellowstone National Park (posted 9/22/2021)
National Park Service
MAMMOTH HOT SPRINGS, WYOMING - Park search and rescue crews located the body of Mark O'Neill along the east shore of Shoshone Lake in Yellowstone National Park Monday, Sept. 20.

O'Neill, 67, from Chimacum, Washington, and his half-brother, Kim Crumbo, 74, from Ogden, Utah, were reported overdue by a family member Sunday, Sept. 19 from their four-night backcountry trip to Shoshone Lake.

On Sunday, Sept. 19, park crews located a vacant campsite with gear on the south side of Shoshone Lake, as well as a canoe, paddle, PFD and other personal belongings on the east shore of the lake. Crews located the body of O'Neill along the east shore during the morning of Monday, Sept. 20.

Search and rescue efforts continue with ten crew members on foot in the area Tuesday, Sept. 21 to locate Crumbo. Grand Teton National Park interagency ship and crew are also assisting with air operations. In an update on Wednesday, Sept. 22nd, officials said Park search and rescue personnel continue to look for Crumbo by foot, helicopter and boat at Shoshone Lake in Yellowstone National Park and will continue for the next several days as conditions warrant.

Both O'Neill and Crumbo are National Park Service (NPS) retirees, and Crumbo is a former Navy Seal.

This incident remains under investigation. NPS officials ask the public to maintain distance from any law enforcement personnel, equipment, vehicles and their related activity for the safety of the public in this remote area and to protect the integrity of our work.

Shoshone Lake, the park's second-largest lake, is located at the head of the Lewis River southwest of West Thumb. At 8,050 acres (3,258 ha), its average year-round temperature is about 48 F (9 C). Survival time is estimated to be only 20 to 30 minutes in water of this temperature.

---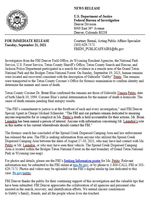 FBI release

Teton County Coroner confirms remains are of missing woman (posted 9/21/2021)
Death ruled a homocide
The Denver office of the FBI posted on twitter saying Teton County Coroner Dr. Brent Blue confirmed the remains that were found near Grand Teton Park were those of missing woman, Gabrielle Petito. The Coroner's initial determination for the manner of death is homicide. The cause of death remains pending final autopsy results.

22-year old Gabby Petito was last seen and heard from in late August near Grand Teton National Park. Human remains were found near the Spread Creek Dispersed Camping area. Human remains consistent with her description were found on Sunday, September 19th in the vicinity of Spread Creek Dispersed Camping area on the Bridger-Teton National Forest about 30 miles north of Jackson, Wyoming, near the border with Grand Teton National Park.

Her traveling companion/fiancé turned up in Florida alone in early September and has refused to talk with authorities and law enforcement about her whereabouts. He has since vanished. He has been designated a "person of interest" in her disappearance.

Source:
https://twitter.com/FBIDenver
https://twitter.com/FBIDenver/status/1440422513305997312

---
Governor activates Wyoming National Guard to provide hospital assistance (posted 9/21/2021)
Wyoming Governor Mark Gordon
CHEYENNE, WYOMING – Wyoming's hospitals have sought additional support to respond to the COVID-19 pandemic and the surge in hospitalized patients. There are approximately 200 people with COVID-19 in Wyoming hospitals today (Tuesday, Sept. 21, 2021), which is near the peak number the state has seen during the pandemic. Governor Mark Gordon has activated guardsmen who have stepped forward to provide temporary assistance to hospitals throughout the state.

Governor Gordon has called approximately 95 Soldiers and Airmen to State Active Duty orders, assigned to hospital locations at 24 different sites within 17 Wyoming cities. They will serve to augment current hospital and Wyoming Department of Health staff to help ease workloads imposed upon them due to large numbers of COVID-19 hospitalizations.

"I am grateful to the members of our Wyoming National Guard for once again answering the call to provide assistance in our hospitals during this surge," Governor Gordon said. "Our Guard members truly are Wyoming's sword and shield, and their commitment to our state is something for which every Wyoming citizen can be thankful."

Guard members' responsibilities will include: assisting in environmental cleanup in hospital facilities; food and nutrition service; COVID-19 screening; managing personal protective equipment (PPE) supplies; and other support tasks. Some will also be trained to administer COVID-19 tests.

"The Delta variant has overwhelmed the medical institutions of states across this country. Our state is no different with most hospitals at or near capacity," said Col. David Pritchett, director of the joint staff for the Wyoming National Guard. "The Soldiers and Airmen of the Wyoming National Guard are proud to jump back in to provide much needed assistance to our communities as we continue to battle the effects of COVID-19."

The orders for guardsmen will be 14-30 day rotations, with the potential to extend beyond that, up until Dec. 31. The numbers and locations of guardsmen may change based on hospital needs.

---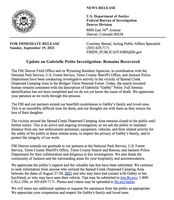 FBI release

Body of missing woman found near Grand Teton National Park (posted 9/19/2021)
The Federal Bureau of Investigation (FBI) issued a media release on Sunday, Sept. 19th, stating the remains of missing woman Gabrielle "Gabby" Petito have been recovered in the vicinity of Spread Creek Dispersed Camping area on the Bridger-Teton National Forest north of Jackson, Wyoming.

The 22-year old woman was last heard from in Grand Teton National Park in late August while on a camping trip with her fiancé, Brian Laundrie. Petito and her fiancé are believed to have driven from the Moab, Utah, area to Teton Park in late August during a months-long road trip across the U.S. During her last FaceTime call with her mother, around Aug. 25, Petito told her mother that she was in Grand Teton National Park and soon headed to Yellowstone. He later turned up in Florida in early September, alone and with the white van they were traveling together in, but he would not talk to her family or authorities about her whereabouts. Her parents filed a missing person report on September 11th.

On Sunday, September 19th, searchers found human remains consistent with the description of the young woman. They said full forensic investigation has not been completed and they have not yet determined the cause of death. The Spread Creek Dispersed Camping Area is in the Bridger-Teton National Forest on the east boundary of Grand Teton National Park off of U.S. Highway 89. The vicinity of the area remains closed to the public until further notice.

The search has involved the FBI Denver Field Office in cooperation with the National Park Service, Bridger-Teton National Forest, Teton County Sheriff's Office and Jackson Police Department.

Ms. Petito's fiancé has been missing from his parent's home in Florida for several days and his whereabouts is unknown.

The FBI continues to seek information from anyone who utilized the Spread Creek Dispersed Camping Area between the dates of August 27-31 and who may have seen the couple or their vehicle. Tips may be submitted to tips.fbi.gov or by calling 1-800-CALL-FBI or 303-629-7171.

---
Where has the flu gone? (posted 9/19/2021)
Pinedale Online!
One of the interesting outcomes of the COVID-19 pandemic are reports that the regular flu appears to have mostly disappeared for over a year now. In a typical year from 12,000 to 60,000 adults die due to the flu. Hospitals get flooded annually with flu patients. Up to 150 children die in the US from the flu each year. During the 2019–20 flu season—basically fall and winter, peaking in December, January, and February—18 million people in the US saw a doctor for their symptoms, and 400,000 had to be hospitalized. Overall, 32,000 people died.

Yet in the 2020-2021 season there were much fewer people sick or dying from the flu. Parents noticed their kids didn't get their annual colds. What happened? Proponents of social interventions will point to mask mandates, school and business closures, social distancing requirements, hand washing, sanitizing, and vaccinations as the savior to significantly reduce flu spread with other respiratory viruses disappearing a happy side benefit.

Another interesting hypothesis points to "viral interference," the idea that a sufficiently strong respiratory pathogen could so occupy a susceptible population that it essentially supplants other weaker viruses.

Now that we are 18 months into the COVID-19 pandemic we have a lot more facts and science to work with about the virus and its impacts. Below are links to articles with more information related to COVID and potential implications of future outcomes.

Flu Has Disappeared for More Than a Year
The drop-off in flu numbers following COVID's arrival was swift and global. Since then, cases have stayed remarkably low. The U.S. saw about 700 deaths from influenza during the 2020–2021 season. In comparison, the Centers for Disease Control and Prevention estimates there were approximately 22,000 U.S. deaths in the prior season and 34,000 deaths two seasons ago.
https://www.scientificamerican.com/article/flu-has-disappeared-worldwide-during-the-covid-pandemic1/
By Katie Peek, Scientific American, April 29, 2021

Covid-19 Meant a Year Without the Flu. That's Not All Good News
The 2020–2021 flu season basically didn't happen. Same for a couple other respiratory viruses. But that could make future seasons worse. And it's not just the flu. Case numbers for some other respiratory viruses that have a seasonal rhythm have also bottomed out. Most likely, all the mask wearing, physical distancing, hand washing, and other "non-pharmaceutical interventions" that most everyone has been doing that has prevented the spread of Covid-19 also diminished those other viruses.
https://www.wired.com/story/covid-19-meant-a-year-without-the-flu-thats-not-all-good-news/
By Adam Rogers, wired.com, March 16, 2021

The Disappearance of Influenza
Recent evidence suggests that the Corona virus appears to resemble an invasive species that has disturbed the ecology of human-infecting respiratory viruses to the exclusion of most others. Has corona been so robust as to kill the regular flu? It has happened before. The flu of 1918 was so strong it appears to have cleared the playing field and its variants have become the dominant flu strains for decades afterwards up to the present.
https://eugyppius.substack.com/p/the-disappearance-of-influenza
By Eugyppius, substack.com, August 5, 2021

The future of the flu: Has Covid changed the virus forever?
In influenza, there is a thing called "antigenic drift," that during the course of an influenza season, the actual virus might drift from what was predicted by those who make the current season's vaccine. That can make it more difficult to target the vaccine to the actual current version of the virus. Preparations are already underway for the 2021 flu season. The strains in circulation today – even though cases are few in number — get included in next season's vaccine. The World Health Organization determines the formula, then manufacturers hit the assembly lines. Influenza vaccines have already shipped to the southern hemisphere, where the flu season is about to begin. Experts will be watching closely to see if cases there remain low during 2021.
https://wgntv.com/news/medical-watch/the-future-of-the-flu-has-covid-changed-the-virus-forever/
By Katharin Czink, Dina Bair, April 15, 2021

Why the 1918 Flu Pandemic Never Really Ended
An estimated 50 to 100 million people worldwide died from the 1918-1919 flu pandemic commonly known as the "Spanish Flu." It was the deadliest global pandemic since the Black Death, and rare among flu viruses for striking down the young and healthy, often within days of exhibiting the first symptoms. Infectious disease experts claim that this virus never really went away. After infecting a third of the global population, the H1N1 strain that caused the Spanish flu receded into the background and stuck around as the regular seasonal flu. But every so often, direct descendants of the 1918 flu combined with bird flu or swine flu to create powerful new pandemic strains, which is what happened in 1957, 1968 and 2009. Those later flu outbreaks, all created in part by the 1918 virus, claimed millions of additional lives. According to genetic analyses, the same novel strain of flu first introduced in 1918 appears to be the direct ancestor of every seasonal and pandemic flu we've had over the past century. Genetic traces of the 1918 virus can still be found in the seasonal flus that circulate today.
https://www.history.com/news/1918-flu-pandemic-never-ended
By Dave Roos, history.com, December 11, 2020

The Marek Effect - Imperfect Vaccination Can Enhance the Transmission of Highly Virulent Pathogens
Studies have shown that broad vaccinations can have the downside effect of creating greater pathogenicity of viruse. Recent science indicates that mass vaccination against SARS-2 and the rise of the Delta variant may be related. Could some vaccines drive the evolution of more virulent pathogens? Conventional wisdom is that natural selection will remove highly lethal pathogens if host death greatly reduces transmission. Vaccines that keep hosts alive but still allow transmission could thus allow very virulent strains to circulate in a population. This can happen with "leaky" vaccines that continue to allow the virus to transmit. When vaccines prevent transmission, as is the case for nearly all vaccines used in humans, this type of evolution towards increased virulence is blocked. But when vaccines leak, allowing at least some pathogen transmission, they could create the ecological conditions that would allow "hot" strains to emerge and persist. This theory proved highly controversial when it was first proposed over a decade ago, but scientists report experiments with Marek's disease virus in poultry show that modern commercial leaky vaccines can have precisely this effect: they allow the onward transmission of strains otherwise too lethal to persist. Thus, the use of leaky vaccines can facilitate the evolution of pathogen strains that put unvaccinated hosts at greater risk of severe disease.
https://journals.plos.org/plosbiology/article?id=10.1371/journal.pbio.1002198
Plos.org, July 27, 2015 (Biology)

---
Governor Gordon remains confident that Wyoming's Wolf Management Program is successful (posted 9/17/2021)
Mark Gordon media release
Governor Mark Gordon has issued a statement in response to an announcement from the US Fish and Wildlife Service that it will initiate a comprehensive status review of the gray wolf in the western U.S. The Governor is confident the review will find Wyoming's wolf management program has been highly successful in meeting the state's commitment to the long-term viability of wolves in Wyoming.

The Governor's statement follows:
"Wyoming has managed wolves according to our plan, and that plan has been sufficient to satisfy wolf population targets while allowing producers to take appropriate measures to protect livestock. Ours was a hard-fought and careful process that resulted in a unique plan that works. If it's not broken, we don't need to fix it. Wyoming will stand by our plan, which is supported with unassailable data.

We respect all state's abilities to manage wildlife within their borders. This is just another example of a Federal action which attempts to usurp states' authorities."

---
Wyoming seeks State management of grizzly bears (posted 9/17/2021)
Governor Gordon stresses Wyoming's expertise in meeting benchmarks, managing iconic species
Mark Gordon media release
Governor Gordon announced today (Sept. 16, 2021) that the State of Wyoming is seeking state management of grizzly bears in the Greater Yellowstone Ecosystem (GYE). The State is petitioning the U.S. Fish and Wildlife Service to delist the GYE grizzly bear population, following 46 years and more than $52 million in investment from Wyoming. Grizzly bears, by all measures, have been fully-recovered since 2003.

"This is a notable day of celebration not only for the grizzly bear, but for Wyoming. The Greater Yellowstone Ecosystem grizzly bear has met and exceeded all scientific benchmarks for recovery," Governor Gordon said in a press conference. "We have proved time and time again that we are experts in wildlife conservation for our state's valued and iconic species. It's time for grizzly bears to be returned fully to the states for management, as our citizens have supported recovery efforts and seen monumental success."

Wyoming already has a grizzly bear management plan in place, and it will be amended to recognize the necessary legal requirements to satisfy the Endangered Species Act requirements for post-delisting management.

Today, there is an expanding number of grizzly bears that have grown beyond the edges of the bear's biological and socially suitable range. With refined population estimates, data shows the population numbers more than 1,000 bears, far beyond all scientific requirements for a recovered, viable population. With this data, the state intends to adopt new annual management targets and mortality thresholds to ensure the population remains well-above minimum federal thresholds.

Wyoming also intends to directly address concerns raised by the courts in the 2017 delisting. The State is amending grizzly bear management policies that will adjust the annual management and mortality targets. Wyoming also intends to use and update plans to recognize the updated population model now adopted by grizzly bear experts. Last, the State is committed to the bear's long-term genetic health and will provide for translocation of bears into the population, as needed to maintain genetic diversity.

"With management, we are vowing — and committing — to long-term grizzly bear conservation," Gov. Gordon said.

The State of Wyoming is in the process of making these additional legal and policy commitments, and the petition will be filed in the coming weeks. Wyoming is currently amending management agreements between Idaho and Montana. Those agreements, known as the Tri-State MOA, will be reviewed by the Wyoming Game and Fish Commission in the coming weeks.

---
Yellowstone visitation continues to rise (posted 9/14/2021)
National Park Service – Yellowstone National Park
Yellowstone National Park hosted 921,844 recreation visits in August 2021, making it the most-visited August on record. This is a 4.5% increase from August 2020 (881,829 recreational visits) and a 12% increase from August 2019 (820,006 recreation visits).

Previously, the busiest August on record was in 2017, the year of the solar eclipse (916,166 recreation visits).

So far in 2021, the park has hosted 3,590,904 recreation visits, up 40% from the same period last year and up 15% from 2019.

The list below shows the year-to-date trend for recreation visits over the last several years (through August):

2021 – 3,590,904
2020 – 2,556,528*
2019 – 3,114,697
2018 – 3,136,241
2017 – 3,232,707
2016 – 3,269,024

If you plan to travel to Yellowstone this autumn, plan ahead, expect crowding and recreate responsibly to protect yourself and the park. Stay informed about changes to park operations and services by downloading the NPS Yellowstone app and visiting www.nps.gov/yell or the park's social media channels.

More data on park visitation, including how we calculate these numbers, is available on the NPS Stats website.

Editor's note: *The park was closed March 24-May 18, 2020, due to COVID-19. Two entrances were open May 18-31 and the remaining three opened on June 1.

---
Business Directory
Click here for
Advertising Information