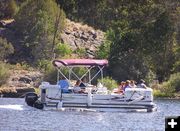 Pontoon Party Barge

Enjoying a day out on Half Moon Lake for a family reunion. Half Moon Lake Resort rents these pontoon boat, "party barges".

A great day on the lake
On Half Moon Lake
August 19, 2006
What better way to spend the day than gathering up a bunch of friends and tour around one of our beautiful area lakes. Half Moon Lake Resort rents party barges, as well as canoes and fishing boats.

These pictures were taken on Saturday, August 19th. Other people enjoyed water skiing, air chair water skiing, being pulled on inner tubes by motor boats, jet skiing and camping along the lake.

Photos by Dawn Ballou, Pinedale Online!