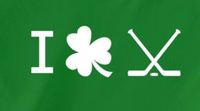 Mite/Mini-Mite Hockey Jamboree Tournament in Pinedale. Photo by Terry Allen.

Hockey Jamboree 2018 (posted 3/18/18)
A Sport for the Ages
Terry Allen
I walked into the Sublette County Ice Arena Saturday (March 17) just in time to witness a cluster of frenetic Green jerseys from Pinedale and Red Jerseys from Jackson trying to get a stick on a puck. Someone did connect and the puck scooted free across a big empty space of ice. The little knot of Mini-Mites broke apart into individual skaters and chased after it, leaving behind one skater who had decided to stop and practice a circle or a figure 8.

I heard a laugh and saw a big smile on the face of the tallest guy in the arena. Ty Huffman has been coaching the younger players for three years. "I like coaching the younger ages," he said, "because they are all about having fun. It is a complex sport, but at this age, we just want them to focus 100% on fun. We also try to get them to keep their heads up when they skate so they don't run into each other. Hockey can teach kids some real good life skills."

The history of hockey-like games seems to go back to 4000 year old rock carvings in Egypt which show games being played with sticks and projectiles. There is a carving from 600 B.C. in Athens which shows players using curved sticks. It is easy to imagine parents in ancient times spending their evenings and weekends getting their kids to practice and to games just like we do now.

I spotted a man with a look of gleeful enthusiasm on his face watching the play and recognized Craig Sheppard. "Our hockey association was started in around 1971 by some guys from the BLM and Forestry," he said. "In those days it was an outdoor rink over by the library. In fact, this is our first indoor arena." When you talk with Craig, you might notice an accent. I told him he sounded a little bit like a Canadian. "Yeah, well, that might be because I grew up about 100 miles from the Canadian border in Minnesota," he said.

I was hoping to get a chance to talk to the kids when their game was over and it turned out I recognized some of them from other stories I've done. They all eagerly sat down and bunched up close on the bench and smiled with big toothless grins just like real hockey players. Don't worry folks; they are at the age where teeth just fall out naturally.
"I like scoring goals and practicing my backwards skating," said Tempie Huffman, "and by the way, I like your cursive." (I hadn't noticed she'd been watching me write down her words). "I like winning, scoring goals and skating backwards," said Evelyn Sare.

If you are interested in hockey for yourself or your kids, there is room for everyone. There is no boys' team or girls' team; there is just the hockey team. Apparently, there is a geezer team, though…because I heard there was a 70-year old guy in uniform. Gee, maybe I should look into it.

Ty told me, just about everything you need is supplied by the association. "The only thing you need to supply is your own skates," he said. "We are trying to grow our association in this age group because we have about 20 kids and Jackson has over 120." The Sublette County Glaciers seem to be doing pretty good with what they've got though, because last year they qualified for and went to a big tournament in Ontario, Canada.

One last thing: They tell me the breakfast burritos at the concession stand are fantastic… and cheap!

A big thank you to Ty for inviting me out and thank you to everyone who let me get in the way so I could try for a good picture and a few entertaining words. Thank you to Dawn Ballou who sponsored this story without knowing what I was going to do. "Just go do something you want to do," she said.

Terry Allen: txpartisan@gmail.com
You may all share these low resolution photos among yourselves personally.

Ice Arena: www.sublettewyo.com (307) 367-6313

Click on this link for more pictures

Related Links:
www.pinedaleglaciers.org Pinedale Glaciers Hockey Association
Pinedale Glaciers Facebook page

---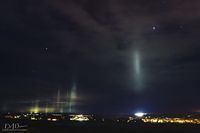 Light pillars over Pinedale, Wyoming on Friday, March 16th. Photo by Dave Bell.

Light Pillars (posted 3/17/18)
Dave Bell was surprised to see light pillars over Pinedale Friday morning (March 16th). "The weather conditions were not what historically has created these beautiful lights. It was about 19F, light wind and dry. We have had no measurable snow in the past several hours. But, nonetheless, we had a decent display of light pillars to the south of Pinedale. I think the further lights are rigs and production facilities on the south end of the mesa. The big one, right of center, is the rig and fracing operations on the north end of the mesa above Pinedale. Taken about 6:00AM. Canon 1DC, 24-70 at 24mm, 15 seconds at f2.8, ISO 320."

Click on the links below to see more pictures by Dave of an earlier light pillar show over Pinedale in 2017.

Related Links:
Light Pillars By Dave Bell, January 24, 2017
Light Pillars explanation Wikipedia
The rare phenomenon that lit up Wyoming's sky By Jennifer Earl, CBS News, February 3, 2017
The Science Behind Light Pillars By Jon Erdman, weather.com, January 27, 2017
Rare, Amazing Light Pillars Spotted In Wyoming's Sky By Elaine Hanna, Science World Report, February 6, 2017
Dave Bell Photo Gallery

---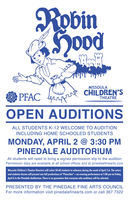 Auditions on Monday, April 2nd in Pinedale

Missoula Children's Theater to begin auditions for performance of 'Robin Hood' in Pinedale (posted 3/17/18)
Parts for 50-60 students in the production
Pinedale Fine Arts Council
The Missoula Children's Theatre of Missoula, Montana, will arrive in Pinedale on Monday, April 2, to audition students in grades K-12 for the production, "Robin Hood". The Missoula Children's Theatre directors will select 50-60 students to rehearse during the week of April 2 – 6. The actors and students chosen will present a full production of "Robin Hood" – an evening performance at 7:00 pm on Friday, April 6 in the Sheppard Auditorium.

Any student in the Pinedale or Bondurant school system, K-12, is eligible to audition including home-school students. There is no preparation required for the auditions, and no previous experience is needed. Missoula Children's Theatre will provide all scenery and costumes for this production.

Auditions will be held Monday, April 2, in the Sheppard Auditorium from 3:30 to 5:30PM. Students should arrive immediately when school is dismissed on Monday (if need be, elementary students may take the PAC bus to get to the audition – a PFAC representative will walk students from the bus to the auditorium).

Students must also have a signed parental consent form to audition. Consent forms are available at all Pinedale school offices and can also be downloaded at www.pinedalefinearts.com.

The selections for roles in the play are made entirely by the Missoula Children's Theatre actors. There is no guarantee that everyone who auditions will be cast in the play.

Missoula Children's Theatre is presented locally by The Pinedale Fine Arts Council. For more information please call the Pinedale Fine Arts Council at 307-367-7322 or visit www.pinedalefinearts.com.

---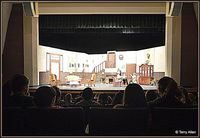 The Pinedale High School Drama Department put on a performance of Arsenic and Old Lace March 12th & 13th. Photo by Terry Allen.

Arsenic and Old Lace (posted 3/15/18)
A Pinedale High School Play
Terry Allen
On Monday March 12, 2018 at 1:30 in the afternoon, The Pinedale High School Drama Department put on a matinee performance of Arsenic and Old Lace (also evening performances on the 12th & 13th… remember those numbers).

Mr. Smith, Mr. Allen and all the student actors, makeup artists, and stage managers kindly agreed to let me stage a lot of my photos before the play began. Because of this, they may not be in their actual costumes or full makeup in all the photographs. In fact, for all three performances, the actors played different roles.

On Monday noon, a young woman might be the starring love interest and in the evening she might be in the role of a policewoman…and so on. I also wanted to illustrate the part our imaginations play, by showing what is behind various stage doors, etc., like the door to the cellar where the bodies are buried.

Speaking of bodies…
Two sweet old Aunties live well in a stately Victorian home next door to a graveyard. On Sundays they place flowers on some of the graves. On the other side of the graveyard is a grand old church administered by a respected man of the cloth. Life appears to have gone well for them.

The Aunties adopted and raised their nephew Mortimer, who became a successful bachelor and a big time New York drama critic. In the afternoon or evenings, the Aunties might entertain friends…or lonely old widowers…with tea, or their own very special elderberry wine.

Mortimer has an adorable girlfriend who he has no intention of marrying. The part is cast and played so well I'm sure everyone in the audience wonders what's wrong with Mortimer. From that point on, we are introduced to oddity after family oddity. Mortimer's uncle Teddy also lives in the home and he is either rambunctiously pulling out his saber and charging up San Juan Hill (stairs) or descending into the cellar to dig the Panama Canal. Yes, Teddy thinks he is Roosevelt before he became The Prez.

Mortimer takes a breather on the window seat to contemplate life and for some reason opens it…and finds a body inside. This sends him into a frantic state that lasts throughout the play…but it just gets worse. He confronts the Aunties and they are matter of fact about it, rationalize it; and Teddy comes and drags the body off to the Panama Canal.

Mortimer takes stock and realizes there are 3 crazies to his 1 in his family. That is when his long lost brother appears. Jonathan had disappeared into a bad life years earlier and Mortimer had been happy he'd gone away. Unfortunately, Jonathan came back with his own "personal" doctor who was also a plastic surgeon who kept changing Jonathan's appearance…using the faces of people he killed to stay one step ahead of the law. Now, it was 4 crazies to 1, and Mortimer appears to think he has the same insane murder gene and his own crime spree is just around the corner…so he suddenly insists on immediately getting married to the innocent Elaine… presumably before she finds out he is crazy and won't.

He also recognizes the medicinal value of alcohol and decides it's time he starts drinking… the very special elderberry wine. When the Aunties won't let him drink and he learns the reason why is the 12 bodies buried in the cellar (who's wealth presumably supports his family), he decides to invest in a cover up, a compassionate framing of his Uncle Teddy… and maybe a murder of his own… before going off on his honeymoon.

I won't be a spoiler and tell you all the ending. Our library has the Movie starring Cary Grant.

I don't know why no one has done a musical version of this play before. I have found myself making up and singing the most delightful little murder ballad. Next time you see me, ask me to sing you the tune… and you can try my delicious elderberry wine, too.

Directors: Greg Allen and Justin Smith

Cast:
Mortimer: Jaxon Buchanan, Jake Harber
Martha: Kodie Egle, Jenna Roadifer
Jonathan: Anthony Goulette
Abby: Aaliyah Harford-Stevens, Katie Wycoff
Teddy: Shyla Orders
Elaine: Ivy Porter, Baylee White
Mr. Gibbs: Ashleigh Hultquist
Lieutenant Rooney: Senddey Gutierrez
Officer Brophy: Riley Dauwen, Olivia Young
Officer Klein: Emma McCulloch
Officer O'Hara: Preslie Simkins, Bryce Van Etten
Dr. Einstein: Hunter Westercamp
Dr. Harper, Mr. Witherspoon, Corpse: Corbin Woolstenhulme

Crew:
Tech Director: Patrick Rookus
Set Design & Construction: Greg Allen
Props & Set Painting: Madeleine Murdock, Elaine Crumpley, Sharron Ziegler
Stage Manager: Mackenzie Miller
Costuming: Ashleigh Hultquist, Megan Anspach
Makeup/Hair: Preslie Simkins
Lights: Liam Fallon
Sound/Tech Manager: Nate Miller
Ticket Sales: Bethany Essington
Set Construction: JJ Lopez-Bandin

Special Thanks:
Jay Harnack and SCSD#1 School Board
Principal Brian Brisko and administrative staff
Cydnee Alfrey and Emery Kemp for publicity
Patrick Rookus and auditorium staff
Pam McCulloch
Mrs. Robertson and the Leadership class
Office Outlet and NAPA Auto Parts for selling tickets

Click on this link for more pictures: Arsenic and Old Lace

For corrections and photo reprints please contact Terry Allen: txpartisan@gmail.com

Related Links:
Arsenic and Old Lace program (PDF)
www.sub1.org Sublette County School District #1
---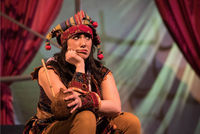 The Utah Shakespeare Festival Company will perform The Tempest on Thursday, March 22 in the Sheppard Auditorium in Pinedale. Pinedale Fine Arts Council presentation.

PFAC presents Shakespeare's The Tempest March 22 (posted 3/15/18)
Pinedale Fine Arts Council
The Pinedale Fine Arts Council (PFAC) is proud to present William Shakespeare's The Tempest on Thursday, March 22, 2018 at 7:00 p.m. in the Sheppard (Pinedale) Auditorium. The play will be performed in its entirety by The Utah Shakespeare Festival Company.

Teeming with fairies, monsters, shipwrecks, and magic, The Tempest is Shakespeare's last and most mature romance. The deposed Duke Prospero and his lovely daughter, Miranda, are shipwrecked on a small island where nothing is quite as it seems. But as they separate fantasy from authenticity, they eventually discover a "brave new world" of love, harmony, and redemption.

Considered one of the premiere Shakespeare companies in the world, The Utah Shakespeare Festival Company presents life-affirming classic and contemporary plays in repertory, with Shakespeare as their cornerstone.

The Tempest performance is part of Utah Shakespeare's Education Company which, in addition to the evening performance, will perform an abridged version of The Tempest in both the Pinedale and Big Piney Schools.

Tickets for The Tempest are available online at pinedalefinearts.com and at Pine Coffee Supply, The Cowboy Shop, Office Outlets, The Big Piney Library and at the door the night of the performance. Ticket prices are $20 adults / $7 students / $2 extra at the door.

The Tempest live in Pinedale is presented by the Pinedale Fine Arts Council with support in part from the Wyoming Arts Council through funding from the Wyoming Legislature and the National Endowment for the Arts which believes a great nation deserves great art, Sublette BOCES #1, Western Sublette BOCES #9, the Sublette County Recreation Board, the Wyoming Community Foundation - Sublette, Tegeler & Associates, Ultra, Andeavor, and Rocky Mountain Power Foundation.

For more information please visit www.pinedalefinearts.com or call 307-367-7322. And be sure to find us on Facebook!

---
Public Meeting scheduled for Porcupine Landslide March 14 (posted 3/14/18)
Bridger-Teton National Forest
The Bridger-Teton National Forest will hold a public meeting to answer questions on the Porcupine landslide which is affecting the Greys River Road, (FS Road 10138). The meeting will begin at 6:00 p.m. on Wednesday, March 14, 2018 at the Alpine Civic Center located at 121 US-89, in Alpine, Wyoming.

The landslide occurred on February 8, 2018 approximately 17-miles up the Greys River Road near Alpine, Wyoming. The quarter-mile long landslide has buckled the road and created large crevices and undulations. It has constricted portions of the Wild and Scenic Greys River where the earthen debris has reached the river and some pooling and backing up of water is occurring in the flood plain. A closure order is in place for the 17-mile corridor from Alpine to the landslide area.

---
Greys River corridor closed for public safety (posted 3/14/18)
Landslide slumping into the Greys River
Bridger-Teton National Forest
The Bridger-Teton National Forest has closed the Greys River Road (FS Road 10138) to all activity until further notice, from the parking lot in Alpine, Wyoming through the Porcupine Road as a result of the Porcupine Landslide which began in February, 2018.

"We have finished analyzing the modeling that has been completed on a potential flooding scenario," said Greys River District Ranger Justin Laycock. "While the model shows that the flooding risk to homes or property in Alpine, Wyoming is considered 'low' and limited to two structures, the risks in the corridor itself are much different," he explained. "The model looked at a 40-foot high natural dam completely occluding the Greys River. In the model, if the dam was to back up water to the point it breeched the natural dam or the natural dam gave way, the low lying areas of the Greys River corridor could experience up to a 10-foot wall of water," he said. "Given the uncertainty of when or if the scenario could take place, and the fact that the ability to notify and clear the acres of affected area in the modeled scenario would take longer than the 4 hours we would have to act, we must close the area to human presence until the situation stabilizes," he said.

The landslide is a quarter of a mile wide and is still slumping towards the Greys River. The Forest worked with the U.S. Army Corps of Engineers (USACE) on modeling the flood scenario should the landslide create a natural dam in the Greys River. "The predicted rain and warm up that is characteristic of the beginning of spring runoff has reached one of our established trigger points and is the reason for my decision to close the corridor immediately" Laycock said.

With the closure order, two of the Forest's Guard Stations which are usually available to rent, the McCain and Deer Creek Guard Stations, will be unavailable for reservations until further notice.

Although the Alpine access and the Greys River Corridor is closed through Porcupine Road, visitors still may access the Forest beyond the closure by three other routes.
(1) either by the Smith's Fork, Forest Service Road 10072, road located South of Afton or
(2) through forest service access from Big Piney, WY (proceed to Ryegrass Junction to Forest Service Road 10125, also known as N. Cottonwood, then over McDougal Gap to Greys River Road) and
(3) The La Barge Road accessed from the town of La Barge, Wyoming.

"There is quite a bit of country still open and accessible upstream of the landslide but the area downstream is going to remain closed until further notice," he said.

For more information, visit the Forest Website at https://www.fs.usda.gov/btnf/. For additional information, contact the Bridger-Teton National Forest at (307) 739-5500.

The Bridger-Teton National Forest will hold a public meeting to answer questions on the Porcupine landslide which is affecting the Greys River Road, (FS Road 10138). The meeting will begin at 6:00 p.m. on Wednesday, March 14, 2018 at the Alpine Civic Center located at 121 US-89, in Alpine, Wyoming.

---
Fall hunt season meetings in Thayne, Jackson and Pinedale (posted 3/14/18)
Wyoming Game & Fish
The Wyoming Game and Fish Department invites the public to participate in the 2018 big game season setting process. This year's regional season setting public meetings will be held in Thayne, Jackson and Pinedale.

Local Game and Fish biologists and wardens will be at all meetings to discuss big game population data collected this winter and any resulting season changes being proposed for next fall. Local wildlife managers say they are likely to be proposing big game hunting seasons similar to last year in most cases. Wildlife managers also will be available to discuss small game, game birds and waterfowl seasons.

This year, the Jackson will meeting will also be an open-house style meeting as managers believe it to be a more productive format. "Often attendees are only interested in a certain few hunting seasons and an open house style format allows them to discuss those with us without having to sit through presentations on all the other seasons," said Jackson Region Wildlife Supervisor, Brad Hovinga. "We just feel it will be a better use of everyone's time."

The public is encouraged to attend one of the public meetings held in each Game and Fish region to discuss the proposals.
Wednesday, March 21: 6PM, Thayne, Elementary School
Thursday, March 22: 6PM, Jackson, Teton County Library
Thursday, March 22: 6PM, Pinedale, Game and Fish Regional Office

To accommodate those who can't attend a meeting in person, online commenting forms and other related information can be found under the public meetings tab at: https://wgfd.wyo.gov/Get-Involved/Public-Meetings. Written comments may be submitted at the meetings, online or mailed to: Wyoming Game and Fish Department, Attn: Regulations 3030 Energy Lane, Casper, WY 82604. Written comments will be accepted through 5:00 p.m. April 4, 2018 and are provided to field personnel and the Wyoming Game and Fish Commissioners prior to their April 24-25 meeting in Lander.

The Wyoming Game and Fish Department supports the Americans with Disabilities Act. Anyone requiring additional or auxiliary aids should contact the Jackson Region office at 307-733-2321 or the Pinedale Region office at 307-367-4353. Every effort will be made for reasonable accommodations.

---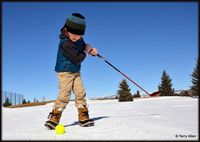 1st Annual Winter Golf Tournament. Photo by Terry Allen.

1st Annual Winter Golf Tournament (posted 3/13/18)
Lions Club and Children's Discovery Center
Terry Allen
I'd heard of orange golf balls being used on snowy courses in the winter, but didn't know the players were going to use bright yellow tennis balls for The Lions Club, and Children's Discovery Center 1st Annual Winter Golf Tournament Fundraiser held Saturday, March 10, 2018.

The first thing I did when I walked into the clubhouse of Rendezvous Meadows Golf Course was go over to the bar to talk to some of the competitors getting fueled up. Lisa the bartender said Bloody Marys were the official drink of the tournament and she also wondered if I knew they were named after Mary, Queen of Scots? Okay, golf and Scotland go together well. Amy was sipping and listening and told me Mary was really English and the reason for the Bloody Mary name was because she didn't give the King a male child so she was beheaded…which does sound pretty bloody. But, before she was beheaded, she was imprisoned in a Scottish castle for 19 years for plotting against the throne. During those 19 years, she invented espionage and was responsible for spilling the blood of a few others.

Mindi and Allison got everyone's attention and recited some rules, and Mike Harker said, "Baby, let's do it" and everyone grabbed their sleds full of balls, clubs and beers and pulled them out the doors and to four different starting T's. There was a stiff crosswind of about 20 mph and pretty much everyone sliced dramatically right, except when the wind stopped abruptly during someone's wind compensated swing and they hooked it into the next county. It was sort of like surprising a club carrying covey of Quail…they just scattered everywhere. Allison seemed to find a solid technique for the day. "I'm feeling pretty solid with my 5 iron," she said. "I'm hitting a pretty consistent Ice Worm Burner."
Monte used his Snow Wedge and dropped his ball right onto the Tan #4 Green.

I followed some Quail into the Warming Hut or as Jeff call's it…The Dog House. There folks could get warm and replenish their refreshment stocks and listen to a few of Jeff's 18,000 jokes. Jeff's phone buzzed and he said it was from Mindi and she said I was missing a shot out on the course. I stuck my head out the flap and sure enough, Troy, Ray, Fred and Jeff were all stuck in a Snow Trap smoking Eastwood's and dancing to Reggae.

I watched Julie swing away on her new Titanium and Porcelain hip and she said she was feeling no pain. Seemingly out of nowhere, her son Aaron ran up to a tennis ball and did what I learned later is called a Happy Gilmore. It's like a game of golf where the rules say you can't stop…you just have to keep moving. It's a fast version of the game. While my mouth was still hanging open, someone said we were 100 yards away from BBQ beef sandwiches.

During the eating, prizes were awarded. The Eastwood's won, but someone won a bottle of Cowboy Country Vodka, someone else won 3 bottles of wine, and someone won Arnie Brokling's amazing Pine Creek photograph with the special $100 frame, and there were more donated prizes awarded.

Lined up outside were Limousines and Chauffeur's…or as we say around here: pickup's and designated drivers.

On the serious side of things, here are a few words from my sponsors: Mindi Crabb and Allison Long:

I asked Mindi Crabb where the idea for the tournament came from. "So the golf tournament was actually my idea as a fundraiser for the Lions Club, but we needed Allison's golf and tournament planning expertise so decided to make it a partnership. I had seen an article in our national Lions magazine about a club in Minnesota that did an ice golf tourney and thought it might work for us. I have since heard of a Lions Club in Walden, CO that does an ice golf tourney that fills all the motels in the area and that is my goal for our future! Our local Pinedale Lions Club has been donating to all four of the major childcare facilities for a number of years; early childhood education is one of our focus areas and we know that it is impossible for them to make it on tuition alone. We also do what we can to encourage business in our community, so this event could develop into a huge win-win for everyone!"

I might be the only person in the county that didn't know The Children's Discovery Center also puts on a golf tournament fundraiser every summer, but Allsion straightened me out. "This was our first year putting on this Winter Golf Tournament. We were thankful to partner with the Lion's Club of Pinedale for this fun event. We were all a little unsure of how it would turn out, but with the help of the Lion's members, we were able to set the course and host a great tournament! We were thankful to also have Mike Looney groom our course; he really takes pride in his grooming. Next year we hope to have more teams, and make this a fun community event (even for non-golfers) by doing a costume contest. We look forward to doing it next year!"

"The Children's Discovery Center serves 41 families, 26 kids on average daily, along with 5 amazing teachers, and myself. We strive to host events that are community related, and to spread the word on how important it is to support early childhood education. Our school believes that nature is an integral, joyful part of learning and with these funds, we will be able to improve and sustain our school and its mission."

Terry Allen: txpartisan@gmail.com
If you'd like to buy some photos, I give half the money to the Lions and Children's Discovery Center.

Click on this link for more pictures: 1st Annual Winter Golf Tournament

Related Links:
https://www.pinedalediscoverycenter.org Children's Discovery Center, Pinedale, Wyoming
Pinedale Lions Club

---
First bear sightings of the year in Yellowstone National Park (posted 3/13/18)
National Park Service
MAMMOTH HOT SPRINGS, WYOMING - The first grizzly bear sightings of 2018 occurred in Yellowstone National Park last week. On Tuesday, March 6, staff observed an 11-year-old male grizzly bear wearing a radio collar in the west-central part of the park. On Wednesday, March 7, employees reported seeing a grizzly bear in the east-central part of the park.

Male grizzlies come out of hibernation in mid-to-late March. Females with cubs emerge later, in April to early May. When bears emerge from hibernation, they look for food and often feed on elk and bison that died over the winter. Sometimes, bears will react aggressively while feeding on carcasses.

All of Yellowstone National Park is bear country: from the deepest backcountry to the boardwalks around Old Faithful. Your safety cannot be guaranteed, but you can play an active role in protecting yourself and the bears people come here to enjoy by following these guidelines:
• Prepare for a bear encounter.
• Carry bear spray, know how to use it, and make sure it's accessible.
• Stay alert.
• Hike or ski in groups of three or more, stay on maintained trails, and make noise. Avoid hiking at dusk, dawn, or at night.
• Do not run if you encounter a bear.
• Stay 100 yards away from black and grizzly bears. Use binoculars, a telescope, or telephoto lens to get a closer look.
• Store food, garbage, barbecue grills, and other attractants in hard-sided vehicles or bear-proof food storage boxes.
• Report bear sightings and encounters to a park ranger immediately.
• Learn more about bear safety (https://www.nps.gov/yell/planyourvisit/bearsafety.htm).

"Many Yellowstone visitors are deeply passionate about the conservation of park bears," says Kerry Gunther, the park's bear management specialist. "Reducing human-bear conflicts by preventing bears from obtaining food and garbage, hiking in groups of three or more people, carrying bear spray, and making noise in blind spots on the trail are the best way for visitors to protect bears while recreating in the park."

While firearms are allowed in the park, the discharge of a firearm by visitors is a violation of park regulations. Bear spray has proven effective in deterring bears defending cubs and food sources. It can also reduce the number of bears killed by people in self-defense.
---
Sheriff's Office warns of two phone scams in circulation (posted 3/13/18)
Sweetwater County Sheriff's Office
ROCK SPRINGS / GREEN RIVER, WYOMING - March 13, 2018
The Sweetwater County Sheriff's Office issued an advisory Tuesday warning about two scams currently circulating.

Sheriff Mike Lowell said Sweetwater County residents are receiving telephone calls from swindlers soliciting donations who claim to be working on behalf of "local law enforcement donations." The calls are from Arkansas area code.

"These calls are bogus; no one from the Sheriff's Office is making calls to solicit funds, and never will," said Lowell. "What these callers are after is your credit card information."

The second swindle involves callers using an 800 number claiming to be from the phone service provider Verizon, who tell their intended victim that "their phone is in jeopardy" and waste no time in requesting personal and financial information in order to solve the non-existent "problem."

Officials emphasize that you should NEVER provide such a caller with any personal or financial information.

For more information on this and many other fraud schemes, law enforcement officials recommend the FBI website at http://www.fbi.gov/scams-safety/fraud

---
Grizzly Bear hunt proposed (posted 3/11/18)
Wyoming Game & Fish Department
A draft of a new regulation is out for public comment. The regulation is for grizzly bear hunting seasons and adds to an existing regulation that was passed in 2017 to establish grizzly bear management regulations. The comment period will also include a number of public meetings across the state and a final recommendation will be presented to the Wyoming Game and Fish Commission at a public meeting on May 23, 2018 in Lander.

The Commission directed the Wyoming Game and Fish Department to draft this regulation after a series of public meetings this fall and winter when people had the chance to talk about all components of Wyoming's Grizzly Bear Management Plan, which includes research, education, population monitoring, conflict management and hunting.

The new draft regulation is available for review online now and comments can be submitted at meetings, online or by mail at:

Wyoming Game and Fish Department
Hunting Season/Regulation Comments
3030 Energy Lane
Casper, WY 82604

Comments are being taken through the Wyoming Game and Fish Department website where all meetings and hunting season and regulation proposals are also posted. Comments must be received by 5 p.m. April 30, 2018.

"This draft was shaped by public input we received this fall and winter and the best available science. It contains proposed regulations that would ensure Wyoming will meet its commitment to manage for a healthy and viable population of grizzly bears inside the demographic monitoring area in northwest Wyoming," said Brian Nesvik the Wyoming Game and Fish Department's chief game warden and chief of the wildlife division. "We believe this proposal reflects the public support for using hunting as a component of grizzly bear management and has many provisions that will recognize this opportunity and keep the grizzly bear population recovered for generations to come." He added that management for the other three large carnivores in Wyoming (mountain lions, gray wolves and black bears) contains an element of hunting.

The draft quota inside the demographic monitoring area, which is the area experts deemed as suitable habitat is 12 bears with a very conservative 2 bear female sub-quota. Allowable mortality limits are developed using a pre-set formula outlined in a cooperative agreement between the states of Montana, Idaho and Wyoming. Input the public suggested this winter in this proposal includes mandatory education for grizzly bear hunters, hunt areas and regulations to direct harvest to areas with higher potential for grizzly bear/human conflicts, a closed portion of a hunt area next to Grand Teton National Park to support the wildlife viewing tourism economy and a prohibition against hunting grizzly bears near highways.

The cost of grizzly bear licenses was previously set in law by the Wyoming Legislature.

Date Time City/Town Location
March 22, 2018: 6:00 PM Casper Game and Fish Office
March 27, 2018: 6:00 PM Dubois Headwaters Arts & Conference Center
April 2, 2018: 7:00 PM Sheridan Game and Fish Office
April 2, 2018: 6:00 PM Laramie UW Berry Biodiversity Conservation Center
April 3, 2018: 6:00 PM Green River Game and Fish Office
April 10, 2018: 6:00 PM Cody Holiday Inn
April 12, 2018: 6:00 PM Pinedale Game and Fish Office
April 17, 2018: 6:00 PM Jackson National Museum of Wildlife Art

Related Links:
Grizzly bear regulation details - Wyoming Game & Fish Department
---
Wyoming State Science Fair Winners (posted 3/9/18)
Sublette County School District #1
The Wyoming State Science Fair was held at the University of Wyoming in Laramie, Wyoming March 4-6, 2018.

(Winners from Pinedale)
Senior Division:
1st Place Engineering Science : Nicholas Primanis-Erickson, Pinedale High School, "Polarized Headlamps: A Novel Solution to Nighttime Snow Blindness Affecting Human Drivers and Autonomous Vehicles"
Special Awards:
American Institute for Aeronautics and Astronauts
University of Wyoming English Department
Intel International Science and Engineering Fair Finalist: Nicholas Primanis-Erickson
Nick will be representing Wyoming at the 2018 International Science Fair (Pittsburgh, Pennsylvania, May 13-18, 2018)

Junior Division:
Animal & Plant Sciences
2nd place: Claire & Zane Hayward, Pinedale Middle School, "Trail of Deers"
3rd place: Katie LaBuda & Alena Mika, Pinedale Middle School, "A Furry Felony"

Behavioral & Social Sciences
2nd place: Riley Mason, Pinedale Middle School, "Are You Scared?"

Biomedical & Health Sciences
2nd place: Cody Phelps & Colton Gehlhausen, Pinedale Middle School, "The Truth is Shocking"

Biochemistry
3rd place: Allison Gregory, Pinedale Middle School, "Dissolving Doses"

Earth & Environmental Sciences
3rd place: Janae Arne & Emmaline Vrska, Pinedale Middle School, "A Heap of Heat"

Engineering Mechanics /Material Science
2nd place: Max Shaw, Pinedale Middle School, "Beewarm"

Microbiology
2nd place: Sara Kunard & Mandy Majhanovich, "A Bite into Bacteria"

Special Awards:
Broadcom Masters Nomination: Cody Phelps & Colton Gehlhausen
Laramie River Conservation District: Max Shaw
NOAA- Pulse of the Planet: Janae Arne & Emmaline Vrska
National Center for Atmospheric Research Excellence: Max Shaw
Rocky Mountain Water Research Excellence: Andy Jones
WY Nasa Space Grant Consortium: Garrett Swain & Holden Saxton
UW Department of Mathematics and Statistics: Riley Mason
2018 Wyoming State Fair Logo Winner: Alena Mika

Related Links:
2018 Wyoming State Science Fair Winners University of Wyoming
Wyoming State Science Fair University of Wyoming
Intel International Science and Engineering Fair (Intel ISEF) Pittsburgh, Pennsylvania, May 13-18, 2018
www.sub1.org Sublette County School District #1

---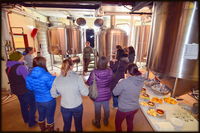 Ladies in the community were invited to Wind River Brewing for a tour of the brewing facility in celebration of National Women's Day.

Pink Boots Collaboration Brew Day (posted 3/8/18)
Hosted by Wind River Brewing
Terry Allen
To celebrate International Women's Day, Beer Brewer Emily Johnston and the Wind River Brewing in Pinedale invited members of the community to a tour and tasting Thursday at noon, on March 8, 2018.

Emily was in Italy studying wine making when she decided beer making might satisfy her creative side more. For about five years since then she has been brewing beer in Colorado and Montana. Emily explained the specific ingredients that go into various beers and then explained the very complicated, yet creative process to turn them into a good beer.

We all passed around the bottle that contained this year's hops blend made especially for this year's Pink Boots Collaboration Brew, and everyone of us was amazed at the heady and delicious aroma. The hops varieties include Palisade®, Simcoe®, Mosaic®, Citra® and Loral®. She just started the process and expects the special beer to be ready to drink in about a month; so keep your ear the ground.

As we drank Blond Ale paired with salsa and chips, artichoke and spinach dip, and a hummus dip, I did a survey of some of the women in attendance and was surprised so many preferred a little stronger beer than I would have expected. Emily likes IPA, Caitlin Tan likes the Weizen, Tiffany Biffle likes the IPA, while Liz Biffle likes the Blond Ale. Shaunna Bennett really likes a dark Stout.

I did some research and discovered that until the industrial age of the mid-1800's men the world over were the brewers in all societies. Somehow that imbalance continued until the 1970's when a handful of women jumped into the business. There is still resistance to women brewers in some corners, but women such as Jill Vaughn and Rebecca Reid have been successful at becoming top brewmasters at Anheuser-Busch, where they developed brands such as Bud Light Platinum, Shock Top and the Straw-Ber-Rita. In 2013, Sara Barton, owner and director of Brewster's Brewery, won the Brewer of the Year award.

Sometimes we wonder when a polite time to leave a party is. Well, I overheard a group of women coming up with some blushingly creative names for the beer that will be coming out in 30 days. I could tell they were having a little fun turning up the shades of red in my cheeks, so I decided to make a graceful exit and let them close out this International Women's Day event among themselves.

Thanks to Dawn Ballou for sponsoring this story.
Click on this link for more pictures.

Terry Allen: txpartisan@gmail.com

Related Links:
Pink Boots Society
www.windriverbrewingco.com

---
Business Directory
Click here for
Advertising Information