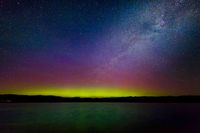 View of the Aurora borealis from Pinedale. Photo by Dave Bell.

Aurora borealis over Wyoming (posted 528/17)
Pinedale Online!
We received a report from a reader that a Aurora borealis was visible in the night sky over Pinedale late Saturday night May 27th/early Sunday morning May 28, 2017. The person said, "I saw a vertical pillar north of Pinedale tonight. The northern sky was so bright it looked like the sun was about to rise in the north!" No one has sent in any pictures of it from Pinedale yet, but here is a link to a picture from photographer Jan Curtis of the view from Cheyenne, Wyoming: http://spaceweathergallery.com/indiv_upload.php?upload_id=135752

Update, Monday May 29: Dave Bell captured the Aurora borealis from Pinedale on Saturday night. "As Forrest Gump said--you open a box of chocolates and you never quite know what you are going to get (I am paraphrasing to all you purists out there). Well, Saturday night was like that. I had taken an earlier 33 minute time exposure of Polaris and was beat from a long day, when I noticed the glow in the northern sky. I was unaware of a northern light probability, but it was unmistakable--it was very bright and consistent. That was about 11:30pm. This shot was taken about 1:30am. It is a 25 second exposure using a Canon 5d3 and a Zeiss 15mm lens, ISO at 800. It was quite an amazing night--there wasn't any borealis dancing or flickering, but it was certainly VERY bright." Click on this link for more of Dave's photos: Dave Bell Photo Gallery
---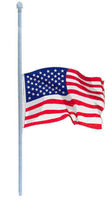 Flag half staff notice: Memorial Day

Flag half staff notice: Memorial Day (posted 5/24/17)
Flag half staff notice: Memorial Day
Wyoming Governor Matthew H. Mead, pursuant to President Donald Trump's Proclamation issued on Wednesday, May 24th, has ordered both the U.S. and State of Wyoming flag be flown at half-staff statewide from sunrise until noon on Monday, May 29, 2017 in honor of Memorial Day.

Update, Friday, May 26 from Governor Mead's office:
This is David Bush, Governor Mead's Communications Director. There have been questions regarding the U.S. and Wyoming flags being flown at half-staff only until noon on Memorial Day, Monday, May 29, 2017 as ordered by Proclamation of President Trump. The President's order is in accordance with United States Code, Title 4, Chapter 1, Section 7(m), "on Memorial Day, the flag should be displayed at half-staff, until noon only, then raised to the top of the staff."

We did some research on why the flag is only flown at half-staff until noon and found this explanation on Wikipedia. Other sources provided similar information:

"On Memorial Day, the flag of the United States is raised briskly to the top of the staff and then solemnly lowered to the half-staff position, where it remains only until noon. It is then raised to full-staff for the remainder of the day.

The half-staff position remembers the more than one million men and women who gave their lives in service of their country. At noon, their memory is raised by the living, who resolve not to let their sacrifice be in vain, but to rise up in their stead and continue the fight for liberty and justice for all."

---
Beware fraudulent credit/debit card activity (posted 5/21/17)
Beginning on Monday, May 15th the Sublette County Sheriff's Office began receiving calls from citizens in the community stating that they were getting fraudulent transactions on their credit/debit cards.

During the course of the investigation it appears that multiple credit card readers in the Pinedale area may have been compromised. The credit card readers may have had "skimmers" attached to the reader that downloaded credit/debit card information and transferred it to remote locations. It is unknown whether or not an actual physical skimmer device was placed on the reader itself. As reports have continued to flow into the Sheriff's Office, a portion of the citizens are reporting that they actually used their card inside the business establishments. Law Enforcement is still in the process of determining what method was used to acquire the credit card information. In speaking with citizens that have fallen victim to this fraud, some stated that they had not used their cards in weeks or months. It was initially thought that these intrusions were focused around the gas stations in the Pinedale area, but it has since been uncovered that a number of the local businesses and restaurants have also been affected. As this investigation is still ongoing names of businesses cannot released at this time.

The investigation is ongoing, but the Sublette County Sheriff's Office is urging the community to monitor their credit card and debit card activity daily, and report any fraudulent transactions to their bank and Law Enforcement.

Contact for more information:
Undersheriff Lance Gehlhausen
Sublette County Sheriff's Office
35 ½ Tyler Ave
PO Box 701
Pinedale, WY 82941
Office: 307-367-4378
lanceg@subso.com

---
Wi-Fi added at some rest areas in Wyoming (posted 5/21/17)
Wyoming Department of Transportation
The Wyoming Department of Transportation is finding new ways to provide connections for the traveling public.

New partnerships with telecommunications companies has added to the number of rest areas, welcome and information centers throughout the state at which Wi-Fi is available.

The newest locations with Wi-Fi are the rest areas located at Chugwater, Dwyer Junction and Orin Junction, all on Interstate 25 between Cheyenne and Casper.
WYDOT partnerships with the telecommunications companies means Wi-Fi service at these locations is provided at no cost to the public.

Wi-Fi will also soon be available at rest areas at Independence Rock, southwest of Casper on WYO 220 and both the westbound and eastbound Bitter Creek rest areas, 41 miles east of Rock Springs on I-80, said Mark Gillett, WYDOT assistant chief engineer for operations. Those will likely be completed within the next 12-18 months.

"We are always watching for opportunities to partner with companies that may allow us to get Wi-Fi at a new location," said Keri Bohlmann, WYDOT utilities and design software support supervisor. "WYDOT would like to get Wi-Fi at all of our rest areas."

Additionally, Wi-Fi is available at the Southeast Welcome Center, on I-25; the Northeast Welcome Center and the Sheridan Information Center, both on Interstate 90. The connection in those locations is provided by the Wyoming Office of Tourism.

For more information, contact WYDOT Senior Public Affairs Specialist J.L. O'Brien at 307-777-4439 or j.obrien@wyo.gov.


---
Rendezvous Rodeo July 6, 7 & 8, 2017 (posted 5/21/17)
Green River Rendezvous Days in Pinedale
The annual Rendezvous Rodeo will be held at 7PM at the Pinedale Rodeo Grounds during Green River Rendezvous Days.

Events will include Barrel Racing (Open, Junior, Peewee), Roping (Tie-Down, Breakaway, Team Roping), Rough Stock (Bareback, Saddle Bronc, Ranc Bronc, Bulls). Other events will be Diamond Z English Shire Hitch, Calf Scramble, Bull Poker and Ring of Fear.

Entry Fees are:
All Rough Stock: $100
Roping Events – Breakaway, Tie-Down, Team Roping (per man) $110
Open Barrels - $70
Junior Barrels - $30
Peewee Barrels - $15

Participant entries are due in the rodeo office by Friday, June 30th. All entries should include name, address, phone, entries, entry fee (cash, check, money order). Mail to SCSA, Box 405, Pinedale, WY 82941. Barrel racers are responsible for calling 307-367-2302 on Wednesday, July 5th between 4:00PM and 8:00PM to see if they are in slack.

Admission $7, under 7 free. Veterans who have served in the Armed Forces will be honored at the Saturday night rodeo. They may pick up tickets at the Pinedale VFW from Spencer Nichols in Big Piney.
---
Wolves killed in Predator Zone (posted 5/17/17)
Wolves killed in Predator Zone
For those wanting to know how many wolves have been legally killed in Wyoming's predator zone since wolves were removed from federal protection on April 25, the Wyoming Game & Fish Department is keeping a tally on its website. (See the link below, and click on 2017 Gray Wolf Harvest.) As of May 11, 2017, four wolves were killed, both through livestock depredation control actions and legal hunter harvest in the predator zone.

At the present time, wolf hunting is NOT allowed in the Trophy Game Management Area (TGMA). The TGMA is where the vast majority of wolves in Wyoming live and there is not an established hunting season in place. To re-establish a wolf hunting season, WG&F will use the current population estimate to develop hunt area quotas and a draft hunting regulation, which will then be presented at public meetings and then to the Commission for final review and approval.

Wolves outside the TGMA are now considered predatory animals as defined in state law and therefore can be harvested. Any wolf harvested in the predator zone must be reported to WG&F within 10 days of harvest, this can be done by phone. WG&F would like to obtain a genetic sample from each harvested wolf. WG&F does not manage wolves outside the Trophy Game Management Area.

Related Links:
Trophy Game Harvest 2017 - Wyoming Game & Fish Department
Wolf Watch - by Cat Urbigkit, Pinedale Online!

---
Wolf News Roundup 5/17/2017 (posted 5/21/17)
Cat Urbigkit, Pinedale Online!
Yellowstone wolf shot
The National Park Service reports:
Preliminary results from the necropsy of the Canyon Pack alpha female wolf showed that she suffered from a gunshot wound. Hikers discovered the mortally wounded wolf April 11, 2017, inside Yellowstone National Park near Gardiner, Montana. Park staff responded quickly to the situation and due to the severity of the wolf's injuries, euthanized the animal. The deceased wolf was sent to the U.S. Fish & Wildlife Service Forensics Laboratory in Ashland, Oregon for a necropsy. The lab has transferred the preliminary results to Yellowstone National Park. National Park Service law enforcement believes the wolf was shot on the north side of the park, near Gardiner, or near the Old Yellowstone Trail which is located in the park on the northern boundary. The incident likely occurred sometime between April 10 at 1 a.m. and April 11 at 2 p.m.

"Due to the serious nature of this incident, a reward of up to $5,000.00 is offered for information leading to the arrest and conviction of the individual(s) responsible for this criminal act," said Yellowstone National Park Superintendent Dan Wenk.

If you have information about this incident that could help with this investigation, please contact the National Park Service Investigative Services Branch (ISB). Your tips will be confidential. You don't have to tell them who you are, but please tell them what you know:
• CALL the ISB Tip Line 888-653-0009
• TEXT to 202-379-4761
• ONLINE www.nps.gov/isb and click "Submit a Tip"
• EMAIL nps_isb@nps.gov
• MESSAGE via Facebook @InvestigativeServicesNPS or Twitter @SpecialAgentNPS

This wolf was one of three known white wolves in the park. She lived to 12 years, twice the age of an average wolf in the park, and had a broad range that extended from Hayden Valley to the Firehole River area to the northern portion of the park. As the alpha female for over nine years with the same alpha male, she had at least 20 pups, 14 of which lived to be yearlings. She was one of the most recognizable wolves and sought after by visitors to view and photograph.

New Mexico wolf pup switch
While the headlines celebrate that federal officials released two captive-born Mexican wolf pups into a wild den, the details of that action are more complex. In placing the captive-born pups into the den, federal officials also removed two wild-born pups – all as part of a deal with New Mexico officials to not increase the number of wolves in the wild. The cross-fostered pups are hoped to boost the genetic diversity of wolves in the wild.

Midwest waits on court
Residents of the Great Lakes states are waiting for action on wolf delisting – either a court decision or congressional delisting. Read the details in the link below.

Oregon
The Oregon Department of Agriculture has approved $184,039 in funding distributed to 10 counties as part of the Oregon Wolf Depredation Compensation and Financial Assistance County Block Grant Program. Funds for 2017 have been distributed for actual livestock losses or injuries caused by wolves, for missing livestock above the normal historical levels in areas of known wolf activity, for proactive efforts to prevent wolf and livestock interactions, and for county administrative costs.

Of the total funding provided by the block grants this year, $129,950– or 70 percent– is going towards proactive, non-lethal efforts to reduce conflicts between wolves and livestock.

According to the Oregon Department of Fish and Wildlife (ODFW), Oregon's 2016 wolf population slightly increased from 110 the previous year to 112 wolves. This past year, Klamath joined Wallowa, Umatilla and Baker as counties experiencing the bulk of the state's wolf activity. The four counties have received $152,097– approximately 82 percent of the money awarded for 2017.

Livestock owners worked with ODFW to document losses tied to confirmed or probable livestock deaths or injuries due to wolves. Payments are made on a reimbursement basis for depredations that occurred during the previous grant cycle.

Wallowa, Klamath, Umatilla, Lake, and Jackson counties filed claims with ODA after experiencing confirmed or probable livestock losses in the 2016 cycle. These counties are being awarded $15,227 to compensate affected ranchers for losses due to death and/or injury. Wallowa County received $9,390, Klamath County received $4,070, Umatilla County received $900, Lake County received $600, and Jackson County received $267 for compensation.

Baker, Umatilla, and Wallowa counties are being awarded $34,942 total to compensate ranchers for missing livestock due to wolves. Baker County received $16,125, Umatilla County received $11,212, and Wallowa County received $7,605 for compensation.

Historically, deterrent techniques utilized from block grant funding include one or more of the following activities:
• Reducing attractants– bone pile removal, carcass disposal sites
• Barriers– fencing, fladry, electrified fladry
• Human presence– range riders, herders
• Alarm or scare devices– Radio-Activated-Guard (RAG) device, other light and sound making devices
• Hazing or harassment of wolves– loud noises, spotlights, or other confrontation with wolves
• Livestock protection dogs and other guarding animals
• Livestock management/husbandry changes– changing pastures, night feeding, reduced calving period, birthing earlier, changing herd structure
• Experimental practices– bio-fencing, belling cattle
• Public outreach/education for ranchers

A total of $3,920 was awarded to seven counties to help with administrative costs. The following is a list of the total awards made by ODA to counties as part of the Oregon Wolf Depredation Compensation and Financial Assistance County Block Grant Program for the 2017 Grant Period:
• Umatilla, $67,363
• Wallowa, $47,445
• Baker, $23,219
• Klamath, $14,070
• Lake, $10,600
• Morrow, $8,675
• Jackson, $5,717
• Union, $5,000
• Wheeler, $1,500
• Malheur, $450

The fund process remains available for counties to address depredations that occur in the future. In that event, livestock operators should submit claims to their local county wolf advisory committee.

Related Links:
New Mexico - Associated Press
Midwest - StarTribune.com
Oregon - Wolf Program Details
Wolf Watch - by Cat Urbigkit, Pinedale Online!

---
Firewood permits available on the Bridger-Teton National Forest (posted 5/15/17)
Bridger-Teton National Forest
The Bridger-Teton National Forest will start selling firewood permits for personal use beginning May 15, 2017 at many of our District offices and local vendors for a price of seven dollars per cord with a five cord minimum purchase. Those obtaining a permit must provide an approved form of identification at the time the permit is issued.

National Forests across the nation have been providing a substantial amount of firewood for the public since 1970's, which has continued to grow as more households in America are a adopting a more environmentally friendly route to reduce energy and fossil fuel consumption. Selling firewood permits also aids in fire prevention by removing burnable material from the Forest floor.

A person may obtain a permit for firewood or other forest products such as transplants, post and poles, or wildflower seeds upon providing one of the approved forms of identification issued by the Federal or State government. Acceptable identification documents include a state driver's license, a birth certificate, green card, passport, State ID, or Tribal Identification.

When gathering firewood, permits allow for the harvest of down or standing dead wood only and it is important to use firewood from local sources to prevent the spread of invasive species.

A standard cord is 8 feet long, 4 feet wide and 4 feet high, measuring 128 cubic feet when wood is stacked in a row. Make sure to cut firewood only where the permit allows, as other neighboring Forests might have different firewood cutting regulations and price and may be
located in areas not open for cutting such as wilderness areas, campgrounds, picnic areas, resorts, recreation management areas, wilderness study areas, administrative sites, or timber sales. Maps of legal routes to access wood cutting locations will be available where permits are sold and on the Forest website. Forest visitors are advised to check in with their local ranger stations regarding the areas roads and trails information. Permits are offered at all of our District Forest office locations and vendors listed in our website: www.fs.usda.gov/main/btnf/passes-permits/forestproducts

The Bridger-Teton accepts cash, checks, and certain locations can also accept credit cards, as forms of payment for forest product permits. The Forest does on occasions offer free firewood which is advertised to the public as it becomes available throughout the summer.

Be advised that firewood gathered under a personal use permit may not be resold for profit. For more information about Forest regulations or the products available for sale visit our website www.fs.usda.gov/btnf or call our office at (307) 739-5500.
---
Volunteers wanted to help start a Bridger Wilderness Stewardship Group (posted 5/13/17)
Janet Caille, National Wilderness Stewardship Alliance
You can help take care of our great Bridger Wilderness! A group is getting started to support the Forest Service and our Pinedale community. Groups all over the country help protect our wild areas, and no one can do that better than volunteers who know and are passionate about the local wilderness areas. Some of the things volunteers can do are:

• Monitor Bridger Wilderness trails
• Educate backcountry users on Leave No Trace Ethics and Bridger Wilderness regulations
• Make trail suggestions; note signs needed
• Assist with Search and Rescue operations as needed
• Report/help remove downed trees
• Report hazards, parking lot conditions

Are you interested? Drop a note to Janet at janet@wildernessalliance.org and ask that your name be put on our email/phone list or contact Janet Caille at 678-557-7382. Come help be the eyes and the ears of the US Forest Service. Look for more information, and for meetings as mud season ends and you start to think about another year on the trails.

---
Wolf Hunting Season Proposed (posted 5/4/17)
Public meetings to be held to gather public comment
Cat Urbigkit, Pinedale Online!
The Wyoming Game & Fish Department has released its draft wolf hunting season regulations for public review and comment. The proposal calls for a season date from Oct. 1 to Dec. 31 in most areas where wolves are classified as trophy game, with a total quota of 44 wolves.

Here's the press release from the agency:
Gray wolves were recently returned to state management, and the Wyoming Game and Fish Department is again leading these efforts. As was the case in 2012 and 2013 when Game and Fish led management, the department is proposing gray wolf hunting seasons within the Trophy Game Management Area.

Game and Fish is holding public meetings on the proposed 2017 gray wolf hunting seasons and has opened a comment period to gather public input. This timing allows for the final proposal to go to the Wyoming Game and Fish Commission at its regularly scheduled July meeting.

"We have developed a conservative hunting season framework in the Trophy Game Area for the public to consider and provide comments. Our track record in 2012 and 2013 shows that this approach will ensure we maintain a recovered population of wolves while providing opportunity for those who want to hunt gray wolves," said Doug Brimeyer, deputy chief of the Game and Fish's wildlife division.

All interested parties are encouraged to attend one of the public meetings to be held across the state discussing these regulation proposals:

Date Time Town Location
May 17: 6 p.m. Green River Game and Fish Office
May 22: 6 p.m. Jackson Virginian Hotel
May 23: 6 p.m. Cody Bighorn Federal Bank
May 23: 7 p.m. Sundance Crook County Courthouse
May 23: 7 p.m. Sheridan Game and Fish Office
May 24: 6 p.m. Laramie Game and Fish Office
May 25: 6 p.m. Casper Game and Fish Office
May 25: 6 p.m. Lander Game and Fish Office
June 1: 6 p.m. Pinedale Game and Fish Office

In addition to proposed gray wolf hunting regulations other draft regulations may be discussed at these meetings.

Wolves outside the Trophy Game Management Area are considered predatory animals as defined in state law and therefore can be harvested. Any wolf harvested in the predator zone must be checked in to the Game and Fish within 10 days of harvest. The department does not manage for population viability outside the Trophy Game Management Area as wolves that occur in these areas are more likely to be involved in conflicts.

Written comments on gray wolf hunting regulations shall be accepted through 5 p.m. June 19 at public meetings, online, or by mail:
Wyoming Game and Fish Department, Regulations
3030 Energy Lane
Casper, WY 82604

Copies of the proposed regulations are available on the Game and Fish website at the link below and at the address above in accordance with Chapter 1 Regulation Governing Access to Public Records.

Written comments shall be presented to the Game and Fish Commission prior to the public hearing at their July 18-20 meeting in Afton at the Afton Civic Center.

Related Links:
Draft regulations - Wyoming Game & Fish Department
Wolf Watch - by Cat Urbigkit, Pinedale Online!

---
Business Directory
Click here for
Advertising Information