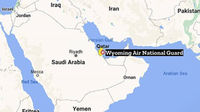 Map showing where WY National Guard is currently stationed

Senator Barrasso shares Thanksgiving dinner with Wyoming Troops in Qatar (posted 11/26/2020)
Senator Barrasso media release
QATAR – On Thanksgiving day, U.S. Senator John Barrasso (R-Wyo.) shared dinner with Wyoming National Guard troops serving in Qatar. Barrasso sat down with members of the 153rd Airlift Wing and 187th Aeromedical Evacuation Squadron, who are supporting airlift operations and medical evacuations in the Middle East.

"Spending Thanksgiving with Wyoming troops serving overseas is a tradition I look forward to every year," said Barrasso. "Thanksgiving is a time to reflect on the people and things we're most thankful for. So much of our gratitude goes to the brave Wyoming men and women serving our country overseas. This year the holidays will look quite a bit different for most Americans. This is especially true for the members of the Wyoming Air National Guard deployed in Qatar. Despite the unique challenges this year brings, they continue to do a remarkable job keeping America and our allies safe. It was wonderful to share a meal with them and bring a little bit of home to them this holiday season."

Barrasso sat down for Thanksgiving dinner with service members and was briefed by military officials about operations in the Middle East.

---
WY Cowboys' 2nd football game cancelled due to COVID (posted 11/20/2020)
The Wyoming Cowboys have had two football games cancelled so far this season due to coronavirus pandemic concerns. The first cancellation was against Air Force scheduled on Saturday, November 14th. The second game was against Utah State on Thursday, November 19th. Both games were cancelled due to virus concerns with the opponent's team. The Mountain West Conference is declaring the games as a no contest and there are no plans to reschedule the games. The Cowboys' next game is scheduled for Friday, November 27th against UNLV.
---
Public assistance requested on information for deceased man in Sweetwater County (posted 11/20/2020)
Sweetwater County Sheriff's Office media release
The Sweetwater County Sheriff's Office (SWSO) is asking for the public's help in finding the family of a man found dead near Flaming Gorge Reservoir. On November 15, sheriff's deputies were dispatched to a camp site near the Anvil Draw area of the reservoir after someone found a man dead in his camper. The body was identified as that of 79-year-old Ronnie Baze Sumner.

Investigators said the body had likely been there for months, and that the death does not appear suspicious. However, through the course of investigation, sheriff's detectives have learned that Sumner led a solitary life, and they have been unable to identify any of his next-of-kin. Sumner was born in Las Vegas, and has lived in Casper, Manila and Green River, Utah.

Anyone with information related to this case is encouraged to please contact SWSO Detective Sutton at (307) 922-5343.

---
Governor modifies state-wide health orders through Dec. 15 (posted 11/20/2020)
Reduces size for indoor/outdoor gatherings, no state-wide mask mandate, encourages care during Thanksgiving – take effect Nov. 24
State of Wyoming
In response to rising cases of COVID-19 and increasing strains on medical facilities, Governor Mark Gordon announced additional statewide measures to help slow the spread of COVID-19, ease the pressure on Wyoming's healthcare system and preserve the viability of the state's economy.

The new health orders issued by the State Health Officer will take effect on November 24. There are no business closures included in the new orders. They reduce the size of indoor and outdoor gatherings. These are part of a series of measures the state and counties are undertaking to respond to the new record levels of COVID-19 hospitalizations and surge in cases.

"These measures are intended to assist our healthcare system in meeting unprecedented demands for services, assure that in-classroom education can continue, and importantly keep Wyoming's people working and her businesses open," Governor Gordon said. "We have reached out extensively to our business community across the state and will continue to do so. We heard a clear message from them that they want to work cooperatively to ensure our economy, workforce and general public are healthy."

The updated health orders include a change to Health Order No. 2 that limits indoor and outdoor gatherings to 25 persons or fewer without restrictions. If physical distancing measures are employed, gatherings for indoor events are limited to 25% of venue capacity with a maximum of 100 people. Gatherings for outdoor events are limited to 50% of venue capacity with a maximum of 250 people. Faith-based gatherings are exempt. Church services, funeral homes, parades and other specified businesses are some of the other exemptions to the gathering limits listed in the new orders. There are no changes to operations of K-12 Schools, child care facilities, restaurants and performance spaces, which are addressed in Health Order No. 1. Group workout classes at gyms will also be limited to 25 participants.

"We have said from the start that data would drive our approach," the Governor said. "With this spike, we must respond to these new conditions. We have seen that larger gatherings are playing a role in the spread of this disease."

The Governor has also announced that the state is providing additional support to Wyoming hospitals to address the surge in COVID-19 hospitalizations, including resources from the U.S. Department of Health and Human Services, the Wyoming National Guard, and through travelling medical staff.

With the Thanksgiving holiday approaching, the Governor is asking Wyoming residents to celebrate safely. "Thanksgiving is a special day for families. This virus is insidious and it strikes even at family gatherings where we are tempted to let our guard down," he said. "Jennie and I encourage families to be careful this Thanksgiving and to keep gatherings smaller to protect their loved ones. We also wish everyone a happy and healthy Thanksgiving."

The Governor reminded residents to practice the three Ws – wash your hands, watch your distance and wear a face covering.

The new orders remain in effect until December 15 and may be revised earlier if needed. The orders can be found on Wyoming's COVID-19 website: https://covid19.wyo.gov/governors-orders.

---
Wyoming hospitals to get additional support for COVID-19 response (posted 11/19/2020)
State of Wyoming
To address the surge in COVID-19 hospitalizations around the state, Governor Mark Gordon has authorized a three-pronged approach to provide additional support to Wyoming medical facilities. The state will receive resources from the U.S. Department of Health and Human Services, the Wyoming National Guard, and through travelling medical staff contracted using CARES Act funds he directed to the Wyoming Hospital Association.

"I want to thank President Trump and his administration for providing much-needed resources to Wyoming to deal with the serious strain COVID-19 has put on our healthcare system," Governor Gordon said. "We have had to call upon resources from outside the state to help deal with this surge in hospitalizations. Many thanks to the National Guard for answering our call to help in our hospitals. I also want to express my deepest gratitude to our frontline healthcare workers. Help is on the way."

Hospitalizations are at record levels and have been increasing rapidly over the last several weeks. There are also several Wyoming hospitals that have expanded capacity to meet the influx of COVID-19 patients. Right now several hospitals are also at capacity for ICU beds.

Two Health and Medical Task Force (HMTF) teams from the U.S. Department of Health and Human Services' National Disaster Medical System will deploy to Campbell County Memorial Hospital in Gillette and Cheyenne Regional Medical Center to help medical providers responding to the COVID-19 pandemic. Each 15-member team includes physicians and nurses who will support hospitals in Campbell and Laramie counties for 14 days. The communities were selected based on where the immediate need was greatest.

The Wyoming National Guard will also be providing support to hospitals by augmenting hospital staff. Guard members will be assisting with activities such as delivering meals and other activities to free up medical staff. There will be 10 guard members assigned to Cheyenne Regional Medical Center in Cheyenne who will be deployed for 30 days unless extended upon request. Assistance with non-medical tasks helps the hospitals focus their medical resources on tasks where they can have the most impact.

"Our Guardsmen are poised to assist when the state is in a time of increased need," said Maj. Gen. Greg Porter, adjutant general for the Wyoming National Guard. "Our soldiers and airmen are always ready to aid our neighbors and affected communities and partner with other agencies."

Traveling medical staff has also begun to arrive in Wyoming to assist with the state's COVD-19 response. The Governor allocated $10 million in CARES Act funding to the Wyoming Hospital Association to coordinate this previously announced effort. As many as 50 additional personnel are expected to be deployed throughout the state by the end of the week to provide staffing relief and ease the burden on hospital resources.

"This much-needed assistance came together with the coordination of several agencies," Lynn Budd, Wyoming Office of Homeland Security Director said. "The result is a direct validation of the teamwork that is typical of Wyoming."

As a part of Wyoming Department of Health (WDH) efforts to support Wyoming hospital capacity, the department has been in contact on an ongoing basis with Wyoming hospitals to discuss hospital capacity and surge plans. "Consistently we have been informed by hospitals that availability of medical personnel, specifically nurses, is their largest concern," said Dirk Dijkstal, Health Readiness and Response Section chief with WDH.

These efforts were successful with the coordination of the Wyoming Department of Health, Wyoming Office of Homeland Security, Wyoming National Guard, Health and Human Services

---
Wyoming Game & Fish news (posted 11/19/2020)
Antler sheds, looking at trapper education and regulation modifications, long-term elk feedground management
Wyoming Game & Fish
The Wyoming Game and Fish Commission convened virtually this week to decide on important issues impacting Wyoming's wildlife.

The Commission took initial steps toward revising Wyoming's trapping rules. To help inform decision-making, the Commission asked the Wyoming Game and Fish Department to gather information on the public's views on trapping and develop recommendations for rule changes. The Department embarked on a public collaborative process with trappers, recreationalists, pet owners and conservation groups and presented that feedback at the meeting.

The Commission asked the Department to approach the Wyoming Legislature for statutory authority for the Commission, on a case by case basis, to require trapping setbacks around high-use public land areas in Wyoming as well as authority for the Commission to develop regulations requiring mandatory trapper education. The Commission also directed the Department to draft two regulations for review, one which would restrict trapping where Game and Fish releases pheasants during hunting season; the other would limit the use of large power snares. Those two regulations would be available for public comment prior to being presented to the Commission for approval.

"Trapping is an important part of Wyoming heritage. It's a right guaranteed to the state's citizens through the Constitution of the State of Wyoming," said Pete Dube, Game and Fish Commission president. "In addition to the measures we passed, the Commission supports the Department's recommendations to develop more information to further the public's understanding of the sport."

The Commission approved a proposal to change the spring antler collection opening time from noon to an earlier 6 a.m. on May 1. This applies on public land west of the Continental Divide, excluding the Great Divide Basin and is slated to begin in 2021.

Game and Fish is moving forward to develop a long-term elk feedground management plan. The Commission listened to a presentation that gave an overview of the complex feedground management issues, including brucellosis and the potential for chronic wasting disease. Commissioners encouraged people who are interested in the future of elk feedgrounds to attend a series of virtual meetings in December and share their thoughts.

The Commission heard updates on the Department's capital construction projects. Game and Fish is currently taking bids for Cody Regional Office construction until early December with building slated to begin in spring 2021. The Commission is pursuing a proposal to build employee housing in Jackson on the edge of the Commission's South Park property, and is evaluating plans for construction.

Game and Fish presented Jill Tonn with the Wyoming Game and Fish Department Excellence in Wildlife Conservation Award. Tonn spent 25 years with the Rocky Mountain Elk Foundation and made significant contributions to Wyoming's wildlife. The Commission was recognized for their 2019 Western Association of Fish and Wildlife Agencies Commission of the Year award.

---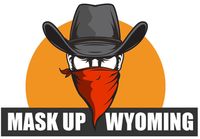 Mask Up Wyoming

Sublette County Mask Mandate Begins Wednesday, Nov. 18th (posted 11/17/2020)
Sublette Covid-19 Response Group
The Wyoming Department of Health approved countywide mask variances for nine Wyoming counties today (Tuesday, Nov. 17. 2020), including one for Sublette County.

The Sublette County mask mandate for indoor public places begins Wednesday, Nov. 18. Similar variances were approved for neighboring Lincoln and Sweetwater counties, while Teton County already had a variance in place. The Casper Star-Tribune reports there are mask mandates approved in 12 Wyoming counties, with requests from two other counties currently in review.

The variance requires persons within Sublette County, except for minors, to wear a face covering in certain public settings as described:
• When any person is inside, or in line to enter, any retail or commercial business, or any government facility open to the general public, including county and municipal buildings but excluding state and federal buildings; or
• When any person is obtaining services at, or visiting healthcare operations, including, but not limited to, hospitals, clinics, and walk-in health facilities, dentists, pharmacies, blood banks, other healthcare facilities, behavioral health providers, and facilities providing veterinary and similar healthcare services for animals; or
• When any person is waiting for or riding on public transportation or paratransit, or while they are riding in a taxi, private car service, shuttle, tour, or ride-sharing vehicle. The driver shall also wear a Face Covering when passengers are in the vehicle.

All retail and commercial businesses and government facilities open to the general public, including county and municipal buildings but excluding state and federal buildings, must post notices stating that Face Coverings are required in a clearly visible location at or near the entrance of the business or building.

All employees, owners, and volunteers of retail and commercial businesses and employees and volunteers of government facilities open to the general public, including county and municipal buildings but excluding state and federal buildings, shall wear Face Coverings at their business or government facility when interacting with the public, or working in a space visited by members of the public, such as by way of example, but not limited to: reception areas, grocery store aisles, service counters, public restrooms, cashier and checkout areas, waiting rooms, service areas, and other spaces used to interact with the public.

Face coverings are not required under certain circumstances, including:
a. When a person is in a personal office (a single room) where others outside of that person's household are not present as long as the public does not regularly visit the room, but that individual must put on a Face Covering when being visited by a client, customer, or a member of the public.
b. The person is a minor. Minors are not required to wear a Face Covering, however minors three years old and older are encouraged to wear Face Coverings. Minors age two years or younger should not wear a Face Covering.
c. When a person is seated at a table of a restaurant or other food service venue, the person is separated by at least six (6) feet from other patrons at other tables, and no more than eight (8) people in total are seated at the table. If more than eight (8) individuals are seated at the table, but all individuals are members of the same household, this exception applies. This exception also applies if a person is seated at a booth. However, individuals shall wear a Face Covering while entering, exiting, or otherwise moving about the establishment
d. When a person is inside or obtaining services at a location engaged primarily in providing congregate care, residential health care, or shelter care, and the individual is engaged in activities not conducive to wearing a Face Covering, such as eating or drinking, or the individual is in an area of that facility that is not designed for community gathering, such as a sleeping area.
e. If a person has a medical condition, mental health condition, or disability that prevents him or her from wearing a Face Covering. This includes, by way of example, but is not limited to, persons with a medical condition for whom wearing a Face Covering could obstruct breathing or who are unconscious, incapacitated, or otherwise unable to remove a Face Covering without assistance. A person is not required to provide any documentation or explanation demonstrating that the person cannot wear a Face Covering for any medical condition, mental health condition, or disability.
f. Individuals who are hearing impaired, or communicating with an individual who is hearing impaired, where the ability to see the mouth is essential for communication.
g. Individuals for whom wearing a Face Covering would create a risk to the individual related to their work, as determined by local, state, or federal workplace safety guidelines.
h. Individuals who are obtaining a service involving the nose or face for which temporary removal of the Face Covering is necessary to perform the service.
i. Individuals who are purchasing a product or receiving a service that requires identification may briefly remove a Face Covering as necessary, so that the retailer or service provider can verify identity.
j. When actively exercising in a gym in accordance with Statewide Health Orders.

Related Link:
Approved Mask Mandate PDF, 11/17/2020
www.sublettewycovid.com Sublette COVID-19 Response Group

---
Game and Fish begins elk feedgrounds public collaborative process (posted 11/16/2020)
Virtual meetings set for December
Wyoming Game & Fish
The Wyoming Game and Fish Department has become increasingly concerned about the spread of wildlife diseases in Wyoming, the implications chronic wasting disease (CWD) and other issues may have on elk attending winter feedgrounds in western Wyoming. To address these challenges, Game and Fish is inviting the public to participate in the development of a long-term management plan, beginning with a series of virtual meetings.

"While there are benefits to feeding elk on feedgrounds there are also challenges," said Brian Nesvik, director of Game and Fish. "Game and Fish is preparing to develop a plan that will guide the long-term management of feedgrounds and the public's voice on the issues is important."

To assist future management decisions over the next decade, the Game and Fish is initiating a multi-phased effort to gather public input. The first phase is to hold public discussions, or "listen and learn" sessions, on the many intricacies of elk feedgrounds. The second phase, tentatively planned for early 2021, will involve a public collaborative process that will formally provide input for the development of a long-term elk feedgrounds management plan.

"The purpose of the meetings is to give participants a well-rounded discussion of elk feedgrounds," said Scott Edberg, deputy chief of the wildlife division. "Presentations will touch on the many different issues and considerations surrounding elk feedgrounds."

Anyone interested in the future of elk feedgrounds management is encouraged to attend one of the four upcoming Phase I virtual public meetings. Participants must register in advance of the meetings, and once registered, will be sent a confirmation email with a link to join the meeting.

Meetings are planned for:
• Tuesday, Dec. 1 –5, 8 p.m.
• Wednesday, Dec. 2, 1-4 p.m.
• Wednesday, Dec. 2, 6-9 p.m.
• Thursday, Dec. 3, 4-7 p.m.
The same presentations will be shown at each meeting, so there is no need to attend more than one as space is limited in the virtual sessions.

At each meeting, the public will hear presentations from Game and Fish including an overview of elk feedgrounds in Wyoming, current wildlife disease concerns, including the potential for CWD, and current brucellosis management on feedgrounds. Participants will also hear from federal partners on their role in the feeding of elk in western Wyoming.

There will be time for questions and answers after each presentation and brief public comments. A presentation recording will be available on the Game and Fish Elk Feedground Public Collaborative Process website by Dec. 10 for those unable to attend a live meeting. Upon completion of each virtual meeting, participants will be emailed an online comment form with questions to collect feedback. Written comments will be accepted electronically Dec.1, 2020 - Jan. 8, 2021.

"Everyone is encouraged to provide their thoughts in writing using the online form to ensure they are received and considered," Edberg said.

Anyone can stay up-to-date on the Elk Feedgrounds Public Collaborative Process, including information on how to attend one of the upcoming public meetings via Zoom and how to submit written comments by visiting: https://wgfd.wyo.gov/Get-Involved/elk-feedgrounds.

---
Hunters: Submit your harvest survey (posted 11/16/2020)
Elk, deer and antelope respondents can win great prizes
Wyoming Game & Fish
The Wyoming Game and Fish Department wants to know how your Wyoming hunt went this year. Many hunters have received, or will begin to receive, a harvest survey via e-mail or the Postal Service. The survey gathers harvest information and feedback on the 2020 hunting season. Hunters' responses about their season are used in making future wildlife management decisions.

"This harvest survey is the best way to gather large amounts of data from the public. We use the responses to estimate harvest, hunter success and hunter effort," said Emily Gates, Game and Fish harvest survey coordinator. "Hunter feedback is important information and is a valuable tool for monitoring populations, setting future quotas, season dates and other regulations. We appreciate every response."

Because of the large volume of antelope, deer, elk, small game, upland game bird and migratory game bird license holders, a random sampling of those licensed hunters are surveyed; not all license holders of those species will receive a request to complete a harvest survey.

However, all license holders for moose, bighorn sheep, mountain goat, black bear, mountain lion, gray wolf, fall wild turkey, spring wild turkey, furbearer, sandhill crane and light goose conservation order are included in the survey process.

Hunters who do receive and complete an antelope, deer or elk harvest survey will be entered in a drawing to win one of several donated prizes. Prizes are donated by:

• Hi Mountain Jerky
• Huntin' Fool
• JAX Outdoor Gear
• King's Camo
• Maven Optics
• Montana Decoy
• Mule Deer Foundation
• Muley Fanatic Foundation
• National Bowhunter Education Foundation
• National Wild Turkey Federation
• onX Hunt
• Rocky Mountain Elk Foundation
• Stone Glacier Hunting Backpacks
• West Laramie Fly Store
• Wild Sheep Foundation

To be eligible for prizes, hunters who are selected for a survey must submit responses by Jan. 7 for antelope, Jan. 28 for deer and Feb. 4 for elk.

"In Wyoming, it's not a requirement all hunters fill out a survey," Gates said. "But, if you get a survey, it's important to fill it out, even if you didn't hunt or harvest."

You can help Game and Fish complete hunter surveys efficiently by providing an e-mail address when you purchase a license.

"Sending hunter surveys through e-mail is more cost-effective," Gates said. "We survey approximately 100,000 hunting license holders annually, so hunters who provide an e-mail address and complete their surveys online help us reduce costs, by at least $2.50 per response."

Some hunters may receive a survey before their season ends; but, Game and Fish asks hunters to wait until they are finished hunting or their season is over before filling out the survey. The antelope, deer and elk surveys are conducted by Tetra Tech, the survey research firm that won the competitive bid to conduct these large volume surveys.

Hunters who have questions about the antelope, deer and elk surveys can contact Tetra Tech's survey team directly at 1-800-216-0477. For all harvest surveys, hunters can also contact Emily Gates, harvest survey coordinator, for assistance at (307) 777-4567.

---
Every Kid Outdoors Program expanded to 5th graders (posted 11/13/2020)
Family fee-free access to National Forests and Grasslands for remainder of 2020-2021 school year
Bridger-Teton National Forest
The USDA Forest Service announced it will expand its Every Kid Outdoors program to offer fourth- and fifth-grade students and family members fee-free access to more than 2,000 sites on national forests and grasslands for the remainder of the 2020-2021 school year. A new voucher is available for download now through August 31, 2021.

With the voucher, students and their families can visit numerous regional attractions. The Forest Service hopes the announcement will encourage millions of families to use their free pass to visit our public lands and experience the mental and physical benefits of the great outdoors.

"The opportunity to see, explore and experience public lands is one that every child should have. The Every Kid Outdoors pass for fourth graders will hopefully result in more kids exploring the unique wonders of our public lands." -Chad Hudson, Acting Bridger-Teton Forest Supervisor

Every Kid Outdoors is a federal public lands partnership created to inspire fourth-grade students and their families across America to recreate, explore cultures, discover connections to nature and spark a lifelong passion for America's great outdoors. The program focuses on children ages 9–11 who, research shows, are beginning to understand the world around them, and are uniquely receptive to engaging with nature and the environment. By focusing on this age group year after year, the program aims to ensure every child in the United States has the opportunity to create a life-long connection to America's big backyard.

To obtain a free 5th Grade Voucher, visit the Every Kid Outdoors website, everykidoutdoors.gov, click on the "Hey, fifth graders!" banner, and download a voucher. The voucher is valid between Nov. 12, 2020 and Aug. 31, 2021 to correspond to the traditional school year.

---
Yellowstone Park has record October visitation (posted 11/13/2020)
Annual visitation down 6% from 2019 and 9% from 2018
National Park Service
Yellowstone National Park hosted 360,034 recreation visits in October 2020, up 110% from October 2019. This was the busiest October on record, surpassing the previous record (252,013) set in 2015 by an increase of 43%.

So far in 2020, the park has hosted 3,743,907 recreation visits, down 6% from the same period last year.

The park was closed due to health and safety reasons related to COVID-19 beginning March 24, 2020. Two Wyoming entrances opened on May 18 and three Montana entrances opened on June 1, 2020. All five entrances have been open since June 1.

The list below shows the year-to-date trend for recreation visits over the last several years (through October):

2020 – 3,743,907
2019 – 3,979,153
2018 – 4,078,771
2017 – 4,084,762
2016 – 4,212,782
2015 – 4,066,191

All roads in Yellowstone, with one exception, are closed to automobile traffic from early November to late April. The road from the park's North Entrance at Gardiner, Montana, through Mammoth Hot Springs to the Northeast Entrance and the communities of Cooke City and Silver Gate, Montana, is open year-round, weather-permitting.

Conditions permitting, most park roads will open to over-snow travel (snowmobiles and snowcoaches) on December 15, 2020. Visit href="https://www.nps.gov/yell/planyourvisit/visiting-yellowstone-in-winter.htm">Explore in Winter for details.

If you plan to visit the park this winter, please have flexible travel plans and prepare for changing weather conditions. Temporary travel restrictions or closures can occur at any time without notice. Visit Park Roads for the status of Yellowstone roads, or call (307) 344-2117 for recorded information. To receive Yellowstone road alerts on your mobile phone, text "82190" to 888-777 (an automatic text reply will confirm receipt and provide instructions).

Visitors are asked to recreate responsibly and reduce the spread of COVID-19. If you are sick, do not visit the park. Self-quarantine to avoid exposing others. Services are limited in the park. To stay informed about changes to park operations download the Yellowstone App, or visit www.nps.gov/yell and the park's social media channels.

More data on park visitation, including how numbers are calculatedv, is available on the NPS Stats website.
________________________________________________

Editor's Note on COVID-19 statistics: Yellowstone National Park has had over 3.7 million visitors in 2020. They have an estimated 2,000 employees. They report since reopening they have had only 16 park employees test positive for COVID-19 and no employee deaths (data as of the end of September 2020). Teton County (which includes the town of Jackson) has had 1,033 lab-confirmed COVID-19 cases and 2 COVID-19 related deaths in 2020 (data as of Nov. 13, 2020).

---
Governor launches Energy Rebound Program for Oil and Gas workers in Wyoming (posted 11/11/2020)
State of Wyoming
Governor Mark Gordon will use CARES Act funding to assist Wyoming's economic recovery and boost employment in the oil and gas industry.

The Energy Rebound Program will utilize up to $15 million in CARES Act funding to provide business relief targeted towards drilled, but uncompleted oil and gas wells (DUCs), wells that were unable to be re-completed, and plugging and abandonment projects which could not be finished due to the impacts of the COVID-19 pandemic.

"These funds will have a direct impact on Wyoming's employment rate and put people back to work in our oil and gas sector which was impacted by COVID-19. It will provide opportunities for employees who lost jobs when drilling ceased," Governor Mark Gordon said. "The oil and gas industry is a huge contributor to Wyoming revenues, employment, and its overall economy. These dollars will assist in our state's economic rebound."

Wyoming is the 8th largest oil and gas producing state in the country and the economic impact of the pandemic on the industry was sudden and widespread. When global demand for oil plummeted due to COVID, work stopped almost immediately, with oil and gas companies conducting a few activities to safely stop ongoing drilling and reclamation activities. This left many projects in limbo, awaiting capital to continue.

The use of the funds will provide a stimulus to the economic recovery. Funds would be used to commence operations that would include the hiring of crews, many of whom would stay at hotels near the project, water acquisition, ordering of supplies and equipment for drilling and re-completions, and plugging and abandonment activities.

"The Energy Rebound Program is an excellent use of the CARES Act funding," House Speaker Steve Harshman said. "CARES funding was designed to address many of the disastrous economic effects stemming from the COVID and the collapse of much of Wyoming's economy. The program will provide immediate jobs and long-term revenue for Wyoming. Thank you to the Governor, his staff and industry leaders for their work on this initiative. Working together we can make Wyoming's future bright."

The Wyoming Business Council will announce additional details of the program in the coming days.

---
Governor to bring additional medical personnel to Wyoming for COVID response (posted 11/11/2020)
State of Wyoming
Wyoming hospitals are seeing a drastic spike in COVID-19 cases and report that the main concern at this time is having adequate staffing. In response, Governor Mark Gordon is utilizing $10 million in CARES Act funds to bring additional medical personnel to the state to alleviate the strain on hospitals and Wyoming health care professionals.

The Wyoming Department of Health (WDH) has partnered with the Wyoming Hospital Association to bring in temporary medical personnel to address the surge in hospitalizations that has occurred around the state, and to prepare for additional staffing needs that are likely to arise. As of November 10, Wyoming hospitals were reporting a record 178 COVID-19 current hospitalizations. One month ago there were only 56.

"We are grateful to the Governor for recognizing the imminent need for additional staffing around the state," said Eric Boley, President of the Wyoming Hospital Association. "Medical staff across the state are strained and exhausted. There is an immediate need to bring in additional help to ease the burden shouldered by our healthcare professionals. This move by the Governor is important and is giving us critical resources allowing us to find and retain medical personnel to support our hospitals in their fight against COVID."

"This funding will help ease the strain on our hospitals and healthcare workers, who have been working tirelessly to provide care to increasing numbers of COVID-19 patients," Governor Gordon said. "As hospitals around the region face the same issues, our hospitals cannot plan on transferring patients out of state. I want to ensure Wyoming maintains its ability to provide our residents access to the treatments and care they need."

The Wyoming Hospital Association will work with the state's hospitals to evaluate medical staff shortages and consult with the WDH on each facilities' needs. The temporary medical personnel will allow hospitals to treat additional patients, offset staff shortages that may occur due to illness and provide relief to hospital staff dealing with heavy workloads and long stretches of overtime.

---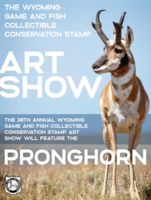 Art Show

Game and Fish art contest to feature the pronghorn (posted 11/4/2020)
Wyoming Game & Fish
Submissions open soon for the 2022 Wyoming Game and Fish Department Collectible Conservation Stamp art contest. The subject of the 38th annual contest is the pronghorn, and the winning image will be featured on the 2022 collectible conservation stamp. Artists can start to submit their pieces beginning Jan. 2, 2021. The rulebook is online now for artists.

"The pronghorn is one of Wyoming's most iconic and popular animals," said Margaret James, who organizes the contest for Game and Fish. "Biological judges will focus closely on the anatomical accuracy of the artist's depiction and ecological correctness of any habitat, which should be in Wyoming."

The pronghorn, also commonly called antelope, can be found in every county in the state, typically in the sagebrush habitat. They are known for their speed and impeccable eyesight. They have the body shape of a deer, weighing 90-150 pounds with long legs, short tail, a long snout and hollow tan hair. Pronghorn have white stripes on their necks and additional white markings on the face, stomach and rump. Both males and females have a pair of horns on the top of the head, the males' horns larger, reaching up to 10 to 12 inches long. At the front of the horn is a small notch or prong that points forward, hence the animal's name. Wyoming's pronghorn have the longest documented migration of any species in the lower 48 spanning, 150 miles each way, between Wyoming's Upper Green River Basin and Grand Teton National Park.

For the contest, biological judges will evaluate the entries for accuracy based on hair coloration, the presentation of the eyes and head shape, horn shape and habitat. Complete standards are detailed in the rulebook.

"The uniqueness of this animal will be challenging, and we're excited to see how artists approach the subject," James said.

Entries determined to be biologically inaccurate will be ineligible to win a monetary award and may only be eligible to win an Honorable Mention. All artwork must be the artist's original creation. Any artwork recognized as a copy will be ineligible for a prize.

Entries must be received by the Game and Fish Headquarters by 5 p.m. on March 1, 2021. An open house and awards ceremony to announce the winners will take place in the spring.

For questions, contact Margaret James at (307) 777-4591 or margaret.james@wyo.gov.

---
Christmas tree permits available to purchase online (posted 10/29/2020)
Bridger-Teton National Forest
Christmas tree permits are now available to purchase online through Recreation.gov through December 31. Details about where to cut and height restrictions may be found at Recreation.gov.

"For many, venturing into the Forest to cut their Christmas tree for the holidays is a treasured tradition with friends and family and a wonderful way to enjoy our public lands in the winter," said Chad Hudson Acting Forest Supervisor.

The Forest Service decided to allow permit sales on Recreation.gov as an added convenience for visitors, as well as provide an alternative to in-person transactions at offices that remain closed to walk-in business due to the COVID-19 pandemic.

To purchase a Christmas Tree permit, visit Recreation.gov and search for Bridger-Teton National Forest Christmas Tree Permits. It is important to carefully read the overview and need-to-know information prior to purchasing the permit.

Visitors will need to set up or login to a Recreation.gov account to complete the transaction. Each permit is $15 for any tree, plus a $2.50 processing fee. Users can purchase up to five trees per account. The permit must be printed and placed in the windshield of your vehicle as you remove your tree(s) from the Forest.

Many Forest roads are subject to seasonal closures. Free Motor Vehicle Use maps may be available at each District Office, online at www.fs.usda.gov/btnf/ or by downloading the Avenza App.

Additionally, all 4th graders throughout the United States receive a FREE Christmas tree permit, as part of the "Every Kid Outdoors Program." If utilizing the online system at recreation.gov, enter the voucher or pass number when prompted. Call your local Forest Service office for more information on the Every Kid Outdoors Program.

---
Business Directory
Click here for
Advertising Information