Wyoming COVID-19 update – July 3, 2020 (posted 7/3/2020)
No new cases in Sublette County
Wyoming's death count for COVID-19 remains unchanged, at 20, as of Friday, July 3rd.

Total laboratory confirmed cases are 1,267.
Wyoming's population is 578,759 (2019).
Sublette County's confirmed case count remains at 3, all of whom have recovered, no deaths.

There are 8 people in hospitals around Wyoming with COVID-19.

For more information, see the Wyoming Department of Health webpage or the Sublette COVID-19 Team webpage.

---
Cabins available for rent on BTNF (posted 7/1/2020)
Bridger-Teton National Forest staff reminds recreationists that there are many developed and undeveloped recreation opportunities available across the Forest for visitor enjoyment.

"Camping and recreating on the Bridger-Teton National Forest is an activity individuals and families look forward to experiencing every summer," said Mary Cernicek, Bridger-Teton National Forest Public Affairs Officer. "While we understand there may be some excitement from the public as they visit their favorite recreation areas, please continue to follow local, state, and federal Covid-19 guidelines for your safety and that of others enjoying these incredible public lands."

All camping is first come, first serve on the Bridger-Teton, and many developed and group campgrounds and all cabin rentals can be reserved through www.recreation.gov.
Those with cabin rental reservations will be notified via email and/or text message if there are any Covid or non-covid condition changes through the remainder of the year. Please be aware that cabin rentals will not be cleaned in between renters. As in previous years, it is up to the individual renters to bring their own cleaning supplies, and to clean before and after use of the site. All rental cabins receive a routine pre-season cleaning annually.

All trails and trailheads remain open on the Forest. Please remember to avoid congregating at trailheads and/or parking areas and refrain from gathering in large groups, keeping 6-foot distancing from other parties as well.

The Bridger-Teton National Forest continues to monitor COVID-19 and its effects to recreation opportunities on the Forest. Please remember to review the latest recommendations from the Centers for Disease Control and Prevention along with local and state guidelines for social distancing and cloth face coverings.

For information on the projected recreation site opening dates by District and location, please visit https://www.fs.usda.gov/btnf/, call your local Ranger Station, follow the Bridger-Teton National Forest on Facebook @BridgerTetonNF or on Twitter @BridgerTetonNF.

---
New Task Force created to protect American Monuments, Memorials, and Statues (posted 7/1/2020)
U.S. Department of Homeland Security
WASHINGTON— Today (July 1, 2020), Acting Secretary of Homeland Security, Chad F. Wolf, announced the establishment of the DHS Protecting American Communities Task Force (PACT), a special task force to coordinate Departmental law enforcement agency assets in protecting our nation's historic monuments, memorials, statues, and federal facilities.

"DHS is answering the President's call to use our law enforcement personnel across the country to protect our historic landmarks," said Acting Secretary Wolf. "We won't stand idly by while violent anarchists and rioters seek not only to vandalize and destroy the symbols of our nation, but to disrupt law and order and sow chaos in our communities."

On June 26th, President Trump issued an Executive Order to ensure that our historic monuments and statues will be protected. The Order, "Protecting American Monuments, Memorials, and Statues and Combating Recent Criminal Activity," directs DHS, within its statutory authority, to provide personnel to assist with the protection of federal monuments, memorials, statues, or property.

As a result, DHS created the PACT, which will conduct ongoing assessments of potential civil unrest or destruction and allocate resources to protect people and property. This may involve potential surge activity to ensure the continuing protection of critical locations. DHS's Office of Operations Coordination will also partner closely with the Departments of Justice and Interior to establish information and intelligence sharing.

"As we approach the July 4th holiday, I have directed the deployment and pre-positioning of Rapid Deployment Teams (RDT) across the country to respond to potential threats to facilities and property," said Acting Secretary Wolf. "While the Department respects every American's right to protest peacefully, violence and civil unrest will not be tolerated."

---
Woman gored after approaching bison in Yellowstone National Park (posted 6/30/2020)
Yellowstone National Park reports that a 72-year old woman from California was gored by a bison on the evening of Thursday, June 25th. The animal was near her campsite at Bridge Bay Campground. The woman reportedly approached to within ten feet of the animal multiple times in order to take its photo. She received multiple goring wounds. Rangers provided medical attention and she was flown by helicopter to Eastern Idaho Regional Medical Center for additional treatment. Park officials caution visitors to keep a large distance between themselves and all wild animals in the park and to not approach them.
---
Jackson Town Council approves mask requirement resolution (posted 6/30/2020)
The Jackson Town Council recently passed a resolution in support of a public health order requiring people to wear masks in public places. The resolution is partially to show support for business owners who are posting signs requiring customers to wear masks in the store, but some customers are refusing and becoming abusive. The resolution is also a show of support for the Teton County public health officer who is reportedly seeking a public health mask order for public spaces from the State Department of Health.

Related Links:
Town Council passes mask requirement resolution - www.buckrail.com, June 29, 2020
Teton County Public Health
---
Public health orders remain unchanged as COVID-19 case numbers increase (posted 6/29/2020)
Wyoming Governor Mark Gordon
Wyoming's current public health orders will be extended through July 15 as the number of cases of COVID-19 in the state continues to steadily increase, Governor Mark Gordon announced today (Monday, June 29, 2020).

Twenty-five percent of Wyoming's total number of lab-confirmed cases of COVID-19 have been identified in the past two weeks, with 288 new cases confirmed since the current orders went into effect on June 15. New cases of the virus have been reported in 15 counties and reflects increased transmission within Wyoming communities. The Governor continues to stress the importance of personal responsibility and emphasized that a cooperative effort by business owners and patrons is required to prevent businesses from being forced to close.

"It is clear from the recent increase in cases statewide that the dual threat of COVID-19 to both the health of our citizens and the health of our economy is not going away," Governor Gordon said. "No one wants to see the progress we have made vanish, but that requires each of us to make a concerted effort to slow the spread of the virus. It is really simple and depends on everyone practicing good hygiene, social distancing and doing their best to wear a mask in public where social distancing isn't possible. It's the way you and our economy will both stay healthy."

The Wyoming Department of Health and the Governor continue to recommend the use of face coverings in public settings where it is not possible or reasonable to stay physically apart. On Wyoming's COVID-19 dashboard the number of new cases continues to be rated, "Concerning."

The continuing orders allow gatherings up to 50 persons in a confined space to occur without restrictions and permit events of up to 250 persons with social distancing and increased sanitization measures in place. Faith-based gatherings such as church services and funeral homes will continue to be permitted to operate without restrictions, with appropriate social distancing encouraged. All public health restrictions that apply to restaurants, bars, gyms and performance spaces will remain in place.
As of June 29, Wyoming has recorded 1144 lab-confirmed positive cases of COVID-19, 299 probable cases and 20 deaths. The current health orders will remain in place until July 15.

The continuing orders are attached and can be found on the state's COVID-19 website, https://covid19.wyo.gov/governors-orders

---
Ranchers win early round in fight to save historic cattle drive (posted 6/22/20)
Green River Drift being threatened
Mountain States Legal Foundation
DENVER, COLORADO — June 15, 2020 — Wyoming's last great cattle drive, the Upper Green River drift, began as scheduled last weekend in mid-June, just as it has since the 1890s, after a federal judge rejected a preliminary injunction sought by anti-ranching groups that hoped to derail the annual event.

The injunction would have prohibited the lethal removal of documented nuisance bears on their summer grazing range, a regulated practice allowed under the Endangered Species Act since 1975. MSLF argued that the plaintiffs should be denied "standing" because they failed to show how such removals would directly harm them.

The no-kill rule would mark a sudden departure from longstanding bear management protocols on the forest, according to ranchers and their lawyers at Mountain States Legal Foundation, putting numerous ranchers and their livestock at risk. Removal of a problem bear is not done by the rancher, but by state wildlife officials, in consultation with the US Fish and Wildlife Service, after a pattern of repeat behavior has been documented and non-lethal means of deterrence have failed.

"The plaintiffs hope to deprive ranchers of the lawful use of their grazing rights by making the use of this summer range more dangerous than usual for cowboys and cattle," said Brian Gregg, MSLF's lead attorney on the case. "Turning the livestock that have traditionally grazed these lands into a grizzly bear buffet threatens the economic survival of these ranches and will destroy this living connection to our history and heritage."

The Green River Drift is a vital link to the West's ranching history. The route and manner of the cattle drive are largely unchanged since the 1800's, and it is operated by the descendants of the families who homesteaded the area and began the cattle drive in the 19th century. Because it is so unique, the Upper Green River Drift is listed as a "Traditional Cultural Property" (TCP) on the National Register of Historic Places—the only ranching-related entity to be so recognized.

Mountain States Legal Foundation (MSLF) filed a motion to intervene in the case in order to defend the rights of American ranchers to access federal land, as they have for generations, and to protect the legacy of the people who built the West. Western Watersheds Project et al. v. Bernhardt et al. is being heard before the Federal District Court of Washington, D.C.

Against all evidence, environmentalist groups involved in the suit falsely claim that these grazing practices, which have been practiced soundly for well over a century, will harm grizzly bear populations in violation of the Endangered Species Act. In reality, grizzly populations in the region have recovered to the extent that Fish & Wildlife Service officials have twice recommended that the Greater Yellowstone Grizzly be removed from the endangered species list, most recently in 2017. Notably, this remarkable recovery has not been hindered by this ongoing annual cattle drive.

MSLF represents the Upper Green River Cattle Association and the Wyoming Stock Growers Association as well as several family ranches: The Price Cattle Ranch, Murdock Land & Livestock Co., and Sommers Ranch, LLC. The "land ethic" is a part of this historic way of life. For instance, the Sommers Ranch won the Leopold Conservation Award in 2012 for their remarkable stewardship of Wyoming's Upper Green River Valley.

"These families have cared for the land far longer and far better than any agency or activist has," said Gregg. "The Green River Drift provides 124 years of evidence that ranchers are the real conservationists."
---
Jackson Hole begins summer rodeos (posted 6/22/20)
Jackson, Wyoming began their summer season on Saturday, June 20th. With health concerns over the COVID-19 pandemic, it was uncertain if the popular outdoor rodeos would happen this summer. The rodeo now has permission to go on. They have permission to have up to 600 fans with proper spacing and must take other measures for social distancing. The rodeos will start on Wednesday and Saturday evenings. Friday nights will start on July 3rd. They will take a break for the Teton County Fair July 19-28, then resume the Wednesday, Friday, Saturday schedule through mid-September. Click on this link for more information: www.jhrodeo.com

---
Wyoming State Historical Society updates (posted 6/22/20)
The Wyoming State Historical Society is a non-profit, membership driven organization that encourages the study of Wyoming History.

Due to the coronavirus pandemic, a number of their summer events have had to be cancelled or postponed. Here are cancellations with updates on rescheduling:
- May 25th Grand Opening of the National Museum of Military Vehicles in Dubois
- The Family History Conference scheduled for late May in Salt Lake City, Utah
- The Society's 20th Trek, hosted by the Crook County Historical Society, scheduled for June 13th will take place in 2020
- The Lincoln Highway Conference scheduled for June has been postponed to 2021
- 67th Annual Meeting of the WSHS will take place September 11-13

The Society announced the 2020 recipients of its Lola Homsher Research grants. This year they awarded a total of $6,942 to people doing research projects on Wyoming history. One of the recipients was Jocelyn Moore of Pinedale, who received a grant for $1,413 for research relating to the Civil War Cavalry in pre-Territorial Wyoming.

The Wyoming State Archives and State Museum, the University of Wyoming American Heritage Center, and the Wyoming State Historical Society are working on a project to document the COVID-19 pandemic experience in Wyoming. Are you keeping a journal, diary, or doing a blog about your experiences during the pandemic? Are you making masks, doing craft projects, struggling with having kids at home and homeschooling? These organizations hope by documenting people's experiences now they can give clues to future historians about how we coped, communicated, and got through the difficult times.

If you are writing down your thoughts, they ask if you would consider donating a copy to the State Archives or American Heritage Center. If you reflect on social media, use the hashtag #Covid19WY so they can pull together all the tweets and posts later. That includes Instagram photos of empty streets or teddy bears in windows.

Why is it important to preserve these memories? Because while things are happening we sometimes don't realize we are making history now. Recording these things while they are fresh in our minds will help future generations learn how we dealt with the day-to-day struggles of the unfolding events. Just as many people today are learning about how the world struggled with the devastating influenza pandemic of 1918 through personal stories, photographs, official accounts and newspaper articles of the time, future generations will learn about COVID-19 through the breadcrumbs of historical documentation recorded now for people to read about in the future.

For more information or to offer items, please contact Kathy Marquis, State Archivist, kathy.marquis@wyo.gov, Jennifer Alexander, Wyoming State Museum Collections, jennifer.alexander@wyo.gov, or Sara Davis, University Archivist at the AHC at sarad@uwyo.edu. Digital memories can be sent directly to the Wyoming State Archives via their website at www.wyoarchives.org and click on the COVID-19 donation link.

For more information about the Wyoming State Historical Society, contact Linda Fabian, PO Box 247, Wheatland, WY 82201, linda@wyshs.org, www.wyshs.org.

---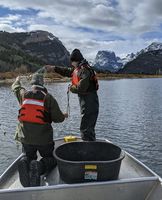 Fish sampling

Fish sampled in Pinedale Area Lakes (posted 6/17/2020)
Wyoming Game & Fish
The Pinedale fish crew has begun their summer field season with the sampling of Green River Lake and other area lakes. The netting effort on Green River Lake is conducted every three years to monitor fish population trends. Nets are placed in the evening at a few different locations and then hauled in early the next morning. The catch is recorded by species, including fish weights and lengths.

The netting effort is conducted three times over the course of several weeks to account for variability in weather and changes in fish behavior. Once the busy field season is over, the resulting data will be analyzed and compared with previous years to determine population trends for the various species over time.

The primary game fish being monitored are lake trout, rainbow trout, brook trout, mountain whitefish and kokanee salmon. Fish managers noted the kokanee salmon catch was down this year, likely a result of no kokanees being stocked the past two years and little natural reproduction. The largest fish netted in Green River Lake was a 26 pound lake trout and several 20-inch rainbows as well.

The Pinedale fish crew will continue sampling area lakes until rivers and streams clear and they can begin sampling those waters.

---
WY COVID-19 guidance updated for visitation at long-term care facilities (posted 6/17/2020)
Governor Mark Gordon media release
The Wyoming Department of Health has issued updated guidance to allow long-term care facilities to permit in-person visitation outdoors under specific guidelines.

The new guidance requires visits to occur in a designated outdoor space, limits visitors to two persons at a time and requires screening of visitors for symptoms of respiratory illness. A facility staff member trained in patient safety and infection control measures must remain with the resident at all times during the visit. Staff and residents must wear surgical face masks and visitors are required to wear face coverings.

"We recognize how challenging this pandemic has been for Wyoming's aging population and their families," Governor Gordon said. "Isolation can be debilitating for our seniors. I'm glad we are able to take this step to make in-person visits possible in a safe manner."

Routine testing of staff and residents at Wyoming long-term care facilities is continuing, with a goal of eventually testing 100% of all staff and residents for COVID-19. The decision to allow visitation rests with individual facilities, which are encouraged to consider local conditions when making visitation determinations.

---
Green River Rendezvous July 9-12 in Pinedale (posted 6/16/2020)
Museum programs, American Mountain Men living history, Traders Row, Parade, nightly rodeos, more!
The Museum of the Mountain Man and Main Street Pinedale are pleased to announce that many of the annual Green River Rendezvous Days activities will take place this year. There will be some slight modifications as we all monitor the COVID-19 health concerns, but the party is still on! Rendezvous is Thursday through Sunday, July 9-12, 2020 in Pinedale, Wyoming.

The Museum has a full schedule with more than 35 free programs for all ages on the Rocky Mountain fur trade and Plains Indian history of the early 1800s. Members of the American Mountain Men Association will be at the Museum to give living history talks and demonstrations. On Thursday evening at 6:30PM, the Museum will host the 4th annual Western Art & Wine Auction in the outdoor Pavilion. Proceeds benefit educational programs at the Museum. Click on this link to view this year's catalog of the art and wine to be auctioned. The Museum is open daily from 9AM to 5PM during the summer season. Call 307-367-4101 with questions. Presentations by Bad Hand, children's programs with Lapita and Dan Frewin, and presentations by the Journal authors will be modified due to social distancing seating requirements and meeting health safety measures.

Main Street Pinedale is organizing the Rendezvous Parade on Saturday, the street fair vendors, and a free street concert. For details about the street fair and parade entries, contact Main Street Pinedale at www.mainstreetpinedale.com, email info@mainstreetpinedale.com or call 307-231-0302.

There will be nightly rodeos Thursday, Friday and Saturday at the Pinedale Rodeo grounds.

The merchants of Traders' Row will be located at the southeast end of town as in previous years. They have activities and events every day. Vendors carry supplies that would have been found at the rendezvous of the early 1800s.

While we are saddened that the Green River Rendezvous Pageant won't be happening this year, we understand their decision, and look forward to enjoying the fabulous historical show again in 2021. www.meetmeonthegreen.com

We strongly recommend visitors make their lodging reservations ASAP because local motels fill up for the week of Rendezvous. Since coronavirus is still among us, please observe appropriate social distancing and health recommendations as you enjoy the festivities and hospitality of the community.

Please visit www.mmmuseum.com/rendezvous for the Museum's schedule of programs.

See www.greenriverrendezvous.com for updates on the schedule and additional activities around the area.

See Pinedale's visitor information website for links to local lodging and dining information, www.visitpinedale.org.

---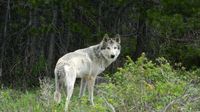 Image of a wolf seen in Grand County, Colorado on June 6. Photo for Wolf Watch courtesy of Jessica Freeman.

More wolves reported in Colorado (posted 6/13/2020)
Wolf Watch by Cat Urbigkit
Colorado Parks & Wildlife
With warmer weather and decreasing restrictions, more people are recreating in the outdoors, and Colorado Parks and Wildlife is seeing an increase in the number of sightings of potential wolves in the state.

"Public reporting vastly increases our ability to know what's happening across the state," says Dan Prenzlow, Director of Colorado Parks and Wildlife. "While not all reports end up being verified as wolves, we make every effort to investigate credible sightings through on-the-ground investigations, biological sampling, and deploying a variety of survey techniques."

There are several known and some additional credible reports of potential wolves in the state at this time.

Wolf "1084M" North Park Update
The lone wolf that was first confirmed in North Park one year ago continues to persist in that area. The male wolf, designated by Wyoming Game and Fish as 1084-M, was collared in the Wyoming Snake River pack and dispersed into Colorado where he was first photographed in July, 2019. CPW pilots regularly fly the area and assist in keeping track of 1084's movements. On the ground, wildlife managers conduct ground surveillance and communicate regularly with private landowners in Jackson County.

New report in Laramie River Valley
Wildlife managers are attempting to confirm a credible wolf sighting in the Laramie River Valley in Larimer County. An animal sighted in the area was wearing a wildlife tracking collar, which indicates it is likely a dispersal wolf from monitored packs in Montana or Wyoming, however flights and ground crews have been unable to detect a signal or visually confirm the wolf. It has been determined that the animal in Larimer County is not wolf 1084-M from neighboring Jackson County. If a wolf or wolves are confirmed in Larimer County, they would be the furthest east in Colorado in nearly a century.

New report in Grand County
Two groups of campers in Grand County over the weekend of June 6-7 were surprised to see a large wolf-like animal in the area in very close proximity to their camps. The incidents were reported to CPW. Wildlife officers and biologists responded to the area to gather biological evidence that could be used to confirm the presence of a wolf versus a coyote, lost or escaped domestic dog or domestic wolf-hybrid. Additional searches and monitoring of the area are continuing. Contacts with local animal control officials confirm no missing hybrids in the area. Biological samples were limited. The animal approaching humans so blatantly is atypical wolf behavior so additional work will be needed to fully confirm the animal's identity. More information will be provided when available.

NW Pack Update
In the very northwest corner of Colorado, Colorado Parks and Wildlife staff continue to monitor the state's first known pack of wolves since the 1930s. As many as six wolves have been confirmed in several previous sightings by staff, hunters, and landowners. The pack, originally reported to CPW late last year, has been relatively quiet of late.

Wildlife managers were able to recently capture an image of a lone wolf feeding on an elk carcass in the area. Only one wolf was seen over several different nights so it is unknown if the wolf is a member of the known pack or the animal is a new lone disperser into the area.

Disease tracking
CPW biologists and veterinarians have analyzed scat (feces) samples and determined that several members of the pack in northwest Colorado are positive for eggs of the tapeworm Echinococcus canadensis. This parasite can lead to hydatid disease in wild and domestic ungulates. These tapeworms have been found in wolves in Wyoming, Montana, and Idaho. Hydatid disease has not been widely seen in Colorado but testing has been limited. CPW is increasing monitoring for hydatid disease including collecting and analyzing coyote scat to establish baseline data.

While Colorado Parks and Wildlife is working to monitor wolves, follow up on wolf sighting reports, and track disease, it is important to note that wolves in Colorado remain under the jurisdiction of the U.S. Fish and Wildlife Service. Wolves are a federally endangered species in Colorado and until that designation changes, all wolf management is under direction of the federal government. Killing a wolf in Colorado is a federal crime and can be punishable with up to a year in prison and a $100,000 fine.

Related Links:
Colorado wolves - Colorado Parks & Wildlife
Wolf Watch - by Cat Urbigkit, Pinedale Online!

---
UW Trustees approve fall semester return plan (posted 6/11/2020)
A mixture of in-person and online courses
The University of Wyoming intends to restart on-campus educational experiences this fall, with a mix of in-person and online courses and measures to reduce the risk of COVID-19 transmission.

The UW Board of Trustees approved a plan for students to return to campus for the fall semester, contingent upon securing funding for implementation from the Coronavirus Aid, Relief and Economic Security (CARES) Act through the state of Wyoming. Governor Gordon is currently reviewing the University's funding request.

Under the plan, classes will begin August 24 and end December 4, as scheduled. However, students will not return to campus after Thanksgiving; all courses will move to fully online instruction beginning November 23, and final exams will take place through distance technologies.

Related Links:
UW COVID-19 webpage
UW Trustees Approve Fall Semester Return Plan
UW Plan to restart campus and restore normal operations (PDF)

---
Business Directory
Click here for
Advertising Information