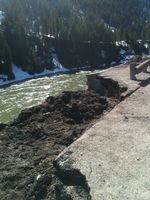 Road damage to US 26-89 in the Snake River Canyon as of Friday, March 24, 2017. Photo by Bob Rule, KPIN 101.1FM Radio.

Snake River Canyon road damage (posted 3/24/17)
Pinedale Online!
The Wyoming Department of Transportation has been monitoring road damage to US 26-89 in the Snake River Canyon due to saturated soil conditions. The highway is open, but a detour had to be put in after part of the road failed in mid-March. The slide area is about two miles south of Hoback Junction. Maintenance crews noticed fissures that were as wide as four inches and as deep as two feet in the Deer Creek Landslide Mitigation area near milepost 139. Two-way traffic is still operating through the detour area. WYDOT is advising travelers to use extreme caution when traveling through this area and to be prepared for potential delays. For the latest information on road closures and other travel information, motorists can visit WYDOT's 511 Travel Information web page at www.wyoroad.info.

Related Links:
WYDOT monitors movement on US 26-89 March 17, 2017

---
Amazon planning nationwide sales tax collection starting April 1 (posted 3/24/17)
Amazon (NASDAQ:AMZN) will start collecting sales taxes from all states with a sales tax beginning April 1, 2017. After April, the only states in which AMZN will not collect taxes are Alaska, Delaware, Oregon, Montana and New Hampshire, which do not have sales levies. Many shoppers do not realize that even if an online retailer does not assess a sales tax because it lacks a brick-and-mortar location in their home state, the state may require payment of taxes on a purchase. States that assess use taxes, which apply to items bought outside one's state of residence, provide ways to report the tax but the reality is that most have been lax in collection.

Related Links:
Amazon to collect tax from Wyoming retail sales beginning March 1, 2017 Governor Matt Mead news release, January 17, 2017

---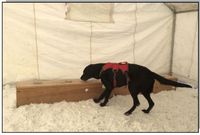 Sniffer Dog. Ripley, a six-year old black lab, works on fecal samples taken from cow elk at Wyoming's feed grounds to identify brucellosis. Photo by Jared Rogerson.

Can dogs smell brucellosis? (posted 3/24/17)
Wyoming Game & Fish Department
Wyoming Game and Fish Brucellosis-Feedground-Habitat personnel are partnering with researchers from Utah State University who are testing the feasibility of using sniffer dogs to identify cow elk that are infected or seropositive for brucellosis. Fecal samples and vaginal swabs were collected at a number of elk feedgrounds. The animals from which samples were collected also had blood drawn and researchers determined which samples to use as the training 'target' based on the results of their bloodwork.

Two dogs, a black lab and an Australian cattle dog mix, were then trained using a ball reward to discriminate between samples taken from seropositive and seronegative elk.

This project has several goals. Currently, there are few tests for brucellosis in elk that can be conducted quickly in the field. If sniffer dogs can accurately identify infected or seropositive elk, they could provide wildlife managers with another research tool.

The broader implications of this work are that disease detection in wildlife could be conducted without the need to capture and handle animals. For instance, if the question is, "Are any of the animals in this herd sick?" scat samples could be collected by people (with or without dogs) where the animals have recently been. These samples could be taken to another location where trained sniffer dogs run past them, and if they alert to any of the samples, you would have reason to suspect there are infected animals present on that landscape.

Dogs have been used to detect cancer and other diseases. The science underlying much of this sniffer dog work is that when an animal has a particular illness, there are volatile organic compounds present in their breath, feces, or urine, that are unique to that illness, and that dogs can smell and remember. Results are expected later this year. In the meantime the dogs are training every day!

---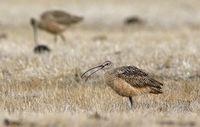 Curlews in Sublette County. Photo by Cat Urbigkit.

Long-billed curlew research (posted 3/24/17)
Wyoming Game & Fish Department
The Wyoming Game and Fish Department is excited to announce that they have received funding allowing them to continue their long-billed curlew research in Wyoming. The research, initiated in 2015, is being conducted in partnership with the Intermountain Bird Observatory of Boise State University and is part of a larger study including the states of Wyoming, Idaho and Montana.

Research to date has shown that some of the highest densities of nesting long-billed curlews can be found in the wet meadows of the Daniel/Pinedale area. Researchers have already collaborated with many area landowners to document nesting curlews and hope to partner with these and additional willing landowners to expand their research.

"We already knew that curlew numbers in this region were some of the highest recorded in Wyoming, based on a previous study of breeding curlews in Wyoming conducted in the Horse Creek and New Fork areas in the early 1980s," said Wyoming Game and Fish Department Nongame Biologist Susan Patla. "It was reassuring to learn that numbers remain robust and that the abundance of curlews we found in 2015 was higher in Daniel compared to the other study areas in the region."

New funding this year through the Wyoming State Wildlife Grants program will allow researchers the opportunity to revisit this landmark study from 2015 to add a second year of data collection to better understand how curlew abundance and reproductive success varies between years and different weather conditions. Thanks to support from many additional partners, including the Meg and Bert Raynes Wildlife Fund, the Wyoming Wildlife Foundation, Teton Conservation District, Bureau of Land Management and private donations, researchers will also be able to study curlew reproductive success in the Jackson area in 2017 – specifically on the National Elk Refuge and the Kelly hayfields area of Grant Teton National Park. Researchers also plan to deploy up to 11 additional satellite transmitters on breeding curlews in several areas across the state.

"An important thread we've seen so far in our research is the importance of working lands, such as flood-irrigated fields, in both breeding and wintering grounds for curlews," says collaborator Jay Carlisle, Research Director at the Intermountain Bird Observatory. "Curlews defend territories during the breeding season and typically return to the same territory they held in the previous year. Traditional ranching and farming practices can be beneficial for curlews and these birds often do well in areas where the vegetation has been grazed to lower heights. Curlews also forage for insects on these agricultural lands."

Researchers will again be seeking permission from private landowners in the Pinedale area for a team of two field biologists to access their land in order to learn more about habitat important for curlews. "With landowner permission, we hope to collect information similar to what we collected in 2015, which was simply to look for and monitor curlew nests, and measure basic habitat features at those nest sites," says Carlisle. "We realize that access to private land is a privilege and would always respect the landowner's rights and wishes at all times."

The research is planned to be conducted from about April 17th through the end of June and would involve traveling on foot to any off-road locations. "Our field biologists will plan to use minimal equipment and would not be altering or removing anything from the landscape or leaving any equipment behind," says Carlisle. "We would like to take photos, but again, only with the landowner's permission."

For those landowners willing to participate in the study or wishing to speak directly with one of the researchers, they can contact Jay Carlisle, Research Director at Intermountain Bird Observatory, (208-830-3363). "As we continue to plan logistics, we may give you a call or stop by your property to discuss the project further once we arrive to the area," says Carlisle. "We sincerely appreciate everyone's interest and willingness to consider providing access to their land."

Related Links:
Curlew Research - Boise State
Curlew on FB - Facebook page

---
Career Fair in Rock Springs March 29 (posted 3/23/17)
Western Wyoming Community College will host a Career and Transfer Fair on Wednesday, March 29, from 10:00AM until 2:00PM in the Atrium of the Rock Springs campus. Admission to the Career and Transfer Fair is free for job-seekers and for students considering college transfer options. This event is a great opportunity to meet with local HR representatives and college admissions counselors. Dress for success and bring résumés.

The following colleges and employers will be on hand:
All Recycling Inc.
Wyoming National Guard
Chadron State College
City of Rock Springs
Department of Workforce Services
Elwood Staffing
Evanston Child Development Center
Manpower
Shopko
Star Valley Medical Center
Sweetwater County Fire Department
Sweetwater County Veteran Services Office
Sweetwater Memorial Hospital
Union Wireless
United States Army
University of Wyoming Outreach School
USDA-NRCS
Utah State University
Volunteers of America
Weber State
Westminster College
Wyoming Department of Correction
WyoRadio
Medicine Bow Technologies
Solvay
Southwest Counseling
Tata
Archrock
McDonalds
Compliance Staffing Agency
Alder
Wells Fargo

---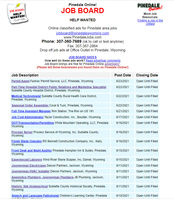 Pinedale Online Job Board

Looking for a job? (posted 3/23/17)
Current listings on the Job Board – March 23, 2017
Pinedale Online!
Looking for a job around Pinedale? We currently have over 25 jobs listed on the Pinedale Online Job Board. These include everything from oil/gas field jobs (Mechanics, CDL Drivers, Roustabouts), waitresses, ranch hands, camp counselors, dishwashers, kitchen help, cooks, store clerks, bus drivers, cashiers, carpenters, concrete form setters and more. Many of these jobs are "Open Until Filled" which means if you see it listed today it is still open, but it could fill at anytime, so get your application in right away if you are interested in it.

To see the current job listings, go to the Job Board at www.pinedalejobs.com. Click on the link of the job title to get to a more complete job description and the company's instructions on how they want applicants to apply for the job (don't contact Pinedale Online to apply - some jobs request no phone calls or walk-ins, please follow their instructions).

Listed jobs as of Thursday, March 23, 2017:
Home Remodeling Handyman, Wind River Stone Scapes, Inc., Closing date: Open Until Filled
Certified Mechanic, White Mountain Operating, Closing date: Open Until Filled
Deputy Clerk Position, Sublette County Treasurer's Office, Closing date: 4/14/17
Part-time Cleaning Assistant, Clean Wash Laundromat, Closing date: Open Until Filled
Servers, Dishwashers, Morning Breakfast and Cleaning, Hostess, and Kitchen Help, Half Moon Lake Lodge, Closing date: Open Until Filled
Seasonal Lead Day Camp Counselor,Pinedale Aquatic Center, Closing date: 4/14/17
Seasonal Camp Counselor, Pinedale Aquatic Center, Closing date: 4/14/17
Recreation Manager, Pinedale Aquatic Center, Closing date: 4/14/17
CDL Driver – Class B, All American Fuel, Closing date: Open Until Filled
Part-Time Custodian, Pinedale Aquatic Center, Closing date: 4/17/17
Part-time Customer Service Attendant, Rocky Mountain Wash, Closing date: Open Until Filled
Water Truck Driver, Mountain States Water Service Inc., Closing date: Open Until Filled
Outfitter, Wranglers, Experienced Cook, Waitstaff , Boulder Lake Lodge, Closing date: Open Until Filled
Full-Time Calving/Ranch Position, Rocking Chair Cattle Co, Closing date: Open Until Filled
CDL/Roustabout, Diamond T Services, Closing date: Open Until Filled
Boulder 353 Regularly Scheduled Route Bus Driver, Sublette County School District #1, Closing date: Open Until Filled
Part-Time Pharmacy Technician, Altitude Drug, Closing date: Open Until Filled
Assistant Manager/Clerk, All American Fuel, Closing date: Open Until Filled
Delivery Driver/Yard Hand, Pinedale Lumber, Closing date: Open Until Filled
CDL Driver, M & M Transfer, Closing date: Open Until Filled
Cashier Daniel Junction, Daniel Junction, Closing date: Open Until Filled
Roustabout & Water Management Positions, R & R Services, Inc., Closing date: Open Until Filled
Experienced Diesel Mechanics Positions, R & R Services, Inc., Closing date: Open Until Filled
Class A CDL Drivers for Water Hauling Positions, R & R Services, Inc., Closing date: Open Until Filled
Carpenters, Carpenter Helper, Concrete Form Setter Finishers, Sluyter Construction, Closing date: Open Until Filled

Related Links:
www.visitpinedale.org
www.sublettechamber.com


---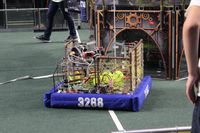 Big Piney High School Robotics Team 3288 participated in the Salt Lake City Regional FIRST Robotics Competition. They placed 7th out of 48 teams. Photo courtesy Big Piney Robotics.

Big Piney Robotics Team competes in Salt Lake City (posted 3/22/17)
Big Piney High School Robotics Team 3288 had the opportunity to participate in the Salt Lake City Regional FIRST Robotics Competition in mid-March where they placed 7th out of 48 teams. Now they are preparing to go to the Denver Regional competition.

FIRST Robotics is a program created to inspire young minds. FIRST stands for For Inspiration and Recognition of Science and Technology. FIRST helps students have hands on experiences to teach them the importance of STEM related careers. As science, technology, engineering, and math (STEM) become more prominent in the world, they—as the rising generation—must keep up.

Every year a new game is created and teams have six weeks to build a robot that will excel in the competition. This year Big Piney High School Robotics team built a robot to fit the challenge "Steamworks". With three teams on an alliance, they worked together to beat the other alliance. Five inch green balls represent fuel. The fuel is scored when it successfully enters the boiler either from the high or low goal. This creates "steam pressure" to help prepare the airship for flight. Robots retrieve and deliver gears to the airship. Two airships are in the middle of the field, one for each alliance. Two pilots are on the airship ready to pull the gears up from the robots and install them so rotors can start turning. At the end of the match ropes are deployed for the robots to climb up.

The team says they are very grateful to have the opportunities given to them and would like to thank everyone for all the support they received. "Without our wonderful sponsors we never would've made it this far. These sponsors include Shell, ExxonMobil, EOG Resources, Jonah Energy, Linn Energy, and Chevron," said team coach, Steve Nelson.

Click on this link for more pictures: Big Piney Robotics Team competes in Salt Lake City

---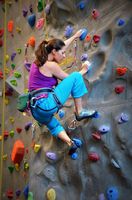 Cheyenne Stewart during the Climbing Competition at the Pinedale Aquatic Center on Monday, March 21st. Photo by Terry Allen.

Climbing Competition - Pinedale Aquatic Center (posted 3/21/17)
Held March 20, 2017
Terry Allen
When Dawn asked me if I'd like to do a story on the PAC Climbing Competition Monday afternoon, I eagerly accepted thinking I might get some great shots of agonized faces from the crow's nest on top of the climbing wall.

Jason Burton, the competition organizer, just started shaking his head as soon as he saw me walk thru the door and kept on shaking it thru my story about having DNA origins to great ape silverbacks in Africa. "No, no, no," he said. "It ain't gonna happen. I can't even get up there without special training and signatures in triplicate that have to be sent to Washington, DC."

He must have sensed I was about to cry, so he offered to climb up there with his camera and get a few shots of climber faces as they fought to gain the summit.

If you look at the wall, you see all the pretty colored hand-holds. It doesn't mean a home decorator did it, it means that each color is a route up the wall. For example, you follow purple all the way from the bottom to the top if you can. You have to drop back down and start over if you step on or grab any other color. You also have to start over if you fall off the mountain.

Don't worry about falling, tho. You have a choice of a human belayer or an automatic belayer. Your buddy stays on the ground and keeps the rope tight so if you fall, you don't fall very far because he/she pulls the rope hard and stops the fall. Since you depend on your buddy, I noticed the belayers on the ground were all totally focused on the climber they were teamed with. I would be a bad belayer, I'm too sociable. I'd talk, you'd hit the dirt. The automatic belayers are sort of like seat belts. They sense a fall and jerk you to a stop pretty quick. There were about 4 or 5 different colored routes and each one had a different degree of climbing difficulty.

Cheyenne Stewart started this sport in grad school. "I chose this because it was the only sport that totally took my mind off school," she said. "It's a great workout and climbing is a mental puzzle that you have to solve by thinking several steps ahead. It is impossible to think of anything else when you do it."

Thomas Mack was busy wrapping a finger with a Popsicle stick and tape. "I smashed it yesterday," he said. "I'm rebuilding a flat head six and somehow whacked it." You might recognize Thomas driving an old blue and white VW bus with a 1937 VW emblem on the front.

Music meant to inspire good climbing was pulsing from a boom box; and athletes cheered each other on from the ground and clapped and yelled when a competitor reached the top especially after a challenging climb.

If some of the photos look a little foggy, it might be because there was a lot of talc powder in the air. They thrust their hands into little bags of the white powder as they climb to keep their hands from getting slippery from sweat. Sweaty hands means falling off the wall if you aren't careful.

I watched Tilly Bennett stop climbing from time to time and strike an artistic pose. It looked to me like she was just stopping to admire the climb. "I was stopping to rest," she said. "You are right, tho. The first time I saw this sport I watched a man climb and I thought he looked like a dancer just dancing up the wall. I wanted to do that. I am seeking an intuitive way to climb where my hands, feet and body move together in a fluid dance. The more ways one can hold or press, the more fluid one can become."

I expected to see a lot of small, monkey sized people at the competition, but there were gorilla and chimpanzee sized folks too. It didn't seem to matter, everyone attacked their routes and became successful over the course of the four hour competition.

The top three finishers were Kole Stewart in 1st, his wife Cheyenne Stewart in 2nd and Jenn Burton in 3rd. There were cash prizes and a whole lot of other prizes donated by the Great Outdoors Shop.

I saw Britney leaving the PAC in her exercise clothes this morning and asked if the competition had taxed her. "Oh yes," she said. "My quads are really sore, but so are my fingers and the balls of my feet. But I feel great."

One last thing before I go, there are quite a few shots of Cheyenne, because she was so darn good. Look at all those different positions she is in as she climbs that wall. There must be a lot to learn by just studying her work.

Thanks to everyone for helping me understand this sport. Thank you very much Dawn Ballou at Pinedale Online for hiring me to do this community story. Please let me know if I need to correct anything in the story. You may take low rez photos from this story for personal use, just credit the photographer, please. Hi rez images are for sale. txpartisan@gmail.com

Click on this link for more pictures: PAC Climbing Competition

---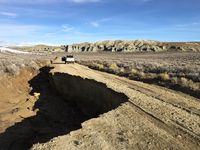 Road damage to Chapel Canyon Road. Photo courtesy BLM.

BLM Pinedale closes Chapel Canyon Road due to flooding (posted 3/20/17)
Bureau of Land Management
The Bureau of Land Management Pinedale Field Office has closed BLM's Chapel Canyon Road where it meets Reardon Draw Road (Sublette County Road 139), approximately 7 miles off Highway 189, due to flooding. Additionally, to the southwest, Chapel Canyon Road is closed at the junction with Yellow Point Road. Out of safety concerns, the BLM respectfully asks the public to honor the closure. Chapel Canyon Road has collapsed in multiple sections.

Road closure signs will be posted at both ends of Chapel Canyon Road. At this time, there is no alternative route to access Chapel Canyon Road. The Pinedale Field Office will advise the public when a repair timeline has been determined.

For more information, contact BLM Law Enforcement Ranger Cody Martin at 307-367-5384.

Click on this link for more pictures: Chapel Canyon Road washout

---
Wolf News Roundup 3/20/2017 (posted 3/20/17)
Cat Urbigkit, Pinedale Online!
Washington
Washington's wolf population grew by 28 percent last year, with a minimum population of 115 wolves in 20 packs, with 10 breeding pairs. With the increased wolf population, state wildlife officials have suggested that managers begin to count "probable" wolf depredations (instead of only "confirmed" depredations) when it comes to considering controlling the animals. Current state policy allows for lethal removal of wolves only after four confirmed depredations, and probable depredations are not considered.

Oregon
Animal damage control officials in Oregon are pulling M-44 sodium cyanide devices designed to kill coyotes after a wolf was unintentionally killed in the northeastern portion of the state. Oregon has eight breeding pairs of wolves, and has moved into Phase 3 of its wolf management plan, which moves the state away from conservation toward more management of wolves in the state.

California
The Pacific Legal Foundation, representing the California Cattleman's Association and California Farm Bureau, has filed a lawsuit contesting the state of California's listing of the gray wolf as an endangered species in the state. Filed in California Superior Court in January, the lawsuit challenges the commission's listing of the gray wolf under the California Endangered Species Act.

The listing took effect on January 1, 2017, a little over a year after a divided commission approved it on a controversial 3-1 vote. The lawsuit challenges the gray wolf listing as illegal on three grounds:

1) The listing is based on flimsy evidence. The listing process was triggered by a single wolf crossing the Oregon border in 2011 — and that wolf has since wandered out of California. Never before has a listing been initiated by a single animal's occasional wanderings into the state. This is why the state Department of Fish and Wildlife recommended against listing.

2) Regulators undercounted the gray wolf's numbers. In violation of the California ESA, the omission looked only at the wolf's numbers in California, ignoring healthy wolf populations elsewhere. Indeed, the wolf's overall status has improved to the point that the federal government is moving toward removing the species from its own "endangered" list.

3) The gray wolf is not covered by the law. The California ESA is limited to native species and subspecies. Yet the gray wolves addressed by this listing are originally from Canada; they represent a subspecies that was never historically present in California. Last week, environmental groups filed a motion to intervene in the lawsuit. The Environmental Protection Information Center (EPIC), the Center for Biological Diversity, Environmental Protection Information Center, Cascadia Wildlands and Klamath-Siskiyou Wildlands Center, are represented by Earthjustice.

Arizona
The Arizona Livestock Loss Board has instituted a four-step process for obtaining reimbursement for wolf depredation of commercial cattle. Click on the link below to learn about the process.

For information about all these stories, please see the links below.

Related Links:
Washington - KAPPtv.com
Washington wolf management - Capital Press
Oregon M-44s - Ag Web
Oregon wolf management - Baker City Herald
California - Times Standard
Arizona - Livestock Loss Board
Wolf Watch - By Cat Urbigkit, Pinedale Online!

---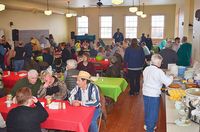 A good crowd turned out fot the Daniel Daniel Chili Cookoff on March 18th. Photo by Terry Allen.

Aniel Daniel Chili Cook-off Number 35 (posted 3/19/17)
Silent Auction and Live Dessert Auction Fundraiser held March 18, 2017
Terry Allen
Daniel, Wyoming's 150 residents live scattered in among the willows, meadows and the multitude of little streams that branch off the Green River as it hits this wide spot on each side of the two-lane road we call highway 189.

I parked my pickup in front of the restored 1920 Daniel Schoolhouse where the Chili Cook-off was being held, but a boy's laughter, a goat's bleating and a dog's barking caught my attention. Off to my left, Daniel Shon Lee and his four-footed friends were running back and forth next to the ancient log cabin they call home. I walked over to introduce myself and get a picture if I could and discovered I knew Daniel, his Mom and one dog, but not Mr. Lee, two more dogs and all dozen goats. Fortuitously, I arrived at baby goat feeding time and Mrs. Lee had put some baby goat formula into a Best Damn Apple Beer bottle with a nipple on it. It sure was fun trying to take a picture or two you all would enjoy.

I found a shy cowboy and talked him into posing on the front steps of the schoolhouse because I thought it would be cool. "You can just call me Black Hat," he said when I asked him his name.

Inside, there were 13 red chilis and 7 green chilis ready to be judged by Brandi, Doug, Mike and Jim. A little leprechaun named Abigail Pinkerton happily posed in front of her crockpot of Red Irish Chili. "It was easy," she said. "I only had to pour in cans, add salt, pepper and salsa."

Joseph and Mary said hi again, because I'd met them earlier in the day at Ridley's buying ingredients for their chili submission. They had told me they had gotten the idea at noon and the judging was to start at 5:00 pm. But here they were ready. I tried to get close for a sniff of their pot, but Bettina Sparrowe who was acting as Chili Cop chased me away. On my honor not to talk to the judges, she let me back in to the Crockpot Corral to take a few close up photos of the judges at work. Doug wouldn't smile for a photo so I figured him as a Hanging Judge. But Brandi smiled at me sweetly and I plumb forgot my promise to Bettina and I moved in a little closer without even meaning to. That's when Bettina threw me out for good.

I was working my way thru the crowd looking for a good photo when someone stuck out their foot and tripped me. It was little Daisy and that's how I met her Mom Jana Early. "I got up at 6:00 am this morning and put it in the crockpot to work," she said. "I'd roasted green chilis, tomatillos, garlic and onions earlier."

Next table over sat Charley and Elsa Engler. "We got the idea about 10:00 am and I talked Elsa into entering," said Charley. "She's got a little Mexican in her so it might be a little spicy."

Bettina got on the loud speaker and announced the winners of the chili contest. Joseph and Mary won for the best red chili and Jana Early won for the best green chili. When the overall winner was announced, Joseph and Mary jumped to their feet and gave each other high-10's. They were so amazed. When I had bumped into them at the grocery around noon they had joked about winning and of course I thought it would be a perfect story. So, what made their chili the winner? "15 spices from Ethiopia," said Joseph. "We've thought about entering this contest for years," said Mary. "We usually have to order the spices online for the chili and other dishes we make at home."

I was the last in line for food as usual (which is why I usually get to eat for free), so when I got to the winning red and green chili crocks they had been scraped almost clean. I used a teaspoon to get in the corners and I got enough to know why they had won. Totally new taste sensations, in my opinion. I also tried the elk chili Jeff made, the hot chili Elsa made and of course had to try the Irish Red that Abigail made…all delicious. I tried some more but can't remember because…beer. Everyone is so nice to photographers in these parts.

Doggone Dave Stephens knows how to auction off pies. $180 for a pie? There were dozens of pies and cakes and other pastry-like looking items that Dave worked so hard, he had to take off his hat every once in a while and wipe his brow. One lady was working her Copenhagen can getting it ready for a pinch, as hard as Dave was working the room. Dave kept thinking she was bidding so they kept up an entertaining back and forth till they figured it out and she finally gave up and bought a pie.

All the money raised goes to maintain the historic schoolhouse so even if it is hard to imagine a pie being worth $180 bucks, the schoolhouse sure is.

A big thanks to Dawn Ballou at Pinedale Online for hiring me to create this historic photographic document. I hope someone in a hundred years reads it and gets a flavor of our community…and maybe a chuckle.

The low rez images off this site may be used for personal purposes. High resolution images may be purchased. txpartisan@gmail.com

Click on this link for more pictures: Aniel Daniel Chili Cook-off Number 35

---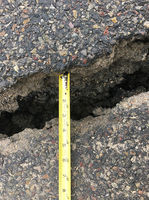 Road damage on US 26/189 in the Snake River Canyon.

WYDOT monitors movement on US 26-89 (posted 3/17/17)
Wyoming Department of Transportation
Road update, Saturday, March 18, 2017, 5:40PM: US 26/89-Snake River Canyon Road between Alpine and Hoback Junction has reoopened. Please drive with care. Road may be closed at any time by WYDOT should conditions worsen. Road damage being caused by saturated subsoils. Geologists are closely monitoring the status.
Road update, Friday, March 17, 2017, 8:33PM: US 26/89-Snake River Canyon Road - is CLOSED between Alpine and Hoback Junction due to road damage. The Wyoming Department of Transportation is cautiously monitoring movement on the highway about 2 miles south of Hoback Junction. Maintenance crews have noticed large fissures as wide as 4 inches and as deep as 2 feet in the pavement in the Deer Creek Landside Mitigation area near milepost 139. Estimated opening time after noon March 18. For more information on closures and weather conditions, please visit www.wyoroad.info or see this news release.
____________________________________________

The Wyoming Department of Transportation is cautiously monitoring movement on US 26-89 through the Snake River Canyon about 2 miles south of Hoback Junction.

Maintenance crews have noticed large fissures as wide as 4 inches and as deep as 2 feet in the pavement in the Deer Creek Landside Mitigation area near milepost 139.

WYDOT Maintenance Foreman Bruce Daigle said the movement is being caused by saturated material under the pavement, due to the unusually high amounts of precipitation the area received through the winter.

"The water underneath the road is causing saturated material to move," Daigle said.

WYDOT geologists have been on site and will continue to measure and monitor the movement of the road.

"It's definitely moving, the guardrail is sinking too. We are watching very closely," Daigle said.

The section of movement is in the northbound lanes, roughly 100 feet long and 30 feet wide. The Snake River Canyon currently remains open, but is currently under a falling rock advisory.

WYDOT is advising travelers to use extreme caution when traveling through this area and to be prepared for what could become an extended closure. WYDOT will not hesitate to close the canyon if conditions deteriorate and become unsafe for the traveling public.

"If the roadway fails, we will have to immediately initiate a full closure until it dries out a little. Then we will immediately go to work determining how to best go about opening the canyon. It could be an extended period of time," Daigle said.

WYDOT crews are already mobilizing equipment and crews in anticipation of the failure and have already put together a plan for a temporary detour around the shoulder to maintain two-way traffic, if possible.

WYDOT is recommending residents and commuters take note of the situation and be prepared for any possible temporary or extended closure. Motorists should allow ample time to reach their destinations and obey all advisories and closures.

WYDOT would like to remind drivers to slow down when driving in adverse conditions, be alert and cautious of roadside workers and obey all traffic control devices. For more information on closures and weather conditions, please visit WYDOT's 511 Travel Information web page.

For more information concerning WYDOT activities, contact Stephanie Harsha, public involvement specialist, WYDOT District 3, (307) 352-3065.

Source: http://www.dot.state.wy.us/news/wydot-monitors-movement-on-us-26-89

---
Pre-Flooding advisory – be prepared (posted 3/17/17)
Sublette County Emergency Management
SUBLETTE COUNTY, WYOMING, March 17, 2017: According to the National Weather Service office in Riverton, temperatures throughout Sublette County are expected to rise considerably this week compared to previous weeks. Most areas have received well-above-average snowfall this Winter, leading to an increased potential for flooding as snowmelt begins to affect snow in the lower elevations.

Many areas can expect to have localized flooding in the valleys as snow melts, causing saturated soil and pooling near low-lying areas. Homes with basements may experience basement flooding, largely due to subsurface water seeping through basement walls, and collecting in window wells.

As warmer temperatures begin to affect the upper elevations, this can dramatically increase flow rates in rivers and streams. Waterways are being monitored continuously for flood risk in populated areas.

Sublette County Emergency Management will be focused mainly on critical infrastructure protection. We are also coordinating with local municipalities to ensure that needed resources are on hand.

Stay informed
Residents are encouraged to stay informed by monitoring the National Weather Service - Riverton forecast office (www.weather.gov/riw), radio, and social media @Sublette County Emergency Management. SCEMA will give updates as situations change throughout the area.

Prepare your home
If you know that you are at risk of flooding, it is imperative that you take early action to protect your home and property before the flooding begins. Move equipment and valuable items to higher ground, create barriers, and have flood insurance if you live in the floodplain. Have supplies and tools on hand to make additional provisions if needed. Ultimate responsibility for homes and property lies with the owner.

If you are affected by flooding
If flooding occurs in basements, pumps may be used to force water back outside your home, and to mitigate further damage to property. Channel water away from your home by digging trenches or using barriers, these are all responsibilities of the property owner.

Report major flooding through Sublette County Sheriff's Office dispatch at (307)367-4378 or Sublette County Emergency Management at (307)367-2284

Empty sandbags and sand for Big Piney/Marbleton and surrounding areas will be available to the public at the Marbleton Town Hall, on the east side of the building. Empty sandbags and sand, in the Pinedale Area, are located at 321 S Sublette Ave in Pinedale. Soon there will be sand and Sandbags at the Bondurant Elementary School. Please sign out the number of bags that you take and fill.

Definitions:
Advisory - An advisory is an informational statement. Advisories give a "heads up" to help you know what may be possible in the short term so that you can take it into account when planning your daily activities.
Watch - A watch is issued when conditions are favorable for a significant weather event. When a watch is in effect, you should prepare yourself for in case action needs to be taken during an event.
Warning - Warnings are issued when a severe weather event is occurring or is imminent. This signifies the time to take immediate action.

For additional information, contact:
Jim Mitchell Sublette County Emergency Management Agency
SCSO Dispatch 307-367-4378 or SCEMA 307-367-2284

---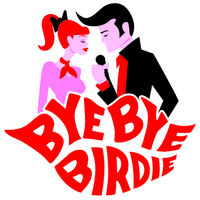 Pinedale High School performs musical 'Bye Bye Birdie' March 24 & 25 (posted 3/15/17)
Tickets on sale now
Pinedale High School will present the musical "Bye Bye Birdie" on Friday and Saturday, March 24 & 25th at 7:00PM in the Pinedale Auditorium. Tickets are $5/seat. Tickets can be purchased at the high school front office, NAPA, Office Outlet in Pinedale, or from any cast member.

---
Business Directory
Click here for
Advertising Information