Pine Creek Flood Warning Update (posted 6/23/17)
Sublette County Sheriff's Office and Sublette County Emergency Management joint media release
Sublette County Emergency Management Agency (SCEMA) continues to monitor flows on Pine Creek above and below Fremont Lake in Sublette County.

In the 22 June data from seoflow.wyo.gov, Pine Creek flows below the lake have been over 1568 cfs or ft³/sec at 12:45 pm. Flow for the same time period into the lake have been 2560 cfs. As the lake fills there becomes less of a cushion and water levels are rising. Currently with the radial gates open and irrigation taking all they can, water has started to go through the spillway at about 8 inches in depth. There has been no compromise in the integrity of the dam.

As the snow pack continues to melt, water in Pine Creek from Fremont Lake down through Pinedale will continue to rise as the lake equalizes its inflow vs outflow.

Please check the Sublette County Emergency Management, and Sublette County Sheriff's Office Facebook pages for updates. SCEMA will also be sharing updates with Pinedale Online and KPIN Radio (101.1FM). Also flood warnings can be heard on NOAA radio.

Citizens in Sublette County, both Snow Birds and year-round residents can receive alerts from SCEMA and the SCSO upon signing up. Click this link to start being notified of any natural or manmade incident that could affect you and your family http://public.alertsense.com/SignUp/?regionID=1075

---
Flood Warning continues for Green and New Fork Rivers (posted 6/23/17)
National Weather Service - Riverton Wyoming
FRIDAY, JUNE 23, 2017, 3:36PM: The National Weather Service in Riverton has extended the Flood Warning for Rain and Snowmelt in South central Sublette County in west central Wyoming, East central Lincoln County in west central Wyoming until 615 PM MDT Saturday, June 24.

At 325 PM MDT, the Green River near La Barge was holding nearly steady just below 10.0 feet. Flood Stage is 9 feet and moderate flooding begins at 10.0 feet. The river is expected to rise to around 10.1 feet by Saturday afternoon before dropping to around 9.8 feet later on Sunday. This 10.0 foot level is similar to the crest experienced earlier in June 2017. Widespread minor lowland flooding is likely near the river. Area roads that could be impacted by the flood waters include Lincoln County Road 318 near La Barge and Whalen Road.

At 330 PM Friday, the New Fork River near Big Piney was up to 7.8 feet. This reading is just below Flood Stage of 8.0 feet but still above Action Stage of 7.0 feet. The river level is expected to fluctuate between about 7.9 and 7.1 feet through the weekend, falling below action stage by Sunday night.

Recreation of any kind is strongly discouraged on or along either the Green or New Fork rivers and their tributaries.

Even with cooler weather expected for this weekend, this flood warning may eventually be extended through Sunday due to the continued high water on the Green River near La Barge.

PRECAUTIONARY/PREPAREDNESS ACTIONS
Flooding is occurring or is imminent. It is important to know where you are relative to streams, rivers, or creeks which can become killers in heavy rains. Campers and hikers should avoid streams or creeks.

Related Links:: Flood Warning for Pine Creek through Pinedale (5 photos)
Pinedale High Water and Flooding Update By Terry Allen, Pinedale Online, June 22, 2017 (22 photos)

---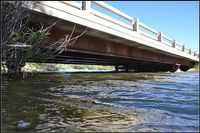 High water warnings are out for Pine Creek through Pinedale. Water recreation on Pine Creek is not recommended at this time. Water is flowing swiftly and is very cold. There is very little clearance under bridges. Photo taken Thursday, June 22. Photo by Terry Allen.

Pinedale High Water and Flooding Update (posted 6/22/17)
Terry Allen
Thought I'd write 22,000 words in picture form and see how you all liked it. That's 22 pictures times 1000 words (a picture is worth a thousand words).

The only picture my plan doesn't seem to work on is Jim Mitchell's picture. He's our Emergency Management Coordinator for Sublette County, so I'll add a few more words.

There are 5 computer monitors on his desk and two smart phones. He also has radios/scanners of course. Jim fingers flew like a piano maestro on a keyboard that could access all 5 screens. While I was there Jim showed me fresh satellite images of road washouts, potential washouts, high water readings at various places in the county. He gets a water height reading for all locations every 15 minutes. He can zoom in on the leaning aspen tree north of Harmony bridge which is a threat to tubers and other recreational water users.

Another reason creek and river use is restricted is the bridge clearance. With only a foot...more or less of clearance, drift boats, tubers and others could find themselves in a bad situation in a hurry. Jim asks that all boaters on lakes or hikers along streams to call in trees and other floating debris that could be a safety hazard.

Take a look at the big water coming out of Fremont lake dam. Jim said, right now water is coming out at 2932 cubic feet per second. That is like 2932 basketballs coming at you in one second. No matter what kind of a superman you think you are...you can't handle that.

Jim asks that everyone sign up for the Sublette County Citizen Emergency Notification System. You can access the notifications to your computer and also your smart phone. If you screen calls like I do, the number that will call you is 307-200-4366. Here is the link: http://public.alertsense.com/SignUp/?regionID=1075

You can also become a member of https://www.facebook.com/Sublette-County-Emergency-Management-579372758805868/ There is some great information there and great videos from around the county.

Click on this link for more pictures: Pinedale High Water and Flooding Update

---
Grizzly delisting coming soon (posted 6/22/17)
U.S. Fish & Wildlife Service press release
Due to the success of conservation efforts and collaboration among a variety of stakeholders, U.S. Secretary of the Interior Ryan Zinke announced today (Thursday, June 22, 2017) that the Yellowstone population of the grizzly bear has been recovered to the point where federal protections can be removed and overall management can be returned to the states and tribes. The population has rebounded from as few as 136 bears in 1975 to an estimated 700 today and meets all the criteria for delisting.

"As a kid who grew up in Montana, I can tell you that this is a long time coming and very good news for many communities and advocates in the Yellowstone region," said Secretary Zinke. "This achievement stands as one of America's great conservation successes; the culmination of decades of hard work and dedication on the part of the state, tribal, federal and private partners. As a Montanan, I'm proud of what we've achieved together."

The Greater Yellowstone Ecosystem (GYE) Distinct Population Segment (DPS) consists of portions of northwestern Wyoming, southwestern Montana and eastern Idaho. Grizzly bear populations outside of this DPS in the lower 48 states will be treated separately under the ESA and will continue to be protected.

The GYE grizzly bear population is one of the best studied bear populations in the world thanks to the longstanding efforts of the Interagency Grizzly Bear Study Team (IGBST). Population and habitat monitoring efforts undertaken by the IGBST indicate that GYE Grizzly Bears have more than doubled their range since the mid-1970s. They now occupy more than 22,500 square miles, an area larger than the states of New Hampshire, Massachusetts and Connecticut combined. Stable population numbers for grizzly bears for more than a decade also suggest that the GYE is at or near its capacity to support grizzly bears. This decision by the U.S. Fish and Wildlife Service (USFWS) was informed by over four decades of intensive, independent scientific efforts.

The GYE grizzly bear population was determined to be recovered because multiple factors indicate it is healthy and will be sustained into the future. These factors include not only the number and distribution of bears throughout the ecosystem, but also the quantity and quality of the habitat available and the states' commitments to manage the population from now on in a manner that maintains its healthy and secure status.

In addition to this final rule, the USFWS will also release a final supplement to the 1993 Grizzly Bear Recovery Plan for the Yellowstone Grizzly Bear population. The Conservation Strategy that describes management of the grizzly bear following delisting was finalized by the Yellowstone Ecosystem Subcommittee of the IGBC in December of 2016.

The final rule, and the supporting documents, will publish in coming days in the Federal Register and the rule will take effect 30 days after publication.

More information can be found at the link below.

Related Links:
Grizzly Bear information - U.S. Fish & Wildlife Service

---
76th Annual Bondurant BBQ June 25 (posted 6/21/17)
The community of Bondurant will host its 76th Annual Bondurant BBQ on Sunday, June 25, 2017 at St. Hubert the Hunter Church. Everyone is invited! Church services will begin at 11AM. The BBQ lunch begins at 12:30PM. Cost is $10 for adults and $5 for kids 12 and under. They will have two whole beef-luau style, desserts and all the fixings. There will be live music during the lunch. Face painting and kids events. Bondurant is located about half way between Pinedale and Jackson, Wyoming, on US 191. Bring your family and friends for a great community event. More info: www.bondurantwyoming.org

---
BLM begins prescribed burn on Ryegrass Fire Project (posted 6/19/17)
Smoke may be visible southwest of Daniel
Bureau of Land Management
The BLM started their prescribed Ryegrass Fire Project today (Monday, June 19, 2017), which is located 1-5 miles southwest of Daniel, Wyoming and consist of three areas containing approximately 50 acres of mountain big sagebrush. Fire operations will focus on the removal of an overstory canopy in order to create openings for other plants and shrubs that are beneficial to the local habitat.

Smoke may be visible to the public at some times. For inquiries, contact or stop in to the BLM Pinedale Field Office, 307-367-5350.

---
Montana wolf population strong (posted 6/15/17)
Montana Fish, Wildlife & Parks
Wolf numbers in Montana remained healthy in 2016 and more than three times the federally-mandated minimums.

Montana's annual wolf report shows a minimum of 477 wolves were counted for 2016. This is down from 536 wolves counted in 2015, but doesn't necessarily reflect a reduction in wolf numbers, but rather a reduction in counting effort. Included in this number is a minimum number of 50 breeding pairs. This compares to a minimum count of 32 breeding pairs in 2015, and 34 breeding pairs in 2014.

"Though the minimum count is down, we've long held that these minimum counts are useful only in ensuring Montana's wolf population stays above the federally-mandated minimum threshold. The minimum count is not a population count or an index or estimate of the total number of wolves," said Bob Inman, Montana Fish, Wildlife and Parks carnivore and furbearer program chief.

The actual wolf population in Montana is hard to pin down, but FWP employs another counting method that get closer. The Patch Occupancy Model, or POM, incorporates data on territory and wolf pack sizes, along with hunter observations and known wolf locations to get to a more accurate estimation of wolf populations.

The most recent POM estimate from 2014 was 892 wolves in Montana, about 61 percent higher than the minimum counts from that year. Data for 2015 and 2016 POM counts of Montana's wolves are being compiled and will be analyzed this summer.

The other benefit of the POM method is it's a much cheaper undertaking since it incorporates data analysis rather than direct counting efforts.

During the 2016/2017 wolf hunting and trapping season, 246 wolves were harvested – 163 by hunters and 83 by trappers. This is the highest harvest to date, but only 16 wolves higher than the 2013/2014 season. 2016 also saw 57 confirmed wolf livestock depredations – 52 cattle, five sheep. This is down from 64 in 2016.

The recovery of the wolf in the northern Rockies remains one of the fastest endangered species comebacks on record and a real success story. Montana's wolf population remains healthy, well distributed and genetically connected. In the mid-1990s, to hasten the overall pace of wolf recovery in the Northern Rockies, the U.S. Fish and Wildlife Service released 66 wolves into Yellowstone National Park and central Idaho. FWP began monitoring the wolf population and managing livestock conflicts in 2004. After several court challenges wolves were successfully delisted in 2011.

The delisting of wolves in 2011 allows Montana to manage wolves as it does any other game species, which is guided by state management plans, administrative rules and laws.

Related Links:
Montana wolves - Montana Fish, Wildlife & Parks
Wolf Watch - by Cat Urbigkit, Pinedale Online!

---
Beware IRS and Power Bill Scams (posted 6/15/17)
Sweetwater County Sheriff's Office
ROCK SPRINGS, WYOMING - The Sweetwater County Sheriff's Office issued an upgraded warning about two ongoing scams circulating in the county.

The first involves telephone calls from people claiming to be agents of the Internal Revenue Service, demanding payment of (allegedly) delinquent income taxes.

The pattern is for the caller to insist on prompt payment through a credit or debit card or a wire transfer. If the person called refuses or begins asking questions, the caller often threatens a visit from law enforcement, arrest, arrest of a spouse, or a driver's license revocation.

Sheriff Mike Lowell said the callers use fake names and sometimes even provide a bogus IRS badge number. They may even know the last four digits of their intended victim's Social Security number, all in an effort to make the swindle sound more convincing.

Genuine communications from the IRS begin with a letter, not a phone call. Other tipoffs that such calls are a scam include the following:

- Knowledge of the intended victim's Social Security number or its last four digits.

- Recitation of the bogus IRS agent's badge number.

- During the call, the sound of other, similar conversations can be heard in the background.

- The caller becomes rude and hostile and hangs up.

- Follow-up calls from a different person claiming to be an IRS agent.

Authorities make the following recommendations to those who receive such calls: If you actually owe on your federal income taxes or think you might owe, contact the IRS directly at 1-800-829-1040 to speak with a genuine official about your tax issues.

If you know you don't owe any income taxes, call 1-800-366-4484 to report the caller to the Treasury Inspector General for Tax Administration.

The second scam strategy concerns bogus calls in both Rock Springs and Green River, purportedly from the power company, warning you that your electric bill is overdue and must be paid immediately with a credit or debit card, a MoneyGram, or a pre-paid card to avoid service interruption; the scammers are after not only the amount of the phony "payment," but your credit and/or debit card information.

The best strategy here to avoid being defrauded is simple and straightforward: hang up and contact the power company directly - obtaining the telephone number from its website or from the phone book - to check on the status of your account.

---
Rock Springs to get new general aviation airport facility (posted 6/13/17)
ROCK SPRINGS, WYOMING – Wyoming Governor Matt Mead and other dignitaries will be in Rock Springs on Tuesday, June 13th for a groundbreaking ceremony at the Rock Springs-Sweetwater County Airport. The ceremony is for the new General Aviation Terminal and Hangar Facility that replaces the outdated structure that was built in the 1920s. The $5.4 million project is 100% grant funded by the Wyoming Business Council, Federal Aviation Administration, and WYDOT Aeronautics Division, with no local match required. General aviation traffic accounts for a significant portion of the airport's operating revenue. The new facility is expected to be operational by April, 2018.

Click on this for more details on this story: Gov. Mead to Speak at New General Aviation Terminal Groundbreaking. by Katie Glennemeier, Sweetwaternow.com, June 12, 2017

---
Senate Western Caucus applauds end of ban on U.S. beef imports to China (posted 6/13/17)
Senate Western Caucus media release
U.S. SENATE — The Senate Western Caucus, chaired by U.S. Senator Steve Daines, today (Monday, June 12, 2017) applauded the end of the 13-year ban on U.S. beef imports to China.

U.S. Senator Steve Daines (R-MT): "For the first time in 13 years, Montana beef will now be served on menus, plates and in Chinese households. China is the world's second largest beef market. After my two official trade missions to Beijing, including pressing the Chinese Premier and endless conversations with the Trump and Obama administrations – the ban is over. Montanans know U.S. beef is the highest quality in the world and now our producers can compete on a level playing field. On my next trip to Beijing I look forward to seeing Montana beef on the menu."

U.S. Senator John Barrasso (R-WY): "This is a huge step forward for American producers who have been shut out of the market for more than a decade. After recently traveling to China to meet with Chinese Premier Li on this issue, I'm pleased he worked with the Trump administration to make this a reality. Ranchers in Wyoming will now have access to a larger market to sell our high-quality American beef."

U.S. Senator Mike Enzi (R-WY): "One of the world's largest markets is now open for Wyoming beef business. We are proud of our Wyoming ranchers. The opportunity to export our beef to over a billion people in China could make a real difference for those around the Cowboy state."

On May 12, 2017, an agreement was reached to open Chinese markets to U.S. beef no later than July 16, 2017.

On April 5, 2017, 39 Senators signed a letter to President Donald J. Trump asking him to prioritize reopening China's market to U.S. beef in his discussions with Chinese President Xi Jinping.

On September 22, 2016, the process was started to end the ban on U.S. beef that began in 2003.

---
Wolf News Roundup 6/12/2017 (posted 6/12/17)
Cat Urbigkit, Pinedale Online!
Wolves Killed In Predator Zone
As of Friday, June 9, there have been 11 wolves legally killed in Wyoming's predator zone since wolves were removed from federal protection on April 25, according to Kennith Mills with the Wyoming Game & Fish Department. That number includes wolves killed through depredation control actions as well as legal hunter harvest in the predator zone.

At the present time, wolf hunting is NOT allowed in the Trophy Game Management Area (TGMA). The TGMA is where the vast majority of wolves in Wyoming live and there is not an established hunting season in place. WG&F's proposed hunt area quotas and hunting regulations are expected to be finalized in late July.

Wolves outside the TGMA are considered predatory animals as defined in state law and therefore can be harvested. Any wolf harvested in the predator zone must be reported to the Game and Fish within 10 days of harvest, this can be done by phone. WG&F would like to obtain a genetic sample from each harvested wolf. WG&F does not manage wolves outside the Trophy Game Management Area.

Montana
Montana wildlife officials are making plans to change the way wolves are counted, easing away from trying to count every wolf in the state to using hunter sightings to help map out areas occupied by wolf packs.

Oregon
The Oregon Cattlemen's Association has given notice that it intends to sue the U.S. Fish & Wildlife Service for its failure to move forward with removing wolves from the list of federally protected species in the Lower 48.

Washington
Wolves are moving into the western portion of Washington state, 100 miles from the closest known wolf packs. State wildlife officials are investigating recent sightings and photos.

Red & Eastern Wolves
A team led by University of Idaho researchers is calling into question a widely publicized 2016 study that concluded eastern and red wolves are not distinct species, but rather recent hybrids of gray wolves and coyotes. In a comment paper that published this week in the journal Science Advances, the team examines the previous study and argues that its genomic data and analyses do not definitively prove recent hybridization — but rather provide support for the genetic and evolutionary distinctiveness of red and eastern wolves.

Wisconsin
Wisconsin's wolf population has grown six percent in the last year, and now totals about 950 animals, according to the most recent population county by state wildlife officials. Along with the population increase has been a rise in hunting dog deaths caused by wolves, with state officials paying out nearly $100,000 in compensation.

For more information, check out the links below.

Related Links:
Montana - Great Falls Tribune
Oregon - Capital Press
Washington - King 5 TV
Red & Eastern wolves - University of Idaho
Wisconsin - State Journal
Wolf Watch - by Cat Urbigkit, Pinedale Online!

---
Road damage across the Bridger-Teton (posted 6/9/17)
Bridger-Teton National Forest
JACKSON, WYOMING, June 8, 2017 – The U.S. Forest Service Bridger-Teton National Forest has been working to address many road failures due to the snowmelt and spring runoff brought on by recent warmer temperatures.

Several roads, trail and one campground have become impassable as a result of floods, landslides, or washouts. Failed roads that present a public safety concern are typically closed under an emergency closure order until proper maintenance and repair can be accomplished.

"Access is an important aspect of the Forest Service mission, and right now we are triaging what areas to address first," said Forest Supervisor Tricia O'Connor. "Typically during this time of year we are blading and grading roads, but due to the wet conditions and runoff, we instead rented a dump truck and excavator and we are in the process of repairing many slumps and slides impacting roads and infrastructure across the forest," she said.

Emergency repairs that may have been more quickly repaired in the past are now often delayed. Funding for replacement of damaged or deteriorating infrastructure is tenuous as the agency and funding partners prioritize accelerating demands with limited funding.

Closures may remain in place for several years for non-critical access. "The Bridger-Teton cannot afford to replace every bridge that fails nor every road that washes out," said O'Connor. For example, the Blind Bull closure, on the Greys River Ranger District, may be at least a year, but could be indefinite depending on availability of funding for reconstruction.

Reconstruction or bridge replacement may also contingent on required National Environmental Policy Act (NEPA) planning, and public involvement. "This is a big season with many washouts here on the Forest and it is evident we will need to pursue additional funding after we get a complete assessment of all the damage," O'Connor said. "The Forest Engineer will keep us apprised of funding opportunities, cost, and timelines for the repairs and replacements as more information is obtained," she said.

Public and partner support for the restoration of these roads and access is going to be needed. "The Forest Service Intermountain Region Office prioritizes road repair projects and those with cooperator or with funding partners compete better", she said. Anyone who has road building experience who would like to assist in getting some of these landslides or blowouts repaired can contact Forest Engineer Mike Oltman at 307-739-5445. There are impassable roads in Lincoln, Teton and Sublette Counties all within the Bridger-Teton's jurisdiction. Questions and comments, including letters of support from those who would like to see these various access routes restored are welcome.

As of June 8, 2017 the following emergency closures are in place.

Kemmerer District:
Hams Fork Road between Kelly Guard• Station and Big Springs Camp Ground - Closed- Washout
LaBarge Road near Fish Barrier -• Closed - Washout
Minnie Holden Creek at Fontenelle• Road - Closed - Washout

Big Piney District:
South Piney Creek -Closed- Washout•
Thompson Pass - Closed - Washout•

Greys River District
Blind Bull - Closed - Landslide•
Cottonwood Creek - Closed - Washout•

Jackson District:
Ditch Creek- Closed -Washout•
Crystal Creek Campground - Closed -• Flooded
Little Granite Creek - Closed -• Washout

Blackrock Ranger District:
South Fork Spread Creek (Leidy Lake• Road)- Closed -Washout

Pinedale District:
Teepee Creek - Closed -Washout•

For more information, visit the Forest Website at http://www.fs.fed.us/r4/btnf. For additional information, contact the Bridger-Teton National Forest at (307) 739-5500.

---
Rocky Mountain Power's new online outage map shows where power is out (posted 6/4/17)
Rocky Mountain Power
Why did my power go out and when will it come back on? Those are always the first questions asked in any outage. Rocky Mountain Power's new online map now provides more information than ever before about large and small disruptions—as small as an outage for a single customer.

Information from our dispatch center provides up-to-the-minute information about outages in Utah, Wyoming and Idaho. The map can be found at https://www.rockymountainpower.net/ed.html.

Here are some features of the new map:
• Timeliness Updated every 15 minutes.
• Size The new map charts all outages with a red dot. The bigger the outage, the bigger the dot. The former outage page only highlighted outages involving more than 500 customers.
• Location The map shows a dot showing the approximate location of an outage to protect the privacy of customers. The previous outage page only showed the number of power disruptions in affected zip code areas.
• Cause This will let you know why the outage occurs as soon as it is determined what happened.
• Restoration Crews try to restore power as fast and safely as possible. The initial restoration time is usually estimated at three hours but restoration times are updated as soon as crews determine the damage and how long repairs will take. The dot disappears when the power is restored.

In coming months, the maps will be developed for better use on the Rocky Mountain Power app. Customers can still call 1-877-508-5088 to report outages, receive updates or to find out additional information.

About Rocky Mountain Power
Rocky Mountain Power provides safe and reliable electric service to more than a million customers in Utah, Wyoming and Idaho. The company works to meet customers' growing electricity needs while protecting and enhancing the environment. Rocky Mountain Power is part of PacifiCorp, one of the lowest-cost electricity providers in the United States. More information at rockymountainpower.net.
---
Rendezvous Rodeo July 6, 7 & 8, 2017 (posted 5/21/17)
Green River Rendezvous Days in Pinedale
The annual Rendezvous Rodeo will be held at 7PM at the Pinedale Rodeo Grounds during Green River Rendezvous Days.

Events will include Barrel Racing (Open, Junior, Peewee), Roping (Tie-Down, Breakaway, Team Roping), Rough Stock (Bareback, Saddle Bronc, Ranc Bronc, Bulls). Other events will be Diamond Z English Shire Hitch, Calf Scramble, Bull Poker and Ring of Fear.

Entry Fees are:
All Rough Stock: $100
Roping Events – Breakaway, Tie-Down, Team Roping (per man) $110
Open Barrels - $70
Junior Barrels - $30
Peewee Barrels - $15

Participant entries are due in the rodeo office by Friday, June 30th. All entries should include name, address, phone, entries, entry fee (cash, check, money order). Mail to SCSA, Box 405, Pinedale, WY 82941. Barrel racers are responsible for calling 307-367-2302 on Wednesday, July 5th between 4:00PM and 8:00PM to see if they are in slack.

Admission $7, under 7 free. Veterans who have served in the Armed Forces will be honored at the Saturday night rodeo. They may pick up tickets at the Pinedale VFW from Spencer Nichols in Big Piney.
---
Business Directory
Click here for
Advertising Information