Pole Creek Trail Days Sept. 20-23 (posted 9/20/19)
Part of National Public Lands Days
Saturday, September 28th is National Public Lands Day. Volunteers are invited to come and help with projects to improve public lands.

In the Pinedale area, volunteers will be working to improve the Pole Creek Trail out of Elkhart Park. Work will be Friday, September 20 through Monday, September 23rd. This easy access, popular and scenic trail into the Wind River Range needs a lot of love! Join for one day, or two or four. Hank Williams is the volunteer project lead all four days and would love your support. Volunteers meet at the trailhead at 8am each day. Bring what you need for a day outside and work gloves if you have them. USFS Pinedale Trail Crew will provide tools and instructions. Optional camping at Miller Lake.

The Pole Creek Trailhead is located at the end of Skyline Drive in Elkhart Park. The trailhead is adjacent to the Trails End Campground. It is 200 yards to the south of the Pine Creek Trailhead. Access is provided to the Pole Creek Trail, Seneca Lake Trail, and Sweeney Lake Trail.

Directions to the trailhead:
From Pinedale, Wyoming, head East on Highway 191 (East Pine Street) and turn onto Fremont Lake Road. Continue on this road for approximately 3 miles where the road transitions to Skyline Drive/Forest Service Road 370740 (FS-370740). Continue on FS-370740 Road for approximately 9.7 miles and turn right onto FS-370740B. Follow FS-370740B for 1.5 miles and Elkhart-Pole Creek Trailhead is on the right just beyond the Visitors Center. Approximate travel from Pinedale is 14 miles, 24 minutes.

Other projects on Saturday, September 28:
If you're in Jackson, please join the Opening Ceremony from 8am-9am at the Greater Yellowstone Visitor Center, where we'll kick-off the historic day with guest speakers, free breakfast and volunteer goodies, and information and carpool opportunities for multiple volunteer projects. Special guest HR Andy Schwarz will speak to sponsoring House Bill 99 and why public lands matter to Wyoming.

If you can't make it into Jackson in the morning, join any of these projects on-site at 10am. (Click on links for location details and a registration form so we know you're coming). There are lots of projects from Bondurant to Togwotee and need lots of hands.

Sheep Gulch Snake River Access Project with Snake River Fund and BTNF. Help install fence around the new and improved access trail for one of the busiest boat ramps in the Canyon. (5 minutes from Alpine).
https://www.neefusa.org/npld/sheep-gulch-snake-river-access-trail-bridger-teton-national-forest/sheep-gulch-river-access

Bryan Flats Project with Backcountry Horsemen, Mountain Bike the Tetons and BTNF working on the Wyoming Range National Recreation Trail
https://www.neefusa.org/npld/bridger-teton-national-forest/forest-friends-bryan-flats-volunteer-project

Hoback Watershed Restoration with Trout Unlimited (out of Bondurant)
https://www.neefusa.org/npld/upper-hoback-river-bridger-teton-national-forest/forest-friends-pld-tu-river-bend-upper-hoback

CDT Togwotee Re-route project with Blackrock Ranger District
https://www.neefusa.org/npld/bridger-teton-national-forest/forest-friends-pld-cdt-project

Cache Ck Clean Up With Jackson Hole Conservation Alliance and Friends of Pathways (Rescheduled from 9/21 to 9/28, starts at 9:30)
https://btfriends.us19.list-manage.com/track/click?u=e219ff2c799afb9a166293433&id=c4e3c2766b&e=e757d380ca

Volunteers should bring everything they need for a day outside and work gloves if you have them. All events are rain or shine.

More Public Lands Day Projects:
If you're in Pinedale on Sept. 28th join Trout Unlimited and the Bridger-Teton National Forest for some Willow Restoration. Location is at the old boat ramp, just upstream of the Forest Boundary on the Green River Lakes Road. Work will include digging trenches, clipping willows, transporting materials, and replanting the clippings. 9AM to 1PM
https://www.neefusa.org/npld/upper-green-river-usfs-forest-boundary-boat-ramp/willow-restoration

Registration and Contact:
Thea Koci
US Forest Service – Pinedale Ranger District
Recreation Management Specialist
thea.koci@usda.gov
307-367-5741

If you're in Star Valley join the Star Valley Ranch Trail Crew for Cedar Creek Trail Maintenance.
https://www.neefusa.org/npld/bridger-teton-national-forest/cedar-creek-trail-maintenance

For more information on these projects, contact Sarah at Friends of the Bridger-Teton, sarah@btfriends.org
---
The Drift races scheduled for March 13-15, 2020 (posted 9/19/19)
Informational meeting September 26, 2019 in Pinedale
The Drift is a winter race in the Wind River Mountains of western Wyoming (not to be confused with The Drift historic cattle drive in the Upper Green River Valley).

Racers may ski, bike, or run on the marked, snow-covered groomed trail. For 2020, there will be a 13-mile half-marathon, a 28-mile marathon, and a 100-mile ultramarathon (the highest-elevation winter ultramarathon in the United States).

This is not an adventure race or triathlon. It is strictly an individual, human-powered race. Participants must choose to travel on foot, bike or ski. There are not different legs to the race-once a discipline is declared, "Drifters" must stick with that mode of travel. Although the racer's entourage may cheer racers on out on the course, having non-racers pace, follow or otherwise assist will result in disqualification. Outside assistance is not allowed. Racers may accept help from another racer, if needed, or provide help to another racer in need.

The 2020 Drift races will take place Friday-Sunday, March 13-15, 2020. The 100-mile race will begin on Friday, March 13. The 13 and 28-mile races will begin on Saturday, March 14. The 100-mile race will be capped at 50 participants.

There will be an informational meeting Thursday, September 26 at 6:30PM in the Lovett Room of the Pinedale Library with information for potential racers, volunteers or anyone who would like to be involved.

Note for participants: Organizers highly recommend making your lodging reservations as soon as possible if you plan to come for this event (now is not too soon.) Last year, many racers had difficulties getting a room, so don't wait. The closest lodging to the race is Kendall Valley Lodge (www.kendallvalleylodge.com), located just 1/4 mile away from the race start/finish lines (but they have limited rooms available, so book with them early.)

The races are organized by The Great Outdoor Shop in Pinedale, Wyoming. This recreation event is authorized under Special Use Permits with the Bridger-Teton and Shoshone National Forests.

Find more information at www.thedrift100.com, or email the Race Director at laura@greatoutdoorshop.com.
---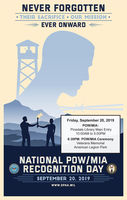 2019 National POW/MIA Recognition Day is Friday, Sept. 20th.

POW/MIA Recognition Day Sept. 20 (posted 9/19/19)
Friday, September 20th is 2019 National POW/MIA Recognition Day. POW stands for Prisoner of War and MIA stands for Missing in Action.

"You Are Not Forgotten" – that's the central phrase behind the POW/MIA remembrance movement which honors America's prisoners of war, those who are still missing in action and their families. The day is in support for Americans who are missing and unaccounted-for in wartime. America's POW/MIAs can be honored and recognized, but not memorialized. The focus is on sustaining commitment to account for them as fully as possible and to support their families.

POW/MIA Recognition Day is commemorated on the third Friday of every September, a date that's not associated with any particular war. In 1979, Congress and the president passed resolutions making it official after the families of the more than 2,500 Vietnam War POW/MIAs pushed for full accountability. The point of POW/MIA Recognition Day is to ensure that American remembers to stand behind those who serve and to make sure we do everything we can to account for those who have never returned.

According to an article on military.com, a Congressional Research Service report on POWs reports:
• 130,201 World War II service members were imprisoned; 14,072 them died
• 7,140 Korean War service members were imprisoned; 2,701 of them died
• 725 Vietnam War service members were imprisoned; 64 of them died
• 37 service members were imprisoned during conflicts since 1991, including both Gulf wars; none are still in captivity

The Defense POW/MIA Accounting Agency (DPAA) reports that 83,114 Americans who fought in those wars are still missing, including:
• 73,515 from World War II (an approximate number due to limited or conflicting data)
• 7,841 from the Korean War
• 1,626 from Vietnam
• 126 from the Cold War
• 6 from conflicts since 1991
The DPAA said about 75 percent of those missing Americans are somewhere in the Asia-Pacific. More than 41,000 have been presumed lost at sea.

Across the country, local POW/MIA ceremonies are encouraged throughout POW/MIA Recognition Week in September. The week culminates this year with a national ceremony in Washington, DC, on Recognition Day, September 20th, 2019.

There will be special gathering for National POW/MIA Recognition Day on Friday, September 20th in Pinedale. Veterans will be at the Pinedale Library with an information table in the main entry during the day from 10AM to 5PM. Later, at 6:30PM, there will be a POW/MIA Ceremony at the Veterans Memorial in the American Legion Park.

The sacrifice of U.S. military personnel should never be forgotten. All POW/MIA families, and the community, are invited and encouraged to attend their local area POW/MIA recognition ceremonies.

---
Electric bicycles now allowed in National Parks (posted 9/19/19)
National Park Service
In line with the National Park Service's new electric bicycle (e-bike) policy and a Department of the Interior Secretary's Order, Yellowstone, Grand Teton, and Glacier National Parks, along with the National Elk Refuge, will expand recreational opportunities and accessibility.

E-bikes are now allowed everywhere traditional bicycles are allowed in Yellowstone, Grand Teton, and Glacier. E-bikes are also allowed on the pathways of the National Elk Refuge that connect to Grand Teton National Park. Similar to traditional bicycles, e-bikes are not allowed in designated wilderness, in areas managed as wilderness, or on oversnow roads in the winter.

E-bikes are low-speed electric bicycles with power assistance. The operator of an e-bike may only use the motor to assist pedal propulsion. The motor may not be used to propel an e-bike without the rider also pedaling, except in locations open to public motor vehicle traffic. Motor bikes with a throttle are not e-bikes. All bicyclists must obey speed limits and any other state traffic laws.

The managers of these public lands retain the right to limit, restrict, or impose conditions of bicycle use and e-bike use in the future in order to ensure visitor safety and resource protection.

If members of the public have questions or comments, they can contact each park individually.

---
Grizzly bear relocated from north of Pinedale (posted 9/19/19)
Wyoming Game & Fish
At the direction of the United States Fish and Wildlife Service, the Wyoming Game and Fish Department captured and relocated a sub-adult female grizzly bear on September 13, 2019. The bear was a non-target capture while attempting to mitigate cattle depredation on a U.S. Forest Service grazing allotment north of Pinedale, Wyoming. In cooperation with the U.S. Fish and Wildlife Service and the Caribou-Targhee National Forest, the bear was relocated to Fall River drainage approximately 25 miles northwest of Moran Junction.

Bears that are considered a threat to human safety are not relocated. Grizzly bear relocation is a management tool afforded to large carnivore biologists to minimize conflicts between humans and grizzly bears and is critical to the management of the population. When other options are exhausted or unattainable, Game and Fish will attempt to capture the bear. Once the animal is captured, all circumstances are taken into account when determining if the individual should be relocated or removed from the population. If relocation is warranted, the selection of a relocation site is determined taking into consideration the age, sex, and type of conflict the bear was involved in as well as potential human activity in the vicinity of the relocation site.

This particular site was chosen due to the lack of human presence in the area. Consultation with the appropriate personnel and agencies occurs to minimize the chance of future conflicts and maximize the survival potential of the relocated grizzly bear.

Bears that are deemed an immediate threat to human safety are not released back into the wild. Bears are relocated in accordance with state and federal law and regulation.

Game and Fish continues to stress the importance of the public's responsibility in bear management and the importance of keeping all attractants (food items, garbage, horse feed, bird seed and others) unavailable to bears. Reducing attractants available to bears reduces human-bear conflicts.

For more information on grizzly bear management and reducing the potential for conflicts please visit the Bear Wise Wyoming page: https://wgfd.wyo.gov/Wildlife-in-Wyoming/More-Wildlife/Large-Carnivore/Grizzly-Bear-Management/Bear-Wise-Wyoming

For further information please contact the U.S. Fish and Wildlife Service Grizzly Bear Recovery Coordinator, Hilary Cooley, at (406) 243-4903.

---
Wyoming Wolf Hunt (posted 9/15/19)
Cat Urbigkit, Pinedale Online!
With the Sept. 1 opening of the wolf hunting season in many of western Wyoming's trophy wolf hunt areas, the quota of four wolves has already been reached in the Clarks Fork hunt area, which is now closed to further wolf harvest, according to the Wyoming Game & Fish Department.

One wolf (of the quota of six) has also been taken in the North Fork hunt area, while one of the two-wolf quota has been taken from the Rim hunt area. The combined Fish Creek, Crystal Creek and Green River hunt areas of the Upper Green/Union Pass have a quota of seven wolves, of which there has been one reported harvest.

Of the total quota of 35 wolves available for legal harvest in the state's wolf trophy zone, seven wolves have been killed by hunters as of Friday, Sept. 13. An additional 17 wolves have been killed so far this year in the remainder of Wyoming, where wolves are classified as predators.

For more information on wolf hunting seasons, hunt areas and regulations, as well as harvest reports, check out the links below.

Related Links:
Harvest limits - Wyoming Game & Fish Department
Hunting seasons, maps and regulations - Wyoming Game & Fish Department
Wolf Watch - by Cat Urbigkit, Pinedale Online!

---
Pinedale area 2019 Fall Hunting forecast (posted 9/13/19)
Wyoming Game & Fish
Pronghorn (antelope)
In the Pinedale Region, the northern portion of the Sublette antelope herd includes hunt areas 87- 91. Population estimates for this herd are below desired levels generally due to harsh winters in 2010-2011 and again during 2016-2017. The 2018 fawn ratio was 55:100, below the previous 5- year average (2013-2017) of 65:100, while the total buck: 100 doe ratio of 57:100 was near the previous 5-year average of 56:100. This pronghorn population grew slightly during mild winter conditions from 2014-2016, experienced above average mortality during the 2016-2017 winter, exhibited increased survival during the mild 2017-2018 winter, but above average temperatures and the very dry conditions during the summer of 2018 moderated population recovery.

Mortalities resulting from the 2018-2019 winter are unknown at this time, but have the potential to be above average given high snow loads in the winter ranges of this herd. For the 2019 hunting season, there are no changes in the Pinedale Region. Although it remains difficult to draw an antelope license, those that do draw should experience high success rates.

Deer
Portions of two mule deer herds are managed in the Pinedale Region: the Sublette and Wyoming Range herds. Both are large populations with special management strategies designed to provide high quality hunting opportunities, older age class deer and high buck:100 doe ratios (30-45:100). For the Sublette herd, this population decreased below the post-hunt population objective in 2004 following significant winter losses when fawn mortality was estimated at 75% and adult mortality 2019 Statewide Fall Hunting Forecast – Page 11 at 20%, and has remained below desired population objective levels since that time. Despite improved spring moisture and improved shrub productivity from 2009 to 2011, deer losses were extreme from the 2010-2011 winter, with an estimated 70% fawn loss. Dry conditions during 2012 and 2013 resulted in poor production on winter habitats followed by improved moisture and forage production in 2014 and 2015. Good fawn survival during 2014-2016 resulted in population growth, but losses during the 2016-2017 were again extreme. Despite a mild winter and excellent fawn survival during winter 2017-2018, snow depths on Sublette deer winter ranges during 2018-2019 were considerable.

Change in ratio surveys conducted in April of 2019 indicated about 50% of the fawns were lost during winter. Adult survival estimates of telemetered Sublette deer from ongoing research with the University of Wyoming indicated 76% survival, with some mortalities occurring as late as May. The goal of the 2019 hunting season for the Sublette mule deer herd (hunt areas 130, 131, 138- 142, 146, 150-156, 162) is to minimize buck harvest to maintain postseason buck:doe ratios above 30:100, while still allowing hunting opportunity. Maintaining the current nonresident quota at 600 licenses, coupled with a short hunting season and antler point restrictions (3 points or more) for a third year in a row should help achieve these goals. General license seasons are proposed to run from September 15-October 6, closing on the first Sunday of October. The Wyoming Range deer herd (hunt areas 134, 135,143-145) also suffered heavy losses during the winter of 2016-2017, with documented losses of all radio-collared fawns and 35% of telemetered adult does, equating to an over-winter loss of approximately 40% of the entire deer herd.

Conversely, the winter of 2017-2018 was exceptionally mild and allowed increased fawn survival. However, the winter of 2018-2019 was also severe, but impacted mule deer wintering on the more southern ranges (Evanston-Cokeville) greater than winter ranges near LaBarge.

Change in ratio surveys conducted in April 2019 indicated a loss of nearly 30% of fawns for the entire herd, but a 70% loss in hunt area 134 compared to only a 13% loss in hunt area 143. The impact of the 2016-2017 winter was seen in December 2017 post season surveys, which indicated that fawn production and survival was low with only 54 fawns:100 does. In 2018, fawn:doe ratios improved slightly to 60 fawns:100 does, but remain lower than the previous fiveyear average (2013-2017) of 64 fawns:100 does. Yearling buck:doe ratios improved from 5:100 in 2017 to 12:100 in 2018 reflecting increased survival. Although adult buck:doe ratios dropped to 29:100 in 2017, they bumped up to 30:100 in 2018, within management objectives.

The southern portion of the Wyoming Range herd will offer 13 days of antlered deer hunting in hunt areas 134 and 135, allowing hunters to take antlered mule deer with three points or more on either antler or any white-tailed deer. General license hunting opportunity for antlered mule deer will run from September 15-October 6 for hunt areas 142-145. In hunt area 145, a total of 50 Limited quota Type 3 licenses valid for any white-tailed deer will be in place from November 1- November 15, and unused Type 3 licenses valid for antlerless white-tailed deer will continue from November 16-January 31. Region G and Region H nonresident deer quotas will remain at 400 and 600 licenses, respectively. Conservative nonresident quotas combined with a short general license seasons for all hunters will help meet the "special" management criteria of maintaining at least 30 bucks:100 does and maintain quality bucks in the population.

Elk
There are 4 elk herds managed in this region: Hoback, Pinedale, Piney and Upper Green. Liberal seasons have been in place for several years and are designed to move populations down toward objective levels, while maintaining at least 15 bulls:100 cows in the post-hunt populations. All herds met bull ratio objectives, ranging from 19 bulls:100 cows in the Hoback herd to 29 bulls:100 cows in the Upper Green River herd. Elk attendance was average to high on most feedgrounds in the Pinedale Region, a result of increased snowloads in most locations during the 2018-2019 winter. Calf:cow ratios averaged 32:100 among the four herds, ranging from 30:100 in the Pinedale herd to 39:100 in the Hoback elk herd. Elk hunter harvest in 2018 was slightly lower in most Pinedale Region elk herds due to warmer than average conditions during fall and the late arrival of snow. The Piney elk herd is currently within the established population objective after numerous years of liberal seasons to keep the herd from growing. Liberal seasons are again planned for the 2019 hunting season. Hunt areas 92 and 94 will open October 1 for limited quota type 6 cow or calf only hunting and extend to November 23. These licenses will extend to the end of January for a portion of hunt area 92. A type 7 cow or calf only license will allow hunters to take advantage of the month of November to harvest an elk north of Middle Piney Creek in hunt area 94. There will be a total of 800 type 6 cow or calf licenses available in hunt areas 92 and 94 and seasons will run through November 23 to reduce elk numbers. Elk numbers in the Pinedale herd (hunt areas 97 and 98) have been very stable in recent years and remain within the established population objective. Hunting seasons have been designed to increase antlerless harvest and lower population levels. Hunter success in the Pinedale elk herd remains to be among the highest in the region, with an overall 33% success rate. The 2019 seasons are again designed to target antlerless elk and lower population levels. The 2019 hunting season in the Hoback herd will offer general license any elk hunting through October 31 in hunt areas 86 and 87. This herd is being managed to provide recreational opportunities while maintaining 15 bull:100 cow ratios. An increase in the number of elk wintering 2019 Statewide Fall Hunting Forecast – Page 18 in the northern portion of hunt area 87 will allow for simplified regulations in 2019; all of hunt area 87 will be open for general license hunters for antlerless elk November 1-5. With stable elk numbers in the Upper Green River herd the past two years, 2019 hunting seasons will continue expanded antlerless elk hunting opportunities first implemented in 2017, specifically increases in Type 6 licenses and season length in hunt area 96. This herd is slightly above the stated objective of 2500 elk, and is managed with a combination of general and limited quota licenses to meet management objectives. Elk hunters with 96 type 1 and 6 licenses can pursue antlerless elk through the end of November in hunt area 96.

Moose
2019 Statewide Fall Hunting Forecast – Page 21 The Pinedale Region manages the majority of the Sublette Moose herd unit which is managed under a 'special' management strategy to provide recreational opportunities and maintain a harvest age of 4 years for bulls to maintain trophy harvest opportunities. This herd has a winter trend count objective of 1,500 moose, and the population has been stable to slightly increasing since 2006. The 2018 trend count was 1,210 moose, similar to the previous 5-year average trend counts of 1,159 animals and below the desired objective of 1,500 moose. The 2019 seasons are designed to maintain quality bull ratios (+50:100) while encouraging the population to grow. Due to concerns over the availability of older age class bulls in hunt area 3 and hunter opportunity complications created by the boundary between areas 3 and 4 boundary, hunt area 3 and 4 license holders were allowed to hunt either area in 2018 with 5 fewer total moose licenses. These area licenses will again be offered that opportunity in 2019.

Bighorn Sheep
The Darby Mountain sheep herd and a portion of the Whiskey Mountain herd are managed by Pinedale regional personnel. In 2016, the Darby Mountain herd (hunt area 24) was opened for the first time since the season was closed after the 2011 hunting season. In 2019, area 24 will again be open with one license for any ram. Continued population declines in the Whiskey herd prompted another reduction in hunt area 8. A total of 8 licenses will be offered in 2019, compared to 12 licenses in 2017 and 10 offered in 2018. In 2016, hunt areas 8 and 23 were combined to create the new area 8, and the season length was extended to October 31 (September 1–October 31) to provide additional hunter opportunity.

Upland Game Birds – Small Game
Sage grouse seasons will again run later in September in an attempt to reduce the vulnerability of hens with broods. In 2018, the season for dusky (blue) and ruffed grouse was extended from November 30 to December 31. In years with later than average onset of snow, access to the forested habitats of these gamebirds provides additional time afield for upland enthusiasts and the season structure will remain the same in 2019. Hunters will need to be mindful of winter range closures in some areas that begin in November and December. There is a healthy population of snowshoe hares and cottontail rabbits within the Region, and the season has been extended to March 31 to allow for more hunting opportunities in late winter. However, several areas of the Bridger Teton National Forest are closed to winter access beginning in November and December and hunters should check with the Bridger Teton National Forest for details of their winter travel plan.

Related Links:
Wyoming Statewide Game Forecast

---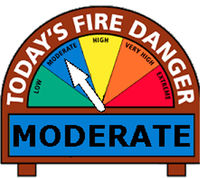 Fire danger reduced to Moderate

Fire Danger decreases to Moderate (posted 9/12/19)
Bridger-Teton National Forest
WESTERN WYOMING - The fire danger rating for Grand Teton National Park, National Elk Refuge, and Bridger-Teton National Forest lands has decreased to moderate following recent rainfall and cooler temperatures.

A moderate fire danger rating does not mean that people should let their guard down. This time of year frost starts to kill summer's grasses and wildflowers, creating more light cured fuels to carry fire. Larger-diameter fuels remain dry throughout the fall season. Additionally, with fall comes the arrival of hunting season and an increase in both front country and backcountry use on public lands. People hunting and recreating on public lands will want to have warming fires and campfires with the cooler overnight temperatures.

Help to prevent wildfires by not having a fire at all. Dress for success with layers and warm clothes. If you choose to have a fire, keep your fire small. Be present with your fire at all times, and have a plan for putting your fire out before lighting it.

Campfires and warming fires must be completely extinguished. This means pouring a lot of water on the fire, stirring the coals and ashes into a thick muddy soup, mixing the white ash from the fire's edges into the water, and then feeling for heat. Repeat this process until no heat remains. Use your hand to feel the center, the big pieces, and the edges for heat. Consider not having a fire if you don't have a shovel and water, if there is not an established fire ring, there is not an area of bare mineral soil free of flammable materials, or if there are winds to carry sparks.

To date, 146 campfires have been abandoned or left unattended in the Teton Interagency Dispatch area. This count was 119 at the end of August, meaning that 27 campfires have been left burning in this area in the past 12 days. Please be responsible with fire this fall.

Learn more about wildfire prevention and current wildfires by visiting www.tetonfires.com.

---
WYGF seeks info on pronghorn poaching (posted 9/12/19)
Wyoming Game & Fish
FARSON, WYOMING – The Wyoming Game and Fish Department is seeking any information regarding a buck pronghorn antelope that was illegally shot and left to waste near Farson on the morning of Sunday, September 8, 2019. The young buck was shot with a rifle on an irrigated alfalfa field two miles north of Farson (the old Jack McMurry Ranch) in Antelope Hunt Area 91. The hunt area was only open to the taking of doe or fawn antelope, during a special early season designed to alleviate damage to growing cultivated crops on private land.

Witnesses in the area described a vehicle that may have been involved as a small blue truck driven by a middle-aged man with light colored hair, accompanied by a young woman with dark hair and a nose ring. It is also believed the occupants of the blue truck were unaware that they did not have permission to hunt on that particular parcel of land due to a recent change in land ownership.

South Pinedale Game Warden Jordan Kraft states, "This type of action shows a blatant disregard for wildlife and is a theft of the wildlife resource to law abiding citizens."

Anyone with possible information regarding this poaching incident, or who was in the area and may have noted suspicious vehicles or activities, is encouraged to call the Pinedale Game and Fish office at 1-800-452-9107, the STOP POACHING hotline at 1-877-WGFD-TIP (1-877-943-3847) or the South Pinedale Game Warden, Jordan Kraft, at 307-367-2470.

Callers may remain anonymous and any information leading to an arrest and conviction may result in a reward of up to $5,000.00.

---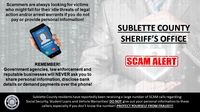 Scam Alert

Scam Alert (posted 9/12/19)
The Sublette County Sheriff's Office has received numerous calls recently of a variety of scams. These people can sound very convincing and may threaten legal action and/or arrest warrants if you do not pay money or provide personal information.

NEVER GIVE OUT PERSONAL INFORMATION OVER THE PHONE.

These scammers may be threatening, or sound very convincing and claim they are law enforcement officers, collection agencies, or bank officials. Remember, government agencies, law enforcement, and reputable businesses will NEVER ask you to give out your personal information or demand payment over the phone.

Even the Caller ID showing on your phone can be faked by scammers and may show the call to be coming from your bank or local law enforcement, when it really is not. DO NOT TRUST the Caller ID number showing on your phone as being legitimate.

Recent scams circulating involve social security numbers, student loans, vehicle warranties and more. Senior citizens can be particularly vulnerable to these scams. Never wire money, buy money cards to send to callers, or give out bank account or personal identification information to callers on the phone.

Hang up on these callers. If you are concerned about the status of your utility or bank account, call those companies directly using the number from your billing statement rather than using any phone number given to you by the scammers.

Please report suspicious phone calls to the Sublette County Sheriff's Office, 307-367-4378.

---
2019 Pinedale Half Marathon Sept. 28 (posted 9/11/19)
The 2019 Pinedale Half Marathon and 10K Walk/Run will be held on Saturday, September 28th. The event takes place on a course along scenic Fremont Lake in the Wind River Mountains near Pinedale. It includes a run/walk for the entire half marathon (13.1 miles), a 10K course (6.2 miles), or a one-mile course. All ages welcome to participate.

Race Check-In and Starts
Early bag pick up will be at Wind River Brew Pub in Pinedale from 4-7PM on Friday, September 27th.

On race day, all racers meet at Rendezvous Pointe early Saturday morning to check in, 425 E Magnolia St. in Pinedale (building directly behind, north, of Ridley's Family Markets).

The Half Marathon runners and walkers will start at Rendezvous Pointe at 8:30AM in Pinedale and head towards Fremont Lake in an out-and-back race.

The 10K racers will load a bus at Rendezvous Pointe at 8:30AM and will be taken to the Start at Fremont Lake Overlook and will run or walk back into town. The 10K will start at 9:30AM.

Sorry, no bikes, strollers or dogs on the Half Marathon or 10K courses. Dogs, strollers, and bikes are all allowed in the 1-mile.

The 1 Mile Fun Run/Walk will take place in town starting at Rendezvous Pointe. Start is at 11AM. Bikes and strollers are allowed in the 1 Mile Fun Run/Walk.

Click on the links below for the race route maps:

10K Race: http://pinedalehalfmarathon.com/uploads/3/5/2/3/35237971/10k__2_.jpg

Half Marathon: http://pinedalehalfmarathon.com/uploads/3/5/2/3/35237971/halfmap.pdf

Registration:
Early Bird registration rate is $35/person. Late registration (date TBA) to race day on-site registration is $50. Click on this link for more information about registration:
http://pinedalehalfmarathon.com/registration.html


FREE community BBQ
After the races, everyone is invited to a FREE community BBQ. This BBQ is open to everyone including participants, family members, visitors, supporters and other community members. The Pinedale Lion's Club works the grill, with local chef Sue Eversull by their side. Sue delights with her numerous salads and desserts.

Musical Entertainment
After race music is provided by Tim Ruland of the Pinedale Fine Arts Council (PFAC).

Child Care
The Pinedale Aquatic Center (PAC) is offering child care to participants with children ages 6 weeks to 12 years. Day care is available on Saturday, September 28th from 7:30-11:30AM. Participants must RSVP to PAC at 307-367-2832 ext. 6240 by Monday, September 23rd to take advantage of the child care services.

High Altitude Event
If you are from out of town & planning on participating, please be ready for a high-altitude event. This 1/2 Marathon starts at an elevation of 7,175 feet above sea level and overall gains about 300 feet throughout the course of this event.

Visitor Information
More area information is available online at the Pinedale tourism website, www.visitpinedale.org. The Sublette County Visitor Center/Sublette County Chamber of Commerce in downtown Pinedale offers additional area information and maps.

More info:
Visit the event website at: www.pinedalehalfmarathon.com
Call the Pinedale Aquatic Center: (307)367-2832
Email: Pinedalehalf@gmail.com
---
Senator Enzi accepting nominees to military academies (posted 9/11/19)
Deadline to apply is Nov. 5, 2019
WASHINGTON, D.C. – U.S. Senator Mike Enzi, R-Wyo., is accepting applications for nominations to the U.S. military service academies for the 2020-21 school year. Every year, Enzi gives Wyoming youth considering military careers the opportunity to apply for a nomination to the Air Force Academy, the Merchant Marine Academy, the Military Academy at West Point and the Naval Academy.

"Military service academies provide exceptional opportunities to young people, including a quality education," Enzi said. "These academies open doors and provide a unique set of experiences that graduates will carry with them throughout their lives. I highly encourage anyone who is interested to apply."

All applicants for service academies require a nomination and an appointment. To be considered for a nomination, a student will be evaluated on leadership, extracurricular activities, academic grades, SAT/ACT test scores and letters of recommendation. Based on the applicant's interview with Enzi's selection committee, applicants are recommended to Enzi for final approval. Following Enzi's nomination, final appointments will be determined by each academy.

The application, procedures and specific criteria are available on Enzi's website. For additional information, please contact Martha Wilson at (307) 772-2477 or Martha_Wilson@enzi.senate.gov.

Complete application packets are due to Enzi's Cheyenne office by Nov. 5, 2019 at 2120 Capitol Ave. St. 2007 Cheyenne, WY 82007. Enzi's committee will interview qualified applicants on either Dec. 6 or 7.

---
Business Directory
Click here for
Advertising Information