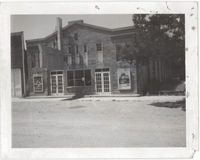 Skyline Theater in Pinedale

Main Street Pinedale launches Skyline Movie Theater project in Pinedale (posted 10/17/18)
Main Street Pinedale is pursuing the purchase, renovation, and operation of the historic Skyline Theater at 14 N Franklin Avenue in Pinedale (currently Walt's Plumbing). Main Street Pinedale would like to revive the Skyline Theater into a multi-entertainment theater showing second run films, film festivals, documentaries and independent films, outdoor adventure films, live music, speakers, performing arts and more. The Skyline movie theater operated from 1940 into the 1980's, when it closed. Walt's Plumbing operated out of the building ever since. The building is a candidate to be listed on the National Register of Historic Places. It is centrally located in the historic and Main Street districts of downtown Pinedale close to restaurants, shopping, and hotel accommodations.

Organizers are hoping for two things to start moving the project forward. They are looking for more interested community members with skills to serve on their theater committee to help with fundraising, grant writing, event planning, public relations, developing programming, and project management/construction for this multi-year project. And secondly, they are looking for funding to raise the $170,000 to purchase the property. Main Street Pinedale already has an Intent to Purchase contract, a draft business plan, preliminary budget, and initial fundraising video and donation form ready to go. They need to have the $170,000 to purchase the property by June 28, 2019.

Once the property is purchased, they expect it will take $1.1 million more to renovate the property so it can open.

Anyone who would like to be an early adopter of the project and donate now can make checks payable to SKYLINE THEATER and mail to:
MAIN STREET PINEDALE
P.O. BOX 2529
Pinedale, WY 82941

History
Except from Pinedale's Historic Walking Tour Brochure from research by local historian Ann Noble:
14 North Franklin Street, originally the Patterson home, was replaced with the Skyline Theatre, which had its grand opening in September 1940. The Pinedale Roundup reported on the theater opening, "The beautiful interior is indirectly lighted from each side of the upper portion of each wall. Silhouettes depicting mountain scenery, winter sports, hunting and fishing, and other recreational facilities adjacent to Pinedale, lend local color to the interior decorations. A raised floor and comfortable furniture makes theatre going a pleasure. Acoustics are excellent, as the building was designed for sound equipment. Nothing was overlooked in designing the building, including a small lobby, a small room for caring for noisy babies." The new movie house was a great improvement from the wooden benches and folding chairs at the Wilson Hall, on east Pine Street, where movies had been shown throughout the 1930s. After two decades of being a favorite gathering place for the town's people, the theatre closed and the building was purchased by Walt's Plumbing and Heating, which opened in 1986. Walt's operated out of the building until 2017.

Background
Main Street Pinedale has spent the last year, researching the building history, developing a business plan, initial programming, and reviewing the building condition and putting together preliminary renovation and operation costs. They have been fortunate to have received support from the Wyoming Community Foundation, the Wyoming Arts Council, Wyoming Main Street, Jorgensen Associates, and the property owners Joe and Annie Sondgeroth who have been gracious and patient throughout.

The Next Step: Purchase of the property!
Main Street Pinedale needs to raise $170,000 in order to purchase the property, and begin writing grants to fund the renovation. Funds will go towards the purchase of the property, but will also be used as matching funds to apply for larger grants to fund Phase 2, the renovation.

Main Street would like to revive the Historic Skyline theater into a multi-purpose theater showing second run films, film festivals, documentaries and independent films, live music, speakers, and performing arts. In addition the facility would be available to rent out. Opening it up to different styles of entertainment will allow Main Street Pinedale to partner with many of the numerous non-profit organizations within Sublette County which will allow them to reach different target markets within the area, and provide a variety of programming.

Some of the ideas for programming include:
Outdoor Adventure Film Series (hunting, flyfishing, skiing, snowmobiling, dirtbiking, climbing, etc.)
High Brow Film Series (films with a professor to speak about the genre, background, cinematography, interpretation of the film etc.)
Curated second run film series (Mountain Man Movies, Spaghetti Westerns, Filmed in Wyoming-including those filmed in Sublette County, like the Legend of Earl Durand, and Sweet Creek County War, Minions etc.)
Holiday Films (12 days of Christmas, Halloween, etc)
Children's Films on in-service days
Launching a local film festival
Speakers on History
Live Music, small performances (small stage), live streaming, and group gaming.

Objectives
The Mission of the Skyline Theater is to utilize a historic space as a tool to integrate Pinedale's distinct culture, history, and artistic identity to entertain, educate and enlighten community members.

#1 Historic restoration of a historic building in Pinedale's Historic District
#2 Act as a catalyst for downtown revitalization
-Boost Pinedale's NIGHTLIFE, act as a complimentary attraction to drive foot traffic to the restaurant, retail, bar sectors downtown
-Boost Pinedale's OFF-SEASON Provide an entertainment option during the off-season months to drive foot traffic to the restaurant, retail, bar sectors downtown
#3 Further support and reinforce Pinedale's identity, by incorporating films, music, and performances that support our history, culture, and artistry to educate, entertain, and enlighten us
#4 Provide community connection, by creating opportunities for the community to come together, by providing an event space, and partnering with other organizations with mutual interests

Restoration

PHASE 1: Property Investigation and Purchase. Fundraising Goal $170,000
This phase started in 2017, with an investigation of the condition of the property and building, historic research, preliminary estimates for restoration/renovation, a business plan, and a fundraising for the purchase. Organizers received funding from Wyoming Main Street, Wyoming Community Foundation, and Wyoming Arts Council to put together these documents. This phase will culminate in the purchase of the property by June 28, 2019, when the Intent to Purchase contract expires with the property owner. $160,000 will go towards the purchase of the property, and $10,000 towards grant writing for the renovation/restoration. The deadline for this phase is June 28, 2019. Organizers must have the full amount raised to purchase the property before the Intent to Purchase contract expires. Funds raised in this phase will be used as grant matches for Phase 2.

PHASE 2: Renovation. Estimated funding needed $1.1 Million
Renovation needed consists of the actual building rehabilitation and restoration, which includes architectural design, construction, and purchasing theater specific equipment. Organizers have to piece together many smaller sources of funding. The length of this phase will be highly dependent on receiving adequate funding, timing of grants, and issues encountered with the building and weather. Depending on these variables it could take multiple years to complete.

PHASE 3: Open and operational! Estimated funding needed TBD

For more details, contact Kate Dahl at info@mainstreetpinedale.com , call 307-202-8880, or go online to https://mainstreetpinedale.com/theater/.

---
Forest Service plans fall pile burns (posted 10/17/18)
Bridger-Teton National Forest
The Bridger-Teton National Forest will begin burning slash piles on the Pinedale and Big Piney Ranger Districts in the weeks to come.

Piles to be ignited on the Pinedale Ranger District are located:
White Pine Ski Area
New Fork Lake
Fremont Campground
Elkhart Park
Temple Creek Summer Homes
Sylvan Bay Summer Home Area
Fortification Mountain
Red Cliff Bible Camp
Mulligan Park
Half Moon Campground
Big Sandy Lodge
Union Pass
Fish Creek
Green River Lakes
Willow Creek Guard Station

Piles to be ignited on the Big Piney Ranger District are located:
Noble Pastures
Middle Piney Dam
Riling Draw
Marge's Delight
Nylander
Hoback Guard Station

The material to be burned is the result of hazardous fuels reduction projects, timber sales, fencing, and other miscellaneous project work. Slash piles are created by thinning out timber stands and removing lower limbs from trees, as well as removing dead wood and brush from the forest floor. Forest personnel and contractors place the slash in piles and leave them to cure before burning them. Most of the wood is of small diameter and the piles are designed to burn efficiently so that all material is completely consumed. Fire managers ask that the public not take wood from the piles so they will burn more effectively.

Firefighters will light piles by hand after the area has received significant moisture to provide greater security from fire creeping away from piles and to minimize negative effects to nearby trees. Ignitions will cease early in the afternoon each day to allow piles and fuels to burn down prior to evening inversions and reduce smoke impacts to the area.

Crews will patrol and monitor the pile areas to ensure they do not spread. Smoke will be visible during ignition operations and for a short time after lighting has been completed.

For more information visit www.tetonfires.com or call the Pinedale Ranger District at 307-367-4326.
---
Wolf News Roundup 10/15/2018 (posted 10/15/15)
Cat Urbigkit, Pinedale Online!
Wyoming Hunt
The hunting season for wolves in the trophy game area of northwestern Wyoming opened Sept. 1. According to the Wyoming Game & Fish Department, 16 wolves have been harvested as of Oct. 12. The agency set a total quota of 58 wolves in the state's 14 hunt areas for wolves.

There have also been 26 wolves killed in Wyoming's predator zone so far in 2018.

Oregon wants new wolf plan
The Oregon Department of Fish & Wildlife is working with ranchers and wolf advocates to develop a new wolf plan that addresses both non-lethal and lethal control measures for wolves that prey on livestock.

Isle Royale
The National Park Service announced that the fall phase of the first year of its Isle Royale wolf translocation project has been brought to a successful close with four wolves translocated to the island from Minnesota. Though the original goal called for two additional wolves from Michigan to be relocated this year, cold weather, extensive rain, and snow showers made it necessary to end trapping efforts.

"Animal welfare is the primary concern," said Isle Royale National Park Superintendent, Phyllis Green. "The continued cold weather, which created safety issues for trapping, and high winds and waves in the marine forecast which created additional issues for transportation, led to the decision to end this phase of the project a little early. The park and its partners in this project are already looking at the next phases of the translocation process, which may include
relocating wolves from Canada this winter."

This three- to five- year effort will relocate up to 30 wolves of a certain age range evenly split between males and females to the isolated island park. Researchers recommend translocating this number of wolves to establish adequate genetic variability and to help accomplish the overall goal of restoring predation as a key part of the island ecosystem. The goal for the first phase of this multi-year project was to translocate up to six wolves from the Minnesota and Michigan mainland to the park this fall.

The fall operation ended with four wolves relocated to the park: one male and three females. Their addition brings the island wolf population to six, which includes two animals on the island from a remnant population. An additional four animals could be brought to the island this winter from Canada. Isle Royale National Park Chief of Natural Resources and Translocation Project Manager, Mark Romanski said, "All of the wolves are moving about and exploring the island, as evidenced by GPS collar data. We will continue monitoring their movements to determine if they form any new packs."

Green and Romanski agree that the success of this first phase of implementation was due to the project partners' professional experience and knowledge of local wolf packs. "The Grand Portage Band of Lake Superior Chippewa worked closely with U.S. Department of Agriculture's Wildlife Services to ensure all four wolves were from different packs and that trapping operations were successful," said Green.

Sixteen different wolves were captured on the Grand Portage Chippewa reservation during the trapping cycle. Seven of those wolves were collared and released either on Isle Royale or at the site of capture. Young wolves were ear tagged and released. Collaring and ear tagging contribute to the Grand Portage Band's on-going monitoring program. Ear tags have been invaluable in determining age of wolves for the Isle Royale project and in population estimates on the mainland.

The US Fish and Wildlife Service provided an airplane and pilots for the project and worked carefully within narrow weather windows to move wolves to the island safely. Even though the weather precluded relocating wolves from Michigan this fall, the Michigan Department of Natural Resources and USDA Wildlife Services were ready in Michigan to support the effort and had coordinated many activities that will ensure success next year. "We thank all of our partners and look forward to working with them to complete the relocation project over the next three to five years," Green said.

Partners on this project: Grand Portage Band of Lake Superior Chippewa, Michigan Department of Natural Resources, Minnesota Department of Natural Resources, US Fish and Wildlife Service, US Department of Agriculture Wildlife Services, US Geological Survey, University of Minnesota and multiple National Park Service units and offices.

Related Links:
Wyoming hunt - Wyoming Game & Fish Department
Isle Royale - National Park Service
Oregon - Associated Press
Wolf Watch - by Cat Urbigkit, Pinedale Online!
---
Relief available for Roosevelt Fire victims (posted 10/12/18)
The Pinedale Lions Club and the Bondurant Community Club are happy to report that, thanks to the generosity of many individuals and corporate donors, a first round of disbursements can be made from the Roosevelt Fire Recovery Fund and applications are now available for those affected by the Roosevelt Fire.

The Roosevelt Fire Recovery Fundraising Campaign was launched under the auspices of the Pinedale Lions Club (via the Lions of Wyoming Foundation), with support from the Bondurant Community Club. Funds have been collected via the following sites: https://www.gofundme.com/roosevelt-fire-disaster-recovery and https://www.lionsofwyomingfoundation.org/ as well as by check directly to the Lions of Wyoming Foundation. With 55 homes destroyed and many permanent residents displaced, the campaign will be ongoing; this first application period is designed to address the most urgent needs of our friends and neighbors.

The purpose of this fundraising campaign is to offer financial assistance based on need to those who experienced loss as a result of the Roosevelt Fire and to help rebuild core infrastructure for the community. The Roosevelt Fire Recovery Fund Committee has been formed to oversee the systematic, equitable and confidential distribution of funds. The Funds Committee consists of a mix of key stakeholders as well as outside non-partisan volunteers from Bondurant, Hoback Ranches, Jackson, and Pinedale, Wyoming. Guidelines and criteria for distribution have been established, and are based on best practices from other disasters. The Committee will review applications, meet with applicants as needed, and apply the guidelines and criteria in order to distribute funds. It is anticipated that there will be multiple rounds of distributions made. Checks to recipients will come from the Pinedale Lions Club where all donations are being held.

If you would like to support the Roosevelt Fire Recovery Fund, donations may be sent to the Lions of Wyoming Foundation, 224 Talon Ct., Cheyenne, WY 82009 – please put "Roosevelt Fire" in the memo line. Your generosity is greatly appreciated as we work to rebuild the Hoback Ranches community.

Applications and Guidelines are available at the Bondurant Library and Post Office and online here:
• Guidelines: http://bit.ly/roosevelt-guidelines
• Print Form Application: http://bit.ly/roosevelt-print-application
• Electronic Form Applicationhttp://bit.ly/roosevelt-e-application

First round applications must be returned to the Pinedale Lions Club, PO Box 508, Pinedale, WY 82941 by Monday, October 22, 2018. The Committee will work quickly and expect to have checks out to approved recipients by the end of the month. Subsequent application periods will be announced as funds become available. Questions may be sent to rooseveltfirerecoveryfund@gmail.com.

Lion Mindi Crabb, Pinedale Lions Club, (307) 231-0942
Chris Lacinak, Bondurant Community Club, (917) 548-8632

---
Fire recovery resources (posted 10/12/18)
Guy Cameron, Director, Wyoming Office of Homeland Security
The impacts of the Roosevelt Fire were devastating, and life changing for many. My heart goes out to those affected by the fire and I also thank the dedicated firefighters who battle the fire and those who supported the incident. The true community spirit of Wyoming was apparent as neighbors and communities came together during and following the fire.

This was a large-scale event that brought in more than 1,000 firefighters and destroyed 55 homes. Unfortunately the damage assessments conducted did not reach the requirements for federal disaster relief under the Robert T. Stafford Disaster Relief and Emergency Assistance Act. The number of uninsured, primary homes, did not meet the criteria to provide relief through the Federal Emergency Management Agency's Individual Assistance program. As a result, assistance through a federal disaster declaration is not available in this situation.

Individual insurance is normally the first line of assistance in a fire event. The state Insurance Department is available to answer any questions and assure proper practices.

Please know that in recovery from this fire state officials are researching all the options available to assist you.

State agencies are working together to explore all available recovery resources and to make those accessible for Sublette County, Hoback Ranches Service and Improvement District and those impacted by the fire. I encourage those who have suffered damages to look at the available resources at http://hls.wyo.gov. This listing will be updated as new information is received.

A Hazard Mitigation Grant Program – Post Fire Grant was approved. This grant provides mitigation funding to Sublette County and/or its local governmental jurisdictions to support risk reduction of a hazard. This includes projects such as wildfire mitigation (for example: fire-resistant materials used on home exteriors, soil stabilization or watershed protection projects (for example: erosion control mats, large-scale seeding, log terracing to channel flood water, silt fences to prevent sediment runoff, or mulching to protect soil minerals).

A federal Fire Management Assistance Grant (FMAG) was also approved. The purpose of FMAG is to provide supplemental federal assistance to states and local government to fight fires burning on public (non-federal) or privately owned forest or grassland.

As we move forward in the aftermath of the Roosevelt fire, we will continue to research options available to those impacted.

---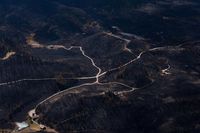 Roosevelt Fire. Photo by Rita Donham, Wyoming Aero Photo LLC

The Aftermath - Roosevelt Fire (posted 10/8/18)
Photos by Rita Donham, Wyoming Aero Photo LLC
The Roosevelt Fire began on Saturday, September 15th in the Roosevelt Meadows area in the Wyoming Range. What started as an 80 acre fire turned into a two week firestorm that grew to more than 61,000 acres threatening many homes in the Hoback and Rim areas between Daniel and Bondurant. By the end of September more than 1,000 personnel were working on the fire day and night and it was the #1 fire priority in the country for resources. The final toll by Friday, October 5th when the 61,511-acre fire was finally contained was 55 homes were lost in the Hoback Ranches area. Fortunately 95 were saved by the valiant firefighting efforts. The fire was ultimately determined to be human-caused, the result of a warming fire left unattended on the opening day of Wyoming general hunting season.

Click on this link for more photos by Rita Donham, Wyoming Aero Photo LLC: The Aftermath - Roosevelt Fire

Related Links:
www.wyomingaerophoto.com - Wyoming Aero Photo LLC
Go Fund Me fundraising site for Roosevelt fire victims
Roosevelt Fire - Inciweb
Bridger-Teton National Forest Facebook page
Pinedale Online Roosevelt Fire updates

---
Volunteer Health Services Program offers liability option for those providing volunteer health care services (posted 10/8/18)
Wyoming Department of Health
A new program aims to support providers and facilities interested in offering volunteer healthcare services to low-income patients through a new legal liability option.

The creation of Wyoming's Volunteer Health Services Program was approved earlier this year by the Wyoming Legislature.

"Many healthcare providers and facility operators may be concerned with legal liability for volunteer services," said Sen. Tara Nethercott (R-04). "Those type of concerns should not be a barrier for someone who wants to share their expertise and time by offering needed medical help."

The program allows licensed healthcare providers and medical facilities to provide volunteer services for low-income Wyoming residents while being protected from liability for medical negligence under the state's sovereign immunity.

By entering into a contract with the state, volunteer providers are deemed public employees and facilities are deemed state medical facilities for purposes of what's known as the Wyoming Governmental Claims Act. "Any malpractice claim arising from uncompensated services rendered to eligible patients would be defended and paid by the state under the Governmental Claims Act," said Tom Forslund, Wyoming Department of Health director.

Any healthcare provider, including physicians, dentists, physician assistants, nurses, pharmacists, optometrists, psychiatrists and psychologists, who is licensed or certified by Wyoming law is eligible to enter into a contract under the program. Eligible facilities include hospitals, clinics, medical offices and nursing homes.

Services provided under the program are intended for low-income persons. An eligible patient:
• Has income at or below 200 percent of the Federal Poverty Level
• Is not covered under a health insurance or healthcare policy, contract or plan
• Is covered under a health insurance or healthcare policy, contract or plan, but was denied coverage by the policy, contract or plan

Eligibility is determined by volunteer providers or facilities based on information from patients.

More information and important forms can be found on the Wyoming Department of Health website at https://health.wyo.gov/admin/wyomings-volunteer-health-services-program/.

---
Roosevelt Fire Update - Friday, Oct. 5, 2018 (posted 10/5/18)
Roosevelt Fire Information
As of 8 p.m.

Date of Detection: September 15, 2018
Current Size: 61,511 acres
Location: Bondurant, WY
Cause: Human
Containment: 100%
Structures Lost: 55 confirmed
Injuries: 3
Resources on Fire: There are currently 45 personnel on this incident
• The Forest Service closure were lifted at noon today.
• Stage 1 Fire Restrictions were lifted at noon today.
• Showers will continue across the fire area with some snow possible; minimal fire behavior is expected today.
• Objectives today are focused on fire containment, and continued assessment and implementation of suppression repair activities.
• All Evacuation Zones remain at the READY level.
• The Roosevelt Fire is human-caused, the result of an abandoned warming fire left unattended at mid-slope.
The Roosevelt Fire was deemed 100 percent contained following a recon flight over the fire this afternoon. More resources were released today, leaving only the needed equipment and crews required to patrol, mop-up and suppress any potential threats to containment lines and conduct fire line suppression repair work.

Fire line suppression repair involves pulling back berms from dozer-constructed fire lines, removing handmade fire line and installing water drainage features to prevent natural resource damage from rain and snow. If all fire line repairs are not completed before winter hits, the work will continue in the spring. All fire lines constructed on the Roosevelt Fire have been recorded with GPS, making identification and repair of fire lines more efficient.

With the lifting of the Forest closure, anyone entering the previously closed area should be aware of the hazards inherent with traveling through a recently burned terrain. Visitors should plan more than one travel route through the area, in the event it becomes necessary to escape approaching fire or avoid hot, smoldering fuels within the burn scar.

For some time after the fire, visitors may encounter unpredictable spreading of flames inside the fire perimeter, rolling rocks or logs, falling branches and trees, and flash flooding. Additionally, anyone entering the area may encounter localized pockets of heavy smoke and limited visibility.

Visitors who choose to enter the fire area or use trails in the area do so at their own risk. Fire weakened trees, known as snags, may fall at any time and trails may not be passable due to downed trees and branches.

Up-to-date information relating to the Roosevelt Fire and post-fire activities, will continue to be posted to Inciweb at https://inciweb.nwcg.gov/incident/6212/ as well as the Bridger-Teton Facebook page.
---
Much colder weather and snow forecast for western Wyoming (posted 10/5/18)
Snow could reach valley floors
The National Weather Service advises that much colder and wet weather are on tap for this weekend into next week for western Wyoming.

A storm system will spread precipitation across western and central Wyoming beginning Saturday and continuing into Monday. Light snow will fall in the western mountains Saturday with generally a cold rain in the valleys. This precipitation will begin to spread into areas east of the Continental Divide and across the I-80 corridor Saturday evening. Lower elevations east of the Divide may see mainly rain or a rain and snow mix into Sunday. Accumulating snow is anticipated above 6000 feet.

A second round of precipitation is expected across central and southern Wyoming Sunday night into early Monday. At the same time, colder air and gusty northeast wind of 15 to 25 mph will push through these areas. Snow accumulations of one to three inches are possible by Monday morning across the lower elevations east of the Divide. This could create travel impacts during the Monday morning commute to work and school. The least likely location for accumulating snow will be in the Big Horn Basin.

Hunters, hikers, and other outdoor enthusiasts should be prepared for accumulating mountain snow and much colder temperatures. Several inches of new mountain snowfall is expected by Monday morning, especially above 6000 feet. Temperatures will be even colder Monday night with overnight lows in the teens.

High temperatures through next week are likely to be 15 to 20 degrees below normal with readings in the 40s to lower 50s. Additional precipitation is likely through Friday with Wednesday possibly presenting the best chance for more rain and snow.

---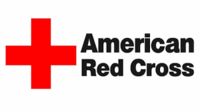 Red Cross update for those impacted by Roosevelt Fire (posted 10/5/18)
American Red Cross - Roosevelt Fire
Friday, Oct. 5, 2018:
For those seeking assistance from the Roosevelt Fire:

Anyone who has been directly affected or displaced by the Roosevelt Fire can contact the American Red Cross located at the Distribution Center at 215 Country Club in Pinedale, 307-222-8272.

The American Red Cross can offer the following assistance:
- Financial assistance for families directly affected by the fire through October 13th
- Supplies to aid with clean-up (tarps, rakes, shovels, sifters, gloves, trash bags, totes, etc.) and household items (pots, pans, microwaves, hygiene products, coolers, etc.)
- Referrals to supplementary support agencies
- Disaster Mental health
- Disaster Health Services
- Assistance replacing eye glasses and/or Durable Medical Equipment

Distribution location: 215 Country Club Pinedale, Wyoming

Last day this location will be open – Saturday, October 13th
Hours:
Friday, October 5, 2018: 9am-12/noon, 3pm-6pm

Saturday, October 6, 2018: 9am-12/noon, 3pm-6pm

Closed Sunday, October 7, 2018

Monday, October 8, 2018: 3pm-6:30pm

Tuesday, October 9, 2018: 3pm-6:30pm

Wednesday, October 10, 2018: 3pm-6:30pm

Thursday, October 11, 2018: 3pm-6:30pm

Friday, October 12, 2018: 3pm-6:30pm

Saturday, October 13, 2018: 9am-12/noon, 3pm-6pm

Financial donations:
https://www.lionsofwyomingfoundation.org/donate.html

Thank you so much for your continued support! To make the donated materials most accessible to the impacted families, we are working to get supplies staged closer. This includes staging a trailer with supplies and moving resources to the Bondurant area that can be safely stored during the winter and made immediately available if needed. Plans are also in the works to ensure the remaining supplies are available to those impacted, both now and in the coming months. If you have any questions, please reach out to Gehrig Haberstock at 307-251-2231.

---
USDA Forest Service announces public meetings on Greater Sage-grouse Plan amendments (posted 10/5/18)
Meeting in Cheyenne Oct. 23 and in Pinedale on Oct. 23
OGDEN, Utah – The U.S. Forest Service (USFS) will hold two public meetings in Wyoming regarding the Draft Environmental Impact Statement (DEIS) for its Sage-Grouse Plan Amendments. On October 5, 2018, the USDA Forest Service published a Notice of Availability (NOA) announcing the release of a Draft Environmental Impact Statement (DEIS) with proposed amendments to Forest Service land management plans for greater sage-grouse. The affected plans occur within five western states: Colorado, Idaho, Nevada, Wyoming, and Utah. The purpose of the proposed changes is to improve the clarity, efficiency, and implementation of the current greater sage-grouse plans, including promoting landscape-scale alignment with state efforts.

The USFS is encouraging the public to attend one of the DEIS public comment open house meetings that will be held in Pinedale and Cheyenne, Wyoming. The meeting in Cheyenne will be held at Laramie Community College on October 22 in Room PF 108 at the Pathfinder Building, 1400 East College Drive. The meeting in Pinedale is scheduled for October 23 at the Pinedale Public Library, 155 S. Tyler Avenue. Both meetings will be held from 4 p.m. to 7 p.m.

Several information stations will be located within the meeting venue that will present information on key issues, the planning process, and the public commenting process. Forest Service staff will give a short introduction at 5 p.m. Attendees can learn about the amendment comment process, ask questions, and provide comments on the actions being considered.

To read and comment on the DEIS please visit the Forest Service Intermountain Region Webpage: https://www.fs.usda.gov/detail/r4/home/?cid=stelprd3843381. For more information, please contact: Sandra Underhill, Capitol City Coordinator at 307-777-6087 or John Shivik, National Sage grouse Coordinator at 801-625-5667 or johnashivik@fs.fed.us.

---
Business Directory
Click here for
Advertising Information