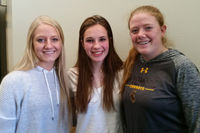 Left to Right: Teegan Johnson, Madison Friend, Katelyn Hayward. Photo courtesy American Legion Auxiliary Philips Edwards Post 47 in Pinedale.

American Legion Auxiliary announces 3 selected for Wyoming Girls State (posted 5/23/18)
Phillips Edwards Post 47 American Legion Auxiliary
Teegan Johnson, Madision Friend and Katelyn Hayward of Pinedale High School have been selected to attend the 76th session of American Legion Auxiliary Wyoming Girls State to be held on the campus of Laramie County Community College in Cheyenne, June 10-16, 2018.

American Legion Auxiliary Girls State was established in 1941 and is an annual program designed as a practical experience in self-government, based on Wyoming State Government. Wyoming Girls State was not held in 1944 and 1945 due to WWII. Girls State is non-partisan and non-political in that no existing party is promoted.

The program emphasizes the importance of government in modern life and educates young women in the duties, privileges, rights, and responsibilities of American Citizenship. It awakens a sincere conviction that a well-informed, intelligent, participating citizenry is vital to protect and preserve our American institutions and our democracy. These goals are achieved by actual participation in a simulation of the political and governmental process.

Teegan, Madison & Katelyn were selected for their outstanding achievements, within their own school and community, and are sponsored by Phillips Edwards Post 47 American Legion Auxiliary.
---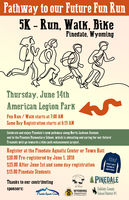 Pathway to our Future Fun Run June 14th

Pathway to our Future 5k Fun Run June 14 (posted 5/22/18)
The Town of Pinedale invites everyone to participate in the "Pathway to our Future 5K Fun Run on Thursday, June 14th. This is a run, walk, or bike to help celebrate and enjoy Pinedale's new pathway along North Jackson Avenue and to the Pinedale Elementary School.

The Fun Run starts at 7AM from the American Legion Park in Pinedale. Participants can register in advance at the Pinedale Aquatic Center (PAC) or Pinedale Town Hall. Same day registration Thursday morning starts at 6:15AM at the American Legion Park.

Early registration before June 1st is $20. After June 1st registration is $25. Pinedale students can register for $15. A t-shirt is included with the registration fee. Proceeds go towards a bike path enhancement project.

Click here for more registration information: https://townofpinedale.us/wp-content/uploads/2018-05-17_Pinedale-Pathway-to-Our-Future-5k-Registration-Form.pdf

---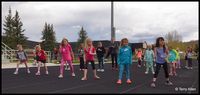 Girls await the firing of the starting pistol. Photo by Terry Allen.

PAC - Youth Track Meet (posted 5/20/18)
Terry Allen
Friday afternoon, May 18th at 2:30, the PAC (Pinedale Aquatic Center) held a youth track meet for ages 5 to 14, but also threw in a surprise running event for toddlers.

Big dark thunder clouds coming in from the Gulf of Mexico were building as Phil Vrska held the U. S. flag and All American Girl Preslie Simkins sang The Star Spangled Banner with her pageant sister Kandis by her side.

According to Joe Steege, the organizer of the meet, 138 athletes signed up for their choices of 30 and 50 meter dash, and 100, 200 and 400 meter runs. There was also a softball throw, a running long jump, and a standing long jump.

Our county sheriff, KC Lehr was getting his gear ready to be the starter of the Dash events and I noticed he was enjoying being there. "I've been out here helping for a few years now," he said. "It's nice to watch them grow up and now I'm seeing kids of kids."

The Antonio family were sprawled out in a comfortable huddle on the grass and looked like a picture. Mya needed one of my Ricola drops to get in the mood for a photo, but Marley walked out of the house ready...dressed as My Little Pony.

KC demonstrated the starting pistol to all the athletes so they'd know how it worked and that it was safe, but at the start of one of the heats it didn't fire while using the small and quieter blanks so he had to use the big noisy blanks. I jumped.

Those big clouds started shooting lightning bolts before we got done with all the events, so I tried to capitalize on the dramatic sky. A few of the kids agreed to do quick and dramatic poses with the sky in the background.

A special mention is deserved to all the folks who showed up to help put on this fun event. A small town is often more like a large family and that is the case with ours. Bigger kids were looking out for smaller kids...one young lady admonished a younger young lady to "act like a lady." I asked if that was her little sister and she just said: "Nope."

I noticed other young people and volunteers grab kids by the collar if they wandered into the path of runners or other fast moving people...like photographers who weren't looking where they were going.

I hope you all zoom in on the faces of the people in the photographs. I think they show the poise the young people possess and the caring and attention they receive from the adults.

Terry Allen: txpartisan@gmail.com

Thank you to Dawn Ballou at www.pinedaleonline.com for sponsoring this story.

Click here for the results

Related Links:
www.pinedaleaquatic.com Pinedale Aquatic Center

---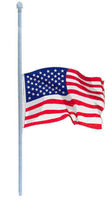 Flag Half Staff notice

Flag Half Staff notice – for victims of Santa Fe High School Texas shooting (posted 5/18/18)
Governor Matthew H. Mead, pursuant to President Donald Trump's Proclamation today (Friday, May 18, 2018), has ordered both the U.S. and State of Wyoming flag be flown at half-staff statewide beginning immediately until sunset on Tuesday, May 22, 2018 as a mark of respect for those affected by the shooting at Santa Fe High School in Texas.

From the President of the United States...
Our Nation grieves with those affected by the shooting at Santa Fe High School in Texas. May God heal the injured and may God comfort the wounded, and may God be with the victims and with the victims' families. As a mark of solemn respect for the victims of the terrible act of violence perpetrated on May 18, 2018, by the authority vested in me as President of the United States by the Constitution and the laws of the United States of America, I hereby order that the flag of the United States shall be flown at half-staff at the White House and upon all public buildings and grounds, at all military posts and naval stations, and on all naval vessels of the Federal Government in the District of Columbia and throughout the United States and its Territories and possessions until sunset, May 22, 2018. I also direct that the flag shall be flown at half-staff for the same length of time at all United States embassies, legations, consular offices, and other facilities abroad, including all military facilities and naval vessels and stations.

IN WITNESS WHEREOF, I have hereunto set my hand this eighteenth day of May, in the year of our Lord two thousand eighteen, and of the Independence of the United States of America the two hundred and forty-second.
DONALD J. TRUMP
_________________________________________________

A 17-year old man opened fire at Santa Fe High School in Texas on Friday, May 18th killing nine students and one adult. The man was a junior at the school, which is located south of Houston. The gunman was taken into custody by police. Also on Friday, two people were shot and one person killed following a shooting at Mt. Zion High School in Jonesboro, Georgia.

---
BLM to conduct prescribed fires in Sublette and Lincoln Counties (posted 5/14/18)
The Bureau of Land Management High Desert District fire crews are planning to conduct two prescribed fires between May and June as part of a multi-year project. Both projects will take place on public lands administered by the High Desert District's Pinedale Field Office. Fire operations will begin only when conditions are favorable for a safe and effective burn.

The Perkins Creek prescribed fire project is located approximately 16 miles west of La Barge, Wyoming and consists of 47 acres of slash and standing conifer. The Burdick prescribed fire project is located approximately 12 miles west of La Barge, Wyoming on the east face of Miller Mountain, south of the La Barge Creek drainage. There are approximately 848 acres of slash and standing conifer targeted to burn on the Burdick prescribed fire Project.

These prescribed fires are part of the Wyoming Range Mule Deer Habitat Project, which was developed as part of the Wyoming Game and Fish Department's Wyoming Range Mule Deer Initiative that was completed in 2011. The purpose of the project is to improve vegetation conditions in crucial mule deer winter range, transition range, and fawning ranges. The vegetation conditions are improved by using prescribed fires to reduce conifer where it is encroaching on native aspen stands and to stimulate new aspen growth.

Fire crews will implement a number of burning tactics to start and control the burns. Smoke will be visible to the public during the operations. Fire crews will remain on scene and monitor the burn areas afterward to ensure safety until the fire is out.

Prescribed fire is a beneficial management tool used to replicate natural wildfire. Many land management agencies conduct prescribed fire to ensure the overall improvement of land, vegetation, and wildlife. It can also help return the ecosystem to its natural composition and healthiest function.

For more information, please contact Mark Randall at 307-367-5350 or visit the Pinedale Field Office located at 1625 West Pine Street in Pinedale, Wyoming.

---
Ultra Petroleum announces 2018 1st quarter financial and operating results (posted 5/11/18)
Plans to transition Pinedale and Jonah field development from the legacy vertical well program to new best-in-class horizontal well opportunity
Ultra Petroleum Corp. (NASDAQ:UPL) is an independent exploration and production company focused on developing its long-life natural gas reserves in the Green River Basin of Wyoming – the Pinedale and Jonah Fields. In addition, Ultra Petroleum currently has an oil development project underway in the Uinta Basin, Three Rivers area in Utah. On May 10th, they released their financial and operating results for the quarter ended March 31, 2018.

First Quarter 2018 Financial Results
During the first quarter of 2018, total revenues increased 2% to $225.4 million as compared to $221.0 million during the first quarter of 2017. The Company's production of natural gas and oil was 72.3 billion cubic feet equivalent (Bcfe), an increase of 13% over the first quarter of 2017, with 68.2 billion cubic feet (Bcf) of natural gas and 677.8 thousand barrels (MBbls) of oil and condensate.

During the first quarter of 2018, Ultra Petroleum's average realized natural gas price was $2.68 per thousand cubic feet (Mcf), which includes realized gains on commodity hedges. Excluding the realized gains from commodity derivatives, the Company's average price for natural gas was $2.66 per Mcf, compared to $3.15 per Mcf for the first quarter of 2017. The Company's average realized oil and condensate price was $60.36 per barrel (Bbl), which includes realized gains on commodity hedges, for the quarter ended March 31, 2018. Excluding the realized gains from oil commodity derivatives, the Company's average price for oil was $60.90 per Bbl as compared to $47.29 per Bbl for the same period in 2017.

Ultra Petroleum's reported net income was $47.5 million, or $0.24 per diluted share. Ultra reported adjusted net income(2) of $55.3 million, or $0.28 per diluted share for the quarter ended March 31, 2018.

"Based on encouraging early results, we have significantly ramped up horizontal well development and now plan to drill 25-30 horizontal wells this year while maintaining our $400 million capital expenditure guidance. We believe, on average, the horizontal program can provide strong economic returns at, or even materially below, current strip pricing," said Brad Johnson, Interim Chief Executive Officer.

Pinedale Vertical Program
During the first quarter, the Company and its partners brought online 48 gross (35.9 net) vertical wells in Pinedale. The average initial production (IP) rate for new operated vertical wells brought online in the first quarter of 2018 was 7.7 million cubic feet equivalent (MMcfe) per day.

Unless pricing improves, the Company plans to devote a significant amount of its remaining capital spending for 2018 to drilling horizontal wells, which provide superior economic returns to vertical wells.

"As we transition our Pinedale field development from the legacy vertical well program to our new best-in-class horizontal well opportunity, the reaffirmation of our borrowing base and leverage covenant amendment provides the flexibility to manage the business in a disciplined fashion while maintaining compliance with all debt covenants. With liquidity in excess of $400 million, cash flow positive assets and an inside maturity nearly four years away, Ultra is well positioned to continue executing its long-term business plan to maximize shareholder value," added Brad Johnson.

Headquarters to be relocated to Englewood, Colorado
Later this year, the Company plans to relocate its headquarters from Houston, Texas to Englewood, Colorado with an expected effective date of and closure of the Houston office as of September 30, 2018. "Our office in the Denver area has long served as the hub for our operations, with over 65 employees. Consolidating our Houston and Denver activities into one office provides enhanced focus and cost savings as we pursue increased shareholder value," said Brad Johnson.

"On behalf of the Board of Directors, we want to thank all of our Houston-based employees for their many contributions to Ultra. Garland Shaw, our Chief Financial Officer, and Garrett Smith, our General Counsel, will not be relocating to Colorado, but we expect them to remain with the Company in the coming months to help manage this transition as we embark on a search for a new CFO and a new General Counsel," said Evan Lederman, Chairman of the Board.

Source: Ultra Petroleum Announces First Quarter 2018 Results, Provides Update on Horizontal Program & Development Plan

---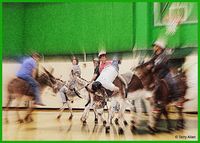 Donkey basketball. Photo by Terry Allen.

Donkey Basketball in Pinedale (posted 5/10/18)
Terry Allen
Pinedale High School hosted a fun night of Donkey Basketball on Monday evening, May 7th in the Wrangler gym. The event raised money for the National Honor Society scholarship.

Jeff Pittsinger is a Donkey Wrangler from Oregon. I asked him what town and he said central Oregon. His last stop on the Donkey Basketball tour was in Ammon, Idaho. After he leaves Pinedale, he goes to Hulett, Wyoming. There are 80 games on the circuit before he gets to go back home to get his nails done. That's what his wife does for a living; and he wouldn't answer me when I asked, so I'm taking that as a yes. I just know if I had been hauling 9 donkey's around the country for three months, I'd just want to sit down and have a beer and if she wanted to do my nails, I'd let her.

The average donkey lives to 27 years of age. Some live to be 40 if their genetics are good, they are well cared for and they don't live in grizzly country. Jeff's donkeys were all between the age of 6 and 18, so I'm going to estimate they were about 18 to 45.

As I was looking at the donkeys, I started to think a couple of them or so looked a lot like burros. Jeff said there isn't much difference and I waited for him to give a bigger answer but he didn't. Jeff has been a Donkey Wrangler for 8 years, so I wondered if the donkeys have rubbed off on him and that is why he was reluctant to say much. You know, donkeys having a reputation for being stubborn and all.

But just about then he started to talk and told me all kinds of stuff. The donkey shoes are made out of boot heels, and they don't get saddled up, they just wear bareback pads, and they just have the reins gathered under the chin and don't use a bit of any kind.

Finally all the riders showed up and Jeff gave them the rules of donkey basketball and donkey handling. The only part I remember is "don't pull on the tails and ears and don't beat them…just expect them not to cooperate…because that's just part of the fun," he said.

Doc Sare was a rider in a colorful shirt and he said his daughter Evelyn had dressed him for the event. Urie was doing a cheek to cheek cuddle with a donkey and a burro and she said it was her first time to meet donkeys.

Finally Jeff said: "Okay everybody, grab whatever donkey you want." There was a rush for donkeys as if they had all been picking out their favorite the whole time.

The game: It mostly consisted of slow walking donkeys following each other no matter what the riders wanted. The donkeys did know to go up and down the court, but I think it was only because there were doors at both ends and they were trying to make their get-away. Anyway, as they passed from end to end, riders tried to throw the ball in the basket as the donkeys headed for the doors. Quite often balls went out of bounds and riders had to dismount and chase the ball. Chase isn't the right word. Try to drag a donkey with all your might…is the correct phrase. Seriously, the riders pulled so hard they were almost horizontal to the floor. The rule is, you can't let go of the donkey.

There was a lot of slipping and falling because of this and that's when I noticed the riders wore all kinds of shoes and boots on their feet. No city school would ever let anyone on a court floor like we do and I think that's a nice thing. In fact, I think that question should be on all job applications for administrators and teachers, that way nobody will ever change the rules. I've been to courts in big cities and they make you walk around in socks, and at the end of games you have to sort thru 1000 shoes to find your own.

Well, the teachers won the Pinedale World Championship of Donkey Basketball and Jeff said he was impressed with all the good riders and shooters we had; and he really liked how all the kids came out to pet the donkeys at every break and halftime.

I asked Jeff if he knew where the food called Burritos came from and he didn't answer me.

Thank you Dawn Ballou at Pinedale Online for sponsoring this story. I always wanted to see a donkey basketball game.

Click on this link to see more pictures

Terry Allen: txpartisan@gmail.com

---
Multiple fire incidents keep firefighters busy (posted 5/10/18)
Sublette County Unified Fire
Sublette County Fire has been busy week so far. We have responded to multiple reports of fires since May 3rd and one reported gas leak. On the 7th alone, there were three separate fire calls requiring some SCUF units to respond to back-to-back-to-back calls from across the county as well as U.S. Forest Service and BLM firefighting crews for additional support.

The fires encountered varied in causes and materials involved. Some were initially started as controlled burns that exceeded the containment efforts of property owners when the wind decided to pick up after the fires were started, while another was unintentional, but was potentially started when sparks were created during mechanical ditch cleaning. One fire involved a pallet of lost well circulation material that was previously shrink-wrapped by using plastic and a torch to "shrink" the wrapping. One of the locations even required a second response after the landowner drug the previously burned area with a tractor possibly allowing air to reach still hot fuels and rekindle unburned grass.

Dryer than normal conditions around the lower elevations this year, along with moderate winds, have really sapped the moisture from the "finer" fuels such as grasses and small bushes (willows and sage brush) causing them to readily burn and allow fire to rapidly spread.

Here are a few pointers to consider when planning to burn or conduct "hot work" such as welding or grinding:
• Plan ahead!
• Always Call in to the Sublette County Sherriff's Office to inform them of your plans to burn. This provides a heads-up to SCUF so they can have an idea of planned burns in the area.
• Go to the National Weather Service's Website at https://www.weather.gov/riw/ or call them at
1-800-211-1448 to request a fire weather report for your location before burning. Check out the Agricultural Burning link at the bottom of the page for information, tips, forecast maps and other resources.
• When welding, torch cutting, grinding or any other spark producing activity, work in an area free of combustible material such as grass or wood piles. An area 35' in diameter free of combustibles around hot work activities is a recommended distance – windy conditions could require even more.
• Don't hesitate to notify your neighbors of your plans.
• At least have hand tools (shovels, rakes, etc.) and a properly rated fire extinguisher available when burning. Equipment such as water trailers, hoses and the like are also great to have in the event the fire gets out of hand.
• Call 911 to request the fire department – The sooner the better!

How to Join the local fire department:
• Call the main office at 307-367-4550 for more information or apply online at
http://www.sublettewyo.com/DocumentCenter/View/1002

---
Learn Before You Burn (posted 5/10/18)
Sublette County Unified Fire
During the recent springtime weather, many local landowners have been completing agricultural burns throughout Sublette County. Unfortunately, the springtime weather has produced windy conditions, warm temperatures, and low relative humidifies. As a result, numerous agricultural burns have gotten out of control, requiring emergency response from Sublette County Unified Fire to extinguish these fires. Recently the volunteer firefighters of Sublette County Unified Fire have responded to 12 escaped agriculture fires.

Sublette County Unified Fire is advising people to get the most up-to-date weather forecast before conducting agricultural burns - Learn Before You Burn! The National Weather Service advises landowners, conservation districts, irrigation districts, and others who plan to conduct prescribed burning activities to check the latest weather forecast by calling the National Weather Service in Riverton toll-free at 1-800-211-1448. The National Weather Service office can be contacted 24 hours a day by phone. Area-specific forecasts are also available online (weather.gov/riverton) or on your SmartPhone at mobile.weather.gov

Additionally, before conducting any planned burning activities, always notify the Sublette County 911 Dispatch Center of the planned burn using the non-emergency phone number (307-367-4378). Oftentimes neighbors and passerby's will call the 911 Dispatch Center to report visible smoke or flames that is actually from a controlled burn. If the Dispatch Center is notified of the controlled burn beforehand, they can prevent an unnecessary fire department response.

An agricultural burn can easily become uncontrollable when unexpected winds increase and cause the dormant vegetation to burn rapidly. It is common for calm winds to quickly become gusty around mid-day or with the passage of thunderstorms or cold fronts. An accurate weather forecast can make the difference between a successful agricultural burn and an uncontrolled wildland fire.

If a planned burn does escape, you could be held accountable for civil and criminal charges. Property damage costs and firefighting costs can quickly escalate when homes are lost, outbuildings torched, and fences damaged. After a large fire in 2013, the U.S. Forest Service billed a Jackson man $6.3 million for the costs of fighting a wildfire caused from an escaped trash barrel fire.

The following tips for conducting a safe burn are provided from the National Weather Service – Learn Before You Burn! https://www.weather.gov/riw/agburning

1. Call the National Weather Service any time of the day or night, any day of the week at 800-211-1448. The weather can play a pivotal role in whether your burn is successful or not. Light winds in the morning can become strong in the afternoon at the blink of an eye. The NWS can tell you if that is likely to happen on the day you would like to burn and they can help you find a safer day if necessary.
2. Call the Local Authorities. By calling the authorities first you ensure that your burn is legal and that it is not taxing resources unnecessarily. The local sheriff and your local fire department do not want to field calls about your burn and have them turn into a false alarm. In addition, you may have to obtain a burning permit.
3. Talk to your Neighbors. Let them know your plans, as a matter of safety and courtesy.
4. Establish Firebreaks. Create firebreaks by raking or plowing around the area that you would like to burn. Keep that area free of vegetation and wide enough to protect what you don't want damaged outside the burn area.
5. Ready Water and Equipment. Have a reliable water source available. Line up your hand tools such as rakes and shovels in advance and have them readily available for all participants.
6. Plan Before Burning. Begin with the areas that pose the greatest threat of becoming difficult to control. By beginning here, your fire is at its smallest size when it enters the highest fuel loads. Always try and burn into the wind, this slows the rate of spread and makes the fire easier to control
7. Control the Fire! Stay with the fire at all times. You may be liable for damage caused by your fire. Have plenty of helpers on hand. More people helping = more control Keep debris piles small. Large piles generate enough heat to damage nearby trees, power lines, and structures Do not hesitate to call 911 if the fire gets out of hand. The longer you wait, the bigger the fire will be when help does arrive! When finished, ensure that the fire is completely out. Numerous fires break out each year when smoldering areas are left behind. Make sure that your fire is out cold.

Remember: Your fire is your responsibility!

---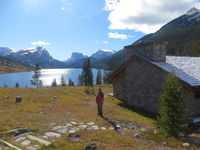 The rock lodge from the historic GP Bar ranch on Green River Lakes is now available for public rental. There will be an Open House on June 23rd. Photo by Jonita Sommers.

Green River Lakes Lodge Open House June 23rd (posted 5/9/18)
Cabin rental reservations being taken for meetings and overnight accommodations
Bridger-Teton National Forest
The Bridger-Teton National Forest, Pinedale Ranger District will soon begin accepting reservations for day or overnight accommodations at the Green River Lakes Lodge, a two-bedroom cabin located 50 miles north of Pinedale on the northwest shore of Green River Lake. After overwhelming public support, this lodge has formally been accepted into the U.S. Forest Service's public cabin rental program.

On June 23, 2018, the Pinedale District will host an open house at Green River Lakes Lodge from 10:00 AM to 3:00 PM for those wishing to view the lodge and facilities. Local members of the Sublette County Historic Preservation Board CLG have provided lots of exciting historical information for the lodge, formerly known as the GP Bar Guest Ranch, which will remain on display at the lodge.

In 2018, the Lodge will be available for public rental beginning July 1 through November 15, and December 15 through April 15 each year. The Lodge will be closed for maintenance and repairs from November 15 to December 14, and April 16 to June 30 each year. These dates may vary based on the road conditions, weather, or maintenance needs. The Lodge will be available for day use events such as weddings, family reunions, or meetings for up to 50 guests at one time, or as an overnight rental for smaller groups of up to 12 guests per night. Views from the Lodge include Green River Lake and Square Top Mountain, which can be seen from the living room and master bedroom.

A fee of $100/night will be charged from July-September, when drinking water, flush toilets, and showers will be available. During the colder parts of the year, a fee of $75/night will be charged as water will not be provided. Through the Recreation Enhancement Act, 95% of proceeds collected from the lodge will be returned to the Bridger-Teton National Forest for maintenance and upkeep of this facility.

On May 14, 2019, the Pinedale District will begin accepting reservations for public rental of the lodge. This lodge will not be posted or reserved on Recreation.Gov until winter 2018. The only way to reserve this cabin for this summer and fall (July 1 – November 15, 2018) will be to call the temporary Green River Lakes Lodge Reservation Line at 307-367-5712. Reservations will be accepted on a first-come, first-serve basis, and processed in the order received. The maximum stay limit for each group at the lodge is 7 days. Those wishing to make a reservation will need to leave their name, requested reservation dates, and telephone number. The Pinedale District will return calls in the order they were received. Beginning in the fall of 2018, reservations for December 15 through March 30 will be available through Recreation.Gov.

The cabin contains two flush toilets and two showers (summer only), propane and wood heat, and furnishings. The master room has a double bed and attached bathroom. The second bedroom has two twin bunk beds and an attached bathroom. A propane refrigerator and cook stove are provided. Although the cabin has these basic amenities, guests will need to provide their own food, cooking pans, plates, and utensils, sleeping bags, linens, towels, dish soap, matches, first aid kit, toilet paper and garbage bags. Firewood may be available, but it is not guaranteed. Battery-operated lanterns will be available, however guests are advised to bring additional battery-operated lanterns and flashlights in case of emergency. No propane or liquid-fueled lanterns will be allowed inside the lodge. A cabin rental permit will be provided to each group of renters, which will require all guests to clean the cabin before leaving. Basic cleaning supplies and equipment will be provided.

The Green River Lake Campground, located near the Lodge, provides 35 single-unit campsites and 3 large group campsites, with picnic tables, fire rings, and vault toilets. The group sites within the campground can be reserved through Recreation.Gov. All other campsites in the campground are available on a first-come/first-serve basis.

Please call the Pinedale Ranger District at 307-367-4326 if you have questions regarding the Green River Lake Lodge cabin rental program or Open House. Please call the Green River Lake Lodge - Reservation line at 307-367-5712 for cabin reservations. No reservations will be accepted on the reservation line before May 14, 2018

For more information, visit the Forest Website at https://www.fs.usda.gov/btnf/. For additional information, contact the Bridger-Teton National Forest at (307) 739-5500.

Related Links:
Green River Lakes Lodge Bridger-Teton National Forest
Looking Back at the GP Bar By Jonita Sommers, Pinedale Online! October 10, 2017

---
Business Directory
Click here for
Advertising Information