Woman killed, 2 children injured in crash east of Big Piney (posted 5/26/2020)
Wyoming Highway Patrol
On Friday, May 22, 2020, a fatal crash occurred at milepost 20 on Wyoming 351 east of Big Piney, Wyoming. Around 10:36 a.m., Wyoming Highway Patrol troopers were dispatched to the area for a one-vehicle rollover.

A 1997 Chevrolet Blazer was traveling westbound on Wyoming 351 when the vehicle drifted off the right side of the roadway. The driver overcorrected to the left, crossing the centerline before overcorrecting to the right and overturning.

The driver of the Chevrolet has been identified as 31-year-old Nibley, Utah resident Robyn M. Matthews. Matthews was not wearing a seatbelt and succumbed to her injuries at the scene of the crash. The two juvenile passengers in the vehicle were properly restrained and flown by helicopter to the University of Utah for injuries sustained in the crash.

Speed and cell phone use are being investigated as possible contributing factors.

This is the 30th fatality on Wyoming's roadways in 2020 compared to 64 in 2019, 38 in 2018, and 38 in 2017 to date.

---
Governor Gordon to hold COVID-19 briefing May 27 (posted 5/26/2020)
Wyoming Governor Mark Gordon will hold a briefing at 3:00PM on Wednesday, May 27th. The Governor will be joined by State Health Officer Dr. Alexia Harrist to provide an update on Wyoming's ongoing response to the COVID-19 pandemic. He will also discuss the status of large events in Wyoming this summer. The briefing will be streamed live on Wyoming PBS television, the Wyoming PBS' Facebook page and Wyoming PBS YouTube channel. It can also be heard live on KPIN 101.1FM Radio. The recording of the briefing can be viewed afterwards on Facebook or on YouTube.

---
13th Wyoming coronavirus-related death reported (posted 5/26/2020)
Washakie County resident
Wyoming Department of Health
Another Washakie County resident previously identified as a laboratory-confirmed coronavirus disease 2019 (COVID-19) case has died, according to the Wyoming Department of Health (WDH).

The older man had been hospitalized and was a resident of a Washakie County long-term care facility identified earlier as experiencing an outbreak of COVID-19. Two residents have now died in connection with the outbreak. Testing has so far identified 12 cases among residents and nine among facility staff.

There have now been 13 coronavirus-related deaths, 648 lab-confirmed cases and 202 probable cases reported so far among Wyoming residents.

COVID-19 can be transmitted by infected people who don't yet have symptoms. Disease symptoms may appear 2 to 14 days after virus exposure and include fever, cough, shortness of breath or difficulty breathing, chills, muscle pain, headache, sore throat and new loss of taste or smell.

For more information about COVID-19 from WDH, visit: https://health.wyo.gov/publichealth/infectious-disease-epidemiology-unit/disease/novel-coronavirus/.

---
Jackson public buildings begin limited reopening May 26th (posted 5/26/2020)
Teton County, Wyoming
Public buildings in Jackson, Wyoming will begin to reopen on a limited basis on Tuesday, May 26th. Social distancing measures will continue to be in place and people are still encouraged to use phone calls for questions and drop boxes for utility payments as much as possible to conduct their business. Some departments will be requiring appointments to meet with staff.

The Teton County Library is still on a more delayed schedule. They will begin their Phase 1 of reopening on May 30th with accepting returns of library material through the book drop. Returned items will be quarantined and sanitized. After a cautious two-week period of monitoring, they will begin Phase 2 with curbside pickup of library materials on Saturday, June 13th. No late fees will be assessed during this interim period. Phase 3 allowing in-person visits to the library depends on how Phase 1 and 2 go for COVID-19 statistics evaluation. In the meantime, the libraries have a lot of media resources available online.

Teton County is a gateway to Yellowstone and Grand Teton National Parks. The county has been more cautious than the rest of the state with their health orders and pacing of reopening, out of concerns to protect the health of their small mountain community and to not overload their limited medical resources from an onslaught of out-of-area visitors and influx of potential germs. Visitors are now being allowed in on a limited basis and the 14 day self-quarantine has been lifted. The National Parks, which bring in millions of visitors a year, are open basically for day-use only with no overnight lodging. Residents and visitors to Jackson Hole are still being asked to wear face masks while in public where social distancing is not possible. Gatherings of up to 25 people are now permitted, although residents are asked to still not visit friends or family without an urgent need. Local businesses are beginning to reopen with strict social distancing guidelines in place. The county has had 69 confirmed positive COVID-19 cases and one death to date.

Click on the links below for more information.

Public buildings in town will open after holiday weekend buckrail.com, May 22, 2020
Library will slowly come online beginning with book drop, curbside pickup buckrail.com, May 23, 2020
Teton County Library
Teton County Road to Recovery Plan
Teton County Health Department
www.jhcovid.com Jackson Hole COVID-19 Resource page
Information for visitors to Jackson Hole
Video message from Jackson Mayor to visitors

---
What campgrounds are open around Pinedale? (posted 5/25/2020)
New Fork, Narrows, Willow, Half Moon and Boulder Lake campgrounds are open on a first-come, first-served basis, according to the Forest Service, Bridger-Teton National Forest.

Fremont Lake Campground is closed until June 1st. Crews are removing hazard trees and finishing up on a fuel reduction treatment in the campground as part of the Skyline Fuel Treatment Project.

Green River Lakes Campground is still closed – will open sometime in June.

BLM's Warren Bridge campground on the Green River is open.

There is a new private RV campground being built on the west end of town, but sounds like it won't be ready to open until August.

The Town's new RV dump station should be open in June sometime. It is located on the NW corner of the back side of Rocky Mountain Wash on the west side of town.

Plans are still a go for Rendezvous, July 9-12 in Pinedale, although things may be scaled back depending on what COVID-19 impacts happen with everyone reopening. The Museum of the Mountain Man has living history programs scheduled. The Town is still planning on the parade. Traders Row is still planning ahead. The Rendezvous Pageant is still planned. The rodeo association is moving forward as if things will happen, but their event depends on the approval of the State Public Health officer's. Stay tuned for updates. We highly recommend visitors make their lodging reservation in advance for Rendezvous as local lodging usually books full for this week.

Stay tuned for updates. We highly recommend visitors make their lodging reservation now for Rendezvous as local lodging usually books full for this week, see links below. Contact the Sublette County Visitor Center/Chamber of Commerce with questions, 1-888-285-7282, info@visitpinedale.org.

Related Links:
www.visitpinedale.org
Bridger-Teton National Forest

---
Teton County hosts COVID-19 mass testing event May 28th (posted 5/25/2020)
Asymptomatic (experiencing no symptoms) individuals will be tested
Teton County Health Department will be hosting a COVID-19 mass testing event on Thursday, May 28th from 9AM to 7PM at the Teton County Fairgrounds. The event is for anyone who lives OR works in Teton County, Wyoming. Asymptomatic (experiencing no symptoms) individuals will be tested.

"Testing is an important mechanism to know what is going on in our community: the more people we test, the better snapshot we will have of disease spread. This event will help us to identify positive individuals (even individuals without symptoms) for COVID-19, so that we can quickly conduct contact tracing to help identify their close contacts and slow the spread of the disease. Please join us for this testing event, and support our efforts to keep our whole community safe and healthy as restrictions ease in the Statewide Health Orders."

The testing will be held at the Teton County Fairgrounds. Enter on the recycling side of the fairgrounds, either via Snow King Avenue or Flat Creek Drive.

Individuals with insurance are asked to bring their insurance cards. Health officials say they will be able to bill most insurances. For those who are under or uninsured, there will be vouchers available for free testing.

This event is being hosted by Teton County Fire/EMS and Emerg-a-care.

Source: Teton County Wyoming Health Department

---
Mad River cancels 2020 summer season (posted 5/25/2020)
Due to COVID-19 health concerns
Mad River Boat Trips in Jackson Hole has reportedly cancelled their river rafting summer season due to public health and logistical considerations. Mad River does whitewater adventure rafting and scenic float trips on the Snake River. Click on this link for more details Mad River cancels summer season, Scenic Safaris will operate beginning in June buckrail.com, May 22, 2020

---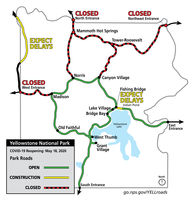 Graphic courtesy YNP

Yellowstone National Park reopening 60-90% of normal (posted 5/22/2020)
Mid-May 2020 stats
Pinedale Online!
On Monday, May 18th, Yellowstone National Park began Phase 1 of their reopening plan. Only the east and south entrances in Wyoming were open. Montana and Idaho entrances are still closed. Visitation through the first three days of operations was 90% of normal through the East Entrance near Cody and approximately 60% of normal through the South Entrance near Jackson. It is estimated over the first three opening days (May 18-20, 2020), there was less than 20% of the normal traffic volume in the park compared to when all five entrances are typically open in mid-May before the Memorial Day holiday weekend. The park expects traffic and visitation levels to grow over the Memorial Day weekend.

Overall, the Old Faithful boardwalk was one of the busiest sections of the park in the first three days of operations. A mix of compliance and non-compliance with social distancing was observed by park staff. Most families and groups traveling together were not socially distanced, as would be expected. Clear separation between these groups was observed in many cases, but not all. Masks are not required but are highly recommended in the park especially when social distancing is not possible. Park staff observed limited use of masks in outdoor areas.

In a media release on May 21st, the National Park Service said their number one priority was to keep their employees safe by implementing creative mitigation measures and following CDC guidance. The park has spent approximately $136,000 on COVID-19 mitigation over the past weeks: nearly $30k for personal protective equipment (PPE) (N-95 masks, Tyvek suits, face shields, regular masks, and gloves); nearly $50k for new electrostatic disinfectant sprayers to more effectively and expeditiously clean restrooms and facilities; $20k for facial coverings and thermometers; $16k for visitor center and entrance station mitigation (plexiglass shields, stanchions, other); and nearly $20k for signage. The park has another $40k pending in backordered charges for additional PPE and mitigation equipment.

Yellowstone National Park Superintendent Cam Sholly said they have put substantial mitigation in place and their measures will continue evolving daily. "However, to visitors intending to visit Yellowstone: If you are not comfortable being in places where other visitors are not wearing masks, I suggest one of two things:
1) plan your visit for another time and don't come to the park now; or
2) don't put yourselves in situations where you're around visitors who are not following health recommendations."

Sholly said park personnel expect the public to partner with them to protect each other. "While we are taking many actions to mitigate health concerns, including widespread messaging, signage, and direct public interface, the National Park Service in Yellowstone will not be actively telling citizens to spread out and put masks on, especially outdoors. While we recommend it, per CDC guidelines, primarily in areas where social distancing cannot be adhered to, we will not be enforcing the wearing of masks in outdoor areas. Once facilities begin to open, the park will evaluate more rigid guidelines on social distancing and facial coverings indoors."

The decision to reopen Yellowstone National Park and decisions on how to proceed forward with respect to the coronavirus pandemic are being made in close concert with state and local partners, including health officials, and with support from the Department of the Interior and the National Park Service. Park officials will observe and make adjustments to their operations, whether to expand or contract services, as the COVID-19 public health situation unfolds over time.

Click here for the Yellowstone National Park Reopening Plan. (PDF)

Click here for the Yellowstone National Park May 13, 2020 news release regarding Phase 1.
---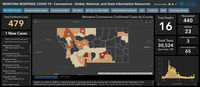 Montana COVID-19 statistics as of Friday, May 22, 2020. Graphic courtesy State of Montana.

Montana to begin their Phase Two starting June 1 (posted 5/22/2020)
14-Day Travel quarantine will lift, businesses open with more capacity, bowling alleys can open
Governor Bullock announced that Montana will move into Phase Two of the Reopening Plan as of June 1st.

Guidance for Phase Two:
Restaurants, bars, breweries, distilleries, and casinos remain in the same operation status as Phase One, but will increase to 75% capacity.

Gyms, indoor fitness classes, pool, and hot tubs can operate at 75% capacity and only in strict physical distancing circumstances, with frequent sanitization practices.

Concert halls, bowling alleys, and other places of assembly may operate with reduced capacity.

The 14-day travel quarantine for out-of-state travelers for non-work related purposes will be lifted June 1st.

Montana National Guard will continue to conduct screenings in airports and train depots and refer anyone with COVID-19 related symptoms to local public health officials.

To support Montana's destination communities, the state will assist with establishing the following protocols:

Surveillance testing of employees.

Enhanced contact tracing resources deployed to these areas as requested by local authorities.

Ability to surge personal protective equipment to impacted health care systems.

Guidelines for operation for business that see high-tourist activity.

Montana's gradual and phased plan to reopen began on April 26 with Phase One which allowed schools, places of worship, main street and retail businesses, and restaurants, breweries, and bars to reopen under social distancing guidelines. Governor Bullock also provided additional guidance to allow gyms, movie theaters, and museums to reopen under the first phase on May 15.

To date, Montana has had 16 deaths due to the coronavirus, 479 confirmed cases of COVID-19, and 437 recovered. They have tested 30, 524 people for the disease.

To read the full directive, click here.

Click here for the Montana COVID-19 Dashboard for updated COVID-19 statistics.

---
Governor Gordon signs 3 bills from Special Session (posted 5/20/2020)
Governor Mark Gordon media release
CHEYENNE, WYOMING – Governor Mark Gordon has signed three pieces of legislation passed by the Wyoming Legislature that provide a framework for spending $1.25 billion in federal funding awarded to the State through the Coronavirus Aid, Relief, and Economic Security (CARES) Act.

The bills were developed and passed during the Legislature's special session held electronically on May 15-16.

Senate File 1001 gives the Governor further flexibility to spend the $1.25 billion in CARES Act funding through three allotments. It sets out $450 million immediately, an additional $400 million starting on July 15 and the remaining balance of $400 million beginning Sept. 15.

Senate File 1002 makes changes to the State's unemployment insurance program and workers compensation program. It also creates an eviction prevention program that will be administered by the Wyoming Community Development Authority.

House Bill 1004 provides funding to establish three business-relief programs that will provide assistance to Wyoming companies impacted by COVID-19 and health orders. It allocates $50 million for the "Wyoming Business Interruption Stipend Program" to help businesses with 50 or fewer employees with grants of up to $50,000 dollars; $225 million for the "Coronavirus Business Relief Stipend Program" to assist businesses with up to 100 employees with stipends of up to $300,000; and $50 million for the "Coronavirus Mitigation Stipend Program" that will help Wyoming businesses of any size pay for COVID-19 related expenses up to $500,000.

The Governor exercised his line-item veto authority to address two elements of House Bill 1004. The first addresses the timing of the allocation of funds. Under the bill as written, the Legislature appropriated $325 million for these business relief programs, but required the entire appropriation be applied to the initial $450 million. This would limit the Governor's flexibility to address other urgent needs prior to July 15.

The second line-item veto removes the $20,000 minimum amount that businesses would be eligible for under the Business Interruption Stipend Program. This better aligns the grant to the true need of the smallest businesses with minor losses.

Click on the links below to read the Governor's veto letter and an additional letter addressing Senate Files 1001 and 1002.
• Considerations in signing SEA1 and SEA2.pdf
• Line Item Veto HEA0001 HB1004 COVID-19 business relief programs.pdf

---
Canada-Mexico border closure order extended for another month (posted 5/20/2020)
Due to COVID-19
The Centers for Disease Control and Prevention (CDC) announced they are amending and extending the public health order from March 20th that temporarily closed the U.S. border between Canada and Mexico for people coming into the U.S.

The order states that the "introduction of aliens, regardless of their country of origin, migrating through Canada and Mexico into the United States creates a serious danger of the introduction of COVID-19 into the United States, and the danger is so increased by the introduction of such aliens that a temporary suspension is necessary to protect the public health."

This amendment and extension goes into effect at 12:00 a.m. Eastern Daylight Time (EDT) on May 21, 2020 and is in effect until the CDC Director determines that the danger of further introduction of COVID-19 into the United States from covered aliens has ceased to be a serious danger to the public health, and the Order is no longer necessary to protect the public health.

The CDC will review the latest information regarding the status of the COVID-19 pandemic and associated public health risks every thirty days to ensure that the Order remains necessary to protect the public health.

Click on this link for more information.

Source: https://www.cdc.gov/quarantine/order-suspending-introduction-certain-persons.html
---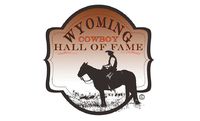 Wyoming Cowboy Hall of Fame announces Class of 2020 Inductees (posted 5/19/2020)
Wyoming Cowboy Hall of Fame
Wyoming springtime marks the annual selection of the Wyoming Cowboy Hall of Fame (WCHF) inductee class.

Nominations were accepted from Dec 2019 through Feb 28, 2020. Regional committees in ten different areas of Wyoming read, researched and scored over 70 nominations and sent the top 50 picks to the WCHF State Board of Directors.

WCHF State Board of Directors voted on those selections the first weekend of May, and voted 41 nominees into the 2020 WCHF Class of Inductees.

The induction ceremony will be at the Little America of Cheyenne, September 19-20, during the annual Wyoming Cowboy & Cowgirl Legacy Week.

Formed for exclusively historical, cultural, literary and educational purposes, WCHF's chief goal is "To preserve, promote, perpetuate, publish and document Wyoming's working cowboy and ranching history through researching, profiling and honoring individuals who broke the first trails and introduced that culture to this state. WCHF plans to collect, display and preserve the stories, photos and artifacts of such individuals and anything else that will honor and highlight their contributions to our history."

WCHF Class of 2020:
Region 1
Campbell County: Butch Reynolds, Aldin Reynolds
Crook County: Ed Cooper, Kenneth Canfield
Weston County: Francis Sedgwick, Jean Harshberger

Region 2
Platte County: James "Jim" Wilson
Niobrara County: Fred & Clara Wilson, Donald Heckert, Pat Miller
Goshen County: Edward Johnson

Region 3
Laramie County: Marie Belle, Russ Stinnette

Region 4
Natrona County: Jim & Peggy Price, James Baker
Converse County: Fred Hageman, Teddy Pennington

Region 5
Sheridan County: Archie Nash, Ralph Foster
Johnson County: Sue Jarrard, Raynard McKenzie

Region 6
Bighorn County: Robert Good
Park County: Mel Stonehouse, Robert Earl Curtis, Dale M Sims

Region 7
Carbon County: Ben Kern, Donald & Dorothy Kortes
Sweetwater County: Thomas Francis Pearson, Lige Driskell & George Finch

Region 8
Fremont County: Tommy Jarrard, John Jack Darnell, Ronald Crawford

Region 9
Uinta County: Don & Claudia Proffitt, Bertha Hamilton

Region 10
Sublette County: Jep Richie, Buss Fear
Teton County: Chancy Wheeldon, Kenneth Griggs
Lincoln County: Stepp Family, Stan Murdock

Board Decision
Russell Pinky Walters

Related Links:
www.wyomingcowboyhalloffame.org Wyoming Cowboy Hall of Fame

---
2020 Census Field Operations resume in Wyoming (posted 5/19/2020)
Census workers to wear PPE
The U.S. Census Bureau is resuming 2020 Census field operations in Wyoming beginning May 18, 2020. For the health and safety of Census employees and the public, field staff will observe social distancing protocols and will wear Personal Protective Equipment (PPE).

U.S. Census Bureau field employees will begin dropping off 2020 Census invitation packets at the front doors of households in areas that do not receive mail at their physical home address. This field operation follows current federal health and safety guidelines and does not require interaction between households and Census Bureau employees.

Households that receive the 2020 Census invitation packets are strongly encouraged to respond promptly – using the Census ID included in the questionnaire packet. Wyomingites can still respond online, by phone, or by completing and returning the paper form by mail. Responding online with the Census ID or completing and returning the paper questionnaire helps ensure an accurate count of Wyoming communities.

Everyone is encouraged to respond today online and help Wyoming increase the #2020Census self-response rate. The questionnaire only takes a couple of minutes to complete. Only one person needs to respond for each household. Go to 2020census.gov or call 1-844-330-2020 for more information and to respond.

---
2020 Election Cycle begins (posted 5/13/2020)
Candidate filing period is May 14 to May 29th
Wyoming Secretary of State Office
The Secretary of State's Office announced today (Wednesday, May 13, 2020) the beginning of the election cycle in Wyoming. This cycle starts with the 2020 Candidate Filing Period and the launching of an ongoing campaign, "VoteSafely Wyoming," to inform voters on their options for casting a ballot in 2020 during the ongoing COVID-19 Pandemic.

This week marks the beginning of the election season with the start of the candidate filing period on Thursday, May 14th. The filing period will end on Friday, May 29th at 5:00 p.m. MDT.

All Republican and Democratic candidates for the office of U.S. Senator, U.S. Representative, Wyoming State Senator, and Wyoming State Representative must file with the Secretary of State's Election Division in order to stand for election in the 2020 Primary Election which will take place on Tuesday, August 18th. Candidates for county and municipal offices must file with their local office.

"I truly hope that even though the times are uncertain, that many Wyoming citizens will feel called to serve our state and file to run for office," said Secretary of State Edward Buchanan.

Candidates filing for office with the Secretary of State's Office are encouraged to file on the Statewide Candidate Filing webpage. Once the filing period begins on Thursday, a list of candidates who have filed to run for office will be posted daily by 5:00 PM and will be available from the Secretary of State's website. Other election information may also be found on the Office's Election Center web page.

"Due to concerns related to COVID-19, I want to remind every voter that you have a choice on how you vote in the 2020 Elections. Voters can choose to vote in person at a polling place or send an absentee ballot request to their county clerk. Voters should make the choice that works best for them during these unprecedented times," said Secretary Buchanan. "Just as in all elections in Wyoming, voters will be given options and ways to vote that are safe. My office will continue to respond to this developing situation and act to protect the health and safety of all voters while maintaining the security and integrity of the election."

The Secretary of State's Office is reminding registered voters to watch their mail for election information from the Secretary of State's Office that will arrive this month. This mailer outlines voting options for both the 2020 Primary Election and 2020 General Election as well as contact information for each county clerk. Anyone who has questions about voting in 2020 should visit the Secretary of State's website or contact their local county clerk's office for more information.

"Even as concerns over COVID-19 continue, we are encouraging candidates to file and voters to cast their ballot. We are working hard to ensure we have a great election season," said State Election Director Kai Schon.

---
Business Directory
Click here for
Advertising Information