Administration takes aim at gunsmiths and other firearms hobbyists (posted 8/30/16)
2nd Amendment infringement: Restricting public's right to keep and bear arms by inflicting high registration fees
Wyoming Senate Delegation - Senator Mike Enzi, Senator John Barrasso
Washington D.C. – The U.S. State Department recently published regulatory guidance which may require small to medium-sized gunsmithing operations and other firearms hobbyists to pay hefty annual registration fees of more than $2,000.

In a letter to Secretary of State John Kerry, led by U.S. Senator Steve Daines, R-Mont., U.S. Representative Steve Scalise, R- La. and signed by U.S. Senators Mike Enzi, John Barrasso, both R-Wyo., as well as 21 other senators and more than 100 representatives, the lawmakers called on the Administration to rescind the plan immediately.

The legislators believe the State Department policy guidance expansion of existing International Traffic in Arms Regulations (ITAR) and Arms Export Control Act (AECA) will have serious and negative consequences on hundreds of thousands of small and medium-sized gunsmithing operations all over the country. They said the expanded regulation was, "wholly unnecessary and nonsensical."

"Not only does the guidance expand registration to gunsmiths who do not "manufacture" firearms, it also runs counter to the intent of AECA and ITAR, which are meant to control the production and exportation of military material, not the domestic repair or maintenance of a legal, common, and Constitutionally-protected product.," the lawmakers wrote. "We believe the guidance effectively expands ITAR registration requirements and should be rescinded immediately."

The full text of the U.S. Senate letter is available for download HERE, the U.S. House of Representatives letter is available for download HERE.

---
Berry Fire update Aug 30 – Highway 191 reopened (posted 8/30/16)
Tuesday, August 30, 8:30AM: Highway 89/191/287 has been reopened allowing direct travel between Jackson Hole, Wyoming, and the South Entrance to Yellowstone National Park. The highway pullouts along the highway in the fire area will remain closed. The parking pullouts and Flagg Ranch are being used as parking areas and supply staging zones for firefighting traffic. This fire was started by lightning on July 25th and is located about 19 miles NW of Moran in Grand Teton Park. It has burned approximately 13,177 acres and is being managed for resource benefit. Visitors may encounter smoke in places reducing visibility and impacting those with breathing sensitivities. Please use headlights and slow your speed. For Fire Information call: 307-739-3566, or go online to http://inciweb.nwcg.gov/incident/4954/ Berry Fire.
---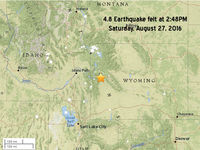 A 4.8 earthquake was felt Saturday, August 27, 2016 in Sublette County and western Wyoming. People reported feeling it in Kendall Valley, Hoback Ranches and Daniel and as far away as Lander and Thermopolis.

4.8 Earthquake reported in western Wyoming (posted 8/27/16)
Pinedale Online!
Saturday, August 27, 2016, 3:00PM: An earthquake has been reported by many people across western Wyoming today around 2:48PM. No damage has been reported. The quake shook for from 10 to 15 seconds and rattled things in houses. The National Earthquake Information Center in Golden, Colorado reports the earthquake was a magnitude 4.8 on the Richter scale and occurred about 2:48 pm MDT approximately 24 miles east of Hoback, Wyoming. Reports from people feeling it have been centered in Teton and Sublette counties and included people in Kendall Valley, Hoback Ranches and Daniel and as far away as Lander and Thermopolis. One person in Kendall Valley reported, "It shook our house for about 10 seconds. Stuff rattling in house…You could even hear the rumble and the roar…The epicenter was only about 20 miles due west of our house."

Updated information is available at earthquake.usgs.gov and here.

---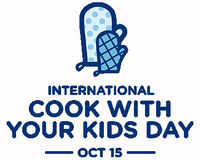 International Cook With Your Kids Day is Saturday, October 15th. Enter the Ben's Beginners Contest and have a chance to win $15,000 for your family and a $30,000 makeover for your school cafeteria. The more families that enter, the better your school's chances.

Cook with your Kids and help your local school (posted 8/25/16)
Ben's Beginners Contest has chance to win $15,000 for your family plus a $30,000 makeover for your school cafeteria
Pinedale Online!
Food company Uncle Ben's is hosting a contest to encourage families to do more cooking and eating together. As part of the contest, your school could win a Cafeteria Makeover and other prizes.

The BEN'S BEGINNERS™ Contest launches on August 20, 2016 and five winning families will each receive $15,000 for themselves and a $30,000 cafeteria makeover for their child's school. So spread the word! The more families from your school that enter, the better your school's chance of winning.

The Ben's Beginners website encourages adults to teach kids to learn to cook and inspire them to eat healthier, and turn cooking time into family fun time. They are offering several cooking lessons and recipes online, with the chance to enter the contest to win big prizes. Five families will win $15,000 for themselves plus $30,000 cafeteria makeover for their child's school.

International Cook With Your Kids Day is Saturday, October 15, 2016. Uncle Ben's has created five fun and easy cooking lessons to help get your young chef started on the journey to a delicious and healthier future. Take a photo of your delicious meal and enter the contest for a chance to win $15,000 for your family and a $30,000 school cafeteria makeover.

Here are the recipes they are featuring:

Chicken, Broccoli & Rice Casserole
Meatballs & Rice
Cheesy Rainbow Rice with Ground Beef
Cranberry Rice Stuffed Pork Chop
Black Bean & Rice Open-Faced Tacos

To enter, submit a photo that shows you and your child with the rice-based meal you've cooked together. The photo should not show brand names, team names, or logos (other than UNCLE BEN's ®). They accept .jpg, .png, and .gif files up to 10 MB. Uncle Ben's invites everyone to join the celebration on this International Cook With Your Kids Day by cooking with your kids and sharing photos of your meals using #LookWhatWeMade. Cooking together as a family helps everyone enjoys the meal even more and strengthens family bonds and inspires kids to eat better.

For more information go to www.bensbeginners.com.
---
Transportation Commission awards $16.5 million in highway contracts (posted 8/22/16)
Wyoming Department of Transportation
Motorists will see additional passing lanes along WYO 59 between Douglas and Bill to help with traffic flow. The Wyoming Transportation Commission during its meeting on Aug. 18 awarded a $6.3 million passing lane contract to Concrete Foundations Inc. of Douglas for the installation of eight passing lanes along WYO 59. That contract was the largest the commission awarded out of a total of $16.5 million in contracts for 10 projects throughout the state. The eight passing lanes will be part of phase two of construction in that section of WYO 59. The work is expected to start in the spring and will be completed by Oct. 31, 2017. Crews are currently working in that area installing seven passing lanes as part of the first phase of the project, which will be completed by Oct. 31, 2016. The commission awarded that contract earlier this year, and it's being paid for with revenue from the 10-cent-fuel-tax increase.

The other contracts the commission awarded are for work throughout the state and include the installation of move over signs, surface repairs, bridge replacement and a traffic signal update.

Knife River Corp. of Boise, Idaho, won a $3.2 million contract to do a full-depth reclamation on about 18 miles of WYO 233. The process will include a double chip seal, which WYDOT hasn't done in several years. Crews will dig out about 10 inches of pavement and crushed base, recycle that material and put it back on the road. Crews will then add two layers of emulsion and aggregate chips. The process is being used on a low-volume road. The project will be paid for with revenue from the 10-cent-fuel-tax increase, and the contract completion date is Oct. 31, 2017.

H-K Contractors Inc. of Idaho Falls, Idaho, came in as the low bidder at $1.8 million to mill and overlay about 10 miles in various sections of US 191 south of Pinedale. The work will remove deteriorating pavement and rutting from the surface. Crews will also be installing a 4-mile bike path in the area. The project will be paid for with revenue from the 10-cent-fuel-tax increase, and the contract completion date is Oct. 31, 2017.

Lewis & Lewis Inc. of Rock Springs won a $1.8 million contract to mill and overlay about 12 miles of WYO 430 between Rock Springs and Hiawatha in Sweetwater County. The work will help maintain the road surface. The project will be paid for with revenue from the 10-cent-fuel-tax increase, and the contract completion date is Oct. 31, 2017.

Lewis & Lewis Inc. also won a $1.7 million contract for mill and overlay work on 6 miles of US 189 between Lazeart Junction near I-80 and Kemmerer in Uinta and Lincoln counties. The work is part of a pavement preservation project. The project will be paid for with revenue from the 10-cent-fuel-tax increase, and the contract completion date is Oct. 31, 2017.

Cannon Builders Inc. of Blackfoot, Idaho, came in as the low bidder at $1.3 million to replace the Hoback River Bridge on County Road 33 in Teton County. The project includes removing the old bridge, putting in a temporary bridge and building a new bridge. The current single lane bridge needs to be replaced and has weight restrictions. WYDOT is doing the design and contract administration for the project, which is being funded 90 percent from the federal government and 10 percent from the county. The contract completion date is Oct. 31, 2017.

Also awarded by the commission were contracts for:
• $120,095 to S & L Industrial of Cowley for 11 move over signs in Lincoln and Uinta counties that will be placed at various locations on I-80, WYO 150, US 189 and US 26 by Oct. 31, 2017;
• $99,051 to Casper Electric of Casper for a new traffic signal at the intersection of WYO 22 and WYO 390 between Jackson and Wilson in Teton County by Dec. 15;
• $93,413 to S & L Industrial for nine move over signs that will be installed at various locations on I-80, I-25, US 30, WYO 214, WYO 215, WYO 213 and WYO 210 in Albany, Carbon and Laramie counties by Oct. 31, 2017; and
• $90,372 to S & L Industrial for nine move over signs that will be installed at various locations on I-25, I-80 and near Casper in Carbon, Converse, Goshen, Natrona, Niobrara and Platte counties by Oct. 31, 2017.

---
Pinedale Half Marathon Sept. 24 (posted 8/22/16)
The Pinedale Half Marathon will be on Saturday, Sept. 24, 2016. In addition to a half marathon, there will be a 10K and 1-Mile race. These events take runners and walkers of all ages from the center of downtown Pinedale along the shore of scenic Fremont Lake.

For those wanting to participate and coming in from out-of-town, please be ready for a high-altitude event. This 1/2 Marathon starts at an elevation of 7,175 feet above sea level and overall gains about 300 feet throughout the course of this event.

Half marathon runners and walkers will start in downtown Pinedale and head towards Fremont Lake in an out-and-back race. 10k racers will start near Fremont Lake and run or walk into town. The 1-mile race will take place in town starting at Rendezvous Pointe.

Registration Information and Rates for 1/2 Marathon & 10k:
Go to www.pinedalehalfmarathon.com to register online or download the registration form to mail in.
June 1, 2016 to September 15, 2016 - $35
September 15, 2016 to September 22, 2016 - $50
On-Site Registration (Sept 23 and 24) - $75

2016 Race Info
Mini Health Fair & Race Bag Pick Up at Rendezvous Pointe:
Friday, September 23rd: 4PM-7PM

SPECIAL GUEST SPEAKER: Cardiologist Ellen Gallant, MD, FACC, FSCAI
Friday, September 23rd: 6PM - During Bag Pick-UP
Come be inspired!

1/2 Marathon Race Check In and Late Race Bag Pick Up:
Saturday, September 24th: 7AM

Race Start Times:
Half Marathon Start: 8:30 AM

10 K Start: 9:30 AM (Buses will leave Rendezvous Pointe to transport all participants to the starting line at 8:30AM)

1 Mile Start: 11 AM (registration available on-site)

Maps of the race routes are available on the Pinedale Half Marathon website, www.pinedalehalfmarathon.com.

BBQ & Beer
Every year, the day's events are concluded with a FREE community barbecue. This BBQ is open to everyone including participants, family members, visitors, supporters and other community members. The Lion's Club works the grill, with local chef Sue Eversull by their side. There will be music provided by Tim Ruland of the Pinedale Fine Arts Council (PFAC).

Child Care
The Pinedale Aquatic Center will be offering child care during the races. The child care form is available to print and fill out online. Call 307-367-2832 for more details.

Lodging
Make sure to tell your lodging establishment that you are in town for the Pinedale Half Marathon to receive special discounts provided for the race. Click here for establishments providing special rates.

Visitor Information
For more area information, see the VisitPinedale.org website. The Sublette County Chamber of Commerce website also has more information, www.sublettechamber.com. For more questions, call the Sublette County Visitor Center at 307-367-2242.
---
Washington's Wolves (posted 8/18/16)
Cat Urbigkit, Pinedale Online!
TVW Public Affairs, a Washington state public affairs network, has produced a half-hour documentary on the return of wolves to the state. The program provides a look at the impacts of wolves on livestock producers and issues surrounding wolf management in Washington. Click on the link below to watch the documentary.

Related Links:
TVW - Watch the documentary here.
Wolf Watch - by Cat Urbigkit, Pinedale Online!

---
Wyoming Tourism welcomes visitors to view the 2017 Solar Eclipse (posted 8/18/17)
Wyoming Office of Tourism
On August 21, 2017, a total solar eclipse will be visible from a 60-mile band of the earth that stretches the width of the United States for the first time since 1918. In support of this global event, the Wyoming Office of Tourism (WOT) launched a new page on their website, travelwyoming.com/eclipse that is dedicated to helping visitors plan eclipse experiences throughout the state. The much-anticipated event will also mark the first time a total solar eclipse will be viewable in the wide, clear skies of Wyoming since 1979.

The eclipse's path of totality will make its way through the entire central region of the state for nearly 366 miles, providing visitors the opportunity to see it in some of the nation's most stunning landscapes. The cities of Casper, Lander, Riverton, Jackson, Douglas, Torrington, Glendo, Guernsey and Glenrock are among many Wyoming communities located within the "path of totality" - the most direct alignment with the moon's shadow.

"For centuries, eclipses have been noted as one of the most breathtaking sights on earth," said Diane Shober, Executive Director of the Wyoming Office of Tourism. "To have an incredible natural phenomenon such as a total solar eclipse move across our entire state is very exciting for us. With our wide open spaces, normally clear weather and great events that surrounding community leaders are producing, it's no wonder Wyoming encompasses some of the best spots in the country to view the eclipse."

Casper, in Central Wyoming, has been recognized by GreatAmericanEclipse.com as one of the 10 best places to witness this once-in-a-lifetime phenomenon. Because Casper's viewing area is expected to be phenomenal, the Astronomical League is hosting its annual conference, Astrocon, during the days leading up to the eclipse. Casper is also hosting a celestial celebration called Eclipse Fest for visitors. In addition to the prime viewing spots, there will be live music, a golf tournament, a fun run and other outdoor activities including hiking, biking, rock climbing, kayaking, white water rafting and sailing.

Attendees of the Wind River Eclipse event in Fremont County can be immersed in Native American culture while awaiting the moon's pass between the earth and the sun. Because the eclipse lasts less than three minutes, but is expected to attract thousands to the state next summer, visitors are encouraged to explore Wyoming throughout their trip. Eclipse-viewers in the Wind River region can extend their stay with a visit to the newly opened Wind River Wild Horse Sanctuary, a working ranch on the Wind River Indian Reservation that gives guests an up-close viewing experience with wild mustangs.

For those watching the eclipse in Jackson, visitors can take advantage of the short drive to the nation's first national park, Yellowstone National Park, and continue the sky viewing at night. Because the park is vast and unpopulated, the skies are known for being clear and untainted by light pollution, perfect for spotting the Milky Way or other galaxies. Guests can participate in the Stars Over Yellowstone astronomy programs to rent equipment and learn from top astronomers. Jackson visitors can also visit Jackson Hole Mountain Resort for numerous outdoor recreation opportunities.

For a complete list of events celebrating the 2017 solar eclipse and resources to plan your next Wyoming adventure, visit travelwyoming.com/eclipse.

About the state of Wyoming

The State of Wyoming, also known as the Equality State, was admitted to the union on July 10, 1890 as the 44th U.S. state. Wyoming is the 9th largest state in terms of area yet has just over 500,000 residents, contributing to its ranking as the nation's 4th most livable state. The state is home to the country's first national park - Yellowstone - and the first national monument - Devils Tower. These sites, Grand Teton National Park and countless other glorious statewide attractions - supported by heartfelt cowboy hospitality - serve as host to millions of visitors every year. For more information visit:
TravelWyoming.com
facebook.com/visitwyoming
twitter.com/wyomingtourism
instagram.com/visitwyoming
---
OSHA to increase fines to keep up with inflation (posted 8/17/16)
OSHA Penalties to increase in Wyoming in February of 2017
State of Wyoming media release
CHEYENNE – Maximum penalties, which can be assessed by the Wyoming Department of Workforce Services (DWS) Occupational Safety and Health Administration division (OSHA), will increase in Wyoming in February of 2017. The change is the result of Congressional action which required federal agencies to index civil penalties by the inflation rate, with a one-time catch up provision. DWS, which operates an OSHA State Plan, is required to adopt maximum penalty levels that are at least as effective as federal OSHA penalties.

The federal legislation mandated the first OSHA penalty increase since 1990. The one-time catch-up will increase penalties by 78 percent, and will be adjusted annually to keep pace with inflation. Penalties assessed on or after February 1, 2017, will be subject to the new fine structure, pending final approval of the rule by the OSHA Commission.

"The new maximum OSHA penalties represent a sizeable increase for businesses out of compliance with OSHA standards," said DWS Director John Cox. "Contacting the Department's Workers' Compensation Safety and Risk Unit (WCSRU) for a free safety consultation is always a good idea for employers who are uncertain about safety standards. The WCSRU is a no-cost resource created specifically for employers seeking safety expertise and is staffed with advisors who provide safety and health assistance without assessing fines."

The WCSRU is a new DWS program offering free health and safety surveys to help employers recognize and remedy safety hazards in their workplace without fines or penalties. Employers can request a consultation by calling (307) 777-8901.

New Penalty Structure
"Other Than Serious" Violation - A violation that has a direct relationship to job safety and health, but probably would not cause death or serious physical harm.
New Maximum: $12,471 per violation
Current Maximum Penalty: up to $7,000 for each violation.

"Serious" Violation - A violation where there is substantial probability that death or serious physical harm could result, and the employer knew of, or should have known of, the hazard.
New Maximum: $12,471 per violation
Current Maximum Penalty: up to $7,000 for each violation.

"Failure to Abate" Violation - Failure to correct a previously cited violation.
New Maximum: $12,471 per day beyond the abatement date for each violation
Current Maximum Penalty: up to $7,000 each day beyond the abatement date for each violation.

"Willful" Violation - A violation that the employer knowingly commits or commits with plain indifference to the law. The employer either knows that what he or she is doing constitutes a violation, or is aware that a hazardous condition existed and made no reasonable effort to eliminate it.
New Maximum: $124,709 per violation
Current Maximum Penalty: up to $70,000 per violation.

"Repeat" Violation - A violation of any standard, regulation, rule, or order where, upon reinspection, a substantially similar violation is found.
New Maximum: $124,709 per violation
Current Maximum Penalty: up to $70,000 per violation.

Penalty Reductions
DWS OSHA maintains the ability to provide reductions on penalty amounts. OSHA penalty reductions can be taken on a case-by-case basis and are based upon federal regulation or guidelines which take into account a variety of factors, including size, industry, good faith, immediate resolution and prior history along with a severity and probability assessment. Penalties may be recalculated as the employer provides additional information and evidence through the appeals process.

---
Concealed Firearm Permits-New Requirements in Wyoming (posted 8/16/16)
Applications for a Wyoming Concealed Firearm Permit are now only available online at http://wyomingcdi.wyo.gov. Once in the DCI website, you may click on the link for "Concealed Firearm Permits."

You may choose to print the application and complete it with black or blue ink or type the application online and print it out. All paperwork needs to be submitted to your local Sheriff's Office. The required paperwork includes: completed application, driver's license, proof of firearm's proficiency, and fees. Your fingerprints will be taken when you submit your application to the Sheriff's Office.

Fees are as follows:
-New application $64 (DCI) + $10 (SO)
-Renewal application before the expiration date $45 (DCI) + $5 (SO)
-Renewal application after the expiration date $55 (DCI) + $5 (SO)
-Duplicate permit application $5

DCI fees will be required in the form of a cashier's check or money order. S.O. fees will be required as exact cash or a check. We do not accept credit cards.

Questions or concerns may be directed to DCI by email at cfp@wyo.gov or by calling 307-777-7181. Answers to many questions can be found on the aforementioned website by clicking on "Frequently Asked Questions."

---
Partial fire ban in effect for Sublette County (posted 8/2/16)
Pinedale Roundup
SUBLETTE COUNTY – Effective Tuesday, Aug. 2, Sublette County now has a partial fire ban in effect, which outlines five particular limits for fires within the county.
• Trash or refuse fires are prohibited between the hours of 8 a.m. and 6 p.m. and may only be within containers with spark arresters that have a 10-foot radius of cleared area around the fire.
• Campfires are only allowed within an established fire ring and with a 10-foot radius of clear ground around the fire.
• Charcoal fires within enclosed grills are permitted.
• Use of acetylene torches or electric arc welders in cleared areas with a 10-foot radius are permitted, but operators must carry a fire extinguisher and shovel.
• Propane or open-fire branding activities in an area with a 10-foot radius of cleared area are permitted, but operators must carry a fire extinguisher and shovel.

Once weather and precipitation conditions change, the Sublette County Fire Warden will notify the county commissioners, who will then rescind this partial ban.

Related Links:
www.pinedaleroundup.com Pinedale Roundup

---
Partial Fire Restrictions in effect for western Wyoming (posted 8/1/16)
Campfires allowed in designated recreation sites only
Interagency media release
Based upon a current fire danger rating of Very High and current predications of continued warm and dry weather, Teton Interagency fire managers announced today that partial fire restrictions will begin at 12:01am, Wednesday morning on August 3, 2016, for Grand Teton National Park, Bridger-Teton National Forest and the High Desert District of the Bureau of Land Management. Teton County, Sublette County and Lincoln County, Wyoming will likely begin fire restrictions this week. The Big Horn National Forest in Wyoming implemented restrictions on July 29.

Fire managers study the moisture content of various fuel types, track current and expected weather conditions, and monitor available fire-fighting resources, as well as the occurrence of human-caused fires, to determine when fire restrictions need to be applied to public lands.

Partial fire restrictions include:
• Lighting, building, maintaining, attending or using a fire, campfire, barbecue or grill is allowed only at designated recreation sites such as established campgrounds or picnic areas. Use of portable stoves and lanterns using gas, jellied petroleum or pressurized liquid fuel, or use of a fully enclosed sheepherder type stove with a spark arrester screen is permitted.

• Smoking is allowed only in an enclosed vehicle, building (unless otherwise prohibited), developed recreation site, or while in an area at least three feet in diameter that is barren or cleared of all flammable materials (i.e. parking lots, developed campsites, or locations surrounded by water).

The following restrictions exist year round:

• Operating a chainsaw is prohibited in national parks. Operating a chainsaw on national forest lands is permitted only when equipped with a USDA or SAE approved spark arrester that is properly installed and in effective working order. Operators must also carry a chemical pressurized fire extinguisher with a minimum rating of 2A and one round point shovel with an overall length of at least 36 inches.

• Discharge of fireworks and use of explosives requiring blasting caps are prohibited.

Violation of these prohibitions is punishable by a fine of up to $5,000 for an individual or $10,000 for an organization, and/or by imprisonment for more than six months.

Unattended or abandoned campfires can quickly escalate into wildfires, and it is extremely important that all campfires are completely extinguished and cold to the touch before campers leave their site. Visitors should NEVER leave a fire unattended, and should prepare for the unexpected by having a water bucket and shovel on hand and ready to use. The fine for an abandoned campfire as well as campfires in unapproved areas is up to $5000 or 6-months in jail, but campers can also be held liable for suppression costs if their campfire becomes a wildfire.

A copy of the order, and additional information on allowable stoves is available on www.tetonfires.com. To report a fire or smoke in either area, call 307-739-3630.

---
Business Directory
Click here for
Advertising Information