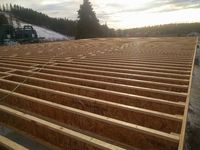 New roof covering for the basement at the White Pine Lodge will give a place to have services during the upcoming winter season. Photo courtesy White Pine Resort.

Get White Pine season passes at the Pinedale Farmer's Market Nov. 16 (posted 11/15/19)
White Pine Ski Area has been busy getting ready for the upcoming winter ski season. They have things all cleaned up from the devastating fire at the lodge this past summer. Construction workers have been putting a cover over the basement so they can be operational this upcoming season. A new luxury restroom trailer has arrived. The lifts have been safety inspected and approved by the Forest Service. Everything takes more time because of the multiple levels of approvals needed from the Forest Service for every step of the rebuilding process since White Pine operates under a special use permit from the Bridger-Teton National Forest.

Season passes are now on sale. Skiers can go to the upcoming Pinedale Farmers Market on Saturday, November 16th from 8AM to Noon and get passes. If you miss the Farmers Market opportunity, you can pick up your season pass on your next trip to White Pine after opening day.

In addition to issuing season passes, White Pine staff will also be selling their 4 pack and 6 pack day lift tickets, as well as gift cards.

4 pack day lift tickets - $180
Just $45/day
No restrictions - 4 pack can be used by up to 4 individuals
Must be purchased online

6 pack day lift tickets - $252
Just $42/day
No restrictions- 6 pack can be used by up to 6 individuals
Must be purchased online

Check out the White Pine "Partnerships" Page" on their website for more information about the special discount deals for Season Pass holders (up to 50% discount) at other ski areas in Wyoming and other states.

White Pine thanks the community for all their support during the difficult time this past summer recovering from the fire. Stay tuned for more information about dates for opening and all the fun things they have planned for activities over the winter. For more information call 307-367-6606, visit their Facebook page, sign up for their email blog for updates, or go online to www.whitepineski.com.

Related Links:
White Pine Ski Area Facebook page
White Pine Ski Area visitpinedale.org
Update on the fire at White Pine Ski Lodge www.pinedaleonline.com, August 26, 2019


Early morning fire destroys White Pine Ski Lodge
www.pinedaleonline.com, July 12, 2019

---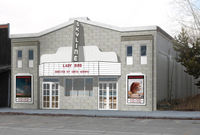 Artist's conceptual rendering of the front façade of the Skyline Theatre after restoration. Photo courtesy Skyline Theatre Project.

Skyline Theatre Project moving forward (posted 11/15/19)
Pinedale Online!
The Skyline Theatre Project is still moving forward, according to supporters. The group has been working diligently behind the scenes to ensure that the project continues to move forward and upward. The board has been busy working with different local groups, including Pinedale Mayor Matt Murdock, and the Wyoming Business Council in adjusting the business plan and readjusting the main set-forth plan after the Town of Marbleton opted out of joining forces for the movie theater operations. After regrouping, the project members are hoping to present an all-new proposal to the Town of Pinedale by year-end.

The money raised to date is still being held in a special account to go towards the project. Once the building is purchased and renovated, current thoughts are for the theatre to have both a stage for small live performances and a screen and projection equipment for movies. Organizers are hoping to be able to show both first-runs and "oldies but goodies" on the big screen. See the links at the bottom of this article for more details on the history of this historic renovation project. The Skyline Theatre is located in the historic district in downtown Pinedale on North Franklin Avenue. It operated as a movie theater in Pinedale from the 1940s into the 1980s.

If you are a local to Sublette County, look for an upcoming survey so that your voice may be heard. Supporters will have a table at the Pinedale Aquatic Center and be outside of Ridley's Market in upcoming days asking locals to take a quick survey about the project. Survey takers will be entered into a drawing to receive gift certificates from local businesses.

Click on this link to take the Skyline Movie Theatre Survey

The Skyline Theatre Project committee is also asking for Letters of Support from locals about how they think the theatre will benefit them, their children, the community, and local economic development. Organizers hope locals will speak to Pinedale Town Council members and encourage them to support the project and the community.

For more information about the Skyline Theatre, please email skylinetheaterwy@gmail.com or contact Chrissy at 307-231-9941 or Tara at 307-399-6804.

Related Links:
www.skylinetheatrewy.com/ Skyline Theatre
Latest history of the Skyline Theatre By Joy Ufford, Pinedale Roundup, November 15, 2019
Skyline Theatre Facebook page
Skyline Theatre Project fundraising officially launches – Restoring a Pinedale icon Pinedale Online, February 14, 2019
Skyline Theater project off to a reel-ly good start By Joy Ufford, Pinedale Roundup, November 30, 2018
Main Street Pinedale launches Skyline Movie Theater project in Pinedale October 17, 2018
Skyline Theater By Katherine Kasckow, Alliance for Historic Wyoming, December 13, 2017

---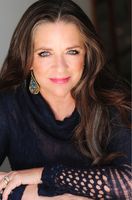 Carlene Carter to perform in Pinedale Nov. 21

Carlene Carter performs in Pinedale Nov. 21 (posted 11/12/19)
Pinedale Fine Arts Council
The Pinedale Fine Arts Council (PFACE) is proud to present country music legend Carlene Carter performing live with her Nashville trio Thursday, November 21 at 7 p.m. in the Sheppard (Pinedale) Auditorium.

Carter is a Grammy nominated singer-songwriter and is the daughter of country music legends June Carter and Carl Smith, stepdaughter of Johnny Cash, and granddaughter of "Mother" Maybelle Carter of the original Carter Family.

Carlene's own career started in the late 1970s when she went to England to record her acclaimed self-titled debut album (with Graham Parker and the Rumour), and Musical Shapes (with Nick Lowe and Rockpile). She co-wrote hit songs for Emmylou Harris ("Easy From Now On") and The Doobie Brothers ("One Step Closer"), shared the Top 40 Pop duet "I Couldn't Say No" with Robert Ellis Orrall, then "came home to country" in the 1990s with hits like "I Fell in Love," "Come On Back," "Every Little Thing," and her own TV shows on VH1 and TNN.

Following her 2008 Stronger CD (which Elvis Costello called "astounding"), Carlene Carter returned in 2014 with a tribute to the timeless music of her historic family that critics hailed as "a triumph," "masterpiece," "an album for the ages," and "really quite perfect."

Wherever she performs, Carlene knows that she is doing her part to honor those who came before her, in her own way. "From the day I first touched a guitar or piano," she recalls, "my mom said, 'You have to carry on the legacy of the Carter Family music. It's supposed to be passed on and passed around.'" Nearly a century after their first recordings changed the course of American music, that circle remains unbroken by Carlene Carter.

Tickets for Carlene Carter are available online at pinedalefinearts.com and locally at Pine Coffee Supply, The Cowboy Shop, Office Outlets, The Big Piney Library and at the door the night of the performance. Ticket prices are $20 adults / $7 students / $2 extra at the door.

This event is presented by the Pinedale Fine Arts Council with support in part from the Wyoming Arts Council through funding from the Wyoming Legislature and the National Endowment for the Arts which believes a great nation deserves great art, Sublette BOCES #1, Western Sublette BOCES #9, the Sublette County Recreation Board, the Wyoming Community Foundation - Sublette, Tegeler & Associates, Ultra, Andeavor, The Western States Arts Federation (WESTAF) & The Rocky Mountain Power Foundation.

For more information please visit www.pinedalefinearts.com or call 307-367-7322, or find PFAC on Facebook and Instagram.

---




Kmart

Jackson Kmart to close (posted 11/11/19)
The Jackson Kmart store will close in early 2020, according to a report in Buckrail.com. The store is preparing for liquidation beginning in December and final closing by the end of February 2020 or before. The parent company, Transformco announced an additional 96 Kmart and Sears outlet stores will be closed, leaving the company with 182 remaining Kmart and Sears outlets. Read the stories at the links below for more details.

Related Links:
Jackson Kmart closing as parent company tightens belt buckrail.com, Nov. 7, 2019
Sears and Kmart to close at least 120 stores by January businessinsider.com, October 14, 2019

---
WY Game and Fish to host regulations public meetings (posted 11/11/19)
Meeting in Pinedale Dec. 6
Wyoming Game and Fish
The Wyoming Game and Fish Department is holding public meetings and has opened a comment period to gather public input on:

• Chapter 3, Black Bear Hunting Seasons
• Chapter 32, Regulation Governing Firearm Cartridges and Archery Equipment
• Chapter 61, Collection of Shed Antlers and Horns

Date Time Town Location
Nov. 6, 2019, 6 p.m., Jackson, Game and Fish Office
Nov. 12, 2019, 6PM, Cody, Park County Library
Nov. 12, 2019, 6PM, Sheridan, Game and Fish Office
Nov. 13, 2019, 6PM, Casper, Game and Fish Office
Nov. 14, 2019, 6PM, Laramie, Game and Fish Office
Nov. 18, 2019, 6PM, Saratoga, Town Hall
Dec. 6, 2019, 6PM, Pinedale, Game and Fish Office
Dec. 9, 2019, 6PM, Rawlins, Jeffrey Memorial Community Center (32 & 61)
Dec. 10, 2019, 6PM, Green River, Game and Fish Office
Dec. 11, 2019, 6PM, Dubois, Headwaters Arts and Conference Center (32 & 61)
Dec. 12, 2019, 6PM, Lander, Game and Fish Office

Written comments shall be accepted through 5 p.m. on Dec. 16, 2019 at public meetings, online or by mailing:
Wyoming Game and Fish Department, Regulations
3030 Energy Lane
Casper, WY 82604

Copies of the proposed regulations are available on the department website https://wgfd.wyo.gov/regulations and at the address above in accordance with Chapter 1 Regulation Governing Access to Public Records.

Written comments shall be presented to the Game and Fish Commission prior to the public hearing at their January 2020 meeting in Cheyenne.

---
Christmas tree permits on sale (posted 11/11/19)
Bridger-Teton National Forest
This season's Bridger-Teton National Forest Christmas tree permits are available for purchase from Forest Service offices and local vendors in communities surrounding Moran, Jackson, Alpine, Afton, Kemmerer, Big Piney, and Pinedale, Wyoming.

A permit is required to cut Christmas trees from Bridger-Teton National Forest lands. Each Christmas tree permit costs $15.00 and allows for the harvest of one tree up to 20 feet in height. Harvesters are encouraged to cut trees close to the ground, trim branches away from the tree stump, and scatter any boughs that aren't collected. Bough collection is popular this time of year, and permits for cutting evergreen boughs can be purchased for $0.20 per pound at a $20.00 minimum.

With a permit in hand, it is also important to understand the rules that come with harvesting a forest product. As a reminder, cutting trees or removing products is prohibited in campgrounds, summer home sites, administrative sites, guard stations, ski areas, Cache Creek Canyon near Jackson, the Snake River Canyon, designated Wilderness or Wilderness Study Areas, and elk feed grounds. As seasons change, please check kiosks for current local information. Please follow all travel restrictions shown on Motor Vehicle Use Maps or, starting December 1st, the North Zone Winter Travel Map for the north half of the forest. These free maps are available at Forest Service offices and on the Bridger-Teton National Forest website. These maps can also be downloaded using the Avenza Maps app.

Any 4th grader presenting an Every Kid Outdoors federal lands pass will be given a free Christmas tree tag. Every Kid Outdoors federal lands passes are valid for 4th graders September 1st to August 30th each year. To obtain a pass, fourth grade students can visit the bilingual Every Kid Outdoors website, participate in a short educational activity, and then download a paper voucher to print and bring along to any federal land management office. Vouchers are traded in for an Every Kid Outdoors pass.

---
Casper family donates towards wildlife-vehicle collision mitigation (posted 11/11/19)
Wyoming Game & Fish
A Casper-area family donated $25,000 toward wildlife-vehicle collision mitigation as a way to help keep Wyoming's roads safer for everyone.

The family, who wishes to remain anonymous, made the tax-free donation to the Wyoming Department of Transportation (WYDOT) so the department can use it for wildlife-vehicle collision mitigation work. The family is the first in Wyoming to come forward and make a donation of this type.

WYDOT has been working with the Wyoming Game and Fish Department (WGFD) and other stakeholders to reduce wildlife-vehicle collisions throughout the state. Stakeholders have identified several areas that are in need of wildlife crossings, fencing and other work.

"We wanted to make this donation because the mitigation work will be a win-win for everyone," the Casper-area family said. "It saves the lives of both wildlife and people. You just can't lose."

With the increased awareness and concern regarding wildlife-vehicle collisions, and with people like the Casper-area family wanting to help with mitigation, the Wyoming Legislature created the wildlife conservation fund to accept donations. The Wyoming Legislature, the Wyoming Wildlife Federation, WYDOT and WGFD were all involved in the fund's creation.

"We want to thank this family for their donation and for helping us with this vital mission of reducing crashes," said WYDOT Director Luke Reiner. "The people of Wyoming are always willing to help make our state an even better place to live. We are working hard to reduce wildlife-vehicle collisions and any help we get is greatly appreciated."

WYDOT Chief Engineer Shelby Carlson said the donation will help the state with its continued efforts with this important initiative. She thanked the Casper-area family for their donation.

"We are continually working to reduce wildlife-vehicle crashes in Wyoming to ensure the state's roads remain safe for the traveling public," Carlson said. "Although we have seen major accomplishments with work done so far with wildlife-vehicle collision mitigation, we still have more to do. Because of people like this family, we will be able to continue with and increase our efforts."

WGFD officials said they also appreciate the commitment of people like the Casper-area family, thanking them for their generosity.

"This donation is a defining act of generosity and shows that wildlife means a lot to them," said WGFD Commission President David Rael.

Besides helping the state with its mitigation work, the Casper-area family said they made the donation to help everyone in Wyoming.

"Wildlife is a resource that's not easily renewable if you don't take care of it," the family said. "We just saw this as a wonderful opportunity to help out. We know WYDOT is struggling to fund wildlife crossing projects, so we thought let's step up and get the ball rolling and hopefully spur others to pitch in and help."

Another way the state is raising funds for wildlife conservation is through the new wildlife conservation license plate. State lawmakers approved the new license plate during the 2018 legislative session and at the same time created the wildlife conservation fund.

The initial application fee for the plates is $180, of which $150 goes to a wildlife conservation fund and $30 toward the specialty plate. The fund supports wildlife conservation projects related to the transportation system such as signage, crossing structures, fences and other work.

People interested in making a donation for wildlife-vehicle crash mitigation can send their donation to WYDOT at the following address:

WYDOT Financial Services
ATTN: Wildlife Crossing Donation
5300 Bishop Blvd.
Cheyenne, WY 82009

---
Wolf News Roundup 11/07/2019 (posted 11/7/19)
Cat Urbigkit, Pinedale Online!
Wyoming Wolf Hunt
With the Sept. 1 opening of the wolf hunting season in many of western Wyoming's trophy wolf hunt areas, quotas have been reached in six hunt areas, so those areas are now closed.

This includes: the quota of four wolves has been reached in the Clarks Fork Hunt Area 1; Hunt Area 2's six-wolf quota has been reached' the quota of two wolves has been reached in Area 3, the South Fork; the Wind River Hunt Area 5 quota of one wolf has been reached; the three-wolf quota in Hunt Area 6 & 7 Pacific Creek/Targhee; and the two-wolf quota at The Rim (Hunt Area 10); have also been reached.

Of the total quota of 35 wolves available for legal harvest in the state's wolf trophy zone, 25 wolves have been killed by hunters as of Nov. 6th. An additional 22 wolves have been killed so far this year in the remainder of Wyoming, where wolves are classified as predators.

Colorado fights back
Colorado Farm Bureau (CFB), Colorado Cattlemen's Association (CCA), and Colorado Wool Growers' Association (CWGA) announced the formation of Coloradans Protecting Wildlife, an issue committee against a proposed 2020 ballot measure that would require the introduction of wolves into Colorado. The organizations have over 345 years of combined experience working on wildlife and land management issues.

"Organizations across the state are joining forces and encouraging Coloradans to rethink introducing the wolf," says Chad Vorthmann, Executive Vice President of the Colorado Farm Bureau. "The decision about whether or not to introduce wolves to Colorado should be guided by science and left in the hands of experts, not the ballot box."

The proposed 2020 initiative would ignore long-standing scientific processes, research and expert guidance by forcing the introduction of the wolf into Colorado without any analysis of the potential negative impacts on Colorado's environment and ecosystems, or its citizens.

The idea of introducing wolves to the state is not a new one. CCA, CFB and CWGA have previously worked with Colorado Parks and Wildlife (CPW) to develop a "free-ranging" wolf plan, including necessary management strategies to ensure gray wolves that enter Colorado from other states are protected yet do not endanger animals or people that they may come in contact with.

Coloradans Protecting Wildlife will educate voters about the pitfalls of wolves introduced to Colorado's landscapes and urge them to leave species management up to wildlife biologists and the relevant state and federal agencies. In related news, Garfield County Commissioners unanimously approved a resolution opposing the reintroduction of wolves to Colorado.

Wolf advocates lose one round
The Capital Press reports that wolf advocates lost a legal claim in Washington state in a court ruling that the Washington Department of Fish and Wildlife's policy of lethal control of wolves that repeatedly kill livestock does not have to undergo state environmental analysis (the state version of the National Environmental Policy Act).

According to the news site, although this claim by the Center for Biological Diversity and Cascadia Wildlands was dismissed, the groups will pursue an Administrative Procedures Act claim against the agency in attempt to halt lethal control activities targeting problem wolves.

Check out the links below for details on these stories.

Related Links:
Colorado - Post Independent
WA Wolves - Capital Press
Wyoming Wolf Hunter Harvest - Wyoming Game and Fish Department
Wolf Watch - by Cat Urbigkit, Pinedale Online!
---
Sheriff's Office seeks information on burglary in Marbleton (posted 11/6/19)
Sublette County Sheriff's Office
November 4th 2019, the Sublette County Sheriff's Office responded to a report of a burglary at Meadow Canyon Ready Mix in Marbleton. During the burglary, a Dell Optiplex 7020 that runs the batch mix plant for the company was stolen resulting in loss of work for the company.

The Sublette County Sheriff's Office is seeking any information regarding the burglary that occurred between November 1st and the morning of November 4th 2019. If you have any information regarding the theft of the computer, please contact Detective Travis Lanning at 307-367-4378.

---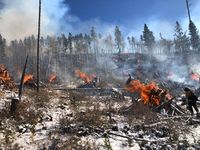 The Forest Service is doing fall burning of slash piles. Smoke may be visible. Photo courtesy BTNF.

Forest Service continues pile burning (posted 11/1/19)
Smoke may be visible
The Forest Service is taking advantage of the favorable weather to do more pile burning, which will likely continue today (November 1st) and over the weekend. Smoke may be visible. Burning is along Skyline Drive, Sylvan Bay, Willow Guard Station, and Middle Piney in the Wyoming Range. No need to call in to report these smoke columns. This is a cooperative project with the Teton Interagency Fire with fire helpers from the Bridger-Teton National Forest, Grand Teton National Park and High Desert BLM.

For updates see the Bridger-Teton National Forest Facebook page and www.tetonfires.com.

---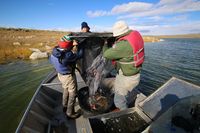 Wyoming Game & Fish biologists survey fish populations in Soda Lake. Photo courtesy Wyoming Game & Fish.

Soda Lake surveyed by Game & Fish (posted 11/1/19)
Brown trout numbers down, brook trout more numerous
Wyoming Game & Fish
The Pinedale Fish Crew braved recent freezing temperatures to conduct their annual fish survey on Soda Lake north of Pinedale.

While the data recorded from the multi-day netting effort won't be analyzed until the field season is over, it was clear that brown trout numbers were down. "Soda Lake brook and brown trout numbers vary annually and it appears that brown trout numbers are down this year," said Pinedale Fish Biologist, Pete Cavalli. "Anglers noted many dead fish this spring, and brown trout appeared to make up the majority of the fish that were observed. On the upside, brook trout are more numerous and as big as ever, with several topping 18 inches in length."

Even though Soda Lake is considered a phenomenal trout fishery, the chemical and physical characteristics of the lake actually make it marginally suited for trout. It has been noted that dissolved oxygen, water temperature, and magnesium can all reach lethal levels for trout. It has also been noted that hydrogen sulfide concentrations can accumulate to lethal levels in the deepest portions of the lake. In addition, the bacterial disease furunculosis has been documented on several occasions in both brook and brown trout. Even though there are periodic die-offs, Soda Lake is still well-known for producing trophy-class brook and brown trout.

Soda Lake is closed to fishing from November 15 through April 30. The creel limit on trout (including brook trout) is one per day or in possession. The use of personal watercraft is prohibited and the use of internal combustion motors is prohibited from May 1 through May 31.

Click here for more info.

---
Nearly all entrances and roads close in Yellowstone Nov. 4, 2019 (posted 10/31/19)
Park prepares for winter
National Park Service – Yellowstone National Park
This weekend, November 2-3, provides the last chance for visitors to drive to many iconic locations in Yellowstone for 2019. The West, South, and East Entrances and all roads, with one exception, will close to vehicle travel at 8 a.m. Monday, November 4, so the park can prepare them for the winter season and snowmobile and snowcoach travel, which will begin Sunday, December 15, 2019.

The one exception is the road from the park's North Entrance at Gardiner, Montana, through Mammoth Hot Springs to the park's Northeast Entrance and the communities of Cooke City and Silver Gate, Montana. This road is open all year, weather-permitting. Travel east of Cooke City is not possible from late fall to spring because a segment of US 212 (Beartooth Highway) between Cooke City and Pilot Creek is closed to vehicle travel.

If you plan to drive to and in the park during the fall and winter, please have flexible travel plans and prepare for changing weather conditions. Temporary travel restrictions or closures can occur at any time without notice. Visit Park Roads for the status of Yellowstone roads. Receive Yellowstone road alerts on your mobile phone, text "82190" to 888-777 (an automatic text reply will confirm receipt and provide instructions).

Extensive information for planning a winter visit in Yellowstone, including information about lodging, camping, services, and activities, is available on the park's web site at www.nps.gov/yell.

All communities near Yellowstone are open year-round, with local businesses offering a wide range of fall and winter recreation opportunities. For information about communities in Montana (Gardiner, West Yellowstone, Cooke City, and Silver Gate), visit www.visitmt.com. For information about Wyoming communities (Cody and Jackson), visit www.wyomingtourism.org. And if your travel plans to the park take you through Idaho, visit www.visitidaho.org.

---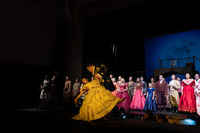 Beauty and the Beast by the Pinedale Theatre Company. Photo by Arnold Brokling.

'Beauty and the Beast' musical in Pinedale (posted 10/30/19)
The Pinedale Theatre Company presented Disney's musical play, "Beauty and the Beast" for a three-night run October 24-26, 2019 at the Sheppard Auditorium in Pinedale. The production was the biggest in history for the Pinedale Theatre who stage a musical every other year. The production featured a cast of many locals and more than 200 volunteers helping behind the scenes. Tickets for all performances sold out.

Beauty and the Beast was directed by Mark Hennessy and cast Adrianna Ruby as Belle and Cody Daigle as the Beast. The play was presented with support from the Wyoming Arts Council, the Wyoming Community Foundation and the Sublette County Recreation Board.

Click on this link for more pictures

Related Links:
www.pinedaletheatre.com/ Pinedale Community Theatre

---
Volunteer Health Services Program applications sought (posted 10/23/19)
Wyoming Department of Health
Providers and facilities interested in offering volunteer healthcare services to low-income patients are invited to take advantage of a special legal liability option offered by the Wyoming Volunteer Health Services Program.

The program allows licensed healthcare providers and medical facilities to provide volunteer services for low-income Wyoming residents while being protected from liability for medical negligence under the state's sovereign immunity.

By entering into a contract with the state, volunteer providers are deemed public employees and facilities are deemed state medical facilities for purposes of what's known as the Wyoming Governmental Claims Act. Any malpractice claim arising from uncompensated services rendered to eligible patients would be defended and paid by the state under the Governmental Claims Act.

Any healthcare provider, including physicians, dentists, physician assistants, nurses, pharmacists, optometrists, psychiatrists and psychologists, who is licensed or certified by Wyoming law is eligible to enter into a contract under the program. Eligible facilities include hospitals, clinics, medical offices and nursing homes.

Services provided under the program are intended for low-income persons. An eligible patient:
- Has income at or below 200 percent of the Federal Poverty Level
- Is not covered under a health insurance or healthcare policy, contract or plan
- Is covered under a health insurance or healthcare policy, contract or plan, but was denied coverage by the policy, contract or plan

Eligibility is determined by volunteer providers or facilities based on information from patients.

More information and important forms can be found on the Wyoming Department of Health website at https://health.wyo.gov/admin/wyomings-volunteer-health-services-program/.
---
Yellowstone wolf oddities (posted 10/20/19)
Cat Urbigkit, Pinedale Online!
Yellowstone National Park has released its wolf project annual report for 2018, reporting that there were at least 80 wolves in 9 packs (7 breeding pairs) living primarily in the park at the end of December 2018.

For all the details, download the report at the link below.

A Rarity:
Interesting items in the report include the discovery of a hermaphrodite wolf (meaning having both male and female sex organs). According to the report on the Cougar Creek pack, "During handling for collaring operations, it was found that the wolf assumed to be the alpha female was actually a hermaphrodite. This wolf, 1116U (U denotes neither male or female status given), died in late February due to an apparent gunshot wound outside the park." This black wolf was handled in order to replace her radio-collar, and was classified as an old adult (more than six years old).

Multiple Litters:
In the Junction Butte pack, all four of the pack's females bred and produced pups, with three of the four females having pups in one den. "By late May, as many as 11 pups were counted at the Slough den, nursed by all three females."

A subordinate male wolf in the pack "showed an unusual infatuation with the small pups" which resulted in the death of at least one of the pups and possibly more. Only three of the pups survived the summer.

Three females from the Mollie's Pack also bred, but one was killed before she could give birth to her pups. The two other females whelped in separate dens.

The Wapiti Lake pack also produced two litters, and ended the year with 19 wolves in the pack, including 13 adults and six pups.

The four adult members of the Bechler pack denned, but after a black bear was photographed entering the den, the pack abandoned the den and no pups were found.

Related Links:
Yellowstone Wolf Report 2018 - National Park Service
Wolf Watch - by Cat Urbigkit, Pinedale Online!

---
Reports about Yellowstone bears, wolves, and birds published online (posted 10/18/19)
Yellowstone National Park
Yellowstone National Park recently published online three reports from 2018 about bear management, wolves, and birds. Each annual report focuses largely on the health of these wildlife populations.

Topics from the Bear Management Program Annual Report (https://www.nps.gov/yell/learn/nature/upload/2018-Bear-Report_web.pdf) include bear sightings, management of roadside bear viewing, bear mortalities, bear-human conflicts, bear-proof food storage locker installation and more.

Yellowstone's Bear Biologist Kerry Gunther said, "There were few bear-human conflicts inside of the park in 2018; however, managing visitors that stopped to view and photograph bears foraging in roadside meadows and thus creating large bear jams was a considerable management challenge."

Topics from the Bird Project Annual Report (https://www.nps.gov/yell/learn/nature/upload/2018-Bird-Report_web.pdf) include monitoring of raptors, wetland birds, songbirds and near-passerine, fall migration, raven movements, and noteworthy and rare bird sightings.

Biologist Lauren Walker said, "We used five methods to monitor breeding songbirds in 2018: point counts in willow stands and mature forests, transects through plots in sagebrush steppe, a banding station, and the North American Breeding Bird Survey (BBS). We recorded 35 songbird species within three willow growth types and captured at least 32 species at our banding station in a willow-lined riparian corridor. Observers recorded 24 species in mature forests and 29 species in sagebrush steppe. We also observed over 3,100 individuals belonging to 82 species along three BBS routes in the park."

Topics from the Wolf Project Annual Report (https://www.nps.gov/yell/learn/nature/upload/2018-Wolf-Report_web-2.pdf) include pup survival, wolf pack summaries, and using radio collars to study wolves.

Doug Smith, Yellowstone Wolf Project leader says, "In 2018 we noted a drop in pup numbers, however there were no intra-species wolf killings, which is usually the reason for the most wolf mortality. This year marks a 10-year period of relatively stable wolf numbers. While the reasons for this are unknown, a relatively stable elk population is likely a large factor."

---
BTNF signs ROD for Upper Green grazing (posted 10/15/19)
Project allows for continued cattle and horse grazing on 170,643 acres in the Upper Green River watershed
Bridger-Teton National Forest
The Pinedale Ranger District of the Bridger-Teton National Forest has signed the final record of decision for the Upper Green River Area Rangeland Project. The project allows for continued cattle and horse grazing on 170,643 acres in the Upper Green River watershed.

District Ranger Rob Hoelscher selected alternative three, as outlined in the final environmental impact statement, with some modifications. Under this decision, livestock grazing will continue on all six allotments. The decision uses livestock management strategies designed to sustain rangeland and riparian health, while improving resource conditions where needed.

In making the final decision, Hoelscher considered the environmental analysis, public comment, consultation with cooperators and federal agencies, as well as discussions from pre-decisional administrative review or objection processes. He said, "Grazing is an appropriate use of the National Forest and is important to the community economically and socially."

In creating his decision, Hoelscher took the needs and concerns of a diverse group of interested parties into account in order to achieve balance among such diverse positions.

"Crafting this decision was not easy. On the one hand, some want hard and fast direction and consequences. Permittees on the other hand desire flexibility for their operations," Hoelscher said. "I believe this decision does a bit of both while meeting the requirements of our land management plan."

One example of the modification in the final decision is to invite all interested parties to attend pre-grazing season annual meetings. This will ensure that future monitoring results, discussion of issues and development of solutions can be considered in a collaborative way.

The record of decision is available at http://www.fs.usda.gov/project/?project=3049.

For more information, contact Rob Hoelscher, Pinedale District Ranger, at 307-367-5700, or P.O. Box 220, Pinedale, WY 82941.
---
Fourth Grade students receive free admission to America's public lands for a year (posted 10/15/19)
Bureau of Land Management
Calling all fourth graders!!! BLM is happy to once again sponsor "The Every Kid Outdoors Program." The annual pass provides fourth grade students, along with their families, friends and classmates, free access to more than 2,000 other federal recreation areas for a year. The program encourages fourth graders to explore, learn, and recreate in spectacular settings, including national parks, wildlife refuges, marine sanctuaries, and forests.

"There is so much to discover on public lands," said Acting BLM Wyoming State Director Duane Spencer. "Visits on class trips or family vacations to experience our wide open landscapes and historic treasures will provide lifelong memories."

To obtain the free pass, fourth grade students can visit the Every Kid Outdoors website, participate in a short educational activity, and download a voucher. The voucher is valid for between September 1, 2019 and August 31, 2020 to correspond to the traditional school year. The voucher may be exchanged for a plastic keepsake pass at participating federal lands.

The voucher or pass grants free entry for fourth graders, all children under 16 in the group and up to three accompanying adults (or an entire car for drive-in parks) to most federally managed lands and waters. The pass does not cover expanded amenity fees such as camping or boat rides.

The great outdoors make a great classroom. Fourth grade educators are encouraged to take advantage of the wide range of educational programs and tools associated with the Every Kid Outdoors program. Educational activities, field trip options, information and tools in English and Spanish, and the ability to print vouchers for passes for students are all available on the website.

The Every Kid Outdoors Program was established by Congress in 2019. It replaces the Every Kid in a Park Program which was launched in 2015. It is an interagency collaboration between the National Park Service, U.S. Fish and Wildlife Service, Bureau of Reclamation, Bureau of Land Management, U.S. Army Corps of Engineers, National Oceanic and Atmospheric Administration, and U.S. Forest Service.

For more information about the Every Kid Outdoors Program, go to: https://everykidoutdoors.gov, call Keith Brown, outdoor recreation planner at (307) 775-6031, kmbrown@blm.gov or Cindy Wertz, public affairs specialist, (307) 775-6014, cwertz@blm.gov.


---
BLM announces annual adjustment to drilling permit fee (posted 10/15/19)
Non-Refundable fee raised to $10,230 for BLM to process oil and gas drilling permits on public and Indian lands
Bureau of Land Management
As directed by Congress, the Bureau of Land Management (BLM) will adjust the fee it charges to process oil and gas drilling permits on public and Indian lands for inflation, effective October 1, 2019. That adjustment will increase the fee by $180, to $10,230.

The non-refundable processing fee is collected when an oil and gas operator submits a drilling permit (called an Application for Permit to Drill or APD), and is required whether or not a particular permit is subsequently approved. Congress established the fee and directed the BLM to adjust the APD fee annually for inflation over 10 years as part of the National Defense Authorization Act (NDAA) for Fiscal Year 2015.

To carry out this statutory requirement, the BLM has issued guidance to its field offices regarding the collection and handling of APD fees in the current fiscal year. The new guidance largely tracks prior guidance with respect to collection and handling policies such as when the fee is required; when the BLM will begin processing the APD; and acceptable forms of payment.

This fee is an important component of the funding for the BLM's permitting program and enhances the agency's ability to coordinate with other Federal and State agencies in connection with oil and gas permitting, streamlining permit review processes, and reducing permitting times. Fifteen percent of the fees are directly returned to the BLM field office that collected the fees to offset some of the costs of processing protests, leases, and permits. The remaining 85 percent is used to support project offices that perform the majority of the permit processing and inspection work across the BLM. In Fiscal Year 2019, the BLM collected almost $51 million in APD fees.

---
BLM updates mineral cost recovery fee schedule (posted 10/15/19)
Bureau of Land Management
The Bureau of Land Management (BLM) has issued a final rule, effective October 1, 2019, which updates the cost recovery fees that the BLM charges for processing certain actions undertaken by its mineral programs. Specifically, this final rule updates the fees charged to recover costs incurred in processing certain documents associated with oil, gas, coal, and solid mineral activities on public lands, including fees associated with mineral patent adjudications. Consistent with updates to the fee schedules in prior years, this final rule increases the fee schedule based on inflation.

The BLM is authorized to charge cost recovery fees under the Federal Land Policy and Management Act of 1976 and the 2005 Cost Recovery Rule. The fee schedule is adjusted annually based on the change in the Implicit Price Deflator for Gross Domestic Product, or IPD-GDP, from the 4th Quarter of one calendar year to the 4th Quarter of the following calendar year. The IPD-GDP is published annually by the Department of Commerce.

Under this final rule, 24 fees will remain the same and 24 fees will increase. Of the 24 fees that are being increased by this rule, 13 will increase by $5 each, seven will increase by $10 each, two will increase by $15 each, and two will increase by more than $15 each. The fees increasing by more than $15 are the fee for adjudicating a mineral patent application containing more than 10 claims, which will increase by $75, from $3,215 to $3,290, and the fee for adjudicating a patent application containing 10 or fewer claims, which will increase by $40, from $1,605 to $1,645.

The updated fees are based on a common mathematical formula used by businesses nationwide to adjust their expenses. This fee update rule uses the change in the IPD-GDP from the 4th Quarter of 2017 to the 4th Quarter of 2018, which reflects the rate of inflation over four calendar quarters.

---
Business Directory
Click here for
Advertising Information