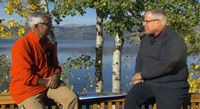 Pinedale photographer Dave Bell (left) was interviewed in September by Craig Blumenshine (right) for the Wyoming PBS program 'Wyoming Chronicle.' The program was just released.

Dave Bell profiled on WY PBS program Wyoming Chronicle (posted 10/22/16)
For his Wyoming nature photography
Dawn Ballou, Pinedale Online!
Local photographer Dave Bell had the honor of being asked by Wyoming PBS to be profiled on their program Wyoming Chronicle. A PBS camera crew came out in September to do autumn filming and Dave was interviewed by the show's host, Craig Blumenshine. The ½ hour program was just released with the interview focusing on Dave's many years of capturing the beauty of western Wyoming through his photography.

Wyoming Chronicle: "Pinedale's David Bell has quickly become one for the foremost nature photographers in the region, focusing on the beauty of the western United States. And, he'll tell you, it's just a hobby. His work is nothing short of stunning."

Dave has been a long time contributor to Pinedale Online, sharing his scenic photos of western Wyoming with our online audience since 2001. Thank you, Dave!

Click on this link for the WYPBS Wyoming Chronicle program featuring Dave Bell: http://video.wyomingpbs.org/video/2365870801/

Related Links:
Dave Bell Photo Gallery on Pinedale Online!
www.wyomingmountainphotography.com www.davebellphotos.com

---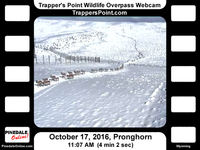 Video of pronghorn crossing the Trappers Point Wildlife Overpass in mid-October after the first big snow.

New videos of migrating pronghorn (posted 10/20/16)
Pinedale Online!
We've added three new videos of pronghorn and deer on the Trapper's Point Wildlife Overpass. These were taken on October 17th and 19th after the first big snowstorm of the season, which caused many herds to move down and cross the wildife overpass bridge across US 191 west of Pinedale.

Monday, October 17, 2016 11:07 AM
First snow of winter
14" of snow fell overnight causing large herds of pronghorn to move south and cross on the overpass creating a well-marked trail for the herds to follow. Herd diverted by a pickup truck parked at south gate.
http://www.trapperspoint.com/video/POL-20161017164000-37.mp4
(4 minutes 2 seconds)

Monday, October 17, 2016 11:18 PM
Night shot of a pronghorn herd crossing the overpass.
Using moonlight, the webcam captures blurry ghostlike images of a large herd of pronghorn moving south across the overpass in the middle of the night, after the first day of significant snowfall in the Upper Green River Valley.
http://www.trapperspoint.com/video/POL-20161018051300-11.mp4
(2 minutes 20 seconds)

Wednesday, October 19, 2016 1:08 PM
Traffic jam on the overpass
Five deer are on the overpass when two pronghorn appear and want to cross over.
http://www.trapperspoint.com/video/POL-20161019190400-8.mp4
(1 minutes 53 seconds)

www.trapperspoint.com
---
Update on Critical Access Hospital Designation Project (posted 10/20/16)
Sublette County Rural Health Care District
October 18, 2016
County Commissioner Presentation
At the request of the County Commissioners, a merger committee consisting of members from both the SCRHCD and the Sublette Center worked to develop a joint powers board agreement that would meet the needs of both entities. On October 18, 2016, that agreement was presented to the County Commissioners along with a request for specific direction in some areas that remain to be a concern. Click on the links below for the presentation documents:

Presentation to the Board of County Commissioners (1 page PDF)
Advantages/Disadvantages (1 page PDF)
Committee Joint Powers Board Agreement (12 page PDF)
Joint Powers Board Organizational Chart (1 page PDF)
Visits by Payor Mix 2010-Present (2 page PDF)
RHCD Response to Eide Bailly Operational Review (8 page PDF)

More info: http://www.sublettehealthcare.com/cah.html

---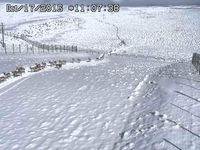 Pronghorn herds moving through on Monday, October 17th after the big storm dumped 14" of snow overnight in the Upper Green River Valley. Photo by the Trappers Point Wildlife Overpass Webcam just west of the Cora Junction over US 191.

Path of the Pronghorn (posted 10/18/16)
Trappers Point Wildlife Overpass webcam gives people a close-up view of the antelope migration in progress
Pinedale Online!
The heavy snowstorm on Monday has kicked antelope moving into high gear across the Trappers Point wildlife overpass just west of the Cora Junction, between Pinedale and Daniel. The Trappers Point wildlife overpass webcam gives people a close up view of the animals as they move to wintering grounds south in the Green River Valley.

These guys can move REALLY FAST when they want to and can go from horizon to horizon in just three minutes. It can be kind of hard to see them when there is cloud cover low light and moving through the snow. The beaten path they take through the snow is very obvious. Of course, the timing between herds is completely unpredictable, but there are many herds moving through right now. Watch for a shimmey of moving little white dots in the distance to spot them coming.

The camera operates on an automatic patrol and every couple of minutes pans from north to the compass point views to take a snapshot. If a camera administrator is logged in at the time, they might follow the individual herds as they pass through to try to track the paths they take from north to south through the area and on the ridgeline in the far distance. (If the view turns black while you are watching, just move your mouse a little bit to reconnect to the camera. It uses cell phone and satellite technology to connect to the camera and disconnects inactive viewers after about 30 seconds to save bandwidth.)

The views are video recorded so the recordings can be studied by wildlife biologists for future animal behavior research. Some of the highlights of those movements from this year's spring and fall migration are posted on the website. Go to www.trapperspoint.com to see the pronghorn antelope migration webcam.
_______________________________________________

Editor's Note: Pinedale Online welcomes sponsorships to help pay for the operating costs of this webcam. For more information, please email support@pinedaleonline.com or call/text 307-360-7689 anytime, including after hours.

---
BLM completes comprehensive update of its Oil and Gas measurement rules (posted 10/17/16)
The Bureau of Land Management announced the finalization of three rules addressing the accurate measurement, proper reporting, and accurate recordkeeping of oil and gas produced from Federal and Indian leases. The new rules are aimed at the responsible development and management of the nation's oil and gas resources and ensuring that both the American public and tribes receive a fair return for these extracted resources.

The new rules are an update and replace Onshore Oil and Gas Orders (Orders) 3 (new part 3173), 4 (new part 3174), and 5 (new part 3175). They represent the first comprehensive update of BLM's measurement rules since they were issued over 25 years ago. The rule to replace Order 3 governs oil and gas handling and is designed to ensure that production is properly accounted for in order to prevent theft and loss and enable that production to be verified. Orders 4 and 5 establish minimum standards for the accurate measurement of all oil and gas, respectively.

Click on this link to read the complete BLM media release: BLM Completes Comprehensive Update of Its Oil and Gas Measurement Rules

---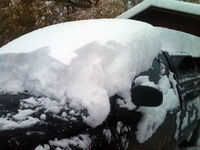 Pinedale woke up to 14" of snow Monday morning, October 17th. Pinedale Online photo.

14 inches of snow in Pinedale (posted 10/17/16)
Pinedale Online!
Update, 10:30AM: Town of Pinedale is reporting that after a discussion with public works they have decided it would be best to keep the plowing to a minimum. Because of the wetness of the snow and the warm weather for today they are afraid that if they plow slushee snow in front of driveways and alongside parked cars and it freezes to ice tonight it would be bad. The roads are very passable now and it will get better as the day goes on. If they leave it alone it will go away much quicker than if they form frozen piles of ice around town.

Update, 8:30AM: Sand Draw webcam is stuck on a September view – they also report significant snow. Marbleton reporting also getting 14 inches snow

Weather update, Monday, October 17, 7:45AM: Pinedale woke up to 14 inches snow on the ground this morning. Big Piney/Marbleton have snow, but not as much as Pinedale. Winter Storm Warning for heavy snow now in effect until 6PM this evening. Snow should taper off by afternoon. Windy conditions causing reduced visibility in places with blowing snow. Those outside should be prepared for wet snow and cold temperatures. Let others know your itinerary. Roads are snow packed and hazardous, making travel difficult. Allow extra time to reach your destination. Keep warm clothes, food, water, and a flashlight in your vehicle if traveling. Daytime highs around Pinedale in the 40s. Nighttime lows in the 20s. Call 511 in Wyoming for road reports. Click on this link for more weather and road condition links, and area webcam views.

Public Information Statement
National Weather Service Riverton, Wyoming
0759 AM MDT MON OCT 17 2016

SNOWFALL TOTALS FOR SUNDAY AND SUNDAY NIGHT
October 16 and 17, 2016

A strong Pacific storm system brought heavy snow to parts of western Wyoming especially Sunday night. The heaviest snowfall occurred in the Pinedale area where 12 to 15 inches of snow accumulated.

Note: SNOTELS (Snow Telemetry) are remote sensing sites in high mountain watersheds. Snowfall data from SNOTELS are estimated based on snow water equivalent.

Location Snowfall

Fremont County
Hobbs Park SNOTEL, 9 inches
Townsend Creek SNOTEL, 7 inches
Deer Park SNOTEL, 7 inches
Cold Springs SNOTEL, 6 inches
St. Lawrence Alt SNOTEL, 6 inches
South Pass SNOTEL, 4 inches
Little Warm SNOTEL, 3 inches
Brooks Lake, 2 inches

Lincoln County
Spring Creek Divide SNOTEL, 16 inches
Commissary Ridge, 15 inches
Blind Bull Summit, 15 inches
Indian Creek SNOTEL, 13 inches
Cottonwood Creek SNOTEL, 13 inches
Salt River Summit SNOTEL, 12 inches
Kelley Ranger Station SNOTEL, 11 inches
Willow Creek SNOTEL, 10 inches
Blind Bull Summit SNOTEL, 8 inches
Hams Fork SNOTEL, 7 inches
5 NNE Thayne, 7 inches
Box Y Ranch, 7 inches
2 SE Thayne, 3.5 inches

Sublette County
15 WNW Daniel, 15 inches
Pinedale, 14.3 inches
14 NW Pinedale, 14 inches
Snider Basin SNOTEL, 13 inches
Pocket Creek. SNOTEL, 13 inches
Pinedale, 12 inches
Elkhart Park G.S. SNOTEL, 10 inches
Triple Peak SNOTEL, 10 inches
Big Sandy Opening SNOTEL, 10 inches
New Fork Lake SNOTEL, 8 inches
East Rim Divide SNOTEL, 8 inches
Larsen Creek SNOTEL, 7 inches
Loomis Park SNOTEL, 7 inches
Gunsite Pass SNOTEL, 6 inches
Kendall Ranger Station SNOTEL, 6 inches

Teton County
Phillips Bench SNOTEL, 7 inches
Jackson Hole - Rendezvous Bowl, 7 inches
Granite Creek SNOTEL, 6 inches
Grand Targhee - Chief Joseph, 6 inches
Jackson Hole - Mid Mountain, 5 inches
Snow King, 5 inches
Jackson Hole - Raymer, 5 inches
Gros Ventre Summit SNOTEL, 4 inches
Jackson Hole - Base, 4 inches
Base Camp SNOTEL, 3 inches
Togwotee Pass SNOTEL, 3 inches
5 NW Jackson, 2.5 inches
Togwotee Mountain Lodge, 2 inches
Grassy Lake Snotel, 2 inches
Snake River Stn SNOTEL, 1 inch

Click on this link for more pictures of snow Monday morning: 14 inches of snow in Pinedale

Related Links:
Pinedale area webcams, links to weather and road reports
www.wyoroad.info WYDOT road reports, travel conditions – also call 5-1-1 or toll-free nationwide: 1-888-996-7623
Pinedale area weather National Weather Service
Snowfall information NRCS - Natural Resources Conservation Service
Precip Maps CoCoRaHS – Community Collaboration Rain, Hail, Snow Network
Weather Underground (Big Piney/Marbleton zip code is 83113, Bondurant 82922)

---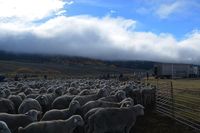 The Thoman family raises fine-wooled Rambouillets. Photo by Cat Urbigkit.

Thomans Give Up Upper Green Grazing (posted 10/14/16)
Cat Urbigkit, Pinedale Online
In late September, W & M Thoman Ranches herded their domestic sheep flocks down from the mountains of the Upper Green, where they had grazed since July, just as they had for every summer and fall for decades. The flocks were moved into a set of portable pens located on a flat next to the Green River, where they would be sorted for fall shipping, with market lambs sent up the chute for the lamb buyer, replacement ewe lambs sorted off for shipping to lower elevation grazing, and the core adult ewe flocks headed back to the home ranch located near the Fontenelle Reservoir.

But this time was different, because the Thoman family knew their sheep would never come back to the Upper Green for grazing.

The family had agreed to an allotment buyout deal that would put an end to domestic sheep grazing in the area. Long pressured by environmental groups and federal officials, the Thomans at last conceded, and on Tuesday, they waived their Elk Ridge Allotment Complex grazing permit back to the Bridger-Teton National Forest without preference to another livestock producer. The deal involved a buyout (of an undisclosed sum) of the allotments, and was orchestrated by the Wyoming Wild Sheep Foundation. Home to domestic sheep for more than 100 years, the Thoman's fine-wooled Rambouillets had grazed this range for 40 years.

Citing the potential threat of interactions between domestic sheep and wild sheep, and the history of wolf and grizzly bear depredations, the Bridger-Teton National Forest has committed to not allowing the allotments to be restocked with domestic sheep. The agency has indicated it will consider allowing the currently permitted cattle grazing in the Upper Green to spread into a portion of the Thoman allotments "in order to better address ongoing predation issues," but not until further environmental review is conducted some years in the future.

The loss of the Thoman allotments – four allotments that grazed up to a total of 3,900 sheep from July through September– is the latest in a series of domestic sheep allotment closures by federal forest officials throughout the West.

The decision to give up the allotments was a difficult one, and one that members of the Thoman family voiced displeasure. Family matriarch Mickey Thoman and daughter Mary said they believe that the situation had become such that it was best to accept the buyout offer and put their days in the Upper Green behind them.

The Thomans aren't sure where they will be taking their sheep for next year's summer and fall grazing season. Federal officials have been unable to identify current vacant grazing allotments or grass banks where their flocks would be allowed, and the Thomans are hoping that some of their current cattle permits can be converted back to sheep, but federal land managers are balking, citing concerns for sage grouse and the need to conduct environmental reviews.

Many members of the extended Thoman family, including Laurie Thoman, Kristy Wardell, and Dick Thoman were on hand to bring the family's flocks out of the Upper Green for the last time.

Click on this link for more pictures: Thomans Give Up Upper Green Grazing (19 photos)

---
Suicide prevention loss and tobacco resources available (posted 10/15/16)
Organizations working together to strengthen prevention efforts around alcohol, tobacco, drugs and suicide
Prevention Management Organization of Wyoming
ROCK SPRINGS, WYOMING - The Muley Fanatic Foundation, along with the Prevention Management Organization of Wyoming, (PMO) is offering members access to resources and tools to help curb suicide losses across the state. The Muley Fanatic Foundation will also offer active members free access to Chantix and other tobacco quit tools to conserve the health of their sportsmen and women.

"For the Prevention Management Organization of Wyoming, developing key partnerships offer opportunities to help break the stigma surrounding mental health and tobacco use here in Wyoming. We want the residents of Wyoming and specifically Rock Springs to know we are 'in this together' and working to make this state a better and healthier place to live and play," said Cassandra Crumpton, Sweetwater County community prevention specialist with the PMO.

Joshua Coursey, co-founder and president of the Muley Fanatic Foundation, said, "This partnership gives us a chance to give back to our active members. We take conservation of the land and animals very seriously, but we also take the conservation of our member's health seriously. Both Joey and I gave up chewing tobacco six years ago and know how hard it can be and want to give our members the help and support to quit the habit for themselves and for their families."

Currently, partnership plans include Muley Fanatic Foundation's social media presence of more than 23,000 followers on Facebook and mailing list serve of over 37,000 sportsmen and women to provide prevention-based messaging and resources. A special effort to help reduce the amount of distracted driving, specifically texting and driving, of sportsmen and women throughout the state is included.

The Muley Fanatic Foundation (MFF), a 501 C (3) non-profit conservation organization, was established in 2012 by Joshua Coursey and Joey Faigl. Headquartered in Green River, Wyoming, MFF aims to ensure the conservation of mule deer and their habitat and to provide such supporting services to further the sport of hunting and sound wildlife management.

The PMO is a statewide organization is dedicated to strengthening the prevention efforts around alcohol, tobacco, other drugs, and suicide.

For more information about this partnership please visit www.muleyfanatic.org or www.pmowyo.org.

---
Wattsmart Starter Kit available (posted 10/15/16)
Low-cost kit includes LED bulbs and other simple solutions that save energy and money
Rocky Mountain Power
Rambler, condo, apartment, farmhouse – no matter what you call home, Rocky Mountain Power's wattsmart® Starter Kit can help you save energy and lower your monthly energy bills. For Utah and Wyoming residential customers, it's a great first step to saving energy and money. Ordering the low-cost kit is easy, and for $4.99, Rocky Mountain Power customers receive a big discount on easy energy upgrades that deliver savings each month.

The wattsmart Starter Kit includes four ENERGY STAR® rated LED light bulbs. By switching to LEDs, residents can lower their lighting costs by as much as 75 percent. Plus, the bulbs last as long as 25 years, which means fewer trips to the store in search of replacements.

Homes with electric water heating also will receive high-performance showerheads and faucet aerators for additional savings. These WaterSense® certified products save the average family 3,600 gallons of water a year and help lower water-heating costs.

The wattsmart Starter Kit is an excellent entry point to home energy savings, showing that simple changes can truly make a difference. For more information, and to order your low-cost kit, visit www.wattsmart.com/starter or call 1-877-883-1753.

---
Sheriff's Office warns of phone and text scams (posted 10/7/16)
Sweetwater County Sheriff's Office
ROCK SPRINGS, WY - The Sweetwater County Sheriff's Office is issuing an upgraded warning about two ongoing scams circulating in the county.

Internal Revenue Service (IRS) Scam

The first involves telephone calls from people claiming to be agents of the Internal Revenue Service, demanding payment of (allegedly) delinquent income taxes.

The pattern is for the caller to insist on prompt payment through a credit or debit card or a wire transfer. If the person called refuses or begins asking questions, the caller often threatens a visit from law enforcement, arrest, arrest of a spouse, or a driver's license revocation.

The callers use fake names and sometimes even provide a bogus IRS badge number. They may even know the last four digits of their intended victim's Social Security number, all in an effort to make the swindle sound more convincing.

Genuine communications from the IRS begin with a letter, not a phone call. Other tipoffs that such calls are a scam include the following:

Knowledge of the intended victim's Social Security number or its last four digits.
Recitation of the bogus IRS agent's badge number.
During the call, the sound of other, similar conversations can be heard in the background.
The caller becomes rude and hostile and hangs up.
Follow-up calls from a different person claiming to be an IRS agent.

Authorities make the following recommendations to those who receive such calls: If you actually owe on your federal income taxes or think you might owe, contact the IRS directly at 1-800-829-1040 to speak with a genuine official about your tax issues.

If you know you don't owe any income taxes, call 1-800-366-4484 to report the caller to the Treasury Inspector General for Tax Administration.

Lottery Scam

The second scam strategy concerns fake lottery winnings.

"It's the latest variation of an old theme," said Detective Dick Blust, the Sheriff's Office public information officer. "In this version, people receive a cell phone text informing them that they have won a large sum, such as $100,000, in the lottery, but need to send money - in this latest con, $9,000 - to an address in Texas to cover bogus "taxes" or "processing costs" before their winnings can be claimed."

The Sheriff's Office provided the following tips for detecting a lottery scam:

You can't win a genuine lottery if you haven't entered it; in virtually all cases, you must have first purchased a ticket to enter.

If you are holding a winning lottery ticket, it is you who must notify lottery officials - they don't contact you.

You never have to pay to collect winnings from a legitimate lottery. When people actually do win genuine lottery prizes, taxes are paid after they receive their winnings, not before.

Blust said lottery scammers also use this strategy to obtain bank account and credit card numbers or other private information. He said he recommends without exception that extreme caution should be exercised when communications of this sort are received. "As always, if something sounds too good to be true, it usually is."

---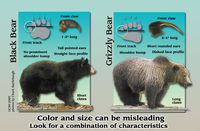 Characteristic differences between black and grizzly bears.

Sheriff's Office encourages high-country hunters to be 'bear aware' (posted 10/4/16)
Sweetwater County Sheriff's Office
(Rock Springs, Wyoming - October 4, 2016) In light of two recent bear attacks - one in Wyoming northwest of Dubois, the other in southwestern Montana - the Sweetwater County Sheriff's Office is encouraging Sweetwater County hunters who venture north into grizzly country to be "bear aware."

Sheriff Mike Lowell said that many county residents hunt in areas within the Greater Yellowstone Ecosystem identified by the Wyoming Game & Fish Department as frequented by grizzly bears. Officials estimate the grizzly population there to be about 600 animals.

These areas include the Shoshone National Forest, east and southeast of Yellowstone National Park, and much of the Bridger-Teton National Forest. (Refer to the 2010 Wyoming Game & Fish Department map, shown here, that depicts the area known to be frequented by grizzlies. As the Department indicates, it should be noted that grizzlies may be present outside of known distribution areas.)

Hunters in bear country can be particularly vulnerable to bear encounters, as they are moving quietly, are often moving during dawn and dusk hours, and use game calls. Officials' recommendations to minimize the chance of dangerous human-bear encounters in grizzly country include the following:

- Hunt with a partner.

- Remain alert always for the presence of bears.

- Carry and know how to use bear spray and carry it where it is swiftly accessible - not inside a pack.

- Learn to recognize bear sign such as tracks and scat.

- Retrieve downed game quickly and be particularly alert for approaching bears while field dressing your game.

- Make noise while packing out your game and avoid packing out meat at night.

Lowell said a great deal of information on grizzly bears, grizzly bear management, and staying safe in bear country can be found at the Wyoming Game & Fish Department website at http://wgfd.wyo.gov/web2011/wildlife-1000674.aspx

The use of bear spray and other defensive tactics, including firearms, are discussed in detail on the website of the United States Geological Survey at http://pubs.usgs.gov/fs/2009/3018/pdf/FS09-3018.pdf

---
Business Directory
Click here for
Advertising Information