Wolf News Roundup 2/17/2020 (posted 2/17/2020)
Cat Urbigkit, Pinedale Online!
February 17, 2020
Wyoming wolf compensation
Proposed legislation that would have provided a compensation program for wolf depredation on livestock in Wyoming's predator zone for wolves has died. The bill failed to get the needed votes for introduction in this budget session of the Wyoming Legislature.

Colorado wolf genetics
Colorado Parks and Wildlife (CPW) biologists have received notification back from a genetics lab confirming that four scat samples collected near a scavenged elk carcass in Moffat County in early January came from wolves. This is the first official documentation of a pack of wolves in the state since the 1940s.

Of the four samples, DNA results indicate three are female and one is male. The testing was also able to determine that all the wolves were related, likely as full siblings.

"The DNA doesn't tell us the age," said CPW Species Conservation Program Manager Eric Odell. "We don't know where or when they were born. We can't say. But that there are closely related wolves is a pretty significant finding."

Odell also noted that "although previous reports had mentioned sightings of up to six wolves, this doesn't do anything to alter that estimate. Just because we only collected four scat samples doesn't mean there were only four animals."

CPW is still waiting to receive results back from scat samples collected at a potential wolf sighting in Moffat County on January 19.

CPW would like to remind the public that wolves are a federally endangered species and fall under the jurisdiction of the U.S. Fish and Wildlife Service. According to the US Fish and Wildlife Service, killing a wolf can result in federal charges, including a $100,000 fine and a year in prison, per offense.

Oregon compensation
Oregon officials are struggling with the state's wolf depredation compensation program, according to the Baker City Herald. The payments are not enough to cover the losses.

Red wolves
The News & Observer has an article about trying to track endangered red wolves at the Alligator National Wildlife Refuge in North Carolina. Even the wolves wearing radio collars for tracking are hard to find, and the wolves have learned how to evade foothold traps set out to capture them. There are an estimated 20 red wolves in the area.

Minnesota berries
Remote cameras in northern Minnesota's Voyageur's National Park have documented gray wolves eating blueberries. The researchers observed that a female wolf regurgitated blueberries to her five pups.

Canada
Plans call for up to 80 percent of the wolf population to be culled in an effort to ease pressure on two dwindling caribou herds in the Northwest Territories of Canada. The plan calls for killing up to 300 wolves on the winter ranges of the caribou herds.

Check out the links below for details on these stories.

Related Links:
Wyoming - Oil City News
Colorado - Colorado Parks & Wildlife
Oregon - Baker City Herald
Red wolves - The News & Observer
Minnesota - KARE
Canada - Yahoo News
Wolf Watch - by Cat Urbigkit, Pinedale Online!


---
County seeks volunteers for Centennial Exploratory Committee (posted 2/18/2020)
Sublette County media release
In anticipation of the Centennial Celebration for Sublette County during 2021 & 2022, the Sublette County Commission is seeking applicants to serve on an Exploratory Committee. The purpose of this Exploratory Committee is to define the role of and hire a Centennial Coordinator and to select a Centennial Committee, which will be tasked with organizing and planning a Centennial Celebration, and help other organizations plan their own centennial projects and events. The Exploratory Committee may also make recommendations to the Centennial Committee regarding any Centennial related activities. It is anticipated that the Exploratory Committee will exist and meet several times for a short period in the March-May 2020 timeframe, and that members of the Exploratory Committee may also transition to the Centennial Committee.

The Unorganized County of Sublette was formed by the Wyoming legislature on Feb 15, 1921, approved by the residents on June 28, 1921, first commissioners elected on November 7, 1922, and elected officers sworn in on January 2nd, 1923 formally becoming Sublette County.

Anyone interested in applying to the Exploratory Committee should submit a letter of interest to Matt Gaffney, Sublette County Administrator at matthew.gaffney@sublettewyo.com or by mail at P.O. Box 250, Pinedale, Wyoming 82941. All letters of interest must be submitted by March 13, 2020. The Sublette County Commission will consider all letters submitted at its March 17, 2020 meeting and make appointments to the Exploratory Committee at that meeting. If you have any questions about the Exploratory Committee, please contact Matt Gaffney at 307-367-2300 or at the email address listed above.

---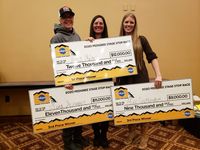 2020 Pedigree Stage Stop Race winners Anny Malo, from Quebec, Canada, is the champion of the 25th edition of the Pedigree Stage Stop Sled Dog Race. Second Place winner was Lina Streeper. Alix Crittenden of Bondurant, took 3rd place. Photo courtesy Pedigree Stage Stop Race.

Anny Malo wins 2020 Pedigree Stage Stop Race (posted 2/9/2020)
Anny Malo, from Quebec, Canada, is the champion of the 25th edition of the Pedigree Stage Stop Sled Dog Race. She was also the winner of the 2019 race. Second Place winner was Lina Streeper, herself a two-time champion of the race. Malo six of the seven stages in this year's race. Alix Crittenden of Bondurant, took 3rd place. Crittenden also won 3rd place last year. She has been running dogs out of race founder Frank Teasley's Jackson Hole Iditarod Kennel in Hoback Canyon. Click on this link for more details of the final results of the 2020 Pedigree Stage Stop Race

Related Links:
www.wyomingstagestop.org Pedigree Stage Stop Race
2020 Finishing Banquet Feb. 8, 2020 at the Jackson Conference Centre
Pinedale Stage Stop
Big Piney/Marbleton Stage Stop

---
White Pine Ski Area put up for sale (posted 2/7/2020)
Alan and Robyn Blackburn, majority owners of Citizens to Save White Pine LLC, which owns the assets of White Pine Ski Area and Resort, announced on Thursday, February 6th that they have decided to put the resort up for sale. In a press release, Alan Blackburn cited health issues and the devastating fire last summer that destroyed the lodge as some of the contributing factors in the decision. Blackburn said, "Any investor/purchaser of White Pine has a turn-key operation with experienced managers and employees willing and wanting to continue - we hope that this will happen."

Click on this link to read: the full media release from White Pine

---
Wolf News Roundup 2/07/2020 (posted 2/7/2020)
Cat Urbigkit, Pinedale Online!
Mandating radio collars
Legislation introduced in the Washington state legislature this week seeks to maximize nonlethal methods of dealing with problem wolves by doing a better job of tracking wolf packs that have been in conflict.

"We've invested a lot of time and money in our nonlethal methods," said Rep. Joel Kretz, R-Wauconda. "But we need the right strategy in place with active communication in order for it to work. We need to be less reactionary and more proactive.

"Ultimately, my bill is about focusing on the problem wolf packs, knowing where they are and having that information communicated to those who need to know," said Kretz. "If we want nonlethal solutions to work, we have to know where the wolves are."

His proposal, House Bill 2906, directs the state Department of Fish and Wildlife (WDFW) to prioritize the use of radio collars as a tool to monitor wolves that have been in conflict with livestock and humans.

His bill states:
"The department must radio collar at least two wolves in every pack in conflict. The department is encouraged, but not required, to radio collar at least one wolf in every pack in the state that has been confirmed by the department."

"There's a lot of talk about nonlethal measures, but how can we have an effective nonlethal plan when we don't know where the wolves are?" said Kretz. "There used to be a functioning system where certain wolf locations were known and that information could be relayed to range riders or ranchers. But nonlethal and lethal measures only work when the department has a strategy in place and communicates with ranchers. Right now, they don't and they aren't."

Kretz's bill has significant bipartisan support with half of the twelve representatives signing onto the bill being Democrats.

Theft Charges
Range riders working under a $352,000 contract from the Washington Department of Fish & Wildlife to deter wolves from cattle in northeastern Washington are now facing charges. The state has filed theft charges against two of the range riders, alleging that while their time sheets showed they were on the job, their phone records indicate they were more than 100 miles away.

Environmental groups charge that wolves killed cattle while the range riders were away, leading to a decision by state officials to kill more wolves. Read the details of the allegations in an article by Eli Francovich from The Spokesman Review.

California wolf dead
OR-54, a female dispersing wolf approximately 3-4 years old, was found dead in Shasta County, California on February 5, 2020.

OR-54 was born into Oregon's Rogue Pack most likely in 2016. She was the fourth Rogue Pack wolf known to have spent time in California. OR-54 weighed 83 pounds when collared by ODFW biologists in October 2017. On January 24, 2018, she crossed the state line into eastern Siskiyou County. Since then, she spent much of her time in California, although she made two trips back to Oregon. She covered more than 7,646 miles after leaving the Rogue Pack. OR-54 traveled widely in northeastern California, through portions of Butte, Lassen, Modoc, Nevada, Plumas, Shasta, Sierra, Siskiyou and Tehama counties. In late September 2019, she crossed to the south side of Interstate 80 and briefly entered Nevada before returning to California and crossing back to the north side of the highway the following day. Her travels represent the southernmost known wolf locations in the state since wolves returned to California in 2011.

Gray wolves are covered under both the Federal Endangered Species Act as well as the California Endangered Species Act. CDFW takes very seriously any threats to this recovering wolf population. We are currently investigating the circumstances surrounding OR-54's death. We remind the public that killing a wolf is a potential crime and subject to serious penalties including imprisonment.

Check out the links below for details on these stories.

Related Links:
Radio collars - WA Representative Joel Kretz
Theft charges - The Spokesman Review
Dead wolf - California Department of Fish & Wildlife
Wolf Watch - by Cat Urbigkit, Pinedale Online!
---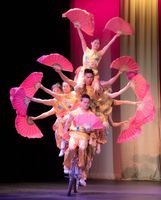 Peking Acrobats perform in Pinedale. Photo by Arnold Brokling.

Peking Acrobats wow Pinedale (posted 2/6/2020)
Pinedale Online!
The Pinedale Fine Arts Council brought the Peking Acrobats to Pinedale on Wednesday, February 5th for a breathtaking performance by acrobatic athletes from China. Their performance began with live musicians entertaining the audience with playing traditional Chinese musical instruments.

The main performance involved male and female acrobats who performed graceful and daring maneuvers including amazing balancing feats, precision tumbling and back flips, juggling, graceful gymnastic maneuvers suspended high above the stage floor from ribbons and hoops, multi-level stacked human balancing formations, and death-defying balancing feats on a moving bicycle. One of the most amazing feats was a daring man building and climbing a tall tower of precariously stacked chairs and balancing himself high atop in graceful gymnastic positions, all without a safety line.

The troupe also gave a special performance the day before to students in Big Piney. PFAC gives special thanks to the Ruth and Vernon Taylor Foundation, Tegeler & Associates, Don Kendall, Sublette BOCES #1, Wyoming Arts Council, Sublette County Recreation Board, and the Town of Pinedale Lodging Tax in helping support this program.

Related Links:
Peking Acrobats Facebook page
www.pinedalefinearts.com Pinedale Fine Arts Council

---
Yellowstone recruits for 2020 Youth Conservation Corps program (posted 2/6/2020)
Applications due by March 1, 2020
Yellowstone National Park
YELLOWSTONE NATIONAL PARK - How would you like to work, learn, play, and serve in the world's first national park? Yellowstone is currently recruiting for the 2020 Youth Conservation Corps (YCC), a residential work-based education program for young men and women between the ages of 15 and 18. Visit the YCC program to apply. Completed application materials must be received by March 1, 2020.

Two, month-long YCC sessions will be offered June 7-July 8 and July 12-August 12. Sixty youth will be randomly selected from across the country to participate in the program. Applicants must be citizens of the United States and 15 years of age by June 7, but not over 18 years of age by August 12. Yellowstone recruits youth from all social, economic, ethnic, and racial backgrounds for the program.

No previous wilderness experience is required. Applicants should possess a positive attitude, a willingness and ability to work in a physically active outdoor program, and get along well with others.

Participants will be required to live in the park. Room and board will be provided at a minimal cost. Wages will be set at the federal minimum wage of $7.25 per hour.

YCC is designed to develop an appreciation for the nation's natural resources and heritage through unique educational, recreational, and work experiences. Corps members work together with National Park Service (NPS) staff to complete conservation projects such as trail rehabilitation, campground restoration, and a wide variety of resource management, visitor support services, and maintenance projects.

Participants develop their job and leadership skills while exploring personal values, gaining self-esteem, expanding their awareness of work ethics, and learning firsthand about environmental and conservation issues. Corps members also participate in evening and weekend recreational activities and discover the many options for careers in the NPS and other land management agencies.

Questions may be directed to Yell_YCC_Office@nps.gov.

The Yellowstone YCC Program is funded by park entrance fees and generous donations to Yellowstone Forever, the park's official nonprofit partner.

---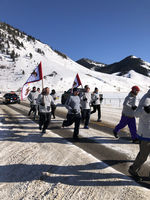 Photo courtesy Sublette County Sheriff's Office.

Law Enforcement supports Wyoming Special Olympics (posted 2/5/2020)
Sublette County Sheriff's Office
On February 4th 2020, Sublette County Sheriff K.C Lehr, Undersheriff Lance Gehlhausen, Lieutenant Dave Siefkes, and Sergeant Travis Bingham attended the Wyoming Special Olympics Winter Games Opening Ceremonies held in Jackson Hole, Wyoming. The day started with a 4 mile Law Enforcement Torch Run (LETR) which was comprised of law enforcement officers and athletes from Wyoming and South Dakota. This is the third year the LETR has been incorporated in to the opening ceremonies for the Wyoming Special Olympics Winter Games.

The torch run begins at the Jackson Hole Visitor's Center then rallies at the town square, where Jackson vice-mayor, Hailey Morton Levinson, welcomed athletes with a proclamation. The relay then continues through the streets of Jackson Hole before meeting up with highway 189/191 and eventually ending at Jackson Hole High School. That evening at the Jackson Hole High School auditorium the torch was ushered in by Jackson Hole athlete Gary Endecott and the Special Olympic flame was lit to officially open the 2020 Special Olympic Winter Games.

Sublette County was represented by local Big Piney athlete Ian Jones who is competing in Cross Country Skiing. Twenty-seven teams with more than 200 athletes from all across Wyoming, South Dakota, Utah, and Montana gather to compete this week in various locations throughout Jackson Hole. The Sublette County Sheriff's Office wishes all the athletes the best of luck this year!

Click on this link for more pictures

---
Coronavirus outbreak risk remains low in Wyoming (posted 2/4/2020)
Wyoming Department of Health
A Wyoming Department of Health (WDH) official says the risk of an ongoing outbreak of the 2019 novel coronavirus causing international concern remains low in Wyoming.

"No reported or suspected 2019 novel coronavirus cases have been identified in Wyoming and the risk to our state's residents from this virus remains low," said Dr. Alexia Harrist, state health officer and state epidemiologist with WDH. "However, because the outbreak situation is rapidly changing we will continue to track developments and provide updates."

Harrist said coronaviruses are a large family of viruses, some of which cause the common cold in people and others that circulate among animals. "This is a new virus and new viruses need special attention," she said.

The 2019 novel coronavirus was first identified in Wuhan, Hubei Province, China with a link to a local seafood and animal market. Many early patients reportedly had a connection to the market, suggesting animal-to-person spread. The illness growth has since shown the virus is spread from person to person. Symptoms have included mild to severe respiratory illness with fever, cough and shortness of breath.

The disease is spreading with cases reported in several countries including the United States. All American testing for 2019 novel coronavirus is currently done at the Centers for Disease Control and Prevention in Atlanta and in Wyoming can only be arranged through WDH.

"What's important for people to know is there is no evidence of what we call 'community transmission' in our country," Harrist said. "The number of cases in the United States is still low and so far has only involved people who traveled to the affected area of China or who were a very close contact of someone who became ill after travel there."

Harrist said new, strong travel restrictions are meant to detect and contain the virus to help prevent ongoing spread in this country. "Foreign nationals can't come to the United States from China right now. Americans returning from the most affected area of China or from anywhere in China with symptoms are being quarantined outside of Wyoming. Americans returning from other areas of China who don't have symptoms can come home but will be monitored," she said.

Clay Van Houten, Infectious Disease Epidemiology Unit manager with WDH, said "While we are working on our monitoring plan for people who may return to Wyoming from China, we do not expect large numbers to be affected."

Van Houten noted Wyoming is currently experiencing widespread influenza activity. "The symptoms are similar so many of actions we suggest to help avoid spreading the flu are the same we would suggest if this coronavirus ever became a larger local concern," he said.

Recommended steps include:
- Avoid close contact with sick people.
- While sick, limit contact with others as much as possible.
- Stay home if sick.
- Cover nose and mouth when coughing or sneezing. Avoid touching eyes, nose and mouth. Germs spread this way.
- Clean and disinfect surfaces and objects that may be contaminated with germs.
- Wash hands often with soap and water for at least 20 seconds. If soap and water are not available, use an alcohol-based hand rub with at least 60 percent alcohol.

For more information about the disease and its spread, visit: https://www.cdc.gov/coronavirus/2019-nCoV/index.html.

For more information about 2019 novel coronavirus and Wyoming, visit:
https://health.wyo.gov/publichealth/infectious-disease-epidemiology-unit/disease/novel-coronavirus/.

---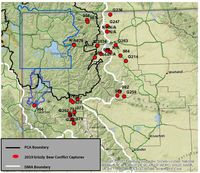 Grizzly bear management capture locations 2019

WG&F tallies grizzly captures for 2019 (posted 1/29/2020)
Wyoming Game & Fish Department
The 2019 Annual Report of Grizzly Bear Management Captures, Relocations, and Removals completed by the Wyoming Game and Fish Department is now available on the department website. The annual report is required by state statute and quantifies management actions by the Game and Fish in relation to grizzly bear conflict resolution in Wyoming outside the National Parks and Wind River Reservation.

Because grizzly bears remain under federal protection, WG&F manages grizzly bears in Wyoming under the direction of the U.S. Fish and Wildlife Service.

"We have documented an increasing distribution of grizzly bears throughout the Greater Yellowstone Ecosystem, which leads to a higher conflict potential, especially as bears expand into more agricultural, residential and human-dominated landscapes," said Brian DeBolt, large carnivore conflict coordinator. "Game and Fish responds with proactive and responsive management strategies; this report summarizes those situations requiring an on-the-ground capture effort to reduce conflict."

There was a significant decrease in grizzly bear conflict activities and subsequent management actions by WG&F compared to 2018 due to a strong natural food year coupled with the previous year's management actions and grizzly bear population dynamics. In 2019, there were no human injuries or fatalities due to grizzly bears.

During 2019, WG&F captured 33 individual grizzly bears in 34 capture events in an attempt to prevent or resolve conflicts; meaning 1 bear was captured twice. Most captures were adult males.

Of the 34 capture events, 20 captures were a result of bears killing livestock (primarily cattle), 10 were captures involving bears that obtained food rewards (pet, livestock food, garbage, fruit trees), or were frequenting developed sites or human populated areas unsuitable for grizzly bear occupancy. Three events were non-target captures at livestock depredation sites, and 1 bear was captured and relocated from the Cody landfill.

Of the 34 capture events, 18 (53%) were in Park County, 8 (23%) were in Sublette County, 4 (12%) were in Fremont County, 3 (9%) were in Hot Springs County and 1 (3%) was in Teton County.

Of the 34 capture events, there were 15 relocation events (Figure 2). All relocated grizzly bears were released on U.S. Forest Service lands in or adjacent to the Primary Conservation Area. Of the 15 relocation events, 9 were conducted in Park County (60%), 5 (33%) were in Teton County, and 1 (8%) was in Fremont County.

Grizzly bears are removed (lethally or through live placement in an approved facility) from the population due to a history of previous conflicts, a known history of close association with humans, or they were deemed unsuitable for release into the wild (e.g. orphaned cubs, poor physical condition, or human safety concern). Of the 33 bears captured, 18 bears were removed from the population, and 1 bear died during capture. Of these 19 human-caused mortalities associated with management captures, 10 were outside of the Demographic Monitoring Area.

For more information on grizzly bear management captures, relocations, and removals, read the entire annual report linked below.

Related Links:
Grizzly Bear Report 2019 - Wyoming Game and Fish Department

---
Letters of Interest sought for open Pinedale Town Council seat (posted 1/28/2020)
Notice of Vacancy
Town of Pinedale
A vacancy in the office of The Pinedale Town Council has been created by the resignation of Councilman John Paravicini. This vacancy shall be filled by appointment by the Town Council. Parties interested in filling the vacancy are invited to submit a letter of interest and a list of their qualifications therefor. All letters of interests and lists of qualifications must be received no later than 4:00 PM on Monday, March 2, 2020, by the Town Clerk, located at 69 Pinedale South Road, Pinedale, Wyoming. Letters of interests and lists of qualifications may be mailed to Town of Pinedale, P.O. Box 709, Pinedale, WY 82941. Sufficient time should be allowed to allow receipt by the Town Clerk by the cutoff date above. Interested parties must reside within the Town limits and be a registered voter of the Town of Pinedale and the State of Wyoming to be considered eligible.

The starting time of the regularly scheduled Town Council meeting has been changed to 4:00 PM, Monday, March 9, 2020 at the Commissioner's Room of the Sublette County Courthouse; 21 South Tyler Avenue, Pinedale, Wyoming. It is anticipated that the meeting will commence with a short executive session. Following the executive session, a public hearing will be held to interview each candidate as deemed necessary and review their qualifications. An executive session may follow the interviews. If a majority of the Council is able to agree upon a particular candidate, it shall then by resolution appoint that candidate to fill the office. Appointment shall be until the seating of officers after the next general Town election.

Related Links:
www.townofpinedale.us Town of Pinedale

---
WYDOT starts issuing new, more secure driver licenses and ID cards (posted 1/28/2020)
Wyoming Department of Transportation
Wyoming's driver licenses and identification cards will now be more secure and harder to counterfeit.

The Wyoming Department of Transportation (WYDOT) recently started issuing new state driver licenses and ID cards that have extra security features. Those whose cards are expiring will receive a new driver license or identification card, which look different from the current licenses and ID cards. WYDOT started issuing the new licenses and ID cards in December.

"The new cards are made up of a polycarbonate material," said WYDOT Driver Services Program Manager Misty Dobson. "The new cards have 13 different security features, making them more secure. For our Wyoming cards, we have three unique security features that no other state has."

Besides the new security features, the new cards have the image of Devils Tower on the front and the state capitol building on the back. The driver licenses have blue accents while the ID cards have red accents.

The new licenses and ID cards will also feature the REAL ID compliant star symbol. However, the star won't be gold and will have a black circle with the star shape in the middle. Both cards will also continue to have a person's driver license number, name, address and other information, but will just look different than the current licenses and ID cards.

"The only thing we have done is upgraded our driver licenses and ID cards so they are more secure," Dobson said.

The last time WYDOT updated its driver licenses and ID cards was in 2011 after the state became REAL ID compliant. The American Association of Motor Vehicle Administrators (AAMVA) comes out with new security recommendations every few years to help states provide more secure licenses and ID cards that are difficult to counterfeit. WYDOT instituted those recommendations into the new licenses and ID cards.

WYDOT officials have been working on the new driver licenses and ID cards since April 2018. They also worked with the Wyoming Highway Patrol to ensure the new cards would work for law enforcement.

Motorists will receive the new licenses and ID cards when they apply for a new credential after their old card expires. However, if someone does want a new one before their old one expires, they will need to contact their local driver services office.

"We are asking the public for their patience and understanding as we transition to the new system," Dobson said.

When renewing or obtaining a new license or ID card, motorists will still need to provide documentation to comply with the REAL ID requirements.

A complete listing of those documents and more information on obtaining or renewing a license or ID card can be found on WYDOT's website at http://www.dot.state.wy.us/home/driver_license_records/driver-license.html.

---
Business Directory
Click here for
Advertising Information