Wolf News Roundup 12/08/2019 (posted 12/8/19)
Cat Urbigkit, Pinedale Online!
Wyoming Wolf Hunt
With the Sept. 1 opening of the wolf hunting season in many of western Wyoming's trophy wolf hunt areas, quotas have been reached in six hunt areas, so those areas are now closed.

This includes: the quota of four wolves has been reached in the Clarks Fork Hunt Area 1; Hunt Area 2's six-wolf quota has been reached' the quota of two wolves has been reached in Area 3, the South Fork; the Wind River Hunt Area 5 quota of one wolf has been reached; the three-wolf quota in Hunt Area 6 & 7 Pacific Creek/Targhee; and the two-wolf quota at The Rim (Hunt Area 10); have also been reached.

Of the total quota of 35 wolves available for legal harvest in the state's wolf trophy zone, 26 wolves have been killed by hunters as of Dec. 6. An additional 22 wolves have been killed so far this year in the remainder of Wyoming, where wolves are classified as predators.

Washington
Earlier this fall, Washington Governor Jay Inslee sent a letter to Washington Department of Fish & Wildlife Director (WDFW) Kelly Susewind requesting that the wildlife department "significantly reduce" the number of wolves killed in control actions in response to livestock depredations.

Susewind recently replied to Inslee's letter, detailing efforts to implement proactive, non-lethal tools to prevent wolf-livestock conflicts. The letter noted: "Your request was to increase our reliance on non-lethal tools and significantly reduce the need for lethal removal of wolves, and we sincerely believe the best way to do that is to develop willing, collaborative, and lasting partnerships at the community level with livestock producers in the heart of what is now core wolf habitat. Plans recommended at any level of government are only true solutions if they are perceived to be beneficial to the recipients, and if they are based on our shared, common goals intended to bring Washington together around wolf issues."

It's not the first time the governor and the wildlife department director have differed on wolves. After WDFW Director Susewind sent a letter of support for the federal delisting of wolves, Inslee sent a follow-up letter clarifying that the state's position was opposed to the removal of wolf protections.

Washington has been embroiled in controversy over wolves, with many wolf advocates from the western side of the state (where there are few wolves) decrying lethal control of wolves in the eastern region (where the majority of the wolf population resides). Things got so heated that WDFW cancelled a series of public meetings to discuss revisions to the state wolf management plan because of fears of violence. Reporting by the Inlander reveal that the "multiple violent social media threats" came from wolf supporters, not anti-wolf extremists.

Germany
Germany now has more than 100 wolf packs, 25 wolf pairs, and more than a dozen lone wolves. In addition to increasing in numbers, the wolf population has expanded its range in the European nation.

Check out the links below for details on these stories.

Related Links:
Wyoming hunt - Wyoming Game & Fish Department
Washington - Spokesman Review
Washington threats - Inlander.com
Germany - Dw.com
Wolf Watch - by Cat Urbigkit, Pinedale Online!

---
Pinedale airport to receive $5 million for improvements (posted 12/7/19)
Wyoming Department of Transportation
A Pinedale public-use airport will receive $5 million in supplemental federal funding to make improvements to the aircraft parking apron and fuel farm.

The Ralph Wenz Field in Pinedale will receive the funding as part of a $485 million nationwide award announced by U.S. Secretary of Transportation Elaine L. Chao recently. The work includes expanding the apron and relocating and replacing the existing fuel farm with two, 15,000 gallon above ground tanks.

Airports like the Ralph Wenz Field in Pinedale and others throughout the United States will receive the funding as part of the supplemental amount of $500 million for discretionary grants under the Airport Improvement Program (AIP) statute.

"The robust economy is enabling more passengers to travel by air so this Administration is investing billions of dollars in America's airports which will address safer airport operations, fewer airport delays and greater ease of travel for air travelers," Chao said in a release on Nov. 22.

In this recent round of awards, Pinedale was one of 108 airports to receive the supplemental funding.

"Projects like these help the state provide a safe, efficient transportation system for the traveling public," said Brian Olsen, WYDOT Aeronautics administrator. "We are pleased the Ralph Wenz Field will get this supplemental funding to make those improvements, which will only enhance aviation in that part of Wyoming."

According to WYDOT's most recent economic analysis, 35 public use airports in the Wyoming Aviation System account for $1.4 billion in total economic activity and support more than 12,000 jobs annually.

---
LIEAP applications now available (posted 12/5/19)
Energy bills assistance for low income families in Wyoming
Wyoming Department of Family Services
The Wyoming Low Income Energy Assistance Program (LIEAP), administered by the Wyoming Department of Family Services, is accepting applications.

LIEAP is a federally funded program designed to help eligible Wyoming residents pay their residential heating bills during the winter months; November through May. LIEAP approval may also result in approval to get eligible homes weatherized, which can significantly lower the energy costs and improve the comfort, health, and safety of qualified Wyoming homes.

Applications may be requested by calling the LIEAP office at 1-800-246-4221, or by sending an email request to lieapinfo@thealignteam.org. Applications are also available at all local Department of Family Services (DFS) offices and senior centers. Applicants may apply online at https://www.lieapwyo.org/forms-and-application.html.

Applicants should mail completed applications and supporting documents to:
P.O. Box 827, Cheyenne, WY 82003; fax them to 307-778-3943; submit online at https://www.lieapwyo.org/forms-and-application.html; or, email them to lieapinfo@thealignteam.org.

---
BLM offers Christmas tree permits for sale (posted 11/29/19)
Bureau of Land Management
The Bureau of Land Management (BLM) will offer Christmas tree permits for sale.

Permits may be purchased between 7:45 a.m. and 4:30 p.m., Mon.-Fri. from any BLM Wyoming field office. The cost for a permit is $5 to $10 per tree, depending on location. Up to a maximum of five Christmas trees can be purchased by an individual for personal use on BLM-administered lands.

A BLM permit is valid for trees located on BLM-administered lands only. Permits for trees on U.S. Forest Service-administered land can be obtained at your local Forest Service office and at some BLM offices.

Tree cutters must have a valid permit with them while cutting a tree. Trees may not be cut within a wilderness area, wilderness study area, timber sale area, or administrative sites such as developed campgrounds.

Although the Christmas tree permits are for any tree species, the BLM recommends Engelmann spruce, sub-alpine fir, Douglas fir, Ponderosa pine and lodgepole pine as the best species to cut for your Christmas tree. Christmas trees harvested from aspen stands and dense young stands will contribute to forest health and improve wildlife habitat.

It is the purchaser's responsibility to not trespass on private land and to make sure you're cutting the tree in the correct area. Be prepared for winter weather and high country conditions.

For more information, visit this website: www.blm.gov/wyoming-christmas-trees. Or please call your local BLM office:

Buffalo Field Office (307) 684-1100
Casper Field Office (307) 261-7600
Cody Field Office (307) 578-5900
Kemmerer Field Office (307) 828-4500
Lander Field Office (307) 332-8400
Newcastle Field Office (307) 746-6600
Pinedale Field Office (307) 367-5300
Rawlins Field Office (307) 328-4200
Rock Springs Field Office (307) 352-0256
Worland Field Office (307) 347-5100
Wyoming State Office (307) 775-6314

---
WY Game and Fish holding meetings on revised CWD management plan (posted 11/25/19)
Meeting in Pinedale Dec. 2
Wyoming Game and Fish
The Wyoming Game and Fish Department is holding public meetings and seeking comments on its revised chronic wasting disease (CWD) management plan. The revised plan includes input from the Game and Fish appointed-CWD Working Group and the public. The revised CWD plan will be posted online Dec. 2 through Jan. 15 for public review and commenting and presented in December by department personnel and CWD Working Group members through a series of public meetings.

Meetings are scheduled for:
Town Date Time Location
Pinedale, Dec. 2, 6 - 9 p.m., Sublette County Library, Lovatt Community Room
Worland, Dec. 3, 6 - 9 p.m., Worland Community Center Complex
Laramie, Dec. 10, 6 - 9 p.m., Laramie Game and Fish Regional Office
Casper, Dec. 11, 6 - 9 p.m., Casper Game and Fish Regional Office, Pronghorn Room
Sheridan, Dec. 12, 6 - 9 p.m., Sheridan Best Western, Snow Goose Room

The Laramie meeting will be recorded and posted online for those unable to attend a meeting in-person to see a presentation of the plan. Comments can be submitted online through the CWD Feedback portal located on the CWD Working Group website or by sending written comments to: Wyoming Game and Fish Department, ATTN: CWD Management Plan, 3030 Energy Lane, Casper, WY 82604.

Comments from the meetings, and those mailed to the department and received online, will be reviewed by the CWD Working Group and department for consideration into the final revised CWD plan in February. The final plan will be presented to the Game and Fish Commission for review and approval in the spring of 2020. Local wildlife managers will use the revised plan to manage CWD throughout Wyoming. To learn more visit the CWD Collabozrative website.

The State of Wyoming supports the Americans with Disabilities Act. Anyone needing auxiliary aids should contact the Game and Fish at (307) 233-6404. Every effort will be made for reasonable accommodations.

---
Pinedale Ranger District extends office open hours for holiday season (posted 11/25/19)
Christmas tree permits on sale in Pinedale (4th graders get a permit for free)
Bridger-Teton National Forest
The Bridger-Teton National Forest's Pinedale Ranger District will be open three Saturdays in December to better accommodate Christmas tree permit sales. On Saturday, December 7, December 14, and December 21, 2019 the office will be open from 9:00 a.m. to 4:00 p.m. All Christmas tree permits are $15 for any tree less than 20-feet. Payment may be made with cash, check or credit card for the Christmas tree permits.

Christmas Tree permits are also available during regular hours at the Pinedale Ranger District on Monday through Friday from 8:00 a.m. until 5:00 p.m.

The Grand Teton Association (GTA) has provided the District with a whole new supply of books and toys for kids and adults for the holiday season, so families, teachers and area residents are encouraged to come in and see the new inventory. Products are relevant to the local natural history of the Forest and the entire Greater Yellowstone Ecosystem. On Friday, November 29, 2019 GTA will be offering a Black Friday sale! All merchandise will be 25% off.

If you have a 4th grader in your household, bring them in for their FREE Christmas tree permit. As part of the Every Kid Outdoors initiative, every fourth grader is eligible to receive a free Christmas tree permit for the student's household. Fourth graders must present a valid fourth grade pass from the Every Kid Outdoors website. For additional information about the initiative and how to obtain a pass, visit https://www.everykidoutdoors.gov/. Fourth graders must be accompanied by a parent or guardian and be present to claim their family's free Christmas tree permit. They need to print off a voucher on line or bring their pass to the Forest Service office to get their free tree.
-USFS-

---
WY State Historical Society offers grants to assist with history projects (posted 11/25/19)
Wyoming State Historical Society
The Wyoming State Historical Society, a nonprofit, membership-driven educational organization, is offering cash grants to people involved in research activities based on various aspects of the state's history, according to a news release.

The grants, ranging from $100 to $1,500, are awarded based on applications submitted to the Society's Lola Homsher Endowment Fund Committee. The deadline is Feb. 28, with applicants notified of the results in the spring.

Committee Chairwoman Leslie Waggener said in the release that work done by amateur and professional historians through these grants supports the society's mission to make Wyoming's past accessible to present and future generations.

Grant monies are drawn from a fund established by the late Lola Homsher, a noted historian and state archivist. One of Homsher' s most significant contributions to preserve Wyoming history came when she spearheaded establishing the Wyoming State Historical Society in 1953. After her retirement, Homsher made a major donation to the society that has been used as an endowment to help fund society programs.

The committee reviews all proposals and makes awards after the selection process has been completed, usually in the spring. Preference is given to proposals that promise original research on topics related to Wyoming history. Wyoming residents are also given preference, but all applications are welcome. Proposals must include a statement of purpose, an explanation of the project, the value to Wyoming history and a description of how the public will benefit from the research.

All recipients must provide the society with an interim report and a final report about their projects.

Applications and rules can be obtained by visiting the society's website at www.wyshs.org and selecting "Programs," then "Lola Homsher Research Grant Program," by calling 307-322-3014 or emailing linda@wyshs.org.
---
Stag Arms rifle manufacturer moving to Wyoming (posted 11/19/19)
Pinedale Online!
Gun maker Stag Arms has announced on November 18, 2019, it is moving all its operations from Connecticut to Wyoming. Connecticut passed stricter gun laws after the 2012 shooting at Sandy Hook Elementary School in Newtown. The AR-15 rifle maker had announced in June that it would be leaving Connecticut for somewhere else that is more business friendly. It plans to be relocated to Cheyenne by the end of the year. The company said in a statement on November 18th, "Not only is Wyoming an incredibly hospitable place to do business, it is also a top destination for outdoor recreation, including hunting and shooting sports, which reflects its citizens' unwavering support for the Second Amendment."

Wyoming Governor Mark Gordon issued the following statement: "I am pleased to welcome Stag Arms to Wyoming and to know that our state came out on top of a broad look at potential new homes for the sought-after company. We have a deep-seated commitment to the Second Amendment that I will continue to uphold. Ultimately, Stag Arms had to make a business decision and I believe this announcement is an affirmation that Wyoming is continuing to cultivate a culture that allows private enterprise to flourish. My administration will work collaboratively with the Wyoming Business Council and Cheyenne LEADS to ensure Stag's move goes smoothly. I thank Stag's Board of Directors and Chad Larsen for selecting Wyoming."

Stag Arms is the latest in a growing list of gun manufacturer choosing to move to Wyoming for its favorable business climate and firearm-friendly culture. In 2018, firearms manufacturer Weatherby Inc. announced it was moving its manufacturing operations and corporate headquarters from California to Wyoming. Weatherby's move to Sheridan is expected to create 70 to 90 jobs and more than $5 million in annual payroll over five years. In 2014, Colorado firearms accessory manufacturer Magpul, decided to relocate to Wyoming and Texas after Colorado state lawmakers restricted sales of ammunition magazines. It also chose Cheyenne for its new business location.

Click on this link to read the full Stag Arms Relocation Announcement (Nov. 18, 2019): https://info.stagarms.com/blog/relocation-announcement

Related Links:
California firearms manufacturer moving to Wyoming Seattletimes.com, January 23, 2018
Firearms industry grows in Wyoming Wyoming Business Council, January 6, 2016
Colorado gun company says new law is forcing relocation to Texas, Wyoming Washington Post, January 3, 2014

---
BLM hiring for seasonal wildland fire jobs (posted 11/19/19)
Bureau of Land Management
The Bureau of Land Management is now accepting applications for seasonal fire jobs for the summer of 2020.

"We're looking for people from all walks of life who enjoy the outdoors, have a sense of adventure and are interested in joining our workforce. These positions include firefighters assigned to engines, hand crews or helicopters, prescribed fire and dispatch. It is a great opportunity to see not only Wyoming but other parts of the country doing an extremely rewarding job" said Assistant State Fire Management Officer Richard Putnam.

Individuals who would like to be seasonal wildland firefighters need to apply early as most job announcements open in December and first consideration for hiring may begin in January despite crews not starting work until summer.

Applications are only accepted online at USAJOBS, www.usajobs.gov. Enter the keyword BLM-FIRE-2020 and Wyoming in the search boxes on the top of the page. Additional hiring information and application guidance can be found at Wildland Fire Jobs U.S. Department of the Interior, https://www.firejobs.doi.gov/index.php?action=home. Local contact information and additional information about the duty stations can also be found at the above website.

Applicants must be U.S. citizens, be at least 18 years old and pass a work capacity test (pack test) on the first day, excluding dispatch. Some positions may require a valid state driver's license. Those who are hired will receive training and previous firefighting experience is not a requirement for entry level positions. Base hourly pay can range from $12.95-$16.27 per hour. Seasonal positions provide employment for a limited period normally six months or less.

---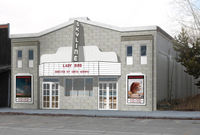 Artist's conceptual rendering of the front façade of the Skyline Theatre after restoration. Photo courtesy Skyline Theatre Project.

Skyline Theatre Project moving forward (posted 11/15/19)
Pinedale Online!
The Skyline Theatre Project is still moving forward, according to supporters. The group has been working diligently behind the scenes to ensure that the project continues to move forward and upward. The board has been busy working with different local groups, including Pinedale Mayor Matt Murdock, and the Wyoming Business Council in adjusting the business plan and readjusting the main set-forth plan after the Town of Marbleton opted out of joining forces for the movie theater operations. After regrouping, the project members are hoping to present an all-new proposal to the Town of Pinedale by year-end.

The money raised to date is still being held in a special account to go towards the project. Once the building is purchased and renovated, current thoughts are for the theatre to have both a stage for small live performances and a screen and projection equipment for movies. Organizers are hoping to be able to show both first-runs and "oldies but goodies" on the big screen. See the links at the bottom of this article for more details on the history of this historic renovation project. The Skyline Theatre is located in the historic district in downtown Pinedale on North Franklin Avenue. It operated as a movie theater in Pinedale from the 1940s into the 1980s.

If you are a local to Sublette County, look for an upcoming survey so that your voice may be heard. Supporters will have a table at the Pinedale Aquatic Center and be outside of Ridley's Market in upcoming days asking locals to take a quick survey about the project. Survey takers will be entered into a drawing to receive gift certificates from local businesses.

Click on this link to take the Skyline Movie Theatre Survey

The Skyline Theatre Project committee is also asking for Letters of Support from locals about how they think the theatre will benefit them, their children, the community, and local economic development. Organizers hope locals will speak to Pinedale Town Council members and encourage them to support the project and the community.

For more information about the Skyline Theatre, please email skylinetheaterwy@gmail.com or contact Chrissy at 307-231-9941 or Tara at 307-399-6804.

Related Links:
www.skylinetheatrewy.com/ Skyline Theatre
Latest history of the Skyline Theatre By Joy Ufford, Pinedale Roundup, November 15, 2019
Skyline Theatre Facebook page
Skyline Theatre Project fundraising officially launches – Restoring a Pinedale icon Pinedale Online, February 14, 2019
Skyline Theater project off to a reel-ly good start By Joy Ufford, Pinedale Roundup, November 30, 2018
Main Street Pinedale launches Skyline Movie Theater project in Pinedale October 17, 2018
Skyline Theater By Katherine Kasckow, Alliance for Historic Wyoming, December 13, 2017

---
WY Game and Fish to host regulations public meetings (posted 11/11/19)
Meeting in Pinedale Dec. 6
Wyoming Game and Fish
The Wyoming Game and Fish Department is holding public meetings and has opened a comment period to gather public input on:

• Chapter 3, Black Bear Hunting Seasons
• Chapter 32, Regulation Governing Firearm Cartridges and Archery Equipment
• Chapter 61, Collection of Shed Antlers and Horns

Date Time Town Location
Nov. 6, 2019, 6 p.m., Jackson, Game and Fish Office
Nov. 12, 2019, 6PM, Cody, Park County Library
Nov. 12, 2019, 6PM, Sheridan, Game and Fish Office
Nov. 13, 2019, 6PM, Casper, Game and Fish Office
Nov. 14, 2019, 6PM, Laramie, Game and Fish Office
Nov. 18, 2019, 6PM, Saratoga, Town Hall
Dec. 6, 2019, 6PM, Pinedale, Game and Fish Office
Dec. 9, 2019, 6PM, Rawlins, Jeffrey Memorial Community Center (32 & 61)
Dec. 10, 2019, 6PM, Green River, Game and Fish Office
Dec. 11, 2019, 6PM, Dubois, Headwaters Arts and Conference Center (32 & 61)
Dec. 12, 2019, 6PM, Lander, Game and Fish Office

Written comments shall be accepted through 5 p.m. on Dec. 16, 2019 at public meetings, online or by mailing:
Wyoming Game and Fish Department, Regulations
3030 Energy Lane
Casper, WY 82604

Copies of the proposed regulations are available on the department website https://wgfd.wyo.gov/regulations and at the address above in accordance with Chapter 1 Regulation Governing Access to Public Records.

Written comments shall be presented to the Game and Fish Commission prior to the public hearing at their January 2020 meeting in Cheyenne.

---
Christmas tree permits on sale (posted 11/11/19)
Bridger-Teton National Forest
This season's Bridger-Teton National Forest Christmas tree permits are available for purchase from Forest Service offices and local vendors in communities surrounding Moran, Jackson, Alpine, Afton, Kemmerer, Big Piney, and Pinedale, Wyoming.

A permit is required to cut Christmas trees from Bridger-Teton National Forest lands. Each Christmas tree permit costs $15.00 and allows for the harvest of one tree up to 20 feet in height. Harvesters are encouraged to cut trees close to the ground, trim branches away from the tree stump, and scatter any boughs that aren't collected. Bough collection is popular this time of year, and permits for cutting evergreen boughs can be purchased for $0.20 per pound at a $20.00 minimum.

With a permit in hand, it is also important to understand the rules that come with harvesting a forest product. As a reminder, cutting trees or removing products is prohibited in campgrounds, summer home sites, administrative sites, guard stations, ski areas, Cache Creek Canyon near Jackson, the Snake River Canyon, designated Wilderness or Wilderness Study Areas, and elk feed grounds. As seasons change, please check kiosks for current local information. Please follow all travel restrictions shown on Motor Vehicle Use Maps or, starting December 1st, the North Zone Winter Travel Map for the north half of the forest. These free maps are available at Forest Service offices and on the Bridger-Teton National Forest website. These maps can also be downloaded using the Avenza Maps app.

Any 4th grader presenting an Every Kid Outdoors federal lands pass will be given a free Christmas tree tag. Every Kid Outdoors federal lands passes are valid for 4th graders September 1st to August 30th each year. To obtain a pass, fourth grade students can visit the bilingual Every Kid Outdoors website, participate in a short educational activity, and then download a paper voucher to print and bring along to any federal land management office. Vouchers are traded in for an Every Kid Outdoors pass.

---
Business Directory
Click here for
Advertising Information