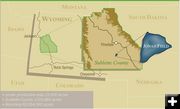 Jonah Location

The Jonah Natural Gas Field is located about 30 miles south of Pinedale. Graphic courtesy EnCana USA.




Jonah Geology

Jonah Geology. Productiive sands are deposited in lenses surrounded by non-productive shales. Graphic courtesy EnCana USA.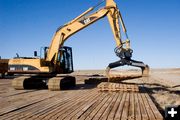 Drill Mats

Wooden mats create artificial well pads on top of the sagebrush in the Jonah Field, protecting top soil and plants. Photo courtesy EnCana USa.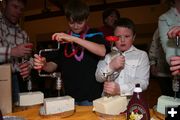 Cabin Fever Ball

EnCana sponsored the Cabin Fever Ball in Pinedale, part of the Green River Valley Winter Carnival.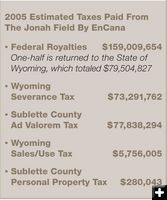 Tax Revenue

2005 estimated taxed paid from the Jonah Field paid by EnCana. Graphic courtesy EnCana USA.




Jonah Life Activity

Jonah Field is expected to have a lifetime of approximately 60 years. Total economic activity generated over the life of the Jonah Field is estimated to be $30.5 billion.

The Jonah Gas Field and EnCana
August 16, 2006
The Jonah Field in southwest Wyoming has been described as one of the most significant finds of natural gas in the United States. The Jonah natural gas field is located about 30 miles south of Pinedale.

Jonah Field was discovered in the 1970s, but companies at the time did not have the technology to get the gas out of the ground. The over-pressured gas was locked in very hard rock and the technology wasn't yet available to recover the gas.

In the mid-1990s, McMurry Oil tested an application called "fracing," which involved literally fracturing the rock open with pressure to release the gas. It worked, and the Jonah Field was born.

In 2001, EnCana Corporation, an independent company, acquired the Jonah Field leases and assumed the majority of development in Jonah.

EnCana Corp is headquartered in Calgary, Alberta, and is Jonah Field's largest producer through its Denver-based subsidiary, EnCana Oil & Gas (USA) Inc. EnCana Corp. was formed in April, 2002, with a merger of Alberta Energy Co and PanCanadian companies. Alberta Energy had purchased a significant interest in the Jonah Field from McMurry Oil Co.

The company employs nearly 900 people in Wyoming. Roughly 450-600 employees and contractors are in the Jonah Field, the rest operate out of offices in Riverton and Rock Springs.

It is estimated that there is eight trillion cubic feet of recoverable natural gas in Jonah, in a field that is only about 24,000 acres in size. It accounts for about 13.5% of the natural gas produced in Wyoming and 1.5% of the nation's natural gas supply.

The natural gas is locked in ultra-tight sands approximately two miles underground. The gas is located in dispersed pockets, rather than in a continuous layer, making finding the individual pockets difficult, and the reason why drilling companies need closer drill spacing in order to hit gas-bearing sands pockets.

EnCana Oil and Gas Company has worked to create innovative techniques for recovering the gas while protecting the environment and wildlife values as best as possible. Steps the company has taken to minimize environmental impacts include:

-Elimination of flaring The industry standard was to ignite and "flare" gas to remove impurities before the gas was ready for market. EnCana implemented a flareless flowback system that eliminates the need to flare. Today, the company doesn't flare unless safety requires it.

-Hub and spoke drilling configuration By using low impact, hub-and-spoke drilling configurations, facilities are centralized and connected to satellite wells by underground flow lines, reducing the surface footprint of the well site by more than 30%.

-Cut NoX emissions from drilling rigs Conventional drill rigs run on diesel fuel. EnCana experimented with a natural gas fired drill rig, which uses gas from existing wells to power the engines. The engines worked so well they cut NoX emissions by 90% compared to traditional diesel engines. The company has increased the number of these natural gas drill rigs they are now using.

-Reduce surface disturbance Conventional drilling requires extensive surface disturbance for the well pad. EnCana used their experience with Canada's soggy muskeg country where they used wooden mats to keep equipment from sinking to help with the disturbance issue here in Wyoming. They decided to try using the wooden mats to create artificial well pads on top of sagebrush to reduce the well pad footprint and to eliminate the need for scraping off the topsoil on the site. The mats allow the drill rigs to be put in place without disturbing plant roots, significantly reducing the reclamation cycle.

-Offsite mitigation Jonah Field operators committed $24.5 million dollars to enhance wildlife and rangeland habitat in the Jonah area. Developers realized they couldn't mitigate many of the impacts of the drilling in the field area itself, so the decision was agreed upon to protect and enhance habitat in surrounding areas. Local organizations and entities submit proposals for projects that are funded from dollars from the mitigation fund.

Taxes paid from the Jonah Field by EnCana in 2005
-In 2005, EnCana paid $159,009,654 in federal royalties. One half of that amount was returned to the State of Wyoming, which totaled $79,504,827.
- EnCana paid $73,291,762 in Wyoming Severance Tax.
- EnCana paid $77,838,294 in Sublette County Ad Valorem Tax.
- EnCana paid $5,756,005 in Wyoming Sales/Use Tax.
- EnCana paid $280,043 in Sublette County Personal Property Tax.

WORKFORCE DEVELOPMENT
EnCana has been closely involved with helping to grow the overall economy of southwest Wyoming and has donated significantly to help provide education and training in local communities.
Rocky Mountain Oil and Gas Training Center in Casper
The company is a founding member of the rocky Mountain Oil and Gas Training Center in Casper. This training program is designed to train oil and gas workers in various occupations. The center trains drilling rig floor hands for the oil and gas industry.
Western Wyoming Community College
EnCana partnered with Western Wyoming Community College, the Rock Springs community and industry to launch the Oil and Gas Production Technology Program. These are industry programs at the college level which allow students to have hands-on-training opportunities. Two courses are available: Oil and Gas Production Technology Program and Compression Technology Program.
University of Wyoming Petroleum Engineering
EnCana pledged a gift of $2 million to the University of Wyoming to create and provide equipment for new research laboratories for the university's resurgent petroleum engineering program. The gift is to be made in annual payments of $400,000 during the next five years. It will establish an EnCana Research Lab, Reservoir Simulation Lab, and provide additional laboratories and equipment.
Sublette County High School Program
EnCana has been working closely with Pinedale and Big Piney high schools and Western Wyoming to establish technology, welding and automotive vocational training classes. The program will allow high school students the opportunity to jump-start their college education with college credit courses, which can be transferred to Western Wyoming Community College.

INVESTMENT IN LOCAL COMMUNITIES
EnCana has donated generously to support community programs that service youth and education, health and wellness, the environment, and community development. In 2005, EnCana contributed more than $900,000 to organizations and groups statewide with gifts made via 51 grants. They contributed more than $234,000 to organizations in Sublette County last year.

Below are some of the contributions EnCana made to organizations and groups in Sublette County in 2005.
-$10,000 to Pinedale Emergency Medical Services Council (Pinedale EMS) to improve and advance classroom media resources for its new ambulance facility.
-2005 Summer Reading Program for the Big Piney Library.
-After-school playground for the Children's Discovery Center.
-Sponsorship of the Chuckwagon Days Little Buckaroo Rodeo in Big Piney.
-4-year, $10,000 scholarships to Pinedale and Big Piney seniors.
-Barn Dance and Vintage Truck Auction for Kickin' Cancer in Sublette County.
-Drum Brothers lecture, workshop & performance for the Pinedale Fine Arts Council.
-Christmas basket food drive for the Pinedale Food Basket.
-Sponsorship of the Pinedale Half Marathon.
-Senior Citizen Photo Contest and Rendezvous Pointe in Pinedale.
-Health Care Provider booklet for the Sublette Center.
-Curbside Recycling Program for the Sublette Citizens for Recycling.
-Community Clean-up Days for the Sublette County Chamber of Commerce.
-National Volunteer Week for Sublette County Extension.
-2005 Green River Rendezvous Days for the Sublette County Historical Society-Museum of the Mountain Man.
-Spanish Language collection for the Sublette County Library Foundation.
-"Bowl for Kids" for The Learning Center.
-Christmas Basket Food Drive for the Big Piney Food Basket.
-Toys for Tots Christmas Drive for the Pinedale Volunteer Fire Department.
-Business Banners for Sublette County Little League.

Graphics and photos courtesy EnCana Oil & Gas (USA)

Related Links