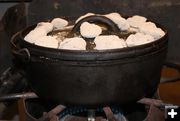 Dutch Oven Cooking

A Dutch Oven is a heavy cast iron cooking pot that uses hot coals to cook the food.


Dutch Oven Delights
One of the many community education classes offered by Sublette BOCES
by Dawn Ballou, Pinedale Online!
April 28, 2013

Mountain Man Breakfast, chili verde, home-made biscuits, cornbread, cinnamon rolls, apple cobbler… These tasty dishes are what have been on the menu during the past couple of sessions of the Dutch Oven Cooking class offered through Sublette BOCES in Pinedale this winter. The class is being taught by Ag/FFA instructor Rex Hamner. It was so popular this term with people asking to sign up, BOCES convinced Hamner to teach a second session of the class so that more people could take it.

A Dutch Oven is a cast iron cooking pot that has a tight-fitting lid. Cooking is done over coals from a campfire, or for those who want to use modern methods, with gas heat. The Dutch Ovens used in this class have legs to get the pots up off the coals and the lids have a lip to hold in coals placed on the top which provide top-down heat. Dutch ovens come in various sizes, 8 inch, 10 inch, 12 inch and 14 inch. They are very versatile and can be used for baking, boiling, roasting, stewing and frying. They can even be stacked on top of each other so the heat from one helps the cooking of the oven next to it.

In this class, students learn how to regulate the cooking temperature by the number of top and bottom coals used, how to care for the Dutch Oven, briquette layout, cooking timing, recipe choices, and cooking tips. Class time included food preparation and, the best part, eating the results at the end! Some food items, like stews and soups, are slow-cooked over several hours. Other foods, like breads, have comparable cooking time as in a regular oven.

Sublette BOCES offers a variety of credit and non-credit community educational courses through a cooperative partnership with Sublette County School District #1 and Western Wyoming Community College. To see the most recent schedule, go to www.subletteboces.com or call 307-367-6873.
_____________________________________________

Editor's Note: For those wanting to sample delicious Dutch Oven cooking creations cooked by experts, don't miss the Dean Luce Dutch Oven Cook-off Contest each year as part of the Sublette County Fair in July/August and the Big Piney/Marbleton Stage Stop Mushers Banquet as part of the International Pedigree Stage Stop Sled Dog Race (IPSSSDR) in January/February.