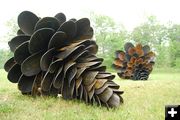 Pine cones

Pine cones made out of metal shovel heads, by artist Pat Plourde, is one of the planned art projects by the Pinedale Fine Arts Council's Visual Arts Committee for 2013.

Visual Arts Committee announces upcoming art projects
April 21, 2013
The Pinedale Fine Arts Councilís (PFAC) Visual Arts Committee (VAC) has three new projects in the works for Pinedale.

Diversity in Nature Project: "School of Fish" by Diana Baumbach
In partnership with the Learning Center, and with money leveraged through the Town of Pinedale, the VAC will be bringing Diana to create a piece called "School of Fish." Fabricated in corten steel, the piece will be installed adjacent to the Learning Center, and across the street from the children's fishing pond, in a large bump out. Baumbach will be doing a week-long residency, April 18-April 25, with the Learning Center children, who will have their designs incorporated into the actual sculpture by introducing them to different printmaking techniques. The completed sculpture will be installed in August, 2013.

"Pinecones" by Pat Plourde
In a local partnership with the Library Foundation, in early August 2013, PFAC will bring Pat Plourde to construct three large pine cones which will be installed on the south side of the library on Charles Street. This unique sculpture will be made out of pine cones. PFAC is asking for donations of old shovels. Receptacles are located at the PFAC office on Pine Street, Rock Rabbit and the Sublette County Chamber of Commerce.

Photo Mural Project
Sublette County photographers/artists are in the process of submitting photo-based images to be considered for installation on the north facing building at the Rivera Lodge on Pine Street. The finalist's image will be enlarged to12 feet high by10 feet wide and will settle into the outline of the building (a house shape). There will be two images chosen, the winning image will be chosen by the VAC, and the second image will be voted on during a public reception for a People's Choice Award. Both framed images will be displayed at different venues throughout the community.

PFAC invites the public to a reception at Rock Rabbit in Pinedale starting at 6:00PM on Thursday, April 25 to vote for their favorite image.

For more information, contact Darby Davis, Pinedale Fine Arts Council - Visual Art Committee Program Manager, 307-231-0058, email: darby@pinedalefinearts.com.