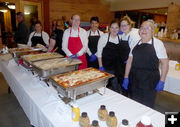 Catering

The event was catered by Sue Eversull.

Cally's Helping Hands
2019 Volunteer Appreciation Dinner
January 27, 2019
The 2019 Cally's Helping Hands Volunteer Appreciation Dinner was held Friday evening, January 25th, in the Lovatt Room of the Pinedale Library. The event honored 21 outstanding volunteers who generously donated their time and efforts in 2018 to help 17 non-profit organizations in Sublette County. According to the Pinedale Fine Arts Council, last year Sublette County volunteers donated over 48,551 hours to the community. This doesn't count the hours of volunteers of other organizations whose hours data weren't reported in this year's total. The event was sponsored by Ultra Petroleum.

This year's outstanding volunteers honored at the dinner were:
Children's Discovery Center - Emily Paravicini
The Children's Discovery Center is pleased to honor Emily Paravicini for her dedication to our school and our community over the past three years. Emily has devoted approximately 70 volunteer hours in 2018. This includes volunteering at the school for our cleanup days, donating countless items to the school, and assisting with ALL of our fundraisers including the Day/Night Golf Tournament, Harvest Festival, Winter Golf Tournament, Wreath Fundraiser, and High Altitude Farmer's Market. Emily joined the CDC Board of Directors in July 2018. CDC provides quality affordable early education and childcare programs with a focus on environment and community. They operate year-round, full-time programs for children ages 2-9.

Children's Learning Center - Sally Heath
Children's Learning Center is proud to announce Sally Heath as our volunteer of the year. Sally taught at a performing arts academy for six years, helping children grow in their love for music and getting comfortable in front of people. When she moved to Pinedale, we asked her to share her love of music with our preschool. Sally visited our class twice a month teaching music and movement. She says, "…I knew it was a place I wanted to be. I am grateful for the experience I had teaching and the joy we found in trying new things and singing those silly songs!" The CLC provides special education services for children birth to five years with programs in Big Piney and Pinedale. They provide an inclusive preschool program which brings together typically developing children with those children who may have special needs to enrich the lives of all children.

Green River Valley Program of the Jackson Hole Land Trust - Mike Fenn
The Green River Valley Program of the Jackson Hole Land Trust would like to recognize Mike Fenn as our Volunteer of the Year. Mike serves on our GRVP Advisory Council and on the Jackson Hole Land Trusts Board of Directors. Mike has given generously of his time and talents throughout the year, and we are grateful for his dedication and support. Thank you, Mike. Formerly the Green River Valley Land Trust, the Green River Valley Program of the Jackson Hole Land Trust, a non-profit organization dedicated to protecting the region's open space, agricultural, scenic, and wildlife values.

M.E.S.A. Therapeutic Horsemanship, Inc. - Teresa Sandner
Teresa Sandner has been a MESA lesson volunteer for 3 years assisting during all sessions throughout the year. In 2017, Teresa was asked to join the MESA Board of Directors. Not only has Teresa selflessly volunteered her time, resources, and assistance in our lessons on a weekly basis, but she has also been a huge help during the planning and implementation of all of MESA's fundraising events for several years. MESA Therapeutic Horsemanship, Inc. provides high quality equine-assisted activities and therapies to individuals with a wide range of physical, mental, and behavioral disabling challenges. The organization strives to promote self-esteem, confidence, physical independence, and social interaction through equine-assisted activities.

Pinedale Half Marathon - Amber Anderson
Amber Anderson has been a member of the Pinedale Half Marathon committee for over 10 years working in numerous roles including registration committee member and chairman, marketing and advertising, secretary for meetings, organizing bag stuffers and picking out shirts, grant writing and race director. She is highly organized and motivated and spends hours of her own personal time on this event each year. She is also highly involved in the Senior Winter Games held in Pinedale each February. We appreciate her! The Pinedale Half Marathon is a nonprofit working to organize and run an excellent fitness event for the entire community with the primary goal of improving fitness in our community. The event includes Half Marathon, 10K and One Mile distances so ALL may participate.

Pinedale Lion's Club - Max Lockett
Lion Max Lockett is one of our most active members, assisting with everything from our snowmobile raffle to fence building to staffing the fire distribution center. As a retired teacher, he is a great Leo Club advisor, working with kids ages 12-18 on community projects. Lion Max personifies our Lions motto of "We Serve." The Pinedale Lions Club meets community needs including funding for eye glasses, free diabetes testing, high school scholarships, maintaining Shelter Park, the Easter Egg Hunt,, Leo Club for youth, early childhood education grans and medical transportation.

Pinedale Community Theatre - Kim and Shawn Buchanan
Kim and Shawn Buchanan are an extraordinary couple who have given thousands of volunteer hours to bring PCT productions to life. They have been cast members in each of our 5 musical productions – The Sound of Music, The King and I, Guys and Dolls, Oklahoma, and Oliver. In addition to attending all rehearsals they have also set aside additional time to learn the music and memorize their lines. They mentored new members of the casts, helped with sets and costumes and pitched in wherever they saw a need. They are an amazing addition to our group! PCT is a community-based non-profit group dedicated to providing quality theatre experiences for audiences and participants of all ages. We engage in the production of main-stage musicals, dinner theatre and children's shows, with frequent visits from world-class professionals.

Pinedale Fine Arts Council – Nick Boyce
Nick Boyce is a fantastic member of the Leos. Along with Jim and Beth Allen, Nick has ushered for countless PFAC shows as part of his service under the Lion's Club Leos program. He comes early to set up the programs. He greets the patrons with a friendly smile and is always ready to help. PFAC appreciates his long service in helping make the shows a great experience. The mission of the Pinedale Fine Arts Council is to present quality performing, literary and visual arts that will educate, engage and entertain the people of Sublette County.

Sublette County Sexual Assault Family Violence Task Force – Lynn McGarr
SAFV is nominating Lynn McGarr. Lynn has volunteered for SAFV for several years, and in 2015 increased her commitment, not only to SAFV, but to all Sublette County residents and took the victim advocate training to become a crisis line volunteer. Lynn is a passionate volunteer and truly cares about helping the SAFV clients. Besides helping cover the crisis line, Lynn is always willing to jump in and help in whatever capacity she can. Over the past several months she has filled in a gap that has been invaluable to the staff at SAFV. We don't know what we would have done without her. Sublette County Sexual Assault Family Violence (SAFV) Task Force provides protection, assistance, and support to the victims of domestic violence, sexual assault and stalking. SAFV is committed to ending violence through prevention education and social change.

Sage & Snow Garden Club – Diana Trapp
We would like to honor Diana Trapp this year for all the extra work she has put in to elevate the Sage and Snow Garden Club. Di is our treasurer and works very hard to make sure that our books are in order to facilitate the many projects of the club. This year Di has gone above and beyond to update the club's tax exempt status with Wyoming and at the national level, while updating our bylaws. She keeps us up-to-date on finances and volunteers for most club activities. Di is a valued member of our gardening team. We are glad to name Diana Trap as our 2018 volunteer of the year. The Sage & Snow Garden Club's mission is to promote and encourage an interest in gardening, study of horticulture, the conservation of natural resources, the beautification of the community and to raise awareness of citizens of any age to the joys and rewards of gardening.

Soroptimist of Sublette County – Cassie Boyce
Cassie Boyce is a Soroptimist Volunteer of the year. She puts forth so much effort, never misses a meeting, and is always willing to help. She is willing to do the jobs that no one wants to do, and she does it with a smile and a flair all her own. Cassie works hard to help make our non-profit a success. She is organized and helps keep the rest of us organized as well. She is currently our club Vice President, but has also served as our Secretary, light hanger, decorator, dishwasher and spokeswoman. We don't know what we'd do without her and her infectious laugh and beautiful. Soroptimist means "best for women" and it is a volunteer organization of business and professional women who strive to improve the lives of women and girls in local communities and throughout the world. Our local chapter awards scholarships to graduating high school girls and head of household women in Sublette County.

Sublette Center – Sherry Kellen and Irma Van Der Velde
This year Sublette Center is proud to honor Sherry Kellen and Irma Van Der Velde as our volunteers of the year. Irma and Sherry have volunteered for our facility for over 10 years. They are key in making our monthly Cocktail Party, Mother's Day Tea and other special functions successful and memorable occasions. Their cheerfulness and caring personalities touch the lives of everyone they encounter. We, at the center, are blessed and truly grateful for the time and energy these women have invested in us. Sublette Center is a skilled nursing and retirement community catering to the desires, interests, and needs of residents who live in the skilled portion of our facility. We are providing some activities that promote socialization for both medical and independent residents. Quality of life is the goal.

Sublette County 4-H – Grace Delker
Sublette County 4-H is honoring two volunteers. We would like to honor Grace Delker tonight for her service to the program and for going over and above! Grace leads a leather and woods club, the rabbit/poultry group, and helps with the dog project in Big Piney. All told, we cannot imagine how many hours Grace contributes to 4-H, but what we do know is that all of her 4-H teaching supplies leave little room for her and her kids as we witnessed when she kindly brought it all to the Big Piney 4-H open house. Thanks Grace for all you do! We also would like to honor Steve Green. Steve has a very willing and positive "kid first" attitude and has done an amazing job offering great education to all 4-H members he encounters. He is also very involved with many aspects of the Sublette County 4-H Program, helping with many county wide events, field days, and clinics, Sublette County Fair, and 4-H council meetings. He always provides great new ideas and input and is willing to help with anything when asked. Thank you Steve! The University of Wyoming Sublette County Extension 4-H & Youth Development program serves over 400 youth and 75 volunteers. 4-H is a National Youth Development Program that has been in existence for over 100 years. The primary goal of 4-H is to assist youth in developing life skills that help them live self-directing, productive and satisfying lives. Some important life skills include making decisions, solving problems, relating to others, planning and organizing, communicating with others, leading self and others, and applying science and technology.

Sublette County Historical Society – Rob & Nancy Tolley
Rob and Nancy Tolley are always available when something needs to be done. And when not on call, they are looking for ways to help the organization. Over the past two years, their help and expertise has been invaluable in creating and growing the new Western Art & Wine Auction, which has quickly become a signature event for the Historical Society. The Sublette County Historical Society preserves and interprets the history of Sublette County through operation of the Museum of the Mountain Man, Sommers Homestead Living History Museum, and several historical sites.

Sublette County Library – Linda Trimmer
Our volunteer of the year, Linda Trimmer, has been an incredible asset to Sublette County Library. In addition to participating in many of the library's programs, Linda has been helping with all aspects of our annual Rendezvous Book Sale, including coming in nearly every week to sort the book donations we receive throughout the year. She averages half an hour of donated time each week, with over 30 hours donated for the year. The Sublette County Libraries offer so much more than books – many people come to the library for our programs, our meeting spaces, our computers and other technology and our helpful staff. Locations in Pinedale and Big Piney strive to serve.

Tip Top Search and Rescue – Cody Wilson
We would like to recognize Cody Wilson for his commitment to Sublette County and his years of service helping those in need. Cody has been a volunteer member since 2012. He is the Team Lead for our climbing team, as well as a Pro Level 1-certified Avalanche team member. His medical knowledge as a backcountry provider has been a vital resource and we appreciate the care he has been able to provide to injured and ill patients. Cody also serves on our Short Haul Rescue team and water rescue teams. We are honored to have Cody in our organization. TTSAR, a 501-c3, was created around 1980 to promote public safety and welfare. It is a non-profit volunteer organization that acts under the direction of the Sublette County Sheriff. This organization is committed to helping those in need and promote public safety and awareness.

Upper Green River Chapter, Trout Unlimited – Pawarisa Pattanapitarn (nickname: Beam)
"Beam" is UGR-TU's youngest volunteer. An exchange student from Bangkok, Thailand, Beam is on Pinedale High School ski team and in the LEO Club. A week after her arrival in Wyoming, she volunteered at the Daniel Hatchery 100th Anniversary serving food for three hours. She also participated in riparian restoration, planting willows along Forty Rod Creek. UGR-TU protects and restores Sublette/Upper Green River fisheries through projects and partnerships, including: Kids Fishing Day, Ladies Fly Fishing classes, fish entrainment prevention, streamside willow plantings and fish migration restoration.

Cally's Helping Hands Volunteer Appreciation Dinner is named for Cally McKee, who passed away in 2014. She was a mother, sister, colleague and friend. She saw what was possible and made it happen. She encouraged us, supported us, and challenged us to dream bigger, plan better, and do more. Cally volunteered. Not because she had to, but because she wanted to. Her legacy will continue inspiring us to give back, pay it forward, and lend our helping hands wherever they are needed.