Sublette COVID Briefing: May 14, 2021 (posted 5/15/2021)
21%+ of Sublette County vaccinated to date
Sublette County Public Health
The Wyoming Department of Health (WDH) has reported 10 new COVID-19 cases in Sublette County since May 6, 2021. There are currently 5 active cases in Sublette County, with 778 recoveries, and 7 deaths, for a total of 790 cases since the pandemic began.

As of May 6, Sublette County Public Health has fully vaccinated 2,216 people. The statewide graphic shows that as of May 10, 2021 Sublette County has vaccinated 21.18% of its population, compared to 55.71% of Teton and 24.75% of Sweetwater Counties populations.

On May 10, the FDA expanded the Emergency Use Authorization for the Pfizer-BioNTech COVID-19 vaccine to include individuals aged 12 years and older. Sublette County Public Health is currently working on scheduling vaccine clinics to administer the Pfizer vaccine to interested individuals. Please watch for details next week on registration information, clinic dates, and locations.

5/14/21 — Moderna Vaccine Doses given in Sublette County
• 1st doses = 2,185
• 2nd doses = 2,003
• Total Doses = 4,188
5/14/21— Janssen Vaccine Doses given in Sublette County. Sublette County Public Health has resumed administering the Janssen vaccine.
• Total Doses Given = 213
On May 13, the CDC updated their public health recommendations to state that fully vaccinated people no longer need to wear a mask or physically distance in any setting, except where required by federal, state, local, tribal, or territorial laws, rules, and regulations, including local business and workplace guidance. And to also state that fully vaccinated people can refrain from testing following a known exposure unless they are residents or employees of a correctional or detention facility or a homeless shelter.

If you missed this week's video briefing, please take a few minutes to watch at this link. Janna Lee shares this week's COVID case counts and vaccine numbers. Emily Ray announces the return of the Rural Health Care Districts Lunch and Learn monthly program. Dr. Fitzsimmons gives a big shout out and thank you to all nurses for their dedication and acts of service during Nurses Week. Steve Kipp talks about his role as Public Health Response Coordinator for Sublette County.

Sign up for your COVID vaccine appointment here: https://www.sublettewycovid.com/vaccines

---
Statewide Public Health Orders to remain in place through May 31 (posted 5/13/2021)
Wyoming Department of Health
Wyoming's statewide COVID-19 public health orders will remain in place through the end of the month, according to the Wyoming Department of Health (WDH).

Mask use and physical distancing requirements related to educational institutions remain. Indoor events of more than 500 people may be held at 50 percent of venue capacity with specific mask protocols for large indoor events.

WDH recommends masks in indoor public places for people who aren't fully vaccinated when common-sense physical distancing cannot be maintained among those who don't live in the same household.

The updated orders, which go into effect May 17 and remain through May 31, can be found online here.

Information about getting a COVID-19 vaccine in Wyoming can be found here.

---
Sublette Public Information Sharing Dashboard available (posted 5/13/2021)
Sublette County Sheriff's Office
This week the Sublette County Sheriff's Office, in coordination with Sublette County Emergency Management with assistance from Teton County Emergency Management, have released a public information dashboard. This Sublette County Information Sharing Dashboard was designed to provide a one-stop shop for relative information to those who live in and visit Sublette County. This interactive dashboard currently includes the following tabs and information:

Current Sublette Incidents:
The Current Sublette Incidents tab is a map of Sublette County which will highlight all Emergency situations, weather hazards, public safety incidents and other notices the public should be made aware of.

Sublette County Sheriff, Sublette County Emergency
Management, Tip Top Search and Rescue media:SCSO-SCEMA-Tip Top media board is intended as a one stop shop for press releases and social media feeds from the Sublette County Sheriff's Office, Sublette County Emergency Management and Tip Top Search and Rescue

Sublette County Sheriff Data:
The SCSO Data dashboard shows calls for service, citations and warnings issued, as well as Sublette County Detention Center arrest data.

Crash Data:
The Crash Data dashboard is a new map dashboard to highlight the amount of traffic-related crashes in Sublette County. It shows crashes ranging from vehicle vs. animals to fatality crashes and maps out the crashes so users can see where the majority of incidents are occurring.

Weather:
The Weather Dashboard is an embedded link to the National Weather Service Situational awareness for weather related emergencies.

Snowpack and SNOTEL Data:
Snowpack and SNOTEL Data collection sites for Wyoming are displayed on this dashboard showing current snow water equivalent data.

Search and Rescue Data:
The Search and Rescue Dashboard shows all current and historical search and rescue missions across Wyoming since 2009.

Rivers and Water Flow data:
The Rivers dashboard shows all river flow monitoring stations in Wyoming to monitor for potential flooding.

Fire information, Fire Weather and Current Fire incidents:
The Fire Information dashboard links citizens to the Risk Management Assistance National Dashboard. The dashboard has multiple tabs within showing citizens fire weather, fire incidents, fire library, current smoke conditions and much more.

Wyoming Road Conditions:
The Road Conditions tab links to the WyoRoad.info map showing current Wyoming road conditions and closures.

Wyoming Geological Hazards Dashboard:
With Wyoming having many geothermal and geological features around the state, this tab will link citizens to the Wyoming State Geological Survey dashboard.

This Public information solution will continue to grow with new features and usability to keep the citizens of Sublette County informed with the goal of providing the most current information available on an array of topics. The Current Incidents tab is also available on our website http://www.sublettewyo.com/481/Curent-Incidents.

The full Sublette County Information Dashboard is available here or here

---
Governor Gordon statement on the Biden Administration 30x30 Report (posted 5/12/2021)
Governor Mark Gordon media release
Governor Gordon has issued the following statement on the Biden Administration's 30x30 report, which calls for setting aside 30% of the nation's lands and waters by 2030:

"The Biden Administration's report on the 30x30 initiative has been met with both skepticism and applause, and I find both are warranted. Although not consulted early in the process, I assigned a small team to convey our suggestions, and the report's overall tone appears to have captured much of the input. This is encouraging and at least an acknowledgement that our concerns were heard.

As always, proof lies in action, not words. I am cautiously optimistic that the administration will leave 30x30 in the hands of locally based, cooperative, and truly voluntary efforts. If this initiative is not implemented in a way that focuses on the local level, it is surely doomed.

For example, an early focus of the report is to create more parks and, while the national park system is an effective way to set aside lands, Wyoming already has massive amounts of land in this system. Historically, these parks have been put in place when federal land was extremely expansive, and few people had come West. Wyomingites enjoy these places today as much as any other American, but, as one of the western states with large amounts of federal land, we cannot be the conservation colony of the nation. Wyoming is not the nation's national park where nothing can happen to create jobs, sustain our communities, bolster our industries, and find our own prosperity. That being said, the report does emphasize and outline a goal that would maintain geographically diverse conservation – a concept that should alleviate many of these concerns, and a commitment I expect to see honored.

I am particularly pleased to see the strong recognition of private property rights and the commitment to stewardship that private landowners have shown. If 30x30 provides for long-due recognition of the excellent stewardship our ranchers and farmers provide in the West, especially in Wyoming, this is a great step forward. I am also happy to see the recognition of a national loss of farms and ranches due to fragmentation and development, something Wyoming is well aware of. I am hopeful this all leads to appropriate compensation for the multiple long-term values agriculture provides.

The recognition of existing programs our landowners have with agencies like the US Fish and Wildlife Service and the Natural Resource Conservation Service is also appreciated. These have been truly voluntary programs, and if this is the spirit carried forward by this initiative, we can build upon previous success.

Much of the implementation of this initiative will come down to what is considered "conservation" and what is not. I am certainly willing to work towards the integrated approach the report calls for and will continue to advocate for an approach to Wyoming that is led by Wyoming. If the radical left-wing agenda is allowed to permeate this process and sway definitions, Wyoming wants no part of it; if it remains place-based and truly voluntary, it could provide new opportunities for our landowners and our long-standing successful history in ecosystem management to prevail."

---
Weather-permitting, South Entrance and select roads in Yellowstone National Park to open May 14 (posted 5/12/2021)
National Park Service
Weather-permitting, the following roads will open Friday, May 14, at 8 a.m. to public motorists:
- South Entrance to West Thumb
- Lake Village to West Thumb
- West Thumb to Old Faithful (Craig Pass)

Conditions can change quickly, especially during spring and fall, and roads can temporarily close due to poor driving conditions.

For road status updates:
- Visit park roads.
- Text "82190" to 888-777 to receive Yellowstone road alerts on your mobile phone (an automatic text reply will confirm receipt and provide instructions).
- Call (307) 344-2117

For road construction information:
- Visit road construction.

Expect traffic pattern changes and/or delays at the North Entrance and Old Faithful area. The road between Tower-Roosevelt and Canyon Village is closed for the 2021 season.

---
Governor Gordon issues Directive banning vaccine passports (posted 5/11/2021)
Governor Mark Gordon media release
Governor Gordon has issued a directive that prevents state agencies, boards and commissions from requiring "vaccine passports" to access state spaces and state services.

The directive instructs state agencies, boards, and commissions to provide full access to state spaces and state services, regardless of a constituent's COVID-19 vaccination status.

"Vaccine passport programs have the potential to politicize a decision that should not be politicized," Governor Gordon said. "They would divide our citizens at a time when unity in fighting the virus is essential, and harm those who are medically unable to receive the vaccine. While I strongly encourage Wyomingites over the age of 16 to get vaccinated against COVID-19, it is a personal choice based upon personal circumstances."

The Governor's directive further urges counties, cities, and towns in Wyoming, as well as encourages private businesses, to provide full access to public spaces and services, regardless of an individual's vaccination status.

Governor Gordon noted that more than 180,000 Wyomingites have received one of the effective COVID-19 vaccines safely. Both the Governor and First Lady have been vaccinated, and he continues to urge residents to choose to receive the vaccine to protect lives and help Wyoming move closer to ending the pandemic.

A copy of the Governor's directive may be found here.

---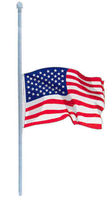 Flags Half-Staff notice - In Honor of Peace Officers Memorial Day May 15th (posted 5/11/2021)
Wyoming Governor Mark Gordon
Governor Mark Gordon, in recognition of Peace Officers Memorial Day and Police Week 2021, has ordered both the U.S. and State of Wyoming flags be flown at half-staff statewide on May 15, Peace Officers Memorial Day.
---
Governor Gordon withdraws Wyoming from COVID-era Unemployment Programs (posted 5/11/2021)
Jobs are available; extended unemployment benefits incentivize people not to work
Governor Mark Gordon media release
Wyoming Governor Mark Gordon has announced that Wyoming will end its participation in federal supplemental unemployment benefits in order to address workforce shortages being felt throughout the state.

The programs were made available through federal laws initiated in response to the pandemic and include Coronavirus Aid, Relief, and Economic Security (CARES) Act and Continued Assistance to Unemployed Workers Act of 2020. The additional payments will no longer be available to claimants as of June 19, 2021.

"Wyoming needs workers, our businesses are raring to go," Governor Gordon said. "I recognize the challenges facing Wyoming employers, and I believe it's critical for us to do what we can to encourage more hiring. Federal unemployment programs have provided short-term relief for displaced and vulnerable workers at a tough time, but are now hindering the pace of our recovery. People want to work, and work is available. Incentivizing people not to work is just plain un-American."

Effective June 19, 2021, the Wyoming Department of Workforce Services will stop paying these benefits to existing claimants and will no longer accept new claims for the following federal UI programs:
Federal Pandemic Unemployment Compensation (FPUC) – A $300 per week supplemental payment in addition to other UI benefits.
Pandemic Emergency Unemployment Compensation (PEUC) – An extension of regular UI benefits. Regular UI is limited to 26 weeks. The current version of PEUC would extend UI benefits up to a maximum of 53 additional weeks.
Pandemic Unemployment Assistance (PUA) – Provided eligibility for many people who would not normally be eligible for UI benefits and who had lost their income due to COVID-19. This includes, for instance, those who were self-employed or those who worked for non-profits or other businesses that were not required to pay UI taxes.

The Department of Workforce Services reminds Wyoming workers that state assistance is available when the FPUC, PEUC and PUA programs end.

"The 20 Workforce Centers around the state have many opportunities to help those who are seeking work," said DWS Director Robin Sessions Cooley. "The Workforce Innovation and Opportunities Act (WIOA) program and the Workforce Development Training Fund, including our Apprenticeship Grants and Internship Grants, can help a person obtain not just a job, but a career."

The Governor's decision was welcomed by Chris Brown, Executive Director of the Wyoming Lodging and Restaurant Association. The hospitality industry was among the hardest hit by the pandemic, but he said the industry is now struggling to hire staff.

"We applaud Governor Gordon's leadership with this decision and we look forward to providing true Wyoming hospitality to the visiting public as we continue to recover as an industry," Brown said.

---
Elk calving season begins in Yellowstone National Park (posted 5/7/2021)
You are responsible for your own safety
Yellowstone National Park
Yellowstone National Park put out this advisory for visitors and their staff.
• Elk calving season will begin soon in Yellowstone National Park.
• Cow elk are much more aggressive towards people during the calving season and may charge or kick.
• Stay alert. Look around corners before exiting buildings or walking around blind spots: cow elk may bed their calves near buildings and cars.
• Keep at least 25 yards from elk at all times.
• If an elk charges you, find shelter in your vehicle or behind a tall, sturdy barrier as quickly as possible.
• You are responsible for your own safety.
• Visit Elk for more information.
_________________________

COVID-19 reminder for Yellowstone National Park:
Face masks are still required on NPS-administered lands where physical distancing cannot be maintained and in all NPS buildings and facilities. Park operations vary based on local public health conditions. Before visiting, please check the park website to determine its operating status. Additional details are available at www.nps.gov/coronavirus.

---
9 Wyoming rest areas to reopen for the summer travel season (posted 5/6/2021)
Wyoming Governor Mark Gordon
Governor Mark Gordon has directed the Wyoming Department of Transportation (WYDOT) and Wyoming Office of Tourism (WOT) to partner to temporarily reopen and operate nine previously closed rest areas for at least the duration of the 2021 tourist season.

"With the summer season just around the corner, I'm glad we will be able to reopen these facilities to travelers," Governor Gordon said. "We are glad to have this chance to find a temporary solution."

WYDOT and WOT along with the Governor's office will work together to secure a temporary federal funding source to allow the nine rest areas throughout the state to reopen.

"WYDOT is extremely grateful to Governor Gordon and Director Shober for identifying new federal funds to temporarily reopen our rest areas for the tourist season," said WYDOT Director K. Luke Reiner.

Officials closed the rest areas in June 2020 as a cost-savings measure due to budgetary shortfalls.

The nine rest areas include:
Lusk on US 18
Guernsey on US 26
Greybull on US 16
Moorcroft on I-90
Star Valley on US 89
Sundance on I-25
Upton on US 16
Orin Jct on I-25
Chugwater on I-25

"Each of these nine rest areas are a valuable tourism tool, said Diane Shober, executive director of the Wyoming Office of Tourism. "Certainly, a clean facility is important to the visitor experience, but it is also a powerful marketing platform to distribute travel guides and other trip-planning resources. As travelers are stretching their legs, they are also gathering information on local events, attractions, restaurants, campgrounds and lodging, which all can lead to extended stays and increase visitor spending."

The rest areas should reopen ahead of Memorial Day weekend.

---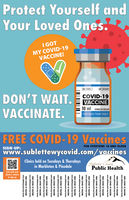 Sublette COVID Briefing: May 6, 2021 (posted 5/6/2021)
Sublette County Public Health
The Wyoming Department of Health (WDH) has reported 6 new COVID-19 cases in Sublette County since April 29, 2021.
There are currently 5 active cases in Sublette County, with 770 recoveries, and 7 deaths, for a total of 782 cases since the pandemic began.

As of May 6, Sublette County Public Health has fully vaccinated 2,159 people.

5/6/21 — Moderna Vaccine doses given in Sublette County
1st doses = 2,165
2nd doses = 1,949
Total Doses = 4,114
5/6/21— Janssen Vaccine doses given in Sublette County. Sublette County Public Health has resumed administering the Janssen vaccine.
Total Doses Given = 210

If you missed this week's video briefing, please take a few minutes to watch at the link below. Robin Carnes and Dr. Fitzsimmons talk about local case counts which are continuing to drop, but encourage us all to not delay in seeking help if you are feeling unwell. Plans to move vaccine clinics to smaller venues at the end of May are announced.
Sublette County Public Health Facebook page

Sign up for your COVID vaccine appointment here

---
Wyoming continues fight against Biden's oil and gas leasing ban (posted 5/5/2021)
Wyoming Governor Mark Gordon
Governor Mark Gordon worked with the Attorney General to file a lawsuit against the Federal de-facto moratorium on oil and gas leasing. This week, the State of Wyoming filed a motion for a preliminary injunction in its lawsuit.

In the filing, Wyoming asks the Federal District Court of Wyoming for an injunction that orders the Secretary to hold quarterly oil and gas lease sales in Wyoming while the case is being considered, and orders the Secretary to hold the March and June 2021 Wyoming federal oil and gas lease sales as soon as reasonably possible.

"The current de facto leasing moratorium is bad policy for Wyoming and contrary to law," Governor Gordon said. "This is a key action to protect the interests of Wyoming and her people."

Filed March 24, Wyoming's lawsuit states that the Biden Administration's Executive Order "pausing" oil and gas leasing on Federal lands violates the National Environmental Policy Act, the Administrative Procedure Act, the Mineral Leasing Act and the Federal Land Policy Management Act.

The Federal government has until June 1, 2021 to file a response brief. A copy of the motion may be found on the Wyoming Attorney General's website.

---
2021 Winter Ozone Season concludes (posted 5/5/2021)
No Ozone Action Days or Ozone Outlooks were issued for the 2021 Winter Ozone season
Wyoming DEQ Air Quality Division
PINEDALE, WYOMING – The 2021 Winter Ozone Season in the Upper Green River Basin (UGRB) concluded March 31 after another year of collaborative partnership in planning and implementing strategies to address the potential formation of winter ozone.

Ground-level ozone is a harmful air pollutant that forms when precursor pollution emissions react chemically in the sunlight. Winter ozone formation in the UGRB is uniquely influenced by adequate amounts of precursor emissions, snow cover, temperature inversions, low winds and sunlight.

As in previous years, the Wyoming Department of Environmental Quality's (WDEQ) Air Quality Division (AQD) worked with the Wyoming Department of Health, industrial operators, environmental groups and the general public in evaluating, monitoring and communicating information about the potential for elevated ozone formation.

The AQD's two dedicated meteorologists assessed weather models and forecasted every day during the season to determine if meteorological conditions favored potential elevated ozone formation.

This Winter Ozone Season, there were no Ozone Action Days or Ozone Outlooks issued by the AQD's Ozone Team indicating the possibility of meteorological conditions that could favor elevated ozone formation.

Snow depth is one meteorological condition that is considered in forecasting for elevated ozone. The UGRB snowpack was low-to-moderate for the 2021 Winter Ozone Season.

The AQD's Monitoring Section monitored air quality conditions at long-term and seasonal locations throughout the UGRB and determined that ozone levels remained below the national ambient air quality standards (NAAQS) throughout the 2021 Winter Ozone Season.

"I am pleased with all of the work that our AQD staff undertook during this Winter Ozone Season and the continued dialogues and communication with all of our stakeholders," AQD Administrator Nancy Vehr said.

"Addressing winter ozone in the UGRB is always a collaborative effort."

Although Winter Ozone Season has concluded, the general public can still access near-real-time monitoring conditions not just in the UGRB, but statewide, by visiting WyVisNet (www.wyvisnet.com).

---
U.S. Dept. of Education issues proposed rule prioritizing Critical Race Theory Curriculum in K-12 schools (posted 5/3/2021)
Public comment on Federal rule accepted until May 19
State Superintendent Jillian Balow
MAY 4, 2021 - Below is a SPECIAL STATEMENT from Wyoming State Superintendent Jillian Balow on Proposed U.S. Department of Education Rule Prioritizing Critical Race Theory Curriculum in K-12 Schools

STATE SUPERINTENDENT JILLIAN BALOW'S STATEMENT ON PROPOSED U.S. DEPARTMENT OF EDUCATION RULE PRIORITIZING CRITICAL RACE THEORY CURRICULUM IN K-12 SCHOOLS

CHEYENNE - The U.S. Department of Education has proposed priorities for American History and Civics Education grant programs published in the Federal Register. Those priorities include encouraging districts to use curriculum related to divisive author Ibram X. Kendi and the New York Times "1619 Project." This is an alarming move toward federal overreach into district curriculum and should be rebuked across party lines.

The draft rule is an attempt to normalize teaching controversial and politically trendy theories about America's history. History and civics should not be secondary to political whim. Instead, history and civics instruction should engage students in objective, non-partisan analyses of historical and current events. For good reason, public schools do not promote particular political ideologies or religions over others. This federal rule attempts to break from that practice and use taxpayer dollars to do just that.

America needs to update and renew our expectations for teaching and learning about history and civics. Every school board, state legislature, and state superintendent should be working to build local consensus about what should be taught and what materials to use in classrooms. Every family should be engaged in activities that ensure the rising generation is properly prepared to be informed citizens. Every student deserves a rich and engaging education about America's triumphs, treacheries, losses, and victories. Our touchstone is our shared principle that all Americans have infinite value and individual freedom and responsibility. We must strive to find common goals and values as a nation, not tear each other and our country apart.

The proposed federal rule is open for public comment until May 19 and can be accessed here Proposed Priorities – American History and Civics Education, or by using the Google search for "Federal Register American history and civics education." I intend to comment, and I urge you to research the issue and comment if compelled.
____________________________________

Editor's Note: Critical Race Theory asserts that there is broad societal racism due to white supremacy and is supported by the power of law as a social construction. Studies along this line examine social, cultural and legal issues focusing on the belief there is inherent racism in our society and ingrained social injustice problems and cultural assumptions related to alleged white supremacy.

Related Links:
Critical Race Theory Wikepedia

---
Fraud reports surface related to WDH information breach (posted 4/30/2021)
Wyoming Department of Health
The Wyoming Department of Health (WDH) is warning residents about fraudulent calls from people falsely claiming to represent the department in connection to a recently announced WDH health information breach.

WDH recently described a mistaken exposure of laboratory test result data involving more than 164,000 Wyoming residents and others including hundreds from Colorado. The incident involved COVID-19 and influenza test result data and breath alcohol test result files mistakenly uploaded by an employee to private and public online storage locations on servers belonging to GitHub.com.

Jeri Hendricks, Office of Privacy, Security and Contracts administrator with WDH, said the department is hearing reports of Wyoming residents receiving fraudulent calls from people claiming to represent the department in connection with the breach.

"The callers falsely claim to represent us, say they are calling about the breach and then ask the individuals they've reached for insurance, Medicare, Medicaid or other financial information. In some instances, it seems they have been able to make it appear as if the calls are coming from state government phone numbers," Hendricks said.

"No one representing the department will ask you for insurance, Medicare, Medicaid or personal financial information. No one representing the department will call you about the breach unless they are returning a call you made to us first," Hendricks said.

Hendricks emphasized the affected files did NOT contain social security numbers, or banking, financial, health insurance, Medicare or Medicaid information but did include name or patient id, address, date of birth, test results and dates of service.

A special WDH information line dedicated to the breach has been established at 1(833) 847-5916. The phone line is available Monday through Friday, 9 a.m. to 7 p.m.

WDH has advised Wyoming residents who received COVID-19 or influenza tests anywhere in the United States between January 2020 and March 9, 2021 but who do not receive a written notice within the next two weeks to call the information line to learn if their information was involved. In addition, anyone who received a breath alcohol test performed by law enforcement in Wyoming between April 19, 2012 and January 27, 2021 who doesn't receive a letter should also call.

A year of free IdentityForce protection has been offered by WDH to people affected by the breach. IdentityForce provides advanced credit and dark web monitoring, along with identity theft insurance and medical identity theft coverage. Affected individuals can call the WDH information line at 1(833) 847-5916 for an IdentityForce verification code to allow online enrollment for the service.

Scams related to the health information breach should be reported to the Consumer Protection Unit in the Wyoming Attorney General's office by calling 307-777-6397, by emailing ag.consumer@wyo.gov or by submitting formal complaints online.

An official WDH notice about the breach can be found online at https://health.wyo.gov/admin/privacy/.

---
New Oil and Natural Gas Study published of the Greater Green River Basin's Subsurface Geology (posted 4/30/2021)
Wyoming State Geological Survey
Oil and gas production in the Greater Green River Basin of southwestern Wyoming has historically been from conventional, high-porosity reservoirs within well-defined traps. However, developments in hydraulic fracturing and horizontal drilling have shifted the overall focus of exploration in Wyoming toward geographically extensive, low-porosity and permeability unconventional reservoirs.

In response to this shift, the Wyoming State Geological Survey (WSGS) has published a new oil and natural gas study about the Greater Green River Basin's subsurface geology. The study establishes a baseline dataset for the stratigraphy and geometry of potential unconventional reservoirs, including the Lewis Shale, Baxter-Hilliard shales, Niobrara Formation, Mowry Shale, and Phosphoria Formation.

"In 2019, 62 percent of the natural gas and 13 percent of the oil in Wyoming was produced from reservoirs in the Greater Green River Basin (GGRB)," says WSGS Director and State Geologist, Dr. Erin Campbell. "Publicly available data on the distribution and thickness of established and potential reservoirs is essential for guiding future exploration in this important region."

For the study, WSGS geologists interpreted the depths to formations, or "formation tops," in more than 2,650 geophysical well logs for formations ranging in age from the Precambrian to the Eocene. The formation tops were used to define type logs for several subregions of the GGRB, generate contour maps of formation structure and thickness for key stratigraphic intervals, and populate WSGS's spatial database of subsurface oil and gas geology. The study's dataset also contains well-header information and downhole temperatures for selected wells.

The database is available on the Interactive Oil and Gas Map of Wyoming, where users can view the formation tops and contour maps alongside other GGRB wells, oil and gas fields, and infrastructure. The well data and formation tops are downloadable in tabular format directly from the interactive map. Any future corrections to the dataset will be entered into the WSGS database and automatically updated in the interactive map.

"The interactive oil and gas map aims to be the central location on the web where the public can readily access our agency's oil and gas data," says WSGS geologist Derek Lichtner. "Whether you're interested in geologic structure or oil and gas fields and infrastructure, the online map is a good place to start any basin-scale investigation."

The 31-page Open File Report 2021-1—Greater Green River Basin Formation Tops Database, Structure and Thickness Contour Maps, and Associated Well Data, with a focus on Potential Continuous Reservoirs—is available as a free download from the WSGS website. The WSGS welcomes input and discussion, as its geologists hope to continually refine and expand the dataset.

---
Restaurant Revitalization Fund applications open May 3 (posted 4/28/2021)
Emergency assistance for eligible restaurants, bars, food-related businesses impacted by COVID-19
The American Rescue Plan Act established the Restaurant Revitalization Fund (RRF) to provide funding to help restaurants and other eligible businesses keep their doors open. This program provides emergency assistance for eligible restaurants, bars, and other qualifying businesses impacted by COVID-19. This program will provide restaurants with funding equal to their pandemic-related revenue loss up to $10 million per business and no more than $5 million per physical location. Recipients are not required to repay the funding as long as funds are used for eligible uses no later than March 11, 2023. Registration for the SBA application portal will begin on Friday, April 30, 2021, at 9 am ET. Applications will open on Monday, May 3, 2021, at noon ET.

Eligible entities who have experienced pandemic-related revenue loss include:
• Restaurants
• Food stands, food trucks, food carts
• Caterers
• Bars, saloons, lounges, taverns
• Snack and nonalcoholic beverage bars
• Bakeries (onsite sales to the public comprise at least 33% of gross receipts)
• Brewpubs, tasting rooms, taprooms (onsite sales to the public comprise at least 33% of gross receipts)
• Breweries and/or microbreweries (onsite sales to the public comprise at least 33% of gross receipts)
• Wineries and distilleries (onsite sales to the public comprise at least 33% of gross receipts)
• Inns (onsite sales of food and beverage to the public comprise at least 33% of gross receipts)
• Licensed facilities or premises of a beverage alcohol producer where the public may taste, sample, or purchase products

More info: https://www.sba.gov/funding-programs/loans/covid-19-relief-options/restaurant-revitalization-fund#section-header-7

---
Business Directory
Click here for
Advertising Information