Pedigree Stage Stop Sled Dog Race Jan. 27 – Feb. 2 (posted 1/26/2023)
Stage Stops in Pinedale and Big Piney/Marbleton January 30 and 31
Pinedale Online!
The 2023 Pedigree Stage Stop Sled Dog Race begins Friday, January 27th with the ceremonial start in Jackson Wyoming. The race is limited to 30 teams who compete each day in a loop stage race in different towns around western Wyoming each day for a week. Each loop race is around 30-35 miles. Several of the stage towns will host a public Meet & Greet dinner or banquet for the public to get to meet the mushers and their handlers the night before their race.

Races start each day at 9AM at their starting lines. Teams typically are back in by 3PM-ish and then travel to their next stage town. The final day of the race is Saturday, February 4th for Stage 7 and the Final Banquet in Driggs, Idaho. Spectators are welcome to cheer on the teams at the race start/finish line at each stage. Dress warm, please don't bring your dogs. Pinedale and Big Piney/Marbleton are long-time host towns and stage stops for this sled dog race.

The race has a $165,000 purse. Prize money payout is listed on the race website. Besides day money and overall purse, an additional $80,000.00 is available through the Musher Support Program by generous contributions from Pedigree Brand and Mars Petcare. The race can be followed online at www.wyomingstagestop.org.

Race Schedule:
Friday, January 27: Ceremonial Start – Jackson, Wyoming
Saturday, January 28: Stage One – Teton County, Wyoming / Lander Meet & Greet 5:30PM
Sunday, January 29: Stage Two – Lander, Wyoming / Pinedale Meet & Greet 4-6PM
Monday, January 30: Stage Three – Pinedale, Wyoming / Marbleton Meet & Greet 6PM
Tuesday, January 31: Stage Four – Big Piney / Marbleton, Wyoming
Wednesday, February 1: Stage Five – Kemmerer, Wyoming
Thursday, February 2: Travel Day
Friday, February 3: Stage Six – Alpine, Wyoming
Saturday, February 4: Stage Seven & Final Banquet – Driggs, Idaho

---
CCC Ponds Trail Bridge Replacement (posted 1/26/2023)
Public Notice: Area Closure in place during construction through February 17, 2023
Bridger-Teton National Forest
PINEDALE, WYOMING -– The Pinedale Ranger District on the Bridger-Teton National Forest is advising visitors of a temporary interruption in the winter use at the CCC Ponds while reconstructing the CCC Ponds Trail Bridge. Work began this week and is expected to last through February 17th, 2023.

The CCC Ponds Trail Bridge is in the highly visited area near the southern shore of Fremont Lake which provides access to the CCC Ponds themselves via Forest Road 749G. The existing bridge has met its lifespan and is ready to be replaced. The bridge that will replace the existing bridge will be constructed of steel girders with wood decking.

For the safety of the public and workers, the immediate area around the bridge and Forest Road 749G will be closed. The Forest Service asks visitors to remain vigilant as they travel in the vicinity, heavy equipment will be operating in the area.

Those wishing to utilize the groomed cross country ski trails are asked to park at the Lower Fremont Lake Boat Ramp area.

The CCC Ponds shares land management boundaries with the Forest Service, Bureau of Land Management, and the State of Wyoming, all of whom welcome the completion of this project. We appreciate visitors' patience and look forward to utilizing the new bridge for decades to come.

This project was funded as part of the Great American Outdoors Act and was awarded to a Wyoming-based company.

To view the temporary special order visit https://www.fs.usda.gov/alerts/btnf/alerts-notices and look for order number 04-03-607.

For questions or concerns about this improvement project, please contact Jay Sammer, Pinedale District Wilderness and Recreation Program Manager at jason.sammer@usda.gov>.

---
Wyoming challenges new Federal Labor Rule allowing asset managers to direct their clients' retirement money to ESG Investments (posted 1/26/2023)
Wyoming Governor Mark Gordon
CHEYENNE, WYOMING – Wyoming has joined a 25-state coalition in a lawsuit over a Department of Labor rule which would affect the retirement accounts of millions of people. The rule would allow 401(k) managers to direct their clients' money to ESG (Environmental Social Governance) investments rather than fiduciary standards. This is contrary to the laws outlined in the Employee Retirement Income Security Act of 1974 (ERISA).

"This rule is contrary to longstanding federal law and fiduciary principles that require fiduciaries to place their clients' financial interests first," Governor Mark Gordon said. "Allowing political agendas to guide managers investing Americans' retirement accounts is unacceptable and short sighted. Their sole responsibility must be the best financial interests of the beneficiaries.

Attorney General Hill looks for appropriate times to involve Wyoming in legal matters, and I appreciate that this legal action is one vehicle to challenge this concerning trend and protect Wyoming's interests and make our voice heard."

The new rule, "Prudence and Loyalty in Selecting Plan Investments and Exercising Shareholder Rights," takes effect on January 30, 2023. Two-thirds of the U.S. population's retirement savings accounts would be affected, totaling $12 trillion in assets. Strict laws placed in ERISA are intended to protect retirement savings from unnecessary risk. This rule runs counter to that principle.

From the complaint: "[T]he 2022 Investment Duties Rule makes changes that authorize fiduciaries to consider and promote "nonpecuniary benefits" when making investment decisions. Contrary to Congress's clear intent, these changes make it easier for fiduciaries to act with mixed motives. They also make it harder for beneficiaries to police such conduct."

The 25 states in this lawsuit are: Alabama, Alaska, Arkansas, Florida, Georgia, Idaho, Indiana, Iowa, Kansas, Kentucky, Louisiana, Mississippi, Missouri, Montana, Nebraska, New Hampshire, North Dakota, Ohio, South Carolina, Tennessee, Texas, Virginia, West Virginia, and Wyoming.

A copy of the complaint may be found here.

---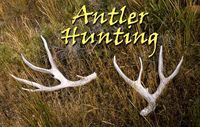 Reminder: Shed antler and horn hunting season is closed for western and southern Wyoming (posted 1/26/2023)
Closed from January 1 to May 1 to protect wintering big game wildlife
Wyoming Game & Fish
Many sections of public lands in western and southern Wyoming are now closed for shed antler and horn hunting. The annual closure for sections of public land, state land and Wyoming Game and Fish Commission wildlife habitat management areas in Wyoming became effective at midnight on Jan. 1. The shed collection closure is meant to protect wintering big game.

A Wyoming Game and Fish Commission regulation prohibits anyone from collecting shed antlers or horns on public land, such as U.S. Forest Service and Bureau of Land Management lands, state lands and Wyoming Game and Fish Commission-owned or administered lands west of the Continental Divide, excluding the Great Divide Basin and some land west of Laramie, from Jan. 1 through 6 a.m. May 1 of each year. A map of the closure area is available online and the boundaries are detailed within the regulation.

"The annual shed antler and horn collection closure is to minimize the disturbance and stress to big game on winter ranges," said Rick King, Game and Fish deputy chief of wildlife. "It's critical that our big game animals do not experience undue stress during the winter months."

Collect means to search for, locate, stockpile or possess shed antlers and horns of big game animals on public land or attempt to search for, locate, stockpile or possess shed antlers and horns of big game animals on public or state land during the closed season. A violation of this regulation carries the same potential penalties, including fines, forfeiture of seized shed antler and horns and loss of hunting and fishing privileges, as many other Game and Fish violations.

"Shed antler enthusiasts can help wildlife by obeying the shed antler and horn hunting regulations and other winter range closures statewide," King said. "And, all wildlife enthusiasts can help big game by giving them space over the winter and early spring."

It is illegal to enter the private property of any person to collect antlers or horns without the permission of the owner of the property or the person in charge of the property, regardless of the time of the year.

For questions contact the Laramie, Green River, Pinedale and Jackson regional offices. To report shed antler or horn collection violations call the STOP Poaching Hotline at 1-877-943-3847 (1-877-WGFD-TIP) or text the keyword WGFD to TIP411 (847-411). Violations may also be reported online at the Game and Fish website.

---
Many Ivy League schools won't require ACT or SAT scores for 2023-2024 college admission (posted 1/22/2023)
Pinedale Online!
Even before COVID-19 shuttered colleges and universities around the nation, many higher education institutions were debating whether or not to require ACT or SAT test score results as an admission decider. School closures due to COVID-19 forced instruction to move to online learning and made it impossible for students to gather for formal test taking.

Pandemic-caused school closures caused many institutions to be very concerned about the impact on their schools' finances and enrollment. As a result, many institutions made the decision to make the ACT and SAT tests optional through the high school class of 2024 and some to 2025.

But even before the COVID-19 pandemic many institutions were already considering dropping these tests as part of their admission requirements. Test-optional and test-blind admissions had already begun to gain momentum even before COVID hit. Test blind means whether or not a student decides to send their test scores, they won't be considered as part of the application evaluation. Test optional means it is optional whether or not students send in their test results when applying for admission.

When the pandemic made it difficult to safely administer the tests, the test-optional option became available for high school seniors to apply to most colleges without submitting a score. Those advocating removing ACT/SAT testing requirements argue in part that the tests themselves hurt the odds of those who traditionally don't do as well on tests. Those include students whose first language isn't English, Black and Hispanic students, immigrant students, students whose families can't afford expensive test prep programs, students who are academically, physically or fiscally disadvantaged. Another argument is that some students are disadvantaged just by the stress and sacrifice to their physical and mental health in taking the ACT or SAT college entrance exams.

With the pandemic now over and the return to in-person classroom learning, some institutions of higher education have gone back to requiring a score for admission application, but others have adopted test-optional or test-blind policies permanently.

If test scores aren't a determining factor for admission to a prestigious university, what is? Admission counselors continue to stress that grade performance does still matter, and advise students to keep working on getting good grades in high school. Other submission factors include references by counselors and teachers, extra-curricular activities, employment, community service, essays, and a "compelling life story." Many institutions say they are moving to more "holistic" review processes to evaluate college applicants. Using gender and race in the process is not allowed at public colleges, but at private colleges it will often be a factor, although the Supreme Court is hearing cases on the issue. Race is among factors intentionally considered in the admissions process at colleges with affirmative action policies.

Harvard states, "Consistent with Harvard's whole-person admissions process, standardized tests are only one factor among many. Accomplishments in and out of the classroom during the high school years – including community involvement, employment, and help given to students' families are considered as part of our process."

Yale says, "For applicants without scores, the Admissions Committee places greater weight on other parts of the application, such as high school transcripts, recommendation letters, and essays. Competitive candidates with or without scores are those whose applications clearly demonstrate a high degree of academic preparedness, a consistent record of scholastic success, and genuine intellectual curiosity."

Columbia University says, "We will continue to evaluate all submitted information within the holistic and contextual review process that considers individual circumstances shaping each applicant's journey."

Princeton: "We will not require the submission of standardized test scores for falls 2023, 2024, and 2025 application cycles; this includes transfer applicants."

Click on the links below for related stories.

Harvard says it won't require SAT or ACT scores through 2026 By Aimee Picchi, CBS News Moneywatch, December 17, 2021

Why U.S. Colleges Are Rethinking Standardized Tests By Janet Lorin, www.bloomberg.com, March 14, 2022

Harvard, Yale and 5 other Ivy League schools will not require SATs or ACTs for admissions next year www.cnbc.com, Jun 17, 2020

Inside the vast national experiment in test-optional college admissions By Erin Einhorn, NBCNews.com, April 10, 2022

National Center for Education Statistics

How Much Does an Ivy League Education Cost? By Christy Rakoczy, www.thebalancemoney.com, September 27, 2022

Call it a Ponzi Scheme Heather MacDonald, www.city-journal.org, April 10, 2020

---
Legislators question CMS regarding rural nursing home staffing shortages (posted 1/21/2023)
Senator John Barrasso media release
CASPER, WYOMING – U.S. Senators John Barrasso (R-Wyo.), Jon Tester (D-Mont.), Steve Daines (R-Mont.), John Hickenlooper (D-Colo.), and colleagues today (Friday, January 20, 2023) sent a letter to Centers for Medicare & Medicaid Services (CMS) Administrator Chiquita Brooks-LaSure expressing concerns about CMS' intent to issue additional staffing mandates for nursing homes.

In the letter, the senators discourage CMS from taking a "one-size-fits-all" approach and instead address the significant workforce shortages affecting rural America.

"We fear a one-size-fits-all staffing mandate would undermine access to care for patients, particularly in rural communities," the senators wrote. "Instead, we urge you to work with Congress and rural stakeholders on tailored solutions that address the severe workforce challenges in our states' underserved areas."

"Going forward, we recognize CMS as a crucial partner in identifying, mitigating, and preventing future health and safety problems in nursing homes," the letter continued. "We stand ready to work with your agency on proposals to improve long-term care for patients. The best way to accomplish this goal is working with Congress and stakeholders to ensure any future actions do not further exacerbate the serious challenges already facing facilities in rural America."

The letter was also signed by Senators John Thune (R-S.D.), Gary Peters (D-Mich.), Kevin Cramer (R-N.D.), Joe Manchin (D-W.Va.), Deb Fischer (R-Neb.), Kyrsten Sinema (D-Ariz.), John Hoeven (R-N.D.), Cynthia Lummis (R-Wyo.), and Mike Rounds (R-S.D.).

"I'm grateful for this bipartisan effort to push back on additional burden and complex rules for Wyoming nursing homes. Nursing homes across the state are already struggling with staffing shortages, and further prescribed staffing levels would put many of these important nursing homes in financial jeopardy. If additional staffing requirements are implemented, we could see the closure of many rural nursing homes, leaving vulnerable patients and large geographical areas without much-need services. I'm grateful to Senator Barrasso for his leadership on this issue." - Eric Boley, President, LeadingAge Wyoming

Text of the letter is below:

Dear Administrator Brooks-LaSure,

We write to express our concerns regarding the Centers for Medicare and Medicaid Services' (CMS) intent to issue staffing mandates for nursing homes.

Like you, we understand the importance of ensuring beneficiaries of federal health care programs have access to safe and high-quality nursing care. However, we fear a one-size-fits-all staffing mandate would undermine access to care for patients, particularly in rural communities. Instead, we urge you to work with Congress and rural stakeholders on tailored solutions that address the severe workforce challenges in our states' underserved areas.

While we support evidence-based policies to improve beneficiary care in nursing homes, staffing mandates are not the only solution. First, sweeping staffing mandates do not account for individual facilities' operational capabilities and local workforce conditions. For example, minimum staffing standards that establish strict staff-to-patient ratios and/or minimum hours per resident day requirements may not reflect optimal staffing levels given differences in patients' needs and underlying conditions, as well as the skills of the personnel at-hand.

Additionally, blanket staffing standards may not provide enough flexibility to nursing homes in light of well-known and long-standing obstacles to the recruitment and retention of direct care workers, especially in rural and underserved areas. This challenge is exacerbated by the fact that the health care sector is projected to have a shortage of nurses (10 to 20% based on a spring 2022 estimate) in the coming years.

Finally, meeting staffing mandates will place nursing homes in financial jeopardy. This could lead to the shuttering of facilities, especially in rural communities. There is no question such a scenario would only amount to a counterproductive regulatory environment that leaves vulnerable patients and their families with far less access to care.

Going forward, we recognize CMS as a crucial partner in identifying, mitigating, and preventing future health and safety problems in nursing homes. We stand ready to work with your agency on proposals to improve long-term care for patients. The best way to accomplish this goal is working with Congress and stakeholders to ensure any future actions do not further exacerbate the serious challenges already facing facilities in rural America.


---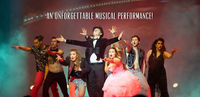 PFAC presents 'The World of Musicals' Feb. 8th (posted 1/17/2023)
Pinedale Fine Arts Council
The Pinedale Fine Arts Council (PFAC) is proud to present 'The World of Musicals' Wednesday, February 8 at 7:00 p.m. in the Sheppard (Pinedale) Auditorium.

The World of Musicals in Concert has graced stages across the globe and features a world-class ensemble of multi-talented artists who exquisitely perform classic hits, fused with emotive ballads, big-screen anthems and iconic show tunes.

From the best of "The Phantom of the Opera" and "Les Miserables" to "We will Rock You, "Sister Act" and many more, the World of Musicals delivers a stirring musical concert theatre experience that will leave you spellbound – from the opening song to the final medley of classics.

"ALL THE HIT SONGS IN ONE SHOW " that is the quintessential takeaway from this musical concert gala.

The World of the Musicals concert is a show that is tailored for the entire family, so get ready to be enthralled and sing along to all your favorite and much-loved musical songs in one unforgettable evening. Secure your seats today to a show inspired by many, but unlike any other.

Tickets for The World of Musicals are available online at pinedalefinearts.com and locally at Nested West, The Cowboy Shop, Office Outlets, The Big Piney Library and at the door the night of the performance. Ticket prices are $20 adults / $7 students.

This event is presented by the Pinedale Fine Arts Council with support in part from the Wyoming Arts Council through funding from the Wyoming Legislature and the National Endowment for the Arts which believes a great nation deserves great art, Sublette BOCES #1, the Sublette County Recreation Board, Pinedale Travel & Tourism, the Wyoming Community Foundation - Sublette, Tegeler & Associates, Jonah Energy, Purewest, The Rocky Mountain Power Foundation, and Jackson Fork Ranch.

For more information, please visit www.pinedalefinearts.com or call 307-367-7322. And be sure to find us on Facebook and Instagram!

---
Fourth Quarter Energy Survey released (posted 1/14/2023)
Energy activity slowed, but future expectations remain positive
Federal Reserve Bank of Kansas City
KANSAS CITY, MISSOURI – The Federal Reserve Bank of Kansas City released the fourth quarter Energy Survey today (Friday, January 13, 2023).

According to Chad Wilkerson, senior vice president at the Federal Reserve Bank of Kansas City, the survey revealed that growth in Tenth District energy activity slowed while expectations for future activity remained positive.

"The pace of growth for District drilling and business activity slowed in Q4 as commodity prices eased and input prices remained elevated," said Wilkerson. "Firms reported a drop in profits for the first time in over two years, but still remained moderately optimistic about 2023."

The Kansas City Fed's quarterly Tenth District Energy Survey provides information on current and expected activity among energy firms in the Tenth District. The survey monitors oil and gas-related firms located and/or headquartered in the Tenth District, with results based on total firm activity. Survey results reveal changes in several indicators of energy activity, including drilling, capital spending, and employment. Firms also indicate projections for oil and gas prices. All results are diffusion indexes – the percentage of firms indicating increases minus the percentage of firms indicating decreases.

A summary of the survey is attached. Results from past surveys and release dates for future surveys can be found at https://www.kansascityfed.org/surveys/energy-survey.

The Federal Reserve Bank of Kansas City serves the Tenth Federal Reserve District, encompassing the western third of Missouri; all of Kansas, Colorado, Nebraska, Oklahoma and Wyoming; and the northern half of New Mexico.

As part of the nation's central bank, the Bank participates in setting national monetary policy, supervising and regulating numerous commercial banks and bank holding companies, and providing financial services to depository institutions. More information is available online at www.kansascityfed.org.

---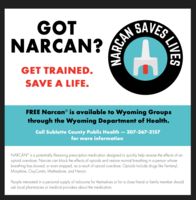 Overdose antidote (Narcan) orders offered to Wyoming groups (posted 1/14/2023)
Sublette County Public Health
Free orders of a temporary opioid overdose antidote known as NARCAN® are available for Wyoming groups through the Wyoming Department of Health (WDH).

NARCAN® is a potentially life saving prescription medication designed to quickly help reverse the effects of an opioid overdose. Narcan can block the effects of opioids and restore normal breathing in a person whose breathing has slowed, or even stopped, as a result of opioid overdose. Opioids include drugs like Fentanyl, Morphine, OxyContin, Methadone, & Heroin.

People interested in a personal supply of naloxone for themselves or for a close friend or family member should ask local pharmacies or medical providers about the medication. WDH continues to offer naloxone to groups that may be able to help people who are experiencing an opioid overdose. More information about group orders can be found at https://health.wyo.gov/behavioralhealth/mhsa/mat/.

Interested groups must be trained and write a guideline for their organization. After reviewing the organization's guideline, the Sublette County Health Officer can assist with the prescription for ordering Narcan. Please call Sublette County Public Health at 307-367-2157 for more information.

---
WSGS releases annual recap of State's Oil and Gas Industry (posted 1/12/2023)
Wyoming State Geological Survey
The latest summary report by the Wyoming State Geological Survey (WSGS) offers a brief synopsis of the state's oil and natural gas industry in the last 12 months.

Highlights include the return of oil and gas production to pre-pandemic trends, the resumption of oil and gas lease sales by the Bureau of Land Management, and an increase in the drilling and completion of oil and gas wells.

"Despite volatile market conditions, overall, it was a positive year for the oil and gas industry in Wyoming," says WSGS Director and Wyoming State Geologist, Dr. Erin Campbell.

The Consensus Revenue Estimating Group (CREG) last fall predicted 90 million barrels of crude oil would be produced in Wyoming in 2022. As the final data from last year trickle in, Wyoming appears on track to meet that forecast. More than half of the state's total oil production will come from Converse and Campbell counties in the prolific Powder River Basin.

"Wyoming's oil production has doubled in the past 10 years, mostly due to operations in Converse and Campbell counties," says WSGS geologist Derek Lichtner. "New discoveries—and known reservoirs with new technologies—have transformed the industry's activity in Wyoming in a relatively short time."

Generally, natural gas production in various parts of Wyoming is either holding steady or on the decline, as has been the case since its peak in 2009. Sublette County's gas fields continue to be the largest natural gas producers in the state, followed by Sweetwater and Fremont counties.

The report also touches on the volatility of the global energy market this past year, and the uncertainty this creates for the oil and gas industry going forward.

The oil and gas summary report is available as a free download from the WSGS website, https://sales.wsgs.wyo.gov/oil-and-natural-gas-resources-in-wyoming-summary-report-2023/.

---
Pentagon rescinds COVID-19 vaccine requirement for US military (posted 1/11/2023)
Pinedale Online!
The Pentagon has officially rescinded the military's COVID-19 vaccination mandate. Defense Secretary Lloyd Austin made the announcement in a memo on Tuesday, January 10th but also said commanders will continue to "promote and encourage" COVID-19 vaccinations. The action was required after President Biden signed the 2023 National Defense Authorization Act in December 2022.

The Pentagon instated the mandate in August 2021. Over two million service members, said to be 96% of the military both active and reserve status, have reportedly received a COVID-19 vaccine.

The Pentagon's memo doesn't address what will happen to military personnel who were separated from service for refusing to get the vaccine and if they will be allowed back into the service. Those who refused to get vaccinated and received a general discharge can petition the Board of Corrections for Military Records to revise it. The Department of Defense will update records of military personnel currently serving to remove any adverse actions against them for refusing to get vaccinated under the mandate. This includes letters of reprimand.

Source: Secretary of Defense Memo on Rescission of Coronavirus Disease 2019 Vaccination Requirements for Members of the Armed Forces U.S. Secretary of Defense, January 10, 2023

Related Links:
Pentagon ditches COVID vaccine mandate for troops FOXNews, January 10, 2023
Pentagon officially rescinds Covid-19 vaccine requirement for troops CNN, January 11, 2023
Pentagon drops COVID-19 vaccine mandate for troops AP News, January 10, 2023
Pentagon officially rescinds COVID-19 vaccine mandate CBS News, January 11, 2023

---
Government agency interested in a ban on gas cook stoves (posted 1/11/2023)
Pinedale Online!
Recent news stories have reported an official from the U.S. Consumer Product Safety Commission (CPSC) saying the agency is considering a ban on gas cook stoves claiming they are a source of indoor pollution linked to childhood asthma and worsening respiratory conditions.

According to a story on CNN, a December 2022 study in the International Journal of Environmental Research and Public Health found that indoor gas stove usage is associated with an increased risk of current asthma among children. The study reportedly found that almost 13% of current childhood asthma in the US is attributable to gas stove use. The CNN article says some cities across the US have already banned natural gas hookups in all new building construction to reduce greenhouse emissions

The CNN story adds, "Consumers who wish to switch from a gas stove to an electric one are eligible to a rebate of up to $840 through the Inflation Reduction Act — and up to $500 to help cover the costs of converting to electric from gas."

The CPSC said the agency has not proposed any regulatory action on gas stoves at this time, and any regulatory action would "involve a lengthy process," but a proposed regulation could be on the books as early as December 2023.

Related Links:
A US federal agency is considering a ban on gas stoves CNN, January 11, 2023
Federal regulator won't ban gas stoves after all CBS News, January 11, 2023
---
Business Directory
Click here for
Advertising Information