Judge orders pause in Federal Vaccine Mandate for Health Care Workers (posted 11/29/2021)
Fighting Federal vaccine mandates
Wyoming Governor Mark Gordon media release
CHEYENNE, WYOMING – Governor Mark Gordon welcomed a preliminary injunction issued today (Monday, November 29, 2021) by the United States District Court, Eastern District of Missouri that halts implementation and enforcement of a rule from the Centers for Medicare and Medicaid Services (CMS) that would impose a vaccine mandate on healthcare workers. Governor Gordon and Attorney General Bridget Hill entered Wyoming in this lawsuit, challenging the federal mandate.

"This is welcome news for Wyoming's rural healthcare facilities, which are already facing staffing challenges without additional unconstitutional burdens being placed on their employees by the federal government," Governor Gordon said. "Healthcare employees should not be forced to choose between vaccination and termination."

The proposed mandate required nearly every employee, volunteer, and and contractor working at a wide range of healthcare facilities receiving Medicaid or Medicare funding to have received at least a first dose of the vaccine prior to December 6, 2021.

In its ruling, the court agreed to preliminarily enjoin implementation and enforcement of the rule because arguments made by Wyoming and a coalition of other states have a likelihood of success on the merits. Wyoming and the coalition have argued that CMS does not have authority to issue the mandate, and that it would impact the ability of healthcare facilities to effectively care for patients.

"Because it is evident CMS significantly understates the burden that its mandate would impose on the ability of healthcare facilities to provide proper care, and thus, save lives, the public has an interest in maintaining the 'status quo' while the merits of the case are determined," wrote the court.

The ruling applies only to the 10-state coalition that, along with Wyoming, includes Missouri, Nebraska, Arkansas, Kansas, Iowa, Alaska, South Dakota, North Dakota, and New Hampshire. Today's ruling is a victory for Wyoming and these states, but the case is not over. The Governor and Attorney General will continue their efforts to challenge the mandate through this lawsuit.

A copy of the order granting the Motion for Preliminary Injunction may be found here.

Wyoming is taking a three-pronged approach to fighting the federal vaccine mandates, filing three separate legal actions to challenge this federal overreach. These include:
Filing a lawsuit against the Biden Administration for imposing a vaccine mandate on federal contractors and federally contracted employees. Wyoming is currently awaiting a ruling on a request for a temporary injunction in the case.

Filing a second lawsuit to halt the Occupational Safety and Health Administration emergency temporary standard which mandates vaccines on employees of private Wyoming businesses with over 100 employees. This also resulted in a pause on the implementation of the ETS.

The legal action involving CMS, which seeks to prevent the Biden Administration from enforcing the mandate on healthcare workers. This is what the court stayed today.

Order:
https://themissouritimes.com/wp-content/uploads/2021/11/cms-injunction.pdf
https://drive.google.com/file/d/1f9g4_sni5ZIR21ZzW4ufnbP-uaWHtVC_/view

---
Senator Barrasso shares Thanksgiving dinner with Wyoming Troops in Bahrain (posted 11/26/2021)
U.S. Senator John Barrasso media release
BAHRAIN – On Thanksgiving day (Thursday, November 25, 2021), U.S. Senator John Barrasso (R-Wyo.) shared dinner with Wyoming sailors and Marines serving in Bahrain.

Barrasso visited with service members who are currently stationed at Naval Support Activity (NSA) Bahrain, which is home to U.S. Naval Forces Central Command (CENTCOM) and U.S. 5th Fleet. NSA Bahrain provides operational support to U.S. and Coalition Forces in the Middle East and ensures the security of ships, aircraft and remote sites.

"In Wyoming, we are always so grateful for the brave service of our men and women in uniform. This includes our sailors and Marines who are serving ten time zones away from home right now in Bahrain," said Barrasso. "They're eyeball to eyeball with Iran in the Persian Gulf and are doing an incredible job protecting America and our allies. Bringing a little bit of Wyoming to our troops serving overseas on Thanksgiving is a tradition I look forward to every year. I made sure to let them know that everyone at home is thinking of them and looking forward to their safe return."

Barrasso sat down for Thanksgiving dinner with service members and was briefed by military officials about operations in the Persian Gulf.

---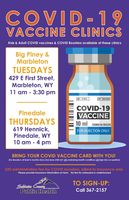 Sublette County Public Health Update: November 19, 2021 (posted 11/19/2021)
Sublette County Public Health
COVID Update
The Wyoming Department of Health announced another death of a Sublette County resident this week. Sublette County Public Health sends their heartfelt condolences to the family and friends of the deceased. WDH reported 42 new COVID-19 cases in Sublette County in the past week. There are currently 18 active cases in Sublette County, with 1,425 recoveries and 22 deaths, for a total of 1,423 cases since the pandemic began.

Sublette County remains in the Orange or Moderate High Transmission Zone for community spread this week reflecting the increase in cases in the past two weeks, the rest of the state is split on being in the red or in an orange or lower zone. (source: https://health.wyo.gov/wp-content/uploads/2021/11/County-Metrics-November-17-2021.pdf)

Flu & COVID-19 Vaccines
As of November 15, 2021 – 3,085 people, or 31.38% of our population, have been fully vaccinated in Sublette County.

Public Health continues to offer weekly COVID vaccine clinics for ages 5+ years. Flu vaccinations are available at our scheduled clinics or by appointment on other days.Please note that we have moved back to our Public Health Offices for clinics. Due to high demand for vaccines, we are recommending that you call to schedule your appointment time. Walk-ins will be accepted but priority will be given to our scheduled clients. Please call 307-367-2157 to schedule an appointment.

Tuesdays at the Public Health Office in the Marbleton Senior Center
11am to 3:30 pm for flu and COVID vaccinations/boosters Appointments recommended. Walk-ins accepted.

Thursdays at the Public Health Office in Pinedale
10 am to 4 pm for flu and COVID vaccinations/boosters. Appointments recommended. Walk-ins accepted from 2 to 4 pm.Closed Thursday, November 25th – Thanksgiving.

Please bring your COVID vaccine card and completed vaccine consent form with you. We ask that you wear a mask in our offices for your appointment.

Other COVID Vaccine Options:
Surrounding counties have options for vaccinations with extended hours and dates. Public Health Offices and Pharmacy Chains have their clinic information with registration information on these websites.
Teton County – Multiple locations & times. See this website for information: https://www.tetoncountywy.gov/covidvax
Sweetwater County – Multiple locations & times. See this website for information: https://sweetwatercares.com/vaccination-updates/
Ridley's - See their website for information: https://shopridleys.com/home.php or call 307-367-2131.

COVID-19 Testing
Please see our website for information: https://www.sublettewycovid.com/testing

There will be no briefing email or video update the week of Nov 22, 2021due to the Thanksgiving holiday.

---
Christmas tree permits available for BLM Wyoming public lands (posted 11/19/2021)
Bureau of Land Management
Christmas tree permits are available at BLM Wyoming field offices and online.

Permits may be purchased between 7:45 a.m. and 4:30 p.m., Mon.-Fri. from any BLM Wyoming field office. The cost for a permit is $5 to $10 per tree, depending on location. Up to a maximum of five Christmas trees can be purchased by an individual for personal use.

This year, the permits are also available online at https://forestproducts.blm.gov from most BLM Wyoming field offices. Permits will be available Nov. 22.

A BLM permit is valid for trees located on BLM-administered lands only. Permits for trees on U.S. Forest Service-administered land can be obtained at your local Forest Service office and at some BLM offices.

Tree cutters must have a valid permit with them while cutting a tree. Trees may not be cut within wilderness areas, wilderness study areas, timber sale areas or administrative sites such as developed campgrounds.

Although the Christmas tree permits are for any tree species, the BLM recommends Engelmann spruce, sub-alpine fir, Douglas fir, Ponderosa pine and lodgepole pine as the best species to cut for your Christmas tree. Christmas trees harvested from aspen stands and dense young stands will contribute to forest health and improve wildlife habitat.

It is the purchaser's responsibility to not trespass on private land and to make sure you're cutting the tree in the correct area. Be prepared for winter weather and high country conditions.

For more information, please visit www.blm.gov/wyoming-christmas-trees or call your local BLM office:

Buffalo Field Office (307) 684-1100
Casper Field Office (307) 261-7600
Cody Field Office (307) 578-5900
Kemmerer Field Office (307) 828-4500
Lander Field Office (307) 332-8400
Newcastle Field Office (307) 746-6600
Pinedale Field Office (307) 367-5300
Rawlins Field Office (307) 328-4200
Rock Springs Field Office (307) 352-0256
Worland Field Office (307) 347-5100
Wyoming State Office (307) 775-6314

---
Christmas tree permits available on National Forest public lands (posted 11/19/2021)
Bridger-Teton National Forest
Christmas tree permits are now available for purchase online through www.recreation.gov through December 31st. Details about where to cut and height restrictions may be found at Recreation.gov by searching "Bridger-Teton National Forest."

"Trekking through the forest in search of that special holiday tree is a beloved tradition for many and the perfect way to start the holiday season," reflects Tricia O'Connor, Forest Supervisor.

The Forest Service will also offer Christmas tree tags at our district offices and at the Alpine Visitor Center. Please call ahead as our offices remain closed to walk-in business due to the COVID-19 pandemic.

To purchase a Christmas Tree permit, visit Recreation.gov and search for Bridger-Teton National Forest Christmas Tree Permits. It is important to carefully read the overview and need-to-know information prior to purchasing the permit. Visitors will need to set up or login to a Recreation.gov account to complete the transaction. Each permit is $15 for any tree, plus a $2.50 processing fee. Users can purchase up to five trees per account. The permit must be printed and placed in the windshield of your vehicle as you remove your tree(s) from the Forest.

Many Forest roads are subject to seasonal closures. Free Motor Vehicle Use maps may be available at each District Office, online at www.fs.usda.gov/btnf/ or by downloading the Avenza App.

Additionally, all 4th graders throughout the United States receive a FREE Christmas tree permit, as part of the Every Kid Outdoors Program. If utilizing the online system at recreation.gov, enter the voucher or pass number when prompted. Call your local Forest Service office for more information on the Every Kid Outdoors Program.

---
OSHA suspends mask mandate (posted 11/17/2021)
The December 6 and January 4 deadlines are no longer in effect pending further court action
COVID-19 Vaccination and Testing Emergency Temporary Standard, published on November 5, 2021 (86 Fed. Reg. 61402) ("ETS"). The court ordered that OSHA "take no steps to implement or enforce" the ETS "until further court order." The 5th U.S. Circuit Court of Appeals is blocking the OSHA vaccine mandate for employers of 100 or more people. The issue is expected to make its way to the Supreme Court.

In a 22-page ruling, the 5th U.S. Circuit Court of Appeals said the mandate was "fatally flawed," and barred the Occupational Safety and Health Administration (OSHA) from enforcing the mandate "pending adequate judicial review" of a motion for permanent injunction. Biden administration rule requiring large companies to mandate COVID vaccines for employees or impose weekly testing is "staggeringly overbroad" and "grossly exceeds [the Occupational Safety and Health Administration's] statutory authority," the federal appeals court said.

The order was issued after an expedited briefing and in response to a petition filed by various employers, states, religious groups, and individual citizens seeking a temporary stay of the ETS pending judicial review to determine if a permanent injunction of the ETS should issue. While the Fifth Circuit will not necessarily be the final word on the matter, the ruling signals that at least one federal appellate court has made a preliminary determination that the challenge to the ETS will likely succeed on the merits. Pending review, the ruling effectively nullifies the ETS as OSHA is barred from both enforcing and implementing it.

For an emergency regulation to be upheld, OSHA must show that the emergency regulation is necessary to protect employees from "grave danger" due to exposure to "substances or agents determined to be toxic or physically harmful."

The court stated COVID-19 does not pose a grave danger because the virus—which is widely present and not particular to any workplace, and "non-life threatening to a vast majority of employees"—does not arise to such a toxic or physically harmful "substance" or "agent" contemplated by the OSH Act. The court found the ETS to be overbroad because it defines covered employers not by the actual threat of COVID-19 transmission posed by a specific workplace or to specific workers, but broadly encompasses all workplaces based on the number of employees alone.

On November 16, 2021, the Judicial Panel of Multidistrict Litigation consolidated all petitions for review of the ETS (including the Fifth Circuit ruling) before the U.S. Court of Appeals for the Sixth Circuit. The Sixth Circuit has jurisdiction over federal appeals from the states of Kentucky, Michigan, Ohio and Tennessee.

What does this mean for the December 6 and January 4 deadlines?
Because OSHA is barred from both enforcing the ETS and taking any steps to implement the ETS, the December 6 and January 4 deadlines are no longer in effect pending further court action. While the ETS is no longer in effect, the Fifth Circuit ruling has no impact on the Centers for Medicare and Medicaid Services' (CMS) interim final rule for healthcare workers and President Biden's Executive Order 14042 on mandatory vaccinations for federal contractors. Employers should continue to adhere to these requirements as applicable. Notably, the vaccination deadline for covered federal contractors has been extended once again, and is now January 18, 2022.

Source: https://www.osha.gov/coronavirus/ets2

Related Links:
Excerpts From the 5th Circuit Court Judgement Against OSHA Brownstone Institute, November 13, 2021


---
Barrasso and Lummis fight back against Biden's Vaccine Mandate (posted 11/17/2021)
Wyoming Delegation
WASHINGTON, D.C. – U.S. Sens. John Barrasso and Cynthia Lummis, both R-Wyo., joined Senator Mike Braun (R-IN) and all Republican senators in formally challenging President Biden's vaccine mandate under the Congressional Review Act, the official process for Congress to eliminate an executive branch rule.

"The Biden administration's vaccine mandate is federal government overreach at its worst. The country is already facing massive worker shortages and a supply chain crisis. President Biden is only making it worse. This is why all Republican senators are challenging this unlawful mandate," said Senator Barrasso. "As a doctor, I know vaccines against COVID-19 are safe and they work. The choice to be vaccinated should be made in consultation with your health care provider—not dictated by the federal government. The people of Wyoming shouldn't be forced to choose between their job and their personal health care decisions."

"The President has signed numerous Executive Orders placing burdensome and far-reaching mandates on people in Wyoming," Senator Lummis said. "To make matters worse, he is requiring our job creators and businesses to enforce these mandates. This is unconstitutional, unconscionable and unacceptable. American citizens deserve autonomy and privacy in making healthcare decisions, and private businesses should not be forced to carry out the will of an overreaching federal government."

BACKGROUND
• On September 8, President Joe Biden announced vaccine mandates that extend to 80 million private sector workers and additional mandates on millions of federal workers and contractors.
• To implement this mandate, OSHA issued an Emergency Temporary Standard (ETS). Employers that fail to comply will be fined $13, 653 for each offense and willful violations will result in a $136,532 penalty. This rule places unrealistic compliance burdens on employers—especially during a time where business and supply chains are already under duress. For example, 30 days after publication, all requirements other than testing for employees must be in place. In addition, 60 days after publication, all testing requirements must be in place.
• The Congressional Review Act (CRA) can be used by Congress to overturn certain federal agency regulations and actions through a joint resolution of disapproval. If a CRA joint resolution of disapproval is approved by both houses of Congress and signed by the President, or if Congress successfully overrides a presidential veto, the rule at issue is invalidated.

---
Wyoming's first nuclear facility to be built in Kemmerer (posted 11/16/2021)
Will be located at retiring Naughton Power Plant coal generation site
TerraPower media release
BELLEVUE, WASHINGTON – November 16, 2021 – TerraPower today announced Kemmerer, Wyoming as the preferred site for the Natrium™ reactor demonstration project, which is a TerraPower and GE-Hitachi technology, and is one of two competitively-selected advanced reactor demonstration projects (ARDP) supported by the U.S. Department of Energy (DOE). The company selected the Kemmerer location, near the Naughton Power Plant, following an extensive evaluation process and meetings with community members and leaders.

"People across Wyoming welcomed us into their communities over the past several months, and we are excited to work with PacifiCorp to build the first Natrium plant in Kemmerer," said Chris Levesque, president and CEO of TerraPower. "Our innovative technology will help ensure the continued production of reliable electricity while also transitioning our energy system and creating new, good-paying jobs in Wyoming."

"This project is an exciting opportunity to explore what could be the next generation of clean, reliable, affordable energy production while providing a path to transition for Wyoming's energy economy, communities and employees," said Gary Hoogeveen, president and CEO of Rocky Mountain Power, a division of PacifiCorp.

"Just yesterday, President Biden signed the Bipartisan Infrastructure Deal and today DOE is already putting it to work with more than $1.5 billion heading to Wyoming," said Secretary of Energy Jennifer M. Granholm. "The energy communities that have powered us for generations have real opportunities to power our clean energy future through projects just like this one, that provide good-paying jobs and usher in the next wave of nuclear technologies."

The demonstration project team evaluated a variety of factors when selecting the site of the Naughton Power Plant, where the remaining two coal units are scheduled to retire in 2025. Factors included community support, the physical characteristics of the site, the ability of the site to obtain a license from the Nuclear Regulatory Commission (NRC), access to existing infrastructure, and the needs of the grid.

"On behalf of Kemmerer and surrounding communities, we are pleased and excited to host the Natrium demonstration project. This is great for Kemmerer and great for Wyoming," said Bill Thek, the mayor of Kemmerer.

The Natrium reactor demonstration project's preferred siting is subject to the finalization of definitive agreements on the site and applicable permitting, licensing and support. TerraPower anticipates submitting the demonstration plant's construction permit application to the NRC in mid-2023. The plant is expected to be operational in the next seven years, aligning with the ARDP schedule mandated by Congress.

According to project estimates, approximately 2,000 workers will be needed for construction at the project's peak. Once the plant is operational, approximately 250 people will support day-to-day activities, including plant security.

The demonstration plant is intended to validate the design, construction and operational features of the Natrium technology. The project features a 345 MW sodium-cooled fast reactor with a molten salt-based energy storage system. The storage technology can boost the system's output to 500 MW of power when needed, which is equivalent to the energy required to power around 400,000 homes. The energy storage capability allows the plant to integrate seamlessly with renewable resources.

Through the recently signed Infrastructure Investment and Jobs Act, DOE worked with Congress to allocate nearly $2.5 billion in new funding for ARDP. This allocation, along with previous funding, will cover DOE's commitment to TerraPower for the first five years of a seven-year, $2 billion agreement.

TerraPower will match this investment dollar for dollar. Federal funding is provided for the demonstration activity under a cost-shared cooperative agreement and the result of the project will be a commercially-owned generating asset.

About TerraPower
TerraPower is a leading nuclear innovation company that strives to improve the world through nuclear energy and science. Since it was founded by Bill Gates and a group of like-minded visionaries, TerraPower has emerged as an incubator and developer of ideas and technologies that offer energy independence, environmental sustainability, medical advancement and other cutting-edge opportunities. It accepts and tackles some of the world's most difficult challenges. Behind each of its innovations and programs, TerraPower actively works to bring together the strengths and experiences of the world's public and private sectors to answer pressing global needs. Learn more at terrapower.com.

Source: https://www.terrapower.com/natrium-demo-kemmerer-wyoming/

Related Links:
Wyoming's First Nuclear Facility to be Located in Kemmerer SweetwaterNow.com, November 16, 2021
Local Leaders Hear Plans for New Nuclear Power Plant in Wyoming SweetwaterNow.com, July 1, 2021
Governor Gordon Announces Historic Nuclear Facility in Wyoming SweetwaterNow.com, June 2, 2021

---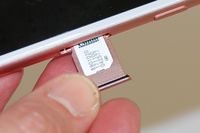 Some cell phones will need SIM cards upgraded to accommodate 5G (posted 11/16/2021)
Pinedale Online!
Union Wireless is advising their customers they are in the process of upgrading their wireless network and some older phones may need to be upgraded to continue to work.

"As part of a national effort to modernize America's wireless grid, Union is upgrading our network. The process involves the installation of a new network to support HD Voice technology and pave the way for the eventual implementation of 5G. At the same time, 3G networks across the country are actively being torn down."

"Networks all across the country are being modernized to accommodate new 5G capable technologies and old 3G networks are being taken down. These new networks, including Union's, provide numerous advancements in telecommunication but not all devices are capable of supporting the new technology. Once 3G networks are taken down, people possessing certain older phones, known as legacy devices, will not be able to make or receive phone calls, not even for emergency services."

VoLTE, or Voice over Long-Term Evolution, is better understood as High-Definition Voice or HD Voice. HD Voice technology is intended to replace current 3G networks that transmit cellular calls to a separate channel, resulting in slower internet connection speeds when making a phone call.

When major wireless network changes are made, in some cases, new SIM cards are required on older phones. SIM cards, or "subscriber identity modules" are small cards (roughly the size of a fingernail) in cell phones. Issued by mobile service providers, SIM cards allow cellular devices access to operate on a host network.

Union says they are providing new SIM cards free of charge to their customers. The fastest way to find out if your phone has a compatible SIM card is to log into your MyUnion account/Account Overview. Union has provided visual representations indicating which SIMs need to be upgraded.

Below are some of the benefits of the new upgraded system:
More reliable and consistent connection
Faster internet speeds
Clearer calls and less call-related issues like dropped calls
The use of both audio and video calls
Simultaneous use of voice and data during calls
6-way conference calls

Contact your cell phone service provider for any questions about the network upgrade and whether phones on your service plan will need to be upgraded soon in order to keep working.

---
Governor Gordon signs Special Session Bill supporting pushback on Federal Vaccine Mandates (posted 11/12/2021)
Governor Mark Gordon media release
CHEYENNE, WYOMING – Governor Mark Gordon has signed HB1002 - Federal COVID vaccine mandates-prohibition and remedies-2. The ultimate product of the Special Session convened by the Wyoming Legislature last month, the bill supports the Governor's continued actions that were already underway, while also appropriating some additional funds to aid in those endeavors.

The Governor noted that he had already committed to challenging the Biden Administration's vaccine mandates in the courts prior to the Special Session being called. While he appreciates the Legislature's support for Executive branch efforts previously in progress through this bill, he also expressed concern about the cost to taxpayers of holding the special session.

"This bill confirms the Legislature's support for the Executive branch's previously-expressed determination to fight federal overreach in the courts," Governor Gordon said. "I thank the Legislature for recognizing their distinct constitutional responsibility as appropriators in forwarding resources to support this endeavor. The people of Wyoming can rest assured that this Governor will always be committed to protecting the constitutionally enumerated rights of Wyoming citizens."

Wyoming has filed three separate legal actions to challenge the federal vaccine mandates. These include a lawsuit against the Biden Administration for imposing a vaccine mandate on federal contractors and federally contracted employees; a lawsuit to halt the Occupational Safety and Health Administration emergency temporary standard which mandates vaccines on employees of private Wyoming businesses with over 100 employees; and a lawsuit seeking to prevent the administration from enforcing a rule imposing a vaccine mandate on healthcare workers throughout the nation.

HB1002 provides $4 million in funding for legal challenges to any COVID-19 vaccination mandates passed by the Federal government.

---
Game and Fish authorized to continue feeding elk at Dell Creek (posted 11/12/2021)
Wyoming Game & Fish
The Wyoming Game and Fish Commission received authorization this week from the U.S. Forest Service to maintain elk feeding operations at the Dell Creek Feedground for the 2021/2022 winter. The one-year special use permit will allow Game and Fish to begin feeding elk in the coming weeks as winter begins.

"We're grateful to the Bridger-Teton National Forest for their partnership to continue elk feedground operations at Dell Creek," said Rick King, chief of wildlife. "This feedground location is crucial to mitigate brucellosis disease concerns and maintain elk populations."

The decision letter from the Bridger-Teton National Forest is available online.

The Dell Creek elk feedground is situated at the northern edge of Sublette County. Over the 2020/2021 winter, 529 elk attended the location for supplemental feed. Feeding typically begins at Dell Creek near Nov. 15. Elk have been coming to Dell Creek for over 40 years for supplemental winter feed.

The department is continuing a public process to gather input on Game and Fish's elk feedgrounds management plan.

The elk feedgrounds steering team, charged with developing a long-term feedgrounds management plan for the agency, consists of 13 Game and Fish personnel closely tied to the elk feedgrounds program along with five representatives from partnering federal agencies, which include the National Elk Refuge, Bridger-Teton National Forest, Bureau of Land Management and Grand Teton National Park.

Elk have utilized feedgrounds in northwest Wyoming since the early 1900s. Approximately 14,000 elk are supplementally-fed during the winter months on 22 Game and Fish-operated feedgrounds in Teton, Sublette and Lincoln counties. An additional 8,000 elk are fed at the National Elk Refuge in Jackson managed by the U.S. Fish and Wildlife Service. Supplemental feeding is a complicated and often contentious issue with biological, social, economic and political considerations.

---
Yellowstone National Park visitation statistics for October 2021 (posted 11/11/2021)
National Park Service
Yellowstone National Park hosted 316,662 recreation visits in October 2021, down 12% from October 2020 (359,889 visits), which was the busiest October on record.

Recreation visits this October were up 85% from October 2019 (171,339 visits). Several short-term, weather-related road closures likely impacted visitation in 2019.

So far in 2021, the park has hosted 4,789,644 recreation visits, up 28% from the same period last year, and up 20% from 2019.

The list below shows the year-to-date trend for recreation visits over the last several years (through October):

2021 – 4,789,644
2020 – 3,753,531*
2019 – 3,979,154
2018 – 4,078,771
2017 – 4,084,762
2016 – 4,212,782

Affected areas: developed corridors
Yellowstone's road corridors and parking areas equate to less than 1,750 (0.079%) acres of the park's 2.2 million acres. Most visitors stay within a half mile of these corridors.

Visitor use strategy
Yellowstone's visitor use strategy, developed in 2019, focuses on the impacts of increasing visitation on: 1) park resources;
2) staffing, infrastructure and operations;
3) visitor experience; and 4) gateway communities, including economic and recreational access. The park is concentrating on the most congested areas including Old Faithful, Midway Geyser Basin, Norris, Canyon rims and Lamar Valley.

Actions
The park has developed a comprehensive resource tool to monitor and respond to impacts on resources. The park piloted an AV shuttle system in 2021, moving over 10,000 visitors at Canyon Village and testing technology that could be used in the future. A major shuttle feasibility study is underway to analyze the viability of a shuttle system in the Midway Geyser Basin corridor. The park is also taking advantage of data derived from recent major visitor surveys and transportation studies to inform future decisions and is working closely with Grand Teton National Park on future solutions since both parks substantially share visitation each year.

Yellowstone has completed over $100 million in projects over the past two years to improve transportation infrastructure, reduce traffic congestion and enhance visitor experiences. Substantial additional investments will continue in 2022 and 2023 in multiple areas of the park as part of funding received from the Great American Outdoors Act.

Plan your visit
All roads in Yellowstone, with one exception, are now closed to automobile traffic until late April. The exception is the road from the park's North Entrance to the Northeast Entrance and the communities of Cooke City and Silver Gate, Montana, which is open year-round, weather-permitting.

Conditions permitting, most park roads will open to oversnow travel (snowmobiles and snowcoaches) on December 15, 2021. Visit Explore in Winter for details.

If you plan to travel to Yellowstone this winter, have flexible travel plans, prepare for changing winter-weather conditions and anticipate limited services.
• Temporary travel restrictions or closures can occur at any time without notice. Check the status of roads online, or call (307) 344-2117 for recorded information. To receive Yellowstone road alerts on your mobile phone, text "82190" to 888-777 (an automatic text reply will confirm receipt and provide instructions).
• Plan ahead and check the weather.
• Stay informed about changes to park operations and services by downloading the NPS Yellowstone app and visiting www.nps.gov/yell or the park's social media channels.More data on park visitation, including how we calculate these numbers, is available on the NPS Stats website.  

Editor's note: *The park was closed March 24-May 18, 2020, due to COVID-19. Two entrances were open May 18-31 and the remaining three opened on June 1.

---
Wyoming challenges Federal Mandate for Health Care Workers (posted 11/10/202`)
Governor Mark Gordon
CHEYENNE, WYOMING – Governor Mark Gordon announced that Wyoming is continuing its challenge of unconstitutional federal vaccine mandates. Today's action follows on other legal challenges over the past two weeks. Wyoming and a coalition of 10 states filed suit against the Biden Administration's Centers for Medicare and Medicaid Services (CMS) rule, which seeks to impose a vaccine mandate on healthcare workers throughout the nation.

"Wyoming continues to face a significant shortage of healthcare workers and this federal mandate will only exacerbate our healthcare staffing issues," Governor Gordon said. "This administration needs to understand that overreaching policies that force employees to choose between vaccination and termination negatively impact Wyoming communities, rural healthcare, and residents of skilled nursing facilities."

The CMS vaccine mandate, as the lawsuit mentions, "imposes an unprecedented federal vaccine mandate on nearly every full-time employee, part-time employee, volunteer, and contractor working at a wide range of healthcare facilities receiving Medicaid or Medicare funding."

Wyoming is taking a three-pronged approach to fighting the federal vaccine mandates, filing three separate legal actions to challenge this federal overreach. These include:Filing a lawsuit on October 29th against the Biden Administration for imposing a vaccine mandate on federal contractors and federally contracted employees. Wyoming is currently awaiting a ruling on a request for a temporary injunction in the case.

Filing a second lawsuit to halt the Occupational Safety and Health Administration emergency temporary standard which mandates vaccines on employees of private Wyoming businesses with over 100 employees.

Today's action, which seeks to prevent the Biden Administration from enforcing the mandate on healthcare workers.

Addressing what is at stake in the case, today's lawsuit explains: "The CMS vaccine mandate also threatens to exacerbate an alarming shortage of healthcare workers, particularly in rural communities, that has already reached a boiling point. Indeed, the circumstances in the Plaintiff States—facts that CMS, which skipped notice-and-comment rulemaking, did not fully consider—foreshadow an impending disaster in the healthcare industry. By ignoring the facts on the ground and unreasonably dismissing concerns about workforce shortages, the CMS vaccine mandate jeopardizes the healthcare interests of rural Americans."

The lawsuit incorporates nine counts both procedural and substantive in nature. Chief among them are principles the State of Wyoming always seeks to guard against – violations of the Tenth Amendment and federalism.

The coalition filing the lawsuit is led by Missouri and Nebraska and also includes Arkansas, Kansas, Iowa, Alaska, South Dakota, North Dakota, and New Hampshire.

The full petition can be found here

---
New report of link between COVID-19 vaccines and rare cases of hyperglycemia (posted 11/6/2021)
A new report in the Journal of the Endocrine Society from Oxford University in England details several case studies of fast onset hyperglycemic (high blood sugar) emergencies in association with recent COVID-19 vaccinations.

"While hyperglycemic emergencies are likely extremely rare in patients receiving COVID-19 vaccinations, it is important for clinicians to be aware of these complications and suspect severe hyperglycemia in those who develop postvaccination polyuria, polydipsia, blurry vision, weakness, and even confusion, among other symptoms."

Definitions:
1. Hyperglycemia (high blood glucose) means there is too much sugar in the blood because the body lacks enough insulin. Associated with diabetes, hyperglycemia can cause vomiting, excessive hunger and thirst, rapid heartbeat, vision problems and other symptoms.
2. Polyuria: production of abnormally large volumes of dilute urine.
3. Polydipsia: abnormally great thirst as a symptom of disease (such as diabetes) or psychological disturbance

Researchers discuss the cases of three individuals who developed acute onset of classic hyperglycemic symptoms within 2 to 10 days of their first COVID-19 vaccination. Other than the recent vaccination, no other triggering events were identified. "The resolution of the severe hyperglycemia was equally as rapid as its onset. In fact, within 8 weeks, none of the 3 patients remained on insulin therapy. The temporal onset of symptoms within 48 hours of vaccination and the brisk, clinical course strongly suggests that the hyperglycemic emergencies were triggered by the COVID-19 vaccination." … "Clinicians should be aware of this potential rare complication of COVID-19 vaccine."

Click on the link below to read the report:
Hyperglycemic Emergencies Associated With COVID-19 Vaccination: A Case Series and Discussion
Journal of the Endocrine Society, Oxford University Press, November 2021
Source: https://academic.oup.com/jes/article/5/11/bvab141/6375389

---
Business Directory
Click here for
Advertising Information