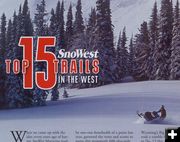 CDST Rated #1

SnoWest magazine readers rated the Continental Divide Snowmobile Trail #1 for overall sledding.


CDST Rated #1 Snowmobiling Trail in West
SnoWest Magazine Reader Survey
by Dawn Ballou
November 23, 2004

SnoWest magazine, known as "the authority for western snowmobiling", has come out with their annual reader survey list of the Top 15 Trails in the West in their November, 2004, issue. For the first time in the seven-year history of the survey, the Continental Divide Snowmobile Trail (CDST) bumped West Yellowstone as the #1 premier sledding location.

The 600-mile long trail follows the Wind River Range from Lander to West Yellowstone, and goes through Pinedale, Boulder and Cora in Sublette County. It is the largest single trail system in Wyoming, and the West. The CDST generally parallels the Continental Divide in Wyoming and actually crosses it four times. This groomed trail travels through open and forested terrain and skirts the towering Grand Teton mountain range and Yellowstone National Park.

The general snowmobiling season runs from late November through April. Daytime temperatures range from +30 F to –30 F, with January typically being the coldest month with the least snowfall. Generally speaking, February and March see the most snow accumulation and have the most comfortable daytime temperatures (ranging from about 15 F to 35 F). Elevations along the trail range from 6,000 to 10,000 feet. The local snowmobile club, the Pinedale Snow Explorers, hold fun rides, poker runs, races and family get-togethers throughout the winter season. Click on the links below for related information.




Related Links