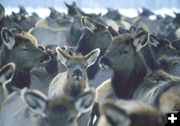 Elk at Feedground

Elk on the South Park elk feedground south of Jackson. Photo courtesy Mark Gocke, WGFD


Elk Feedgrounds paper released to the public
by Wyoming Game & Fish
November 20, 2004

The practice of providing supplemental feed for elk in the winter has been the center of countless working groups, public forums, media stories and street corner debates. The Wyoming Game and Fish Department has been at the center of elk feedgrounds since their inception.

The Game and Fish Department is announcing the release of their document on the Department's website. It is titled "Elk Feedgrounds in Wyoming". The report was written by Game and Fish veterinarians, biologists, wardens, and compiled by Jackson's Regional Information and Education Specialist, Mark Gocke. "This was not intended to be a lengthy discussion on elk feedgrounds, but instead a description of the most important aspects of feedgrounds. The purpose was simply to provide factual information on the many different facets of elk feedgrounds."

"Elk Feedgrounds in Wyoming" provides a thorough history on the implementation of feedgrounds, current management of feedgrounds and the Department's efforts to address elk damage and disease in wildlife.

Brucellosis is a disease found in free-ranging elk and bison in the Greater Yellowstone Area (GYA) in the northwest portion of Wyoming and in adjacent portions of Idaho and Montana. Recent cases of Brucellosis in Wyoming cattle herds have caused the state to lose its brucellosis free status. "Elk Feedgrounds in Wyoming" explains the vaccination program used for elk on feedgrounds and brucellosis' effect on Wyoming's cattle industry.

"Anyone interested in elk management in northwestern Wyoming should give it a read," says Gocke. "The issue of feedgrounds will continue to be discussed, both publicly and privately, for years to come. This paper will serve as a good resource to help citizens make their own informed opinions on the topic."

The paper can be found on the Wyoming Game and Fish Department home page at the link below.




Related Links