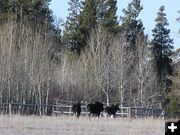 Three moose

Three moose cross a pasture in north Pinedale.


Pinedale Drift
by Dawn Ballou
November 11, 2004

Thursday, November 11: Itís snowing in Pinedale. We canít wait to start snowmobiling and skiing! White Pine Ski Resort hopes to open on schedule around Thanksgiving, depending on the weather. The nearby mountains have about 2 feet of snow. The weatherman says weíll probably see 1-3 inches out of these small storms over the next couple of days and through the weekend. No advisories in effect for these upcoming snow showers.

Two events not to miss this weekend! The Ski Swap and Black Tie & Blues! The Ski Swap and Registration at the Pinedale Fire Hall sponsored by the Sublette County Ski and Snowboard Association. Hereís your chance to swap out your too small equipment for new used ski and winter sport gear! The swap is from 5-8 pm. Drop off from noon until 5 at the firehall. Then in the evening, head over to Rendezvous Pointe for Black Tie & Blues! This is the Pinedale Fine Art Councilís annual fundraiser. They have two Grand Prizes this year: 7 days for two in Puerto Vallarta, Mexico and 7 days for two in Cabo San Lucas, Mexico! Tickets are $25. Come enjoy casino games, live music, dancing, midnight brunch, silent auction, adventure prize raffles. The fun starts at 6;30 pm. More info: www.pinedalefinearts.com

On a sadder note, Rumors Deli will be closing their doors permanently on Friday, November 12th. Pete & Roz will miss all their loyal customers!

Need a pie for Thanksgiving and too busy to bake? The Patio Grill is taking orders for Thanksgiving pies through November 21st. They can make any kind: pumpkin, fruit and cream. Call 307-367-4611.

Be sure to mark your calendars for Friday, December 3 to attend the Museum of the Mountain Man's 11th Annual Wreath and Chocolate Auction. This is ALWAYS the held first Friday in December. New location this year, to be held at Rendezvous Pointe in Pinedale, our new Senior Center. The time is 6:00 pm. This is free to the public and a great chance to bid on a gorgeous holiday wreath or chocolate delight, and help the Museum with their events for next year.

If youíre wanting to send flowers to a special someone in Pinedale or Big Piney for Thanksgiving and donít know how to find a local florist, here are places you can call to get those flowers delivered:
Falerís Gift & Floral in Pinedale, 1-800-515-1533 or 307-367-6685 Ext. 194
Sage Expressions in Pinedale, 307-367-2736
Just Imagine in Big Piney, 307-276-5410

Looking for great Pinedale & Wyoming Christmas gifts? Here are some ideas to get you started:
Cowboy Shop Western wear for the entire family. If you want what the cowboys wear, this is the place! You can even find PINK cowboy hats and boots for your favorite little cowgirl! They have an online store for those who prefer to do their holiday shopping via computer to avoid the snow! www.cowboyshop.com
Heritage Quilt & Fabric Shoppe Sue is now having her ĎCustomer Appreciation Daysí. Located in the Cow Mural building on Pine Street, right now youíll find fabric up to 40% off and you can register to win a free quilt kit. They have all the top of the line Husqvarna Biking sewing and embroidery machines for the seamstress in the family! Open 9 am Ė 5:30 pm. www.heritagefabricshoppe.com
The Huckleberry Patch Located in the Summit Building, is small, but their shelves are packed with a great selection of quilting and specialty fabrics. They have quilt fabrics, quilt supplies & gifts, notions, patterns, books, videos, craft supplies, tole & wood projects, scrapbooking & stamping supplies and more. If you're looking for wildlife prints of deer, moose, elk and bear (and more!), Shirley has it. You can also see fabrics online at www.huckleberryfabrics.com
Wildcolor Photography For the past 20 years, Ross McCracken and Elizabeth Boehm have lived and worked in some of the more spectacular places in the American West: Yellowstone National Park, Wyoming, Denali National Park, Alaska, and Little Cottonwood Canyon, Utah. They now live in Wyoming, and have many of their beautiful photos online available as framed prints and notecards. See them online at: www.wildcolorphotography.com
Spirits of the West These folks have wonderful Native American arts & crafts, quill and beadwork, buffalo robes and skulls, jewelry, horns & antlers, tanned and painted hides, drums, tipis and a lot more. Located right on main street in Pinedale. www.spiritsofthewest.com

For those who are closely monitoring the activities of the Pinedale Anticline Working Group (PAWG), the BLM just put up a new section for the PAWG on their Pinedale Field Office website: BLM PAWG Website

On a last note, for those planning on coming for the Thanksgiving or Christmas holiday season, we strongly encourage you to make your lodging reservations NOW. Rooms are already tight all over the county with 90% fill rates. Please don't try to wing it and drive in from Salt Lake City airport dog tired and expect no problem finding a room. Take that possible hassle out of the equation by calling ahead and booking your room reservation so that is all arranged in advance. Also, if you are the one in charge of arranging the company party or family gathering at one of our local meeting facilities or lodges, now is the time to arrange the facilities and book any catering.

-Dawn Ballou, Editor, Pinedale Online!