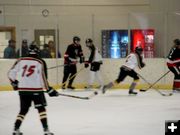 High School Hockey

Jim Easton, Preston Schwab and Daniel Yenser. Photo courtesy Craig Sheppard.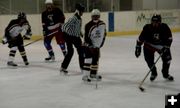 Olsens

Drew Guenthner and Nate Olsen. Photo courtesy Craig Sheppard.


High School Hockey Action
by Craig Sheppard
March 7, 2005

The Pinedale high school age hockey team finished up their WAHL league action last Sunday here in Pinedale. They showed how much improvement had been made this year by losing to Riverton in the first game by only two goals and then coming back in the afternoon and tying Riverton to add a point to their overall standings. In earlier games in December Riverton soundly beat them twice. This placed them in a tie for 5th place with Gillette in the State High School B standings. Because Gillette had beat them once this year, and tied Pinedale once, they got the 5th seed.

In the first game, Pinedale scored first on a nice shot by Preston Schwab, assisted by John Stach. Riverton tied it up two minutes later and then went ahead with a goal half way through the first period. Riverton then went up by two goals early in the second period, but then Pinedale's Drew Guenthner scored a goal two minutes later assisted by Jake Hunt and Josh Murphy. Still in the second period, Guenthner tied the game up with another goal assisted by Hunt again and also Nate Olsen. The third period saw a defensive struggle emerge and, with only a minute and a half to go in the game, Riverton broke through with a goal and then put an insurance goal in with 22 seconds left to go to win 5-3. The Pinedale team out-shot Riverton with 26 shots on goal compared to Riverton's 20 shots.

The second game saw Riverton jump out to a two-goal lead late in the first period. Pinedale's Drew Guenthner scored a goal assisted by Josh Murphy early in the second period to pull the Pinedale team within 1. They did not tie up the game until 19 seconds left in the contest when they pulled their goalie for an extra attacker and crashed the net to tie the game up. Guenthner's goal was assisted by Jake Hunt and Nate Olsen. Chris Manning, goalie for Pinedale, made 19 saves in the game to keep the game within reach.

All players for Pinedale and Riverton played hard in both contests. These two games were two of the best games this young Pinedale Glacier team has played all year. Playing for the Glaciers this weekend were forwards Jim Easton, Drew Guenthner, Preston Schwab, Dan Yenser, Nate Olsen, captain Jake Hunt, defense Jeremy Silvey, John Stach, Josh Murphy, and goalie Chris Manning. They were coached by Jeff Lewis, Craig Sheppard and Mike Schwab.

Come out and watch them in action this weekend at the State High School B championships this Saturday and Sunday in the Pinedale Ice Arena. Games start at 8 AM Saturday until 6:30PM and then resume again Sunday morning at 8 AM with the state championship game being contested at 12 noon.

Pinedale's schedule this weekend is: Saturday 9:45 AM Pinedale vs top seeded Sheridan and also on Saturday Pinedale vs Riverton at 1:30 PM. Sunday game times will be determined by their wins or losses on Saturday's games.




Related Links