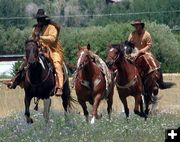 Mountain Men

Meet Me on the Green! The Green River Rendezvous is the 2nd weekend in July in Pinedale.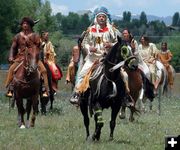 Shoshone Indians

Native Americans from several tribes also came to the Rendezvous in the early 1800s.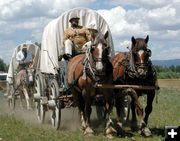 Supply Caravan

The Rocky Mountain Fur Company brought supplies to Rendezvous.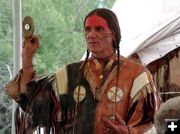 Michael Terry

Native American historian Michael Terry gives living history presentations at Rendezvous.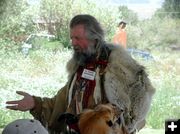 Gage Skinner

Dr. Gage Skinner will be at this year's Rendezvous with his Field Museum of the Fur Trade.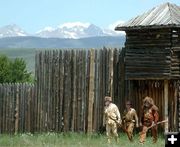 Fort Bonneville

Fort Bonneville was located near the site of the 1833 Rendezvous, near present-day Daniel, Wyoming. It was only in existence for a couple of years.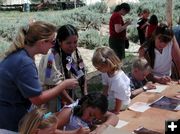 Childrens Activities

There will be activities and presentations for children during Rendezvous 2005.


Meet Me on the Green!
Green River Rendezvous, July 7-10, 2005
by Clint Gilchrist
May 15, 2005

As we get ready for our modern-day Green River Rendezvous in July, what was happening with the fur trappers and businessmen who were getting ready for the original Green River Rendezvous more than 170 years ago?

In the early 1800s, those getting ready for Rendezvous had to prepare a year in advance. The location for the next year's Rendezvous had been determined and announced the year before. By early May the supply caravans were leaving Missouri and starting on the 1800-mile, 2-month journey west. The mountain men were busy trapping and preparing hides. Depending on where they were located, they had to plan travel time to make their way to the Upper Green River Valley to trade in their furs for supplies.

Six of the sixteen Rendezvous were held on the Green River near present-day Daniel, Wyoming. Instead of having a permanent trading post in the wilderness to exchange furs for trade goods, the concept of rendezvous was to bring the supplies to the men at pre-determined summer gathering places. Rendezvous was a several week long vacation of trading, socialization, story-telling, drinking, gambling, target shooting and making new contacts and alliances.

Today, the Green River Rendezvous is always held the second weekend in July in Pinedale in a weekend-long celebration that highlight our area's rich history of the fur trade era in the early 1800s. Pinedale's festivities include living history presentations by experts in the fur trade field, a parade, an elaborate outside pageant in costume reenacting the Rendezvous story, demonstrations by modern-day mountain men showing the everyday way of life of trappers, great food, a period-authentic "trader's row", Sunday prairies Mass, an art show and many other events.

Meet Me on the Green! – 1833 Green River Rendezvous
The 1833 Rendezvous was held at the confluence of Horse Creek and the Green River near present-day Daniel, Wyoming. The location place and date were scheduled at the 1832 Rendezvous, which had been held in Pierre's Hole west of the Tetons and Jackson Hole.

By early May in 1833 here is what was happening:
Trappers: The men in the area at the time were either employed by one of the several fur trade companies working the area or free-lancers selling furs to the highest bidder. These were mostly healthy and athletic men in their early 20s and 30s. Some were single, some were married. They were all ethnic groups including white Americans, French, British, Spanish, free Negros and Iroquois Indians from the east.

The trappers left winter quarters in late February and by early may were busy trapping and preparing beaver hides. Most trappers in the winter of 1832-1833 wintered together in groups along the Salmon River and near present-day Pocatello, Idaho along the Portneuf River. Winter was the prime trapping time when fur-bearing animals have the thickest fur. When the weather allowed, the men scouted streams for beaver sign, set traps and checked their trap lines daily. They traveled around on horseback, on foot and snowshoes. They had to be on the watch for wild animals, attacks by hostile Indians, and raids by men from competing companies who might want to steal their furs or sabotage their traps. When the beaver started to lose their winter coat, the trappers headed to Rendezvous.

29-year old Jim Bridger had been in the mountains trapping since 1822. He was one of the old veterans, and by 1833 he was a partner in the Rocky Mountain Fur Company with four other seasoned trappers. They were the predominant company operating in the Green River Valley in the early 1830s. Bridger could not read or write, but he did know the land well and how to trap. His job was to lead groups of men to get the furs for his company. His competitors were the British-owned Hudson Bay Company, the American Fur Company, and various small entrepreneurial enterprises including Nathaniel Wyeth and Captain Benjamin Bonneville.

Supply Trains: By early May, the Rendezvous supply trains were leaving Missouri on their way west. It was a rough and dangerous two-month journey covering some 1800 miles. There were no roads then, just rough trails that generally followed stream courses from St. Louis, Missouri to the area around present day Pinedale, Wyoming.

Several companies planned to attend the 1833 Rendezvous to trade for furs and resupply the mountain men and trade with Indians. Players included the Rocky Mountain Fur Company (Thomas Fitzpatrick, Jim Bridger, Milton Sublette, Henry Fraeb, Jean Gervais), the American Fur Company (Lucien Fontenelle & Andrew Dripps), the St Louis Fur Company (William Sublette & Robert Campbell).

Robert Campbell's newly-formed St. Louis Fur Company supply train left Lexington, Missouri, with 40-50 men on May 12th with trade goods and supplies valued at approximately $15,000. Their caravan of horses and mules would take them along the Platte River in Nebraska, up the Sweetwater River in eastern Wyoming, over South Pass to cross the Continental Divide of the Rocky Mountains, and across the high sagebrush desert of western Wyoming to the confluence of Horse Creek and the Green River by early July.

Campbell's St. Louis Fur Company caravan consisted of pack strings of mules and horses. They brought along a flock of sheep for food to hold them until they could find buffalo on the plains of Nebraska and eastern Wyoming. If they were lucky enough to kill a fat cow buffalo, they ate well. If they killed an old bull, the meat was "toughter'n whalebone." They also ate bacon and hard tack. There was no sugar or coffee for these men, but they were brought for trade goods.

Mules were wild and kicked off their packs for the first several days. Later they settled down a bit, but there would generally be a runaway every day. The animals were brought into the camp circle at night and picketed. Men worked 2-1/2 hour shifts as night guards. Supplies brought for trade goods included: whiskey, blankets, scarlet shirts, tobacco, lead, powder, trinkets for trading with Snake Indians, coffee and sugar. Campbell's 1833-supply train arrived at Rendezvous on July 5 and left for St. Louis loaded with furs by early August.

Photos by Clint Gilchrist, Pinedale Online





Related Links