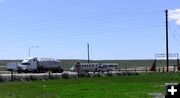 Heavy traffic

Area highways have experienced a tremendous increase in large truck traffic due to the oil and gas boom. This is the intersection of Hwy 189 and 351 north of Big Piney.

Headlight Safety Program for Hwy 191
Turn Headlights on for Safety Designation added to US 191 North
July 12, 2005
In an effort to assist motorists with passing opportunities, the Wyoming Department of Transportation is installing "Turn Headlights on for Safety" signs on US 191 North from Rock Springs to Daniel.

"It's a proactive safety effort," said District Traffic Engineer Tory Thomas. "US 191 North has limited passing opportunities or limited site distance areas as compared to other roads with similar capacities."

Thomas explained the move is due to the increased traffic on the highway, in particular truck traffic. He indicated truck traffic increased by 70 percent in just one year.

Installation of the signs will begin next week. The signs will be placed at each major junction or intersection on the highway in both the northbound and southbound lanes. Those junctions are at Reliance, US 28, WYO 351, Pinedale, and US 189.

A similar sign installation was done on US 287 between Rawlins and Casper, which aided in decreasing the crash rate.