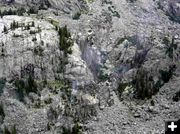 Tourist Creek Fire

Tourist Creek Fire. Photo courtesy Pinedale District Ranger, Craig Truluck, USFS.

Update on Tourist Creek Fire
Tourist Creek drainage closed for public safety
July 23, 2005
Saturday, July 23 Update: The Tourist Creek Fire was detected on Thursday, July 21, 2005 in the Bridger-Wilderness, approximately ten miles southeast of the Green River Lakes Trailhead and two miles northeast of Three Forks Park in the Tourist Creek drainage. This fire is believed to be human-caused and was approximately 10-acres in size when detected. The fire is located above 10,000 feet in elevation in a steep, rocky drainage, limiting firefighting options. The fire is considered contained by natural rock barriers at this time, but strong winds could change conditions. A combination of helicopters and pack strings are being utilized to assess and manage this fire.

Area Closure: The Tourist Creek drainage, which is considered at risk for Forest visitors, is closed for public safety at its confluence with the Green River at Three Forks Park. All Forest System Trails within the Green River corridor remain open, including the Highline Trail #094, which also serves as the Continental Divide National Scenic Trail. The Green River Lakes Developed Campground and Trailhead are NOT considered at risk and remain open. Boating use on the Lower Green River Lake also remains open.

For more information, or to obtain a copy of the Area Closure map, contact the Pinedale Ranger District at (307) 367-4326.

Related Links