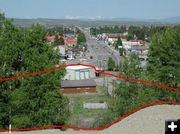 Proposed Motel

View looking west down Pine Street/Hikghway 191 in Pinedale from the 'Sledding Hill'. The lot for the proposed new motel is across from Faler's General Store, where the old Zzzz Inn Motel used to be, and where the Visitor Center currently is located. Faler's General Store is on the right, obscured by trees.


90-room, 3-story Motel across from Falers?
Conceptual plan meeting with Town of Pinedale Planning & Zoning January 16th
by Pinedale Online!
December 20, 2006

At the regular meeting of the Town of Pinedale Planning and Zoning Board on Monday, January 16, 2007, two developers will present conceptual plans for two big projects they have in mind to add to the Town of Pinedale.

Proposed 3-story, 90-room motel across from Falerís General Store
Design Resources/Rocky Towle are proposing a 51,300 square foot motel development which would have 90 rooms and include a swimming pool. This would be on the Triangle Addition, the triangle-shaped property located between Hwy 191/Pine Street, Fremont Lake Road, Canal and Haystack Streets on the east side of Pinedale, where the old ZZZ Inn motel used to be. It also includes the location of the building which is currently being rented by the Sublette County Chamber of Commerce/Joint Tourism Promotion Board for the Pinedale Visitor Center (they plan to move next summer into their new building being constructed downtown.) Developers will give a conceptual overview of the project at the meeting. The public is encouraged and invited to attend.

Proposed 230-acre Commercial/Residential development east of Ehman Lane
Stewart Land Group is proposing a mixed-use development that includes commercial space, apartments, town-homes, a mobile home park, storage units and single family lots on land north of Highway 191 where the BLM is constructing their new building on the west end of Pinedale.

(Editorís Note, unsubstantiated and unrelated talk about development on that end in town, not necessarily related to this project, includes possibilities of another motel/hotel and possibly another grocery store. Any interested party is encouraged to attend this meeting and see what the proposals are for the commercial part of this latest development plan.)

The Public Workshop will follow the regular Planning & Zoning meeting at the Pinedale Town Hall, 210 West Pine Street, 5:30 pm. Click on this link for a printable agenda of this meeting: January 16, 2007 Town of Pinedale Planning & ZoningAgenda.