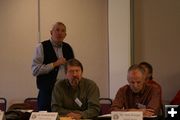 Cleveland speaks

Wyoming Game and Fish Department Director Terry Cleveland addresses the state brucellosis coordination team.


Brucellosis program update
by Cat Urbigkit
May 7, 2007

The Wyoming Brucellosis Coordination Team recently met in Lander and heard updates on a variety of issues.

In the wake of the resignation of Dr. Dwayne Oldham as the Wyoming State Veterinarian, Dr. Walt Cook has been serving as the acting state vet. The team learned that the Wyoming Livestock Board hopes to have completed the selection of the new state vet by July 1.

Cook updated the team on the status of the proposed Chapter 2 brucellosis rules at the state level. He said that the WLB recently approved the rules and sent them over to the Wyoming Attorney General's office for review of minor changes. Cook said the rules should take effect around June 1.

Changes for the effected area of western Wyoming include two key provisions: no bull testing will be required, and the area requiring brucellosis testing will be greatly reduced to a core area encompassing western Wyoming's elk feedgrounds. The smaller area will include all of Teton and Sublette counties, the portion of Fremont County west of the Wind River Indian Reservation, and northern Lincoln County. The rules include a provision for review on or before August of 2009. According to Cook, the rules also provide that vaccinated heifers 20 months of age would not need to be tested if they are visibly pregnant when they are moved.

The team heard an update from Ryan Lance of Governor Dave Freudenthal's office about the governor's opposition to a proposal by USDA Animal and Plant Health Inspection Service to include a wildlife component in its disease policies.

Dr. Bret Combs of APHIS explained that in his view, USDA's policy has been subject to mis-interpretation of what the agency is trying to do. He said APHIS is trying to deal with diseases that occur in wildlife as well as livestock, much as the agency already does with tuberculosis. Combs aid that APHIS is seeking to expand such effort to all its disease eradication programs rather than just TB. He said if the wildlife component is put into the brucellosis program policies, it "may or may not" affect a state's brucellosis status.

"It's up to each state to develop a mitigation plan for dealing with that disease in wildlife," Combs said, and that plan would be reviewed by APHIS, should the proposal come into effect.

"That's kind of where we're headed" Combs said, adding that the policy is not yet finalized.

The notion didn't sit well with Wyoming Game and Fish Director Terry Cleveland who likened the idea to the U.S. Fish and Wildlife Service getting to approve he state's wolf management plan, noting that minimal requirements were a constantly moving target.

Cleveland said he had met with high ups in APHIS, including Dr. John Clifford, who assured him that Wyoming's brucellosis status would not be impacted by the presence of the disease in free-ranging elk in the Yellowstone region.

Cleveland expressed concern that APHIS said one thing then, but said something else at the brucellosis team meeting. Cleveland said APHIS should make it clear in the rules whether that would be the case or not.

Combs responded: "If my boss said it's not going to effect Wyoming's status, maybe it's a mute point."

University of Wyoming Ag College Dean Dr. Frank Galey suggested that perhaps Wyoming's exception should be put in writing, since although Clifford has provided verbal assurances to Cleveland, one day Clifford will no longer be serving in this policy-making position.

Cleveland requested that if APHIS chose to go forward with rulemaking on the issue, that state have chance to discuss those rules (in lieu of publishing rules first, then seeking comment). Cleveland said in his experience, there is usually very little, if any, change between draft rules and final rules.

After discussion and the expression of frustration about how not all federal agencies are dedicated to eradicating disease in wildlife (namely the National Park Service and FWS), Combs acknowledged the lack of cohesiveness on the federal level.

"The bottom line is we're not all on the same page," he said.