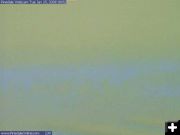 Where's Pinedale?

View of Pinedale from the Pinedale webcam as the storm hit just before 9:00 AM Tuesday morning. This webcam is sponsored by Wolf Dodge in Pinedale.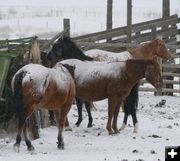 Snowy Horses

These horses on a ranch near Big Piney try to shelter from the bizzard conditions on Tuesday morning. Their thick fur protects them very well as the snow covers their backs. Photo by Dawn Ballou, Pinedale Online!


Blizzard in Pinedale
Winter storm creates whiteout conditions
by Dawn Ballou, Pinedale Online!
January 15, 2008

Tuesday morning gave us a real feel for the reality of winter in Wyoming. A fast-moving storm hit the Upper Green between 9:00 and 10:00AM with strong winds and blowing snow creating white-out conditions throughout the area. The storm blew over after about an hour, but for those caught out on the roads, it meant not even being able to see the road to be able to drive for a tense 45 minutes or so.

About a half hour before the storm hit, a slide closed the road in Hoback Canyon. Wyoming Department of Transportation (WYDOT) road crews were able to clear the slide and reopen the road fairly quickly. WYDOT still had alerts out for slippery road conditions, blowing snow, limited visibilities and black ice advisories for most of the roads in the county. The road over Teton Pass was closed. They posted "No Unnecessary Travel" alerts for US 191/189 between Bondurant to Jackson and for the Snake River Canyon.

The National Weather Service posted High Wind Warnings for much of western and central Wyoming through 3:00 PM Tuesday due to unstable conditions from an approaching storm system creating strong pressure gradients. They expected wind speeds of 25 to 45 miles per hour with gusts up to 65 to 75 mph in places of central Wyoming. Winds were very gusty in the Upper Green Tuesday morning, as of the time of this article.

By 10:30AM, we had blue sky and sunshine.




Related Links