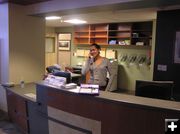 Clinic opens

Jessica Ditton readies the Receptionist/Check-in desk. Photo by Bob Rule, KPIN 101.1 FM Pinedale News Radio.

Pinedale Medical Clinic Opens
January 7, 2008
The new Pinedale Medical Clinic will be open to the public on Monday morning. An open house for the general public will be scheduled in the near future.

Contact information for the Pinedale Medical Clinic:
Phone: 307-367-4133
Fax: 307-367-6636
Randy Johnson, 307-367-2099

Photos by Bob Rule, KPIN 101.1 FM, and Dawn Ballou, Pinedale Online! Audio file courtesy Bob Rule, KPIN.