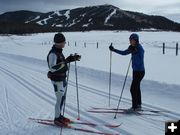 Surveyor Park

Nordic skiers in Surveyor Park. Photo courtesy Pinedale Ski Education Foundation.


Pinedale Nordic Ski Grooming Report, January 11
More trails open and groomed
by Bob Barrett, Pinedale Ski Education Foundation
January 11, 2008

Upper Skyline Drive to Elkhart Park is scheduled to be groomed by Saturday morning for probably the last time this year. By agreement with the Forest Service, we will stop grooming Skyline when all of the lower trails are in service. Letís hope we get this added permanently to the trail system for next year.

The main meadow, Moose Ridge and the Tree Loop trails at upper Surveyor Park (White Pine) are in very good shape for skating and classic skiing. Grooming hasnít yet begun on Flatline or Heart Attack. Please remember that dogs are not welcome on this part of the trail system.

Lower Surveyor and the Old Road Trail down to the Halfmoon Overlook have received more snow since last week and can be skated now. A classic track has been set. Some soft spots and a few obstacles remain here as well as at Kelly Park. The tie-in trails from Halfmoon Overlook to Kelly Park and from lower Surveyor to Kelly Park remain passable only on touring skis.

The bike path to the CCC Ponds has been groomed again and can be skated the one mile to the warming hut. All of the trails here can be ski toured but there are many obstacles showing.