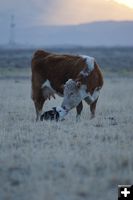 Good Morning Baby

Cat Urbigkit's "Good Morning Baby" won in the livestock/farm animals class.


Ag photo contest winners named
Cat Urbigkit's photo wins livestock/farm animals class category
by Wyoming Business Council
March 17, 2008

The Wyoming Business Council's Agribusiness Division has named winners for its 2008 Photo Contest.

The Agribusiness Division began seasonal photo contests in conjunction with National Agriculture Week 2007. Winners were named for spring, summer, fall and winter in the categories of scenic agriculture, livestock/farm animals, crops and ag recreation/ activities.

"The contest was a way to celebrate agriculture and its importance to Wyoming," said Wyoming Business Council Agribusiness Director Cindy Garretson-Weibel. "We had a tremendous response and received over 75 entries in the contests."

This year's grand prize photograph was taken by Mary Gordon of Thermopolis. Her picture, "Whitt's Longhorn," was shot in Hot Springs County. Gordon also took top honors in the overall scenic agriculture category.

The overall winner in the crops category was Anthony James, who won with his photo, "Hay Bales," taken in Laramie County. Pinedale's Cat Urbigkit was the winner in the livestock/farm animals class with her photo, "Good Morning Baby," while Maggie Lindsey of Dubois won the ag recreation/activity class with her photo, "Young Girl on a Horse."

Winners of the seasonal awards earn $25, and yearly overall category winners pocketing $50 and the grand prize picture of the year receiving $100. The photos will be used in marketing pieces and brochures used by the Business Council's Agribusiness Division. A calendar featuring the winners of the 2007-08 contests will be available by April 1. For your free calendar, while supplies last, call or email Terri Barr at 307-777-2807 or terri.barr@wybusiness.org.

The mission of the Wyoming Business Council is to facilitate the economic growth of Wyoming. For more information, please visit the Web site at www.wyomingbusiness.org.