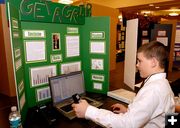 Klint Choate

Klint Choate of Pinedale Middle School displays his science fair project, "Get a Grip," during the 2008 Wyoming State Science Fair March 9-11, at the University of Wyoming. More than 300 participants from nearly 50 Wyoming schools competed for awards and cash prizes. University of Wyoming courtesy photo.


State Science Fair at UW
Pinedale Middle School students do well
by University of Wyoming
March 14, 2008

Students from throughout the state won scholarships and sweepstakes during the recent Wyoming State Science Fair at the University of Wyoming.

Pinedale High School students Erica David and Ahna McKee, Greybull High School students Curtis Johnson and Chloe Cundall, and Cody High School students Brian Reavis and Brandon Reavis were the sweepstakes winners in the senior division.

David won the $1,000 tuition scholarship and the overall top first place award in environmental science with her project, "The Hollow Frame Snow Fence."

Brandon and Brian Reavis won the senior team competition and $250 each with their project, "INWO: Evolutionary Hierarchical Textual Information Mapping."

McKee won a $500 scholarship and the overall top first place award in chemistry with her project, "Effects of Fire on Soil Chemistry Over Time."

Johnson won a $500 scholarship and the overall top first place award in earth and space sciences with his project, "North American Plate Migration Analysis."

Cundall won a $500 scholarship and the overall top first place award in microbiology for her project, "Bioremediation of Arsenic Contaminated Water."

David and the Reavis brothers are now eligible to compete in the International Science and Engineering Fair (ISEF) this May in Atlanta, Ga.

More than 300 students from nearly 50 Wyoming schools participated in this year's state science fair at UW. Awards were presented for first through fourth places in junior (grades 6-8) and senior (grades 9-12) divisions in these categories: behavioral and social sciences, chemistry, engineering, medicine and health, zoology, invention (grades 6-8), biochemistry, computers, environmental sciences, microbiology, botany, earth and space sciences, mathematics, physics and teams.

A panel of more than 100 judges from UW and other organizations evaluated projects based on scientific thought/engineering goals, creative ability, thoroughness, skill and clarity.

Special awards were presented at a ceremony that included cash and prizes provided by UW colleges and departments, the armed services and state and national businesses and organizations. Category and grand prize awards also were presented by various UW departments and colleges.

Other major awards were presented at the conclusion of the competition. Caitlin Brown of Lander's Starrett Junior High, Tessa McCardell of Casper's Poison Spider School, Rachel Graham of Riverton Middle School, and Haley McKee of Cheyenne St. Mary's School each won $125 scholarships in the junior division.

Several other students also qualified for the international competition from their ISEF-affiliated regional science fairs.