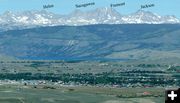 Wind River Skyline

View from near Pinedale showing the location of Mount Helen in the Wind River Range skyline. Pinedale Online photo.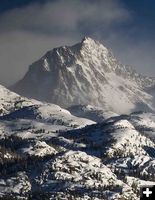 Mount Helen

View of Mount Helen from a different angle. Photo taken this past winter. Photo by Dave Bell. See the link at left to the photo on Geocities for a picture showing a more similar angle to the ridgeline that matches what is on the Colorado stamp.

Colorado's new flag stamp shows Wyoming's Mount Helen?
Ridgeline closely matches 13,620-foot mountain in the Wind River Mountain Range
June 27, 2008
In an article posted on the Denver Channel 7 News website on June 26th, www.thedenverchannel.com, the station says a viewer contacted them saying he believes the mountain outline depicted on the new Colorado flag stamp is actually 13,620-foot Mount Helen in the Wind River Range of Wyoming. Avid mountain climber Bob Michael pointed out the similarity.

According to the article, the stamp artist said the mountain was generic and not intended to depict any specific mountain peak. There is an animation graphic on the story on the 7 News website showing the stamp with an overlay of the outline of Mount Helen to show the comparison between the mountain on the stamp and the distinctive ridgeline of Mount Helen.

Click on this link for the entire story: Exclusive: Wyoming Mountain Depicted On Colorado Stamp? (7News, thedenverchannel.com, 6/26/08)

Reader Comments:
6/27/08: "If people want to see Colorado mountains they need to come to Pinedale."
____________________________

To make a comment on this, or any other story on Pinedale Online, send an e-mail to support@pinedaleonline.com.