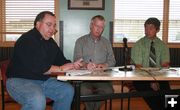 Jim Sewell-Shell

Jim Sewell, environmental Engineer for Shell Rocky Mountain Production, said, "Overall, Shell's emissions in the Pinedale Anticline, including VOC emissions, have been going down over time."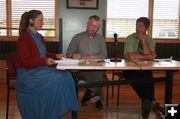 Jocelyn Moore comment

Jocelyn Moore tells DEQ Air Quality Director Dave Finley and New Source Program Manager Chad Schlichtemeier, "Our health is our most important resource."


DEQ Public Hearing in Pinedale
by Dawn Ballou, Pinedale Online!
June 9, 2008

Wyoming Department of Environmental Quality held a meeting at Rendezvous Pointe Monday to collect public comment on requests from five natural gas companies to modify or create new sources of air pollution in Sublette County.

Six local residents, and a representative from Shell Oil, provided verbal comments. Other residents submitted their comments in writing.

DEQ will review the oral and written comments and announce a decision at a later time about whether or not to grant the permit applications for Ultra Petroleum, Shell Rocky Mountain Production, EnCana, Chevron and EOG Resources.

A reporter from Casper KCWY TV Channel 13 video recorded the meeting and interviewed people afterwards.

Photo by Dawn Ballou, Pinedale Online!