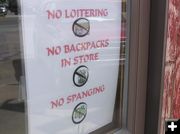 No Spanging

A new sign in the window of a business in Pinedale.


No Loitering-No Backpacks-No Spanging
by Pinedale Online!
June 26, 2008

Signs are beginning to appear in Pinedale businesses that reflect a response to behavior of the newcomers arriving for the Rainbow Family of Living Light Gathering over the 4th of July weekend in the Big Sandy area. More than 15,000 people are expected to flow into the county for the week-long event. Shopkeepers are having increasing incidents of panhandling, shoplifting and loitering. In our area of a booming economy where there are more jobs available than employees, and where everyone seems to be always hustling to and from work, seeing people loiter and beg for money is very out of place here.

"Spanging", for those who are unfamiliar with the term, is slang for asking for spare change.