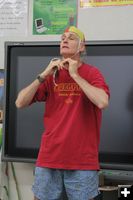 Australian Lifeguard

Taylor come to school in a different Australian outfit each day of the residency. In this photo he is dressed as a lifeguard, a common occupation and sight in Australia. Photo by Tim Ruland, PFAC.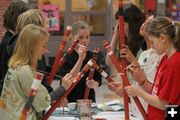 Didjeridoos

A group of sixth graders decorate their didjeridoos. Photo by Tim Ruland, PFAC.


Paul Taylor - Acclaimed Australian storyteller returns to Pinedale Dec. 12
Paul Taylor performs 'Matilda and The Dreamtime'
by Pinedale Fine Arts Council
December 8, 2008

The Pinedale Fine Arts Council is proud to present acclaimed Australian storyteller and musician, Paul Taylor, performing live December 12 at 7 p.m. in the Pinedale Community Church (free).

Taylor will be performing his eclectic concert, "Matilda and The Dreamtime" – A music, poetry, and storytelling performance that provides the audience with a unique look at the many faces of the wonderful Australian character while drawing parallels in American culture. The performance will also include the unique music of the Aboriginal didjeridoo as well as a slide show presentation of 8,000-year-old Aboriginal rock paintings. The show is intended for all ages and PFAC will be providing coffee, tea, and Australian wine and Australian-animal-shaped cookies.

In addition to his evening concert, Taylor will be conducting a two-week residency (Dec. 1-12) in the Pinedale Middle School working with 5th and 6th grade students. Taylor's school residency will include didjeridoo making, dancing, painting, storytelling, poetry and other Australian themed topics.

No stranger to Sublette County, Taylor has been conducting school residencies in the Pinedale School District for close to ten years as part of the Pinedale Fine Arts Council's on-going commitment to educational youth programming and enrichment.

"An Evening With Paul Taylor" is presented by the Pinedale Fine Arts Council with support from the Wyoming Arts Council through funding from the Wyoming State Legislature and the National Endowment for the Arts which believes a great nation deserves great art, Sublette BOCES, SCSD No. 1, SC Recreation Board, the Town of Pinedale, VSA Arts of Wyoming, the Rocky Mountain Power Foundation, EnCana and the Wyoming Community Foundation.

For more information, please visit www.pinedalefinearts.com or call 307-367-7322.