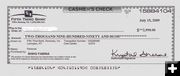 Scam Check

Counterfeit check of the sort being circulated around Sweetwater County as part of the recent "secret shopper" scam. The would-be victim's name has been redacted. Photo courtesy Sweetwater County Sheriff's Office.




Scam Instructions

A portion of the 'secret shopper' scam letter. Note that the instructions require reference numbers or control numbers be provided for money transfers. Officials say this enables anyone in possession of the number at the point of receipt to pick up the money. Photo courtesy Sweetwater County Sheriff's Office.


'Secret Shopper' scam reported
Beware of counterfeit check in the mail
by Sweetwater County Sheriffs' Office
August 12, 2009

The Sweetwater County Sheriffs' Office today (Wednesday, August 12) issued an alert on a swindle being circulated by mail.

"It's a version of what's commonly called the 'secret shopper' scam," Sheriff Rich Haskell said.

Haskell explained that county deputies are investigating instances of residents receiving a letter informing them they have been selected to participate in a customer research program evaluating businesses and financial services as "secret shoppers." Enclosed with the letter is what appears to be a legitimate cashier's check made out to the addressee, usually for $2,990.00.

"The check is counterfeit," Haskell said. "The victim is advised to contact a so-called company 'Research Associate,' who will provide instructions on depositing it. Once the bogus check is deposited, the victim is usually then directed to spend a certain amount of money at specified stores, commonly between $30 and $50 each, and to send out a total of well over $2,000 via Western Union and MoneyGram transfers, usually to someone in Canada. The victim then prepares evaluations of the businesses and financial services, and is told to keep the unspent funds, (usually about $300), as payment for their services. The money transfers is where the sting kicks in, because once the funds are picked up at the other end, they're gone."

Another variation is to charge the victim "training" and "processing" fees for what appears on the surface to be an easy, lucrative part-time job.

"In any event, the victim is out every nickel spent or sent," Haskell said. "The scammers pressure their victims to do their shopping and money transfers quickly; this is so they can complete the rip-off before the phony cashier's check bounces."

County investigators have noted that the letters' envelopes bear Ontario return addresses and Canadian postmarks. In addition, the telephone number provided for victims to call has an area code listed to southern Ontario.

According to Reuters and a Canadian government media release, a Brampton, Ontario man named Lookman Temidayo Adegbola was recently found guilty in Ontario Superior District Court of fraud, forgery, possession of instruments of forgery, and uttering forged documents. According to the release, "The victims, located in the United States, were led to believe they had been hired as secret shoppers to evaluate the services of MoneyGram, an international money transfer service. They were provided with cheques and instructed to deposit them in their own accounts, then withdraw the money and wire it to Canada under the pretext of assessing the customer service provided by the money transfer outlet."

Canadian authorities seized about 600 counterfeit checks totaling over $1 million during a search of Adegbola's residence in Brampton. He is scheduled for sentencing in September.

Haskell said that while legitimate customer research operations exist, there are a number of ways to avoid falling victim to swindlers:

- Never wire money to strangers or firms that have supposedly hired you. Wiring money is basically the same as sending cash - once it's gone, it's gone.

- Don't pay a "secret shopper" company or firm to hire you, even if the payment is supposedly for "registration," "certification," or "processing." If such payment is required, it's most likely a scam.

- Watch for clumsy or incorrect grammar or spelling in solicitation letters.

- Don't be tricked by official-sounding company or firm names. Swindlers often use names and/or website addresses that are very similar to those of legitimate businesses in order to make themselves seem legitimate.

For more information contact Detective Dick Blust, Jr., Public Information Officer, phone: 307-922-5294 or 307-350-4016, or e-mail blustd@sweet.wy.us or rcblust@yahoo.com.