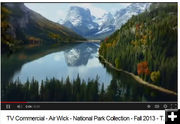 Green River Lakes

Screen capture of fly-over Green River Lakes with Square Top Mountain in the background in this Air Wick commercial.

Square Top Mountain, Green River Lakes featured in Air Wick commercial
October 15, 2013
A recent commercial for Air Wick brand air fresheners features a fly-over of Green River Lakes and view of Square Top Mountain as part of their promotional photography for their 2013 National Parks collection of air fresheners.

The voice-over says, "Crisp, fall Rocky Mountain air makes the epic journey through pines, wildflowers and aspens and is matched only by our journey to capture its scent. Crafted by experts perfumers for your home. Air Wick Mountain Woodlands and Crisp Air is part of our limited edition National Parks collection. Air Wick, the Craft of Fragrance."

Click on this link to see the commercial on YouTube: http://www.youtube.com/watch?v=w7oxSYi65T0.