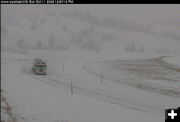 South Pass in winter

Mountain passes cam become treacherous to impassable in the winter. WYDOT South Pass webcam file photo.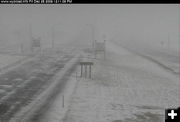 I-80 in the winter

In the winter, Interstate 80 through Wyoming can become treacherous to impassable. WYDOT I-80 webcam file photo.


Emergency Preparedness Tips
A little advance preparation can save hardship later on
by Pinedale Online!
October 24, 2014

Winter in Wyoming brings cold temperatures, continuous snow-covered ground, and difficult living conditions. Temperatures can dip to more than 40 below zero for days at a time. Electricity outages can last for hours or even days in extreme cases. That means no electric heat, no power to operate water well pumps, and difficult if not impossible travel conditions. Without proper care, water and sewer lines can freeze solid. In addition to the normal challenges of winter in Wyoming, the world has Ebola, flu, and the possibility of other pandemic diseases to consider and prepare for. Should a large-scale disaster occur, it will likely be too late to stock up on supplies. Advance preparation will help with survivability of serious situations. Here are preparation tips to protect yourself and your family. By stocking up on items a little at a time each week, shopping sales, and stockpiling things you know you'll want or need, the task of getting prepared doesn't have to be burdensome or overly expensive.

1. Winterize your home
Make sure windows are sealed, the house has good insulation, leaks repaired, vulnerable water pipes wrapped with insulation or heat tape, smoke and CO2 alarms have fresh batteries, and have a good fire extinguisher handy. Consider adding an alternative backup for heating and cooking needs in case your primary system goes out. Consider having a generator and fuel on hand for emergency electrical power. If you use a well for your water supply, consider an alternative method to power the pump if electricity goes out, or stockpile extra water for family needs for hours or days until power returns.

2. Assemble a home preparedness kit
Useful supplies to help in the event of any kind of emergency include a flashlight, non-perishable foods, a manual can opener, bottled water (5 gallons per person), blankets, warm clothing (coats, hats, gloves, socks, thermal long johns), winter footwear, a battery-operated radio and clock, extra batteries, extra cash, alternative home heat source, alternative light source, candles, matches, alternative cooking means and fuel, games/books/cards for entertainment, and pet supplies. Also remember to restock the medicine cabinet with updated non-prescription pain relievers, cold remedies, first aid supplies and prescription medicines so you can take care of anyone with an illness during emergency situations.

3. Rotate your food stockpile
If you've been well prepared for years, you might find that your food stockpile is getting close to the expiration date on some canned items. Now is a good time to consider rotating those supplies and bringing in fresh items. The local Food Basket would be delighted to get your older canned goods to give to needy families. Requests for their food supply services go up in the winter and near the holidays. Local grocery stores often offer canned good case-lot sales during the fall months, so it is a great time to freshen and rotate your long-term food storage stockpile.

4. Have a preparedness mindset at home, work, church, and in the community
If you are able to stabilize the needs for yourself and your family, you might consider expanding your reach to help cover the needs for others who might not be as prepared as you are. Consider encouraging your church, place of work, and community organizations to put in a supplemental emergency supply stockpile for the needs of their people should an emergency or disaster strike. Local supply stockpiles can help communities be independently prepared to survive emergency situations. Even apartment dwellers with minimal extra storage space can put in a handy well-thought out food and supply stockpile that can get them through short-term survival situations. Not enough cupboard space? Raise your beds and use the space underneath as storage space. Consider also that minimizing debt, cutting out unnecessary spending, and reducing monthly bills will make your wallet stretch farther. Remember to also stockpile some extra cash on hand to be able to pay your regular bills and get you through weeks or even months in the event of a fiscal crisis in emergency situations.

5. Vehicle Winter Survival Kit
Many people live in rural areas in Wyoming. During emergency situations, you may be stranded at an isolated structure or on the road in your vehicle. It is a good idea to prepare a winter survival kit for each vehicle that is driven during the winter and that it is not taken out. Update the contents of your kit on a regular basis and make sure all drivers and passengers know where to find it.

The type of kit you prepare is up to you, and the container can be anything ranging from cardboard boxes, large plastic ammo cans, and milk crates for the gallon-size fluid containers, to a plastic type box with a lid. The very basics should provide for water, food and warmth. You can add additional items and eventually develop a large kit, but you do not need to fill up the trunk.

Here are some of the basic items that it should contain:
1. Extra clothing, such as parka, boots, long underwear, heavy socks, mittens, ski mask.
2. Emergency blankets - wool blankets, sleeping bags - 2 large green or black plastic leaf bags (to reflect body heat) and some safety pins (the bags are for insulation for feet, safety pins keep the bags together.)
3. Heat reflective tarp -space blankets and tape (to use insulate windows, not as blankets.)
4. Signal mirror and a plastic coach's type whistle to signal help in case you hear a rescuer who cannot see you.
5. Bright red or orange cloth, or a roll of bright surveyor tape to attach to your antenna to draw attention to your car in heavy snow.
6. Water - 1 gallon per person - but do not eat snow! This uses up body heat and lowers your body temperature. Eating snow also dehydrates your body resulting in a net water loss! (Remember water expands when it freezes and may break containers if left in extreme cold.)
7. Flashlight with extra batteries (reverse the batteries to avoid accidental switching and burnout, and replace batteries yearly) warm batteries before using them. 12-hour light sticks are also a good addition.
8. Honey, hard candy, jellybeans, raisins, nuts, candy bars, chewing gum, dehydrated fruit, and jerky, high calorie and high-energy food such as snack bars, fruit rollups. Anything that does not need cooking is good to prolong your body's ability to generate heat in the event of being stranded for a long period.
9. Toilet tissue and a coffee can with a sealable lid for a makeshift toilet. Plastic garbage bags can be used for a makeshift toilet. Disinfectant wipes and hand sanitizer are also helpful.
10. Cell phone and charger. An old digital cell phone with the charger is perfect to put in the kit and leave. Service is not needed to make 911 calls on most modern cell phones and cell networks can triangulate your position, which is very handy in an emergency. Even "out-of-service" cell phones can still dial 911, although most analog phones will not work. If you do not have an extra phone, get a $20 pre-paid phone with roaming.
11. Medium-sized snow shovel or a collapsible shovel.
12. Jumper cables and a tow rope or chain
13. Tire chains (know how to put them on your vehicle!)
14. Gas line antifreeze (use as recommended during winter to avoid problems)
15. Gallon container of defrosting windshield fluid, premixed antifreeze
16. Vehicle repair kit (pliers, screwdriver, adjustable wrench, cable ties, wire, electrical tape, duct tape, fuses, etc)
17. Bag of sand or non-clumping kitty litter for traction assistance or traction mats, can also use your car floor mats.
18. Snow brush and ice scraper
19. Sunglasses or ski goggles
20. Hand warmers (chemical type)
21. Fire extinguisher
22. Compass and maps
23. 50+ SPF sunscreen- you will quickly sunburn in snow conditions
24. Paper & pencils
25. First aid kit/book, aspirin or equivalent and with Imodium, decongestant, etc
26. Rain coat
27. Reflective tape or reflective triangles (flares are hard to find) if you are foregoing the reflective triangles you should at least get the reflective tape. This is the same type of reflective material seen on traffic signs; it will be great if you are changing your tire in the dark.
28. Extra newspaper for insulation
29. Baby formula and diapers if you have a small child.
30. Pet needs (food, water and warmth).
31. Prescription medication for you and any passengers.

6. Infectious disease or pandemic preparation
A pandemic may incapacitate (and/or terminate) a significant portion of the population, crippling the infrastructure due to lack of manpower and possibly leaving you without groceries, utilities and other services for the duration (months or longer). If a deadly virus such as a super-flu or Ebola were to infect the broad population and spread easily from person to person, a pandemic (worldwide outbreak of disease) could begin. No one can predict when or where a pandemic might occur and it isn't unreasonable to do some advance preparation for the possibility. The reality is it is more a matter of when, not if. Are you ready to self quarantine for 30, 60, 90, 120 days? Surviving a pandemic is a matter of isolating yourself from OTHER INFECTED PEOPLE until the die-off has run its course. This could be many months or even longer. In order to be fully prepared, you must have the ability to self quarantine without the need to go out where other (potentially infected) people are. This includes work, grocery shopping, school, etc. You must have everything that you need already at home.

During the onset of a pandemic, most people will not fully realize the ramifications and will continue to go about their daily habitual routines - going to work, going to the grocery store, etc. exposing themselves to the potential mortal consequences of exposure. Almost every transmissible disease has an incubation period during which the person is infected but not yet showing signs of disease. Quite often, a person can be contagious for one to several or more days before exhibiting symptoms.

During the circumstance when someone within your group becomes infected, that person will have to be quarantined to avoid infecting everyone else. If you take in any new members to the group, they should also be quarantined to assure that they are not infected (many viral infections will manifest themselves within a period of 3-5 days, and most within 10-14, Ebola virus potentially up to 21 or longer).

Ideally the quarantine area will be a separate building from your own living quarters, such as an outbuilding, garage, empty house, or barn. If you choose to offer a room within your home, choose one vented to the outside and without ducting connecting to the rest of the house. Make sure the room has a negative pressure by leaving a window cracked, so the air flows into the room from the remainder of the house and exits through the window.

The following is a starter-list of preparation items:
Water (1 gallon per person per day)
Food Storage - for all members living in the household (3 months minimum)
5 gallons of liquid bleach per person of the household to sanitize everything.
4 boxes of exam gloves (different sizes for every member of the household)
Quality N95 masks
Antibacterial Soap (with Benzethonium Chloride) or Hand Wipes for meticulous hand washing
100' roll of clear 4 mil plastic (for setting up an isolation room)
Duct tape (Duck Tape) (for setting up an isolation room)
HEPA filters (enough for whole house air filtration)
25 lbs. of lime per person (for provisional toilets)
50 heavy duty black 3 MIL garbage bags per person (for provisional toilets and garbage)
100 ordinary kitchen trash bags per person (for provisional toilets and garbage)
25 lbs. of kitty litter per person (for sick people's body fluids clean up)
100 rolls of toilet paper per person (for personal sanitation)
20 rolls of paper towels per person
Boxes of facial tissues
Washboard, clothesline, and laundry soap (for potentially washing clothes by hand)
Good dish soap like "Dawn" or other aggressive anti-grease formula
Water filtration and purification devices
Water collection, storage and carrying containers
Safety Goggles and/or a Face Shield will help protect the eyes (potential point of infection)
Protective clothing: Fluid resistant or impermeable gowns, raincoat, aprons, gloves, shoe covers, boots, and booties (to protect skin from fluids)
Eye protection (face shield or goggles)
Facemasks (goggles or face shield must be worn with facemasks)
N95 respirators
Disposable cutlery, cups and dishes
Paper, notepads, pens, markers
Gallon size ziploc bags
Plastic sheeting to protect mattresses and to make walls for an isolation room
Waterproof matches
Feminine hygiene supplies
Contact lens supplies
Prescription medicines needed for all family members
Facial tissues
Extra toothbrushes and toothpaste
First Aid Kit
Special foods for special dietary needs
Sewing Kit
Scissors
Disinfectant, disposable wipes, spray cleaners
Disaster Plan for all family members, designated safe meeting place
Phone/email contact list for all family members
Spare change for pay phone use
Photocopies of important documents and papers stored in a safe place
Packets of your favorite and most used spices (salt, pepper, sugar)
Rubbing alcohol
Anti-diarrhea medication
Antiseptic ointment
Denture care needs
Plastic wrap
Aluminum foil
Entertainment items (cards, board games, movies, computer games, books, musical instrumentsˇ­.)
Buckets or containers for cleaning supplies
Extra cash
Portable toilet
Good source of light, lamp, lamp fuel
Good independent source of heat, bundle up clothing
Tea, coffee, cigarettes, alcoholic beverages
Whistle, bell or noisemaker for a sick person to call for help
Over the counter medications for cold/flu symptoms
Basic medical supplies
Antibiotics
Emergency foods that don't require refrigeration

Editor's Note: Dr. William T. Close, who lived in Big Piney, was a physician and surgeon in the Congo for sixteen years. He was part of the team that helped define and contain the first outbreak of Ebola in 1976. His book, "Ebola - Through the Eyes of the People" is available at Office Outlet in Pinedale as well as on Amazon.com.




Related Links