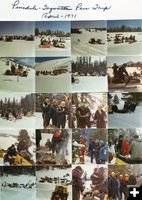 Ride to Dubois

PSE ride to Dubois 1971. Photo courtesy Pinedale Snow Explorers.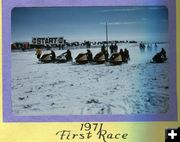 First Race

PSE first race at Sagebrush Downs oval 1971. Photo courtesy Pinedale Snow Explorers.


Pinedale Snow Explorers host WSSA 2015 Fun Days March 6-8
Snowmobile Club celebrates 50 years of history
by Kathy Raper, Pinedale Snow Explorers
March 3, 2015

February 17, 1966 headlines in Pinedale Roundup read: "Snow Explorers enjoyed races and safari across the Divide". The first snowmobile trip by the Pinedale Snow Explorers (PSE) club riding over Union Pass to Dubois occurred 50 years ago. There was no established snowmobile trail as there is today, so the group followed a route one of the old area cowboys knew.

The Pinedale Snow Explorers will be hosting the Wyoming State Snowmobile Association (WSSA) Fun Days Friday through Sunday, March 6-8th. The activities begin with a Welcome Dinner Friday night at The Place. Saturday the PSE will host a ride over Union Pass to celebrate the historic ride 50 years ago. One of the people on the trek 50 years ago, Charlie Raper, will be riding along. More adventurous individuals can ride up Horse Creek.

A banquet with yearly awards will be held on Saturday night.

Sunday is the WSSA board meeting.

A few facts: The PSE was the first snowmobile club in Wyoming, PSE established the first warming hut in the state, and winter use by snowmobiles in Yellowstone National Park was established through efforts of PSE members.

For more information, go to www.pinedalesnowexplorers.com or contact Bucky's Outdoors, 307-367-4561.