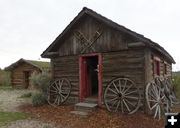 Madge's Cabin

Madge's cabin was originally located just across the street west of the Pinedale Visitor Center.


70 Years of Camp Fire Girls
New display at the Museum of the Mountain Man
by Dawn Ballou, Pinedale Online!
May 28, 2018

The Museum of the Mountain Man is proud to open a new display in their Old Pinedale compound on the museum grounds. The new Camp Fire Girls display is in "Madgeís Cabin," home to long-time Camp Fire Girls leader Madge McHugh Funk. The cabin was moved from downtown Pinedale to the museum grounds after Madge passed away in 1997.

Camp Fire Girls (CFG) was founded in 1910. It was Americaís first multiracial, multicultural, and non-sectarian organization for girls.

In June of 1918, Sadie Hall of Pinedale took a group of twelve girls to Fremont Lake for ten days of camping. This is the first reference to Camp Fire Girls in Sublette County, but it is not known if the group registered with the national organization.

In 1927, Capitola (Cap) Looney formed a Camp Fire Girls group in Big Piney. They named their charter Lu-Ta, meaning red. This had been Capís childhood Camp Fire Girls name in Wisconsin, and was very appropriate since Cap was a redhead.

The Pinedale Camp Fire Girls received their charter in 1935. Prominent in the formation were Cap Looney, Madge McHugh, Francis Clark, Ruth Healey and Ethel Eklund. The new members of the Pinedale group chose Un-a-li-yi, a Native American word meaning "place of friends," as their charter name. In 1935, Madge McHugh became the guardian and remained in this position for 62 years.

Katie Bardin King was one of the longest serving Camp Fire Girls leaders, for 34 years. She began when her daughter, Pennie, was a Camp Fire Girl. She eventually assumed the role of co-director with Madge Funk. Katie passed away in January, 2018, at age 90.

Camp Fire Girls was organized into three age divisions. Blue Birds were girls age 7-9. Camp Fire Girls were age 10-15. Horizon Club was for high school age girls. It is hard to put a number on how many Sublette County girls were members of Camp Fire Girls over the years. In 1957, there were 71 paid members of the Pinedale Camp Fire Girls group.

The Law of Camp Fire Girls:
Worship God
Seek Beauty
Give Service
Pursue Knowledge
Be Trustworthy
Hold On To Health
Glorify Work
Be Happy

The majority of the photos in the new exhibit came from the Camp Fire Girls Clubhouse. The pictures cover most of the 70-year time period in Sublette County and depict a wide array of activities. There is a ledger in the cabin asking for help in identifying the girls in the photographs.

Volunteers, some former Camp Fire Girls themselves in their youth, helped with the exhibit. Former Camp Fire Girl Mary Lynn Worl has spent countless hours collecting Camp Fire Girls information for many years. She did most of the historical research, gathering and identifying photographs, and writing the text for the poster displays. Mary Lynn met with Museum Curator Betsy Watry many times on how to display things in the Museum and in the cabin, and also how to proceed with archiving the Camp Fire Girls material. The photo frames and the folding display boards were ones that were used two years ago for the Camp Fire Girls reunion and were put together by ladies who were former CFGs. Former Camp Fire Girl Jana Bloxham helped clean and paint the cabin. Volunteers Richard and Carmel Kail helped paint and caulk the cabin interior. Historical Society member Dawn Ballou donated and spread 26 bags of bark chips to go around the cabin for landscaping and thanks Dale Hill and A to Z Hardware in Pinedale for the special pricing on the bark.

There are still some additions that will be coming including curtains and tablecloths arriving soon to go into the display. Former Camp Fire Girl Judy Crandall and a friend of hers made the curtains. Mary Lynn has one more flip display and the display and hand-outs for hikes to WoHeLo Falls and the Banditís Cabin to finish and go in.

The Museum of the Mountain Man is open daily during the summer season, May through October, from 9AM to 5PM. For more information call 307-367-4101 or go online to www.mmmuseum.com.