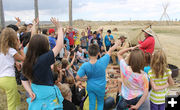 Living History Days

Living History Days with the American Mountain Men, at the Museum of the Mountain Man in Pinedale.


Living History Days May 14-17 in Pinedale
Sublette Chamber of Commerce Mixer May 16
by Museum of the Mountain Man/Sublette County Historical Society
May 14, 2018

The Museum of the Mountain Man will host a Sublette County Chamber of Commerce Mixer on Wednesday, May 16, 2018 beginning at 5:30pm.

At 6:30pm the visiting American Mountain Men will present "Daily Life of a Mountain Man", a 45 minute program designed for adults which covers many of the topics presented to school groups during the Museumís annual Living History Days which will take place May 14-17 this year. Learn more about how these hardy fur trappers and traders survived and thrived in the Wyoming wilderness, and compare their reasons for living here with your own. Both events are free and open to the public. Presented in collaboration with the Sublette County Chamber of Commerce and Sublette BOCES.

The American Mountain Men organization was formed in 1973 by a group of mountain man enthusiasts who wanted to learn the life of mountain men by living it. They all have regular jobs, but live and learn the mountain man ways as a hobby. All told, there are approximately 600 members throughout the United States.

The Museum of the Mountain Man was opened in 1990 and is operated by the Sublette County Historical Society, the oldest in Wyoming. The Historical Society holds over 20,000 artifacts ranging from pre-historic to the settlement era and was originally established in 1935 for the preservation of historic sites of the fur trade and rendezvous, marking of settler graves and trails and to collect all records, documents and items pertaining to the historical background of Sublette County.





Related Links
www.mmmuseum.com - Museum of the Mountain Man/Sublette County Historical Society