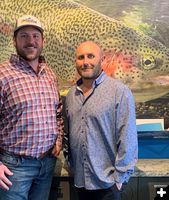 Smiles for Life donation

Pictured: Chaunce Goodrich-Fishing for the Fight Board president (L) and Dr. Kunard-Pinedale Dental (R). Courtesy photo.


Pinedale Dental donates to Fishing for the Fight
by Fishing for the Fight
March 12, 2021

Fishing for the Fight has been selected by Pinedale Dental as a 2021 Smiles for Life campaign local recipient. The donation will assist Sublette and LaBarge residents.

About Smiles For Life:
From March through June, hundreds of dental practices throughout the U.S. and Canada professionally whiten teeth to raise money for charity through the Smiles For Life Foundation. Ultradent (makers of Boost in-office teeth whitening and OpalescenceŽ take-home trays) donates ALL of the teeth whitening supplies, and participating Crown Council dentists donate ALL of their time to whiten teeth during the Smiles For Life campaign. Together, they offer professional teeth whitening services at substantially reduced prices with 100% of the proceeds going to the foundation which is then divided 50% to a local charity (in 2021, Fishing for the Fight) chosen by the participating dentist, Pinedale Dental, and 50% to a charity approved by the Smiles for Life Foundation.

About Fishing for the Fight:
Initiated in 2016, Fishing for the Fight (FFF) is a competitive fly-fishing contest which raises funds to assist Sublette and LaBarge residents with special needs, children with chronic illnesses and families fighting cancer, through our partnership with Kickin' Cancer. Led by a volunteer board of medical specialists, tournament experts, business owners and community advocates, FFF has assisted with travel expenses, adult mobility trikes and recently a support canine arriving this Summer!

Dr. Kunard has also donated his time and fishing guide expertise for multiple Fishing for the Fight tournaments! FFF is a 501-C-(3) non-profit organization. If you or someone you know could use assistance, please check out our website at:
https://www.fishingforthefight.com and click on Apply for Support.