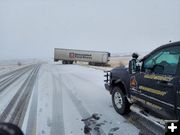 Jackknifed semi

A semi-truck jackknifed on the US 189 north of Big Piney due to slick roads on the morning of April 6, 2021. The driver was uninjured and the road soon cleared. Photo courtesy SCSO.


Weather & Road update - April 6, 2021
by Pinedale Online!
April 6, 2021

Weather and Road update, Tuesday, April 6, 10:00AM: 30F degrees in Pinedale as of the time of this report. Pinedale woke up to about 3 inches of new snow. Roads in the Upper Green River Valley are slippery – slow down and leave more buffer distance between yourself and other drivers. A semi-truck jackknifed at milepost 119 on US 189 between Big Piney and Daniel around 9:25AM today – travelers may encounter delays while that is being cleaned up. Mountain passes may have limited visibility and slick roads due to snow showers. Mixed weather this week. Mix of sun, snow and rain showers today around Pinedale, and breezy as a system moves through the area, with a high around 43F degrees. Mostly sunny around Pinedale for the rest of the week with daytime highs only getting into the 40Fs. Nighttime temps in the 20Fs all week around Pinedale. Those doing spring ditch and field burning should take great care due to the gusting winds all week. Wyoming road reports available by calling 511 or toll-free 1-888-996-7623 or go online to www.wyoroad.info.